Winter is well and truly on the way, and if we're being honest—we're already not coping. For most of the year, we live in a land of perpetual summer, but those darned polar blasts have brought the winter chill to our doorstep. If you just can't face another few months of cold winter mornings, chapped lips, and 5pm sunsets, don't stress—we're here to help. We've found the perfect place to enjoy a tropical getaway, even when tmost of Australia is shivering through sweater weather. But it gets even better—we've planned out every aspect of your trip, from where to stay, what to do, and most importantly, where to eat. Pack your bags and chase the sun north, here's all the best things to do in Cairns.
Where To Stay In Cairns
Crystalbrook Flynn
For exceptional views, modern interiors, and 5-star location, look no further than Crystalbrook Flynn. This luxury hotel is just steps from the Esplanade boardwalk, a picturesque 2.5 km stretch of foreshore in the heart of Cairns. In addition to stunning seaside views, Crystalbrook Flynn exudes a fun and energetic persona that can be appreciated in almost every facet of the hotel — from the welcome note scrawled on the mirror in hot pink pen, to the exuberant pink and purple bathrobes — you're bound to feel like the life of the party here. And let's not forget the sprawling indoor pool, surrounded by gently swaying palm trees and towering marble pillars—this is the perfect backdrop for the ultimate tropical getaway.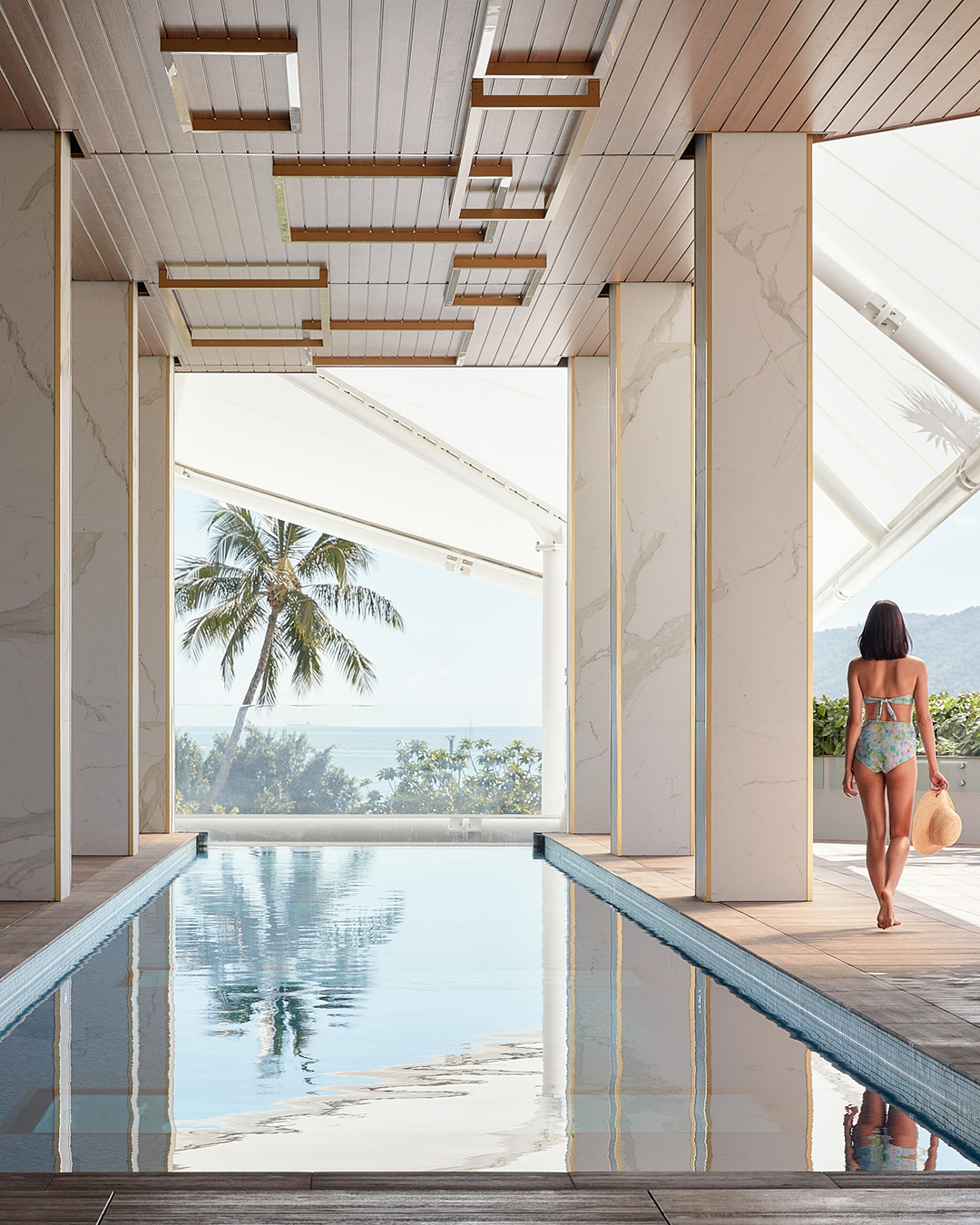 Crystalbrook Riley
If you can't go past a stunning lagoon pool and private beach, Crystalbrook Riley is the hotel for you. The five-star accom is located at the northern end of the iconic Cairns Esplanade, and is home to Paper Crane Restaurant—the best in modern dining. The property also features the city's highest rooftop bar, complemented by 24-hour in-room dining.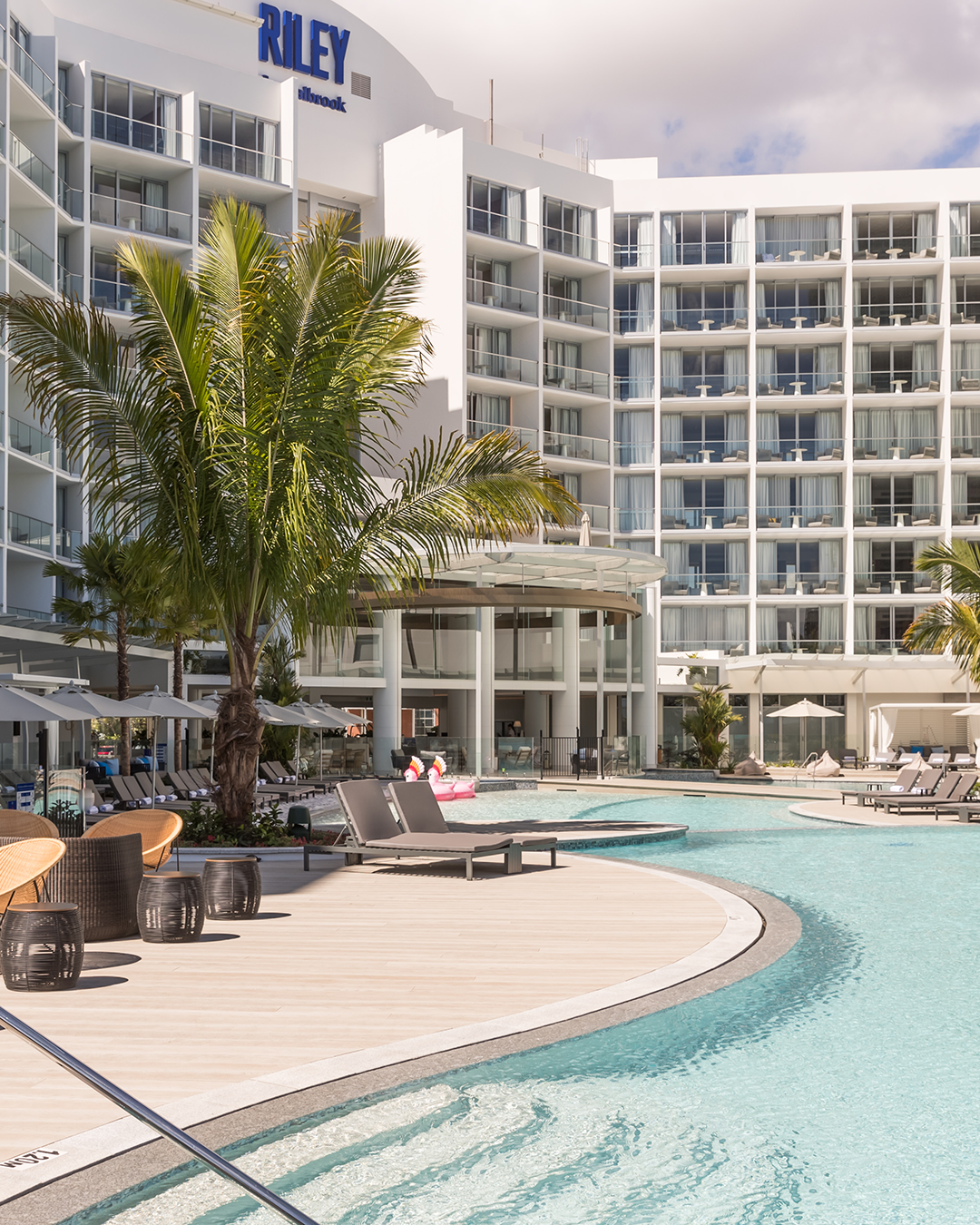 Crystalbrook Bailey
Any artists in the building? Those with an eye for the abstract are sure to fall in love with Crystalbrook Bailey. Like its sister Flynn, Bailey offers guests next-level luxury Cairns accommodation, but trades in a seaside locale for sweeping city views, and the latest innovations in sustainable living. Just minutes away from the Cairns Aquarium and Regional Gallery, it's the perfect place to explore the city's cultural side.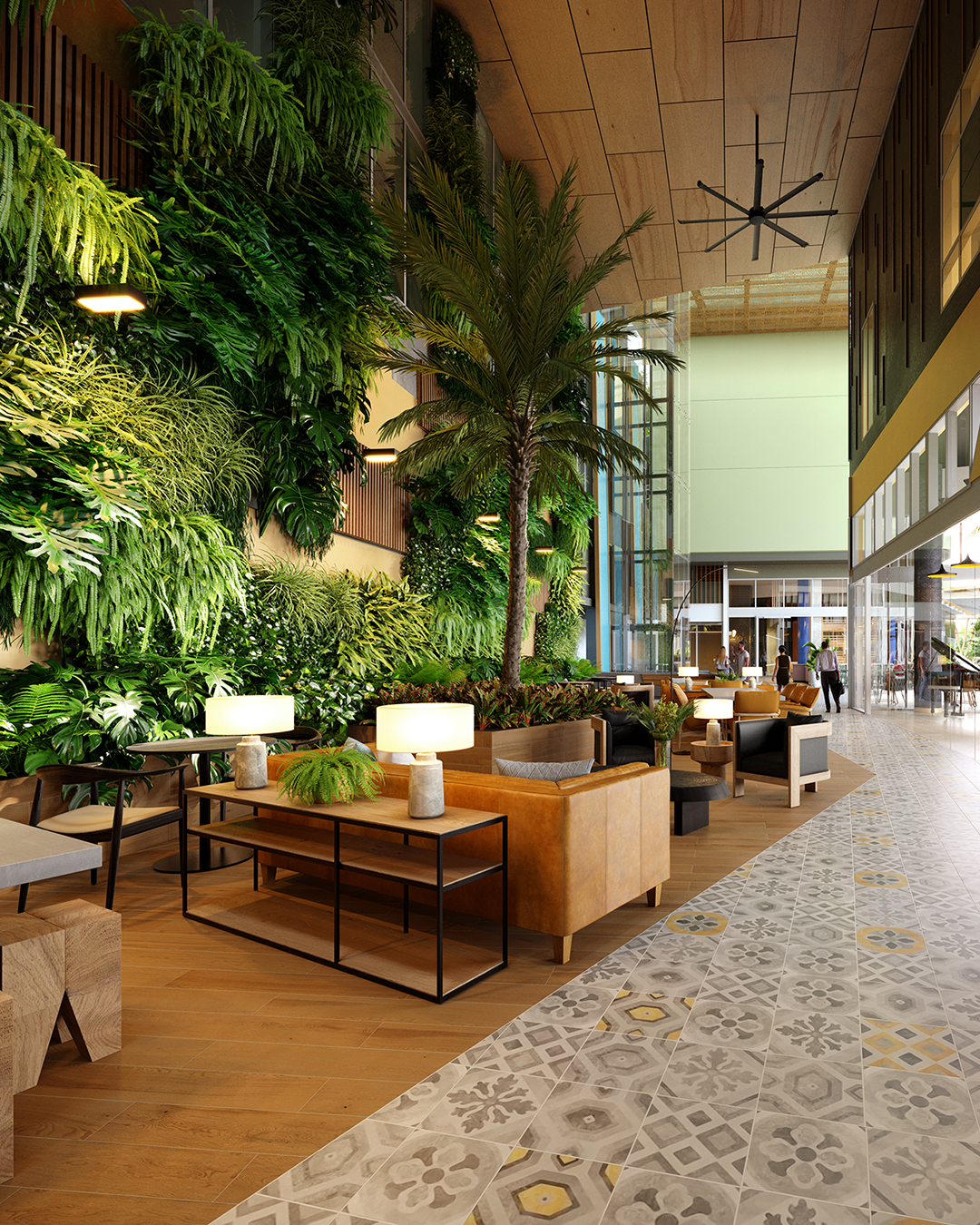 Best Cafes And Restaurants In Cairns
Flynn's Italian
There's no question about it: Flynn's Italian by Crystalbrook is easily one of the best restaurants in Cairns. Promising a unique fusion of the region's best local produce with Italian flavours — this communal dining experience is sure to be a hit with all ages. Open for both breakfast and dinner, be sure to book a table so you can indulge on Flynn's quintessential Italian spread—and be sure to order the tiramisu for dessert.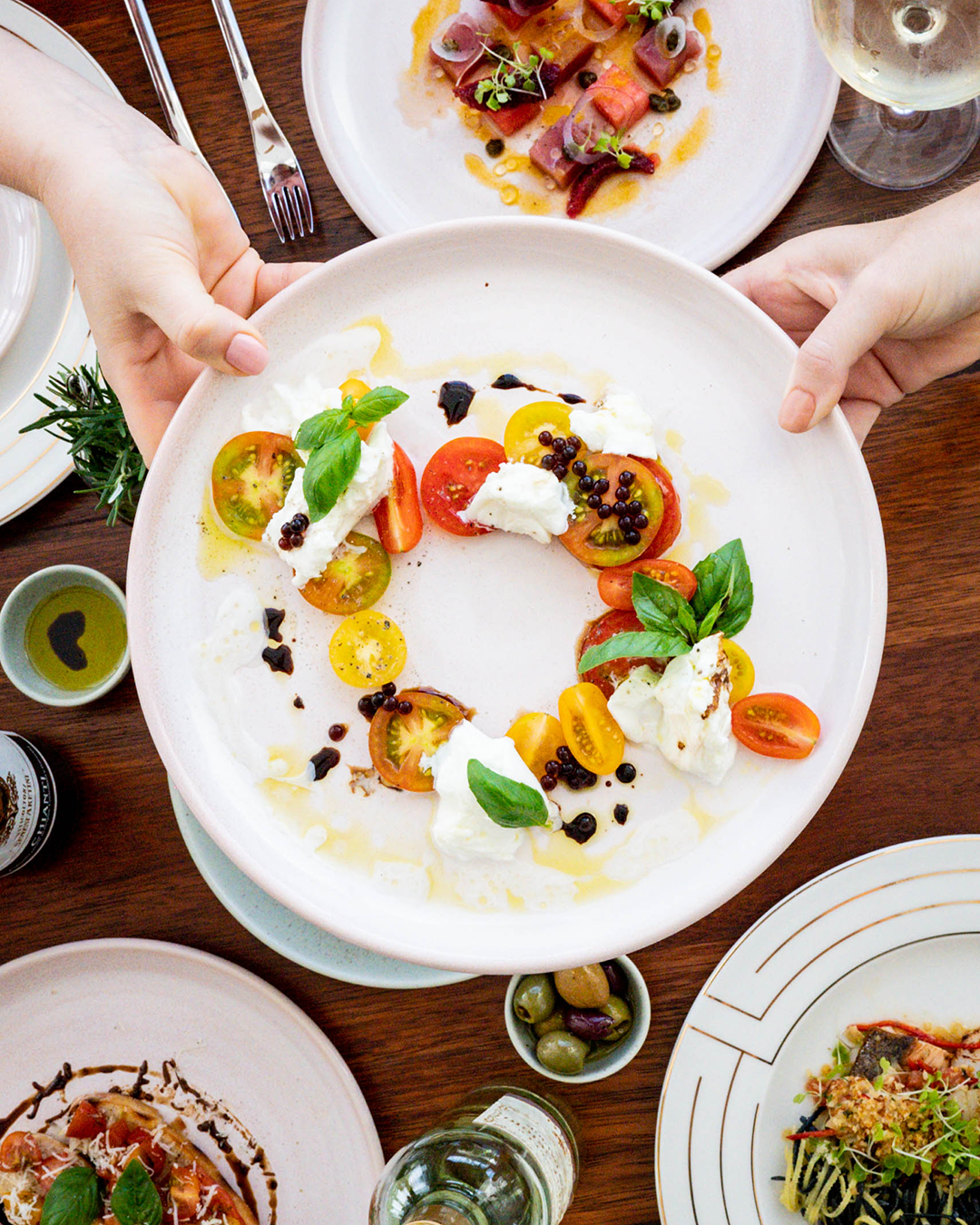 CC's Bar & Grill
Did you know that the Crystalbrook farms all of their own beef at their own cattle station, 3 hours inland from Cairns? Neither did we. But when we found out, we were even more excited to dine at CC's Bar & Grill by Crystalbrook — and it did not disappoint. This place has seriously bougie steak house vibes, complete with its very own dry-ageing room displaying all of their delicious Crystalbrook Signature Beef. Any steak you order is going to *chef's kiss* but when it comes to sides, make sure to order up mac n cheese and onion rings. Sensational.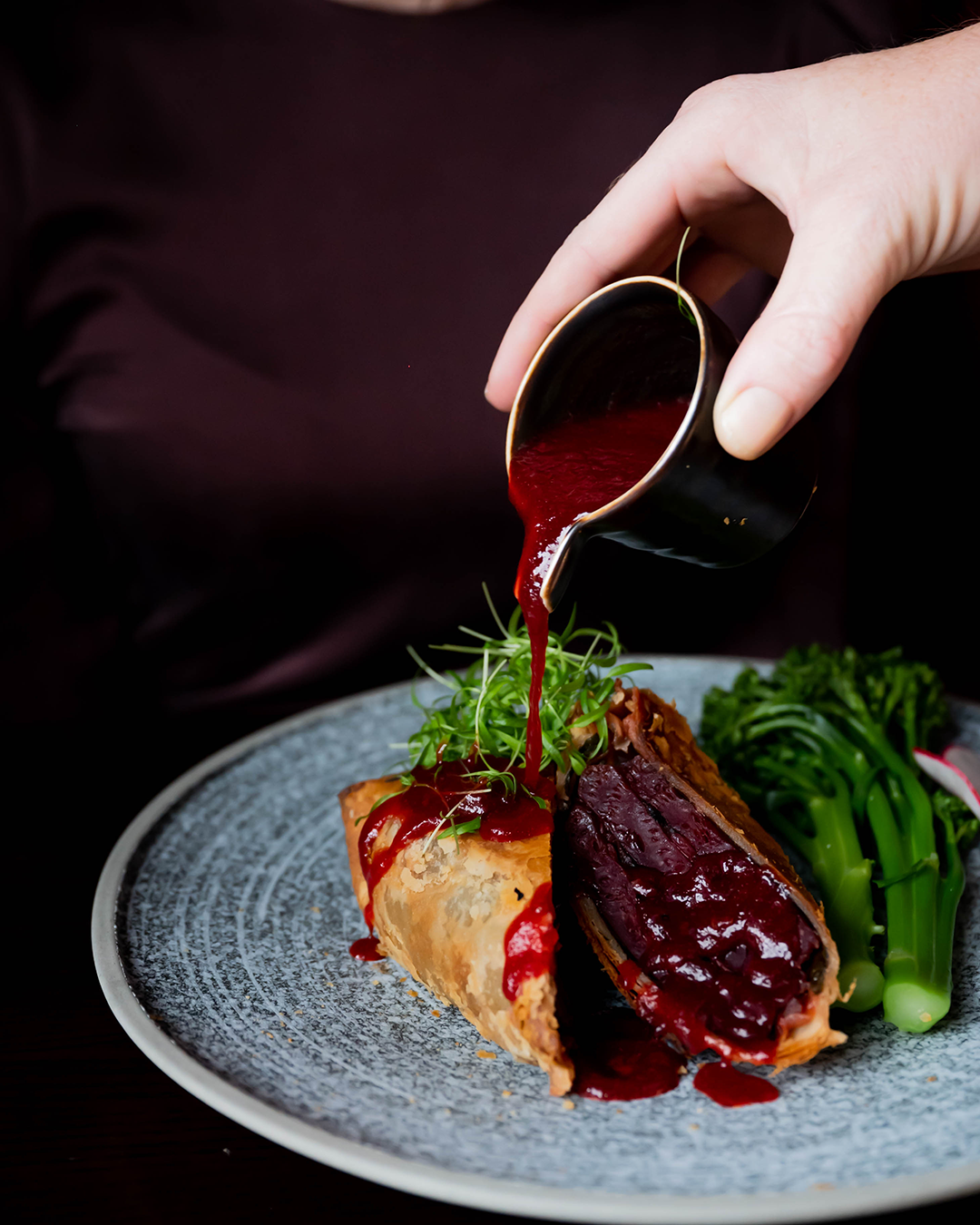 Paper Crane
If you love fresh and delicious Asian cuisine, look no further than the stunning waterfront restaurant, Paper Crane by Crystalbrook. The menu is designed to share and includes a range of mouth-watering small, medium and main size dishes along with sides. Our recommendations? You can't leave without devouring the crispy chicken katsu sando and the duck fat egg fried rice.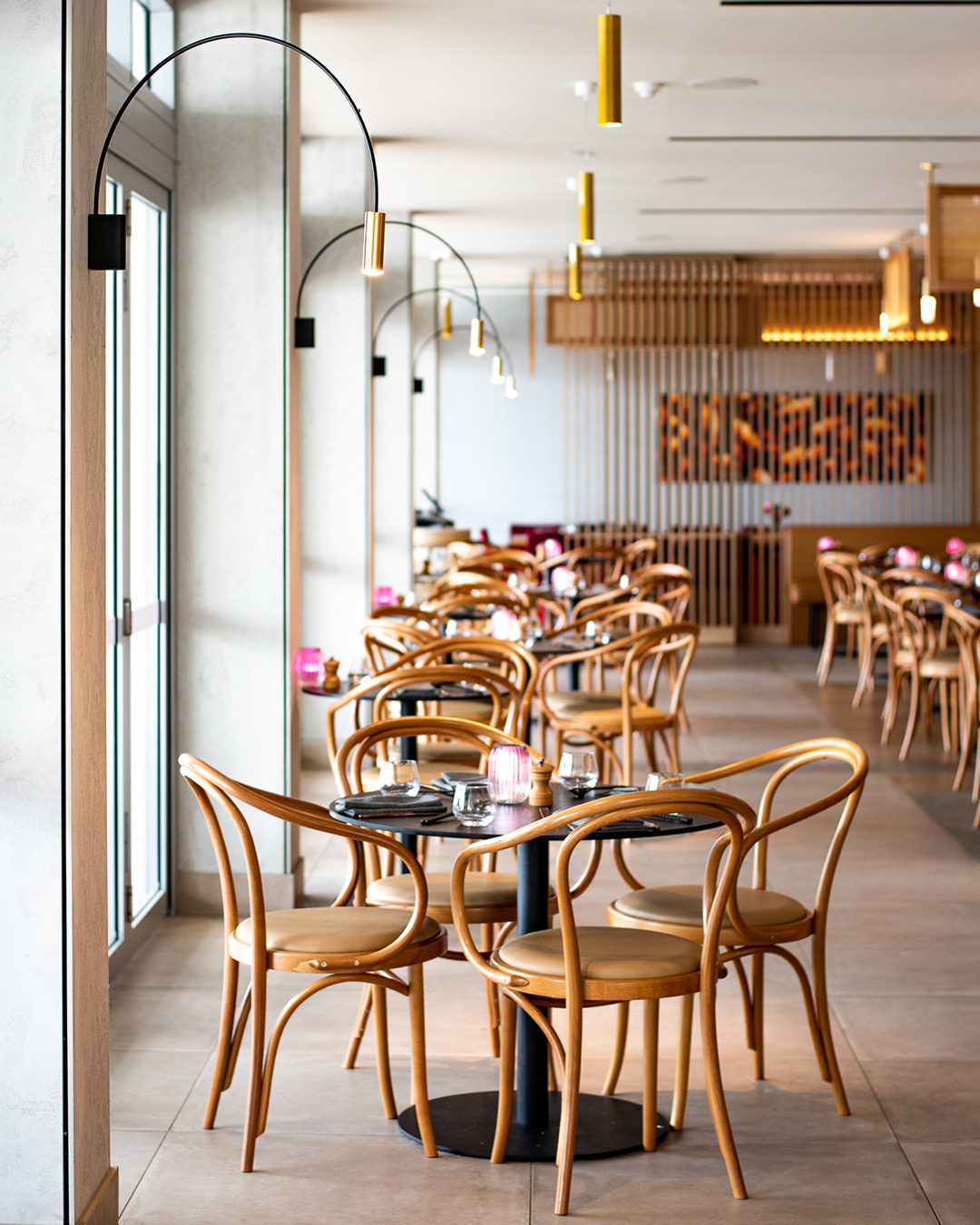 Smith Street Cafe
Having recently come under new ownership, the Smith Street Cafe is a local favourite known for their drool-worthy bacon and egg panini special. Of course, the menu features plenty of other delicious eats, including fresh salads, peanut butter bliss balls, and cabinets full of baked goods. Swing by from 6am for a morning pick-me-up in the form of a warm cup of 'jo and a homemade muffin.
The Chambers
Known by locals as one of Cairns' best cafes, The Chambers is our go-to for a fresh and filling brekky in the heart of the CBD. The cafe's seasonally inspired menu shows off the region's local flavours, whilst also offering freshly-baked sweet and savoury goodies. Treat yourself to a morning mimosa and salmon bagel, followed by a custard-filled fruit flan for a cheeky midday dessert. Count. Us. In.
Caffeind
Even on vacay, there's no getting anywhere without your morning cup of coffee. Thankfully, Caffiend has your back, with a range of freshly brewed coffee drinks and teas to get you up and going. For something a little more filling, order a dish from their all day menu. The miso-infused scrambled eggs are a total gamechanger.
Best Bars In Cairns
Rocco
Offering 270-degree panoramic views of Cairns and the Coral Sea, Rocco by Crystalbrook is the city's highest rooftop bar and restaurant. Sitting atop Crystalbrook Riley, it's perfectly positioned for travellers staying at the luxury 5-star hotel. The Mediterranean-inspired menu is packed with plenty of sophisticated cocktails, not to mention a stellar champagne menu best enjoyed in the gentle glow of sunset.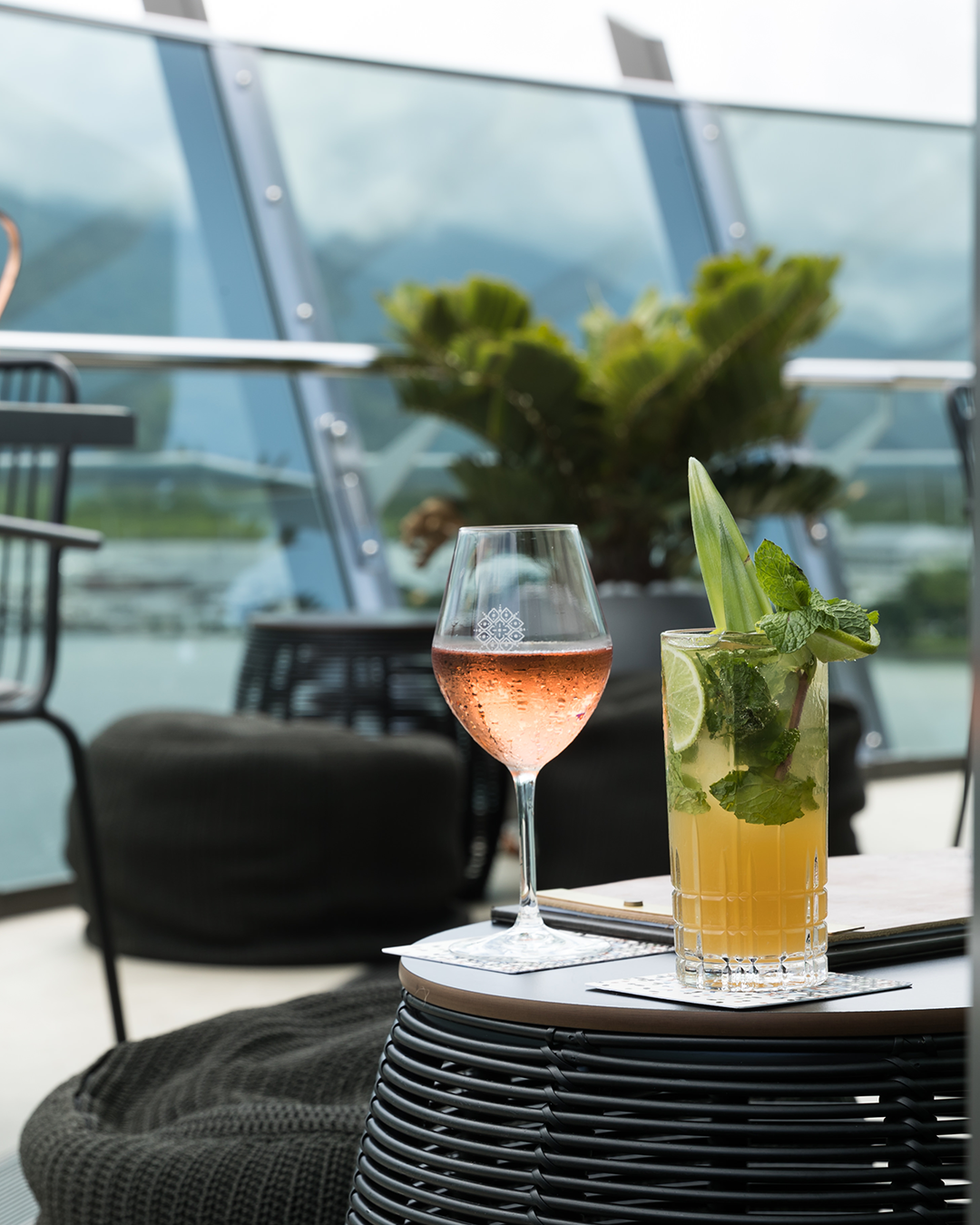 Whiskey and Wine
Having only recently just reopened to the public — we can safely say that Whiskey and Wine by Crystalbrook is back and better than ever. Showing off gorgeous views of the ocean adorned with palm trees, there is no better place for pre-dinner drinks in Cairns. And while enjoying a balmy alfresco cocktail should certainly be on the agenda here, make sure to check out their seriously impressive whiskey bar. Not only does it look incredible, but it also boasts an impressive pedigree of local and imported whiskeys — perfect for a post-dinner nightcap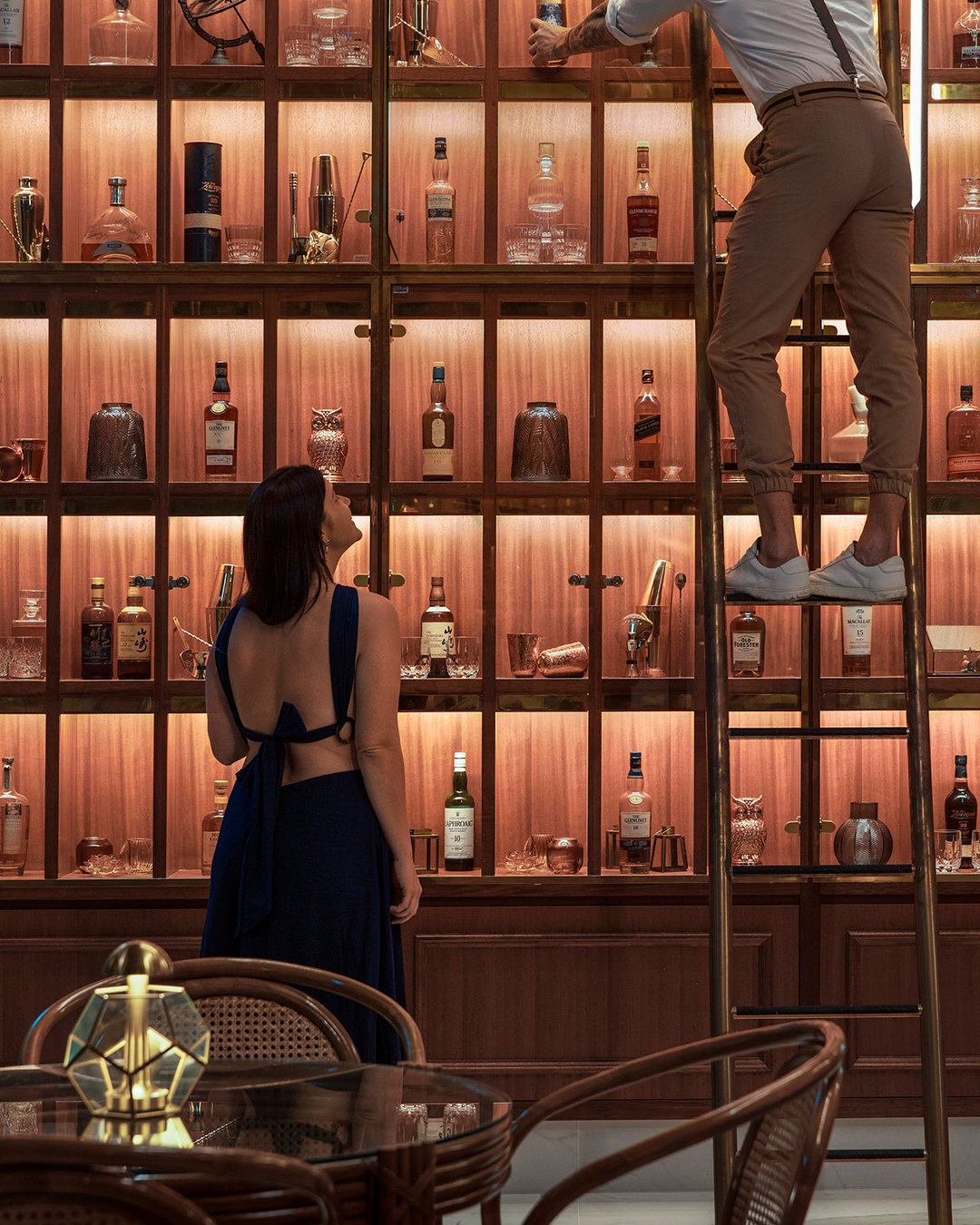 Hemingway's Brewery
Discover the best in fresh local beer whilst overlooking the water at Hemingway's Brewery. Perched on the shores of the Crystalbrook Superyacht Marina, the bar serves a plethora of award-winning craft beers produced in Far North Queensland. Not sure which brew is right for you? Check out their online brew selector to find a beer guaranteed to knock your socks off.
Wolf Lane Distillery & Bar
Looking for something a little...stronger? Wolf Lane's got you covered, with an impressive range of award-winning gin and coffee liqueur. Try something new with a tropical take on the botanical concoction, or dare to take on the distillery's navy strength varieties. Order at the bar or book a tasting so you can sample it all.
The Fox Small Bar
A small speakeasy establishment with fine wines, spirits and craft beers, The Fox is one of our top picks for the best bars in Cairns. Their extensive cocktail list is beaten only by their vast range of reds, whites and roses—not to mention their mouthwatering dessert wines. Located right by the airport in the suburb of Stratford, The Fox is the perfect place to get a feel for the city, or to round off your stay with a final glass of wine.
Three Wolves
Hidden down a red brick laneway in the heart of the Cairns CBD, Three Wolves is a favourite traveller's retreat. Their menu features a range of speciality whiskey, spirits, cocktails, wine and beer, not to mention a ton of delectable eats to compliment your choice of beverage. Our personal fave? There's no going past the Candy Shop cocktail—a divine sweet treat consisting of pink gin, moscato, hibiscus syrup, lemon and soda.
Things To Do In Cairns
Relax and Unwind at Eléme Day Spa
Let's be real — while there's plenty of fun and adventures to be had in Cairns — sometimes you just want (and need) to zen out and relax. The perfect place to do that? Eléme Day Spa at Crystalbrook Flynn and Crystalbrook Riley. Prepare for instant calm and tranquillity to wash over you as soon as you enter their beautiful establishment and treatment rooms. All of their massages and facials are simply heavenly but if you're after something a little bit different, book in for their Bust & Booty treatment that enhances the health and firmness of breast tissue and the gluteal muscles.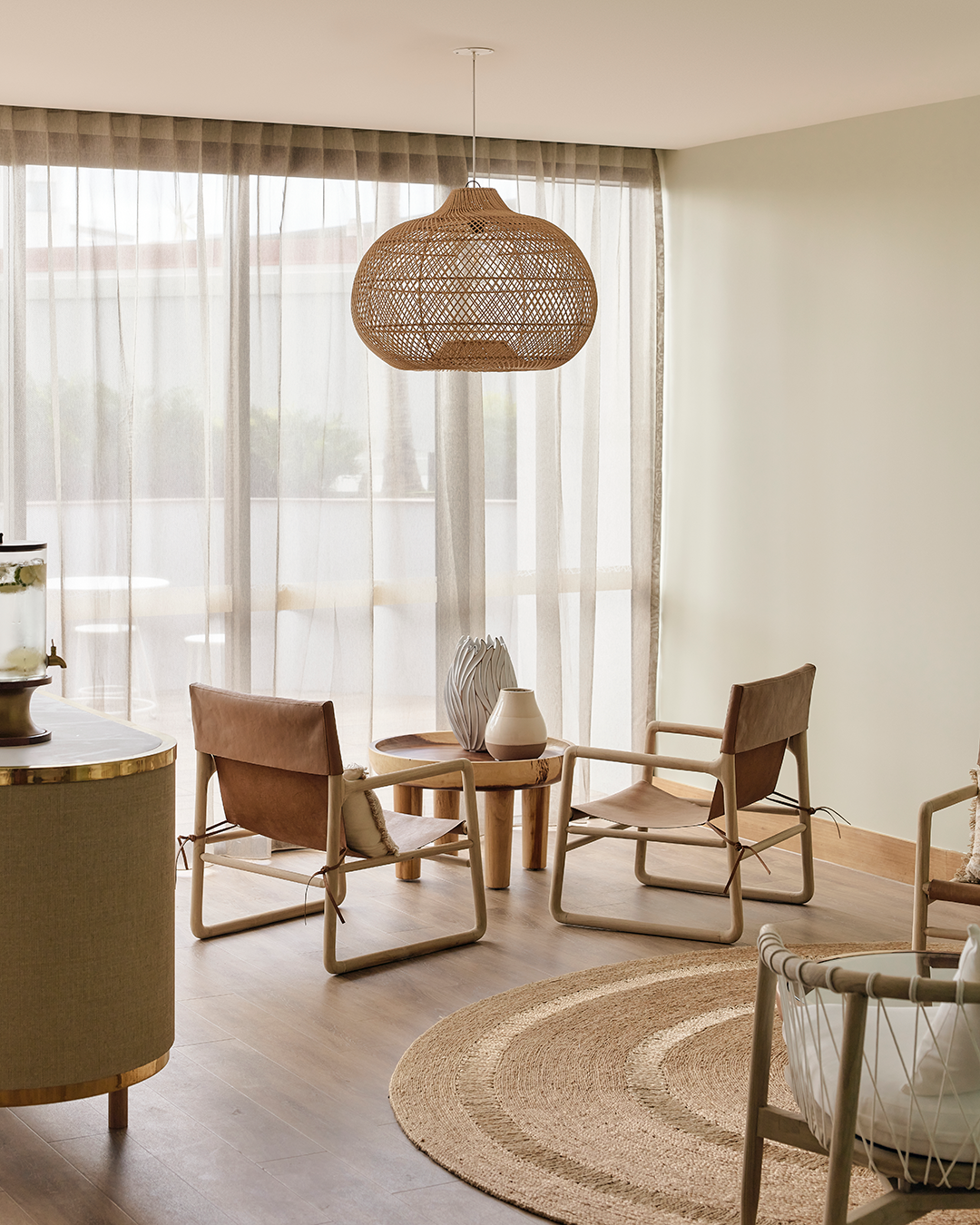 Mandingalbay Ancient Indigenous Tours
Mandingalbay Ancient Indigenous Tours are an authentic and insightful way to learn about the Traditional Owners and the land they have been living on for thousands of years. In a small group, Mandingalbay Yidinji Guides will cove topics of cultural significance and lead interpretative walks, showcasing the traditional use of natural resources used for medicinal purposes and sustenance. A grounding and memorable experience that shouldn't be missed while in Cairns.
Embark on an Underwater Adventure on Fitzroy Island
Home to some of the best beaches in Australia (if not the world), a day trip to Fitzroy Island is an absolute must when adventuring up north. Book yourself in for a day tour and enjoy a gentle cruise out to the island, where you can enjoy plenty of activities in the crystal clear shallow waters of the Great Barrier Reef. We're talking glass bottom boat tours, snorkelling, rainforest walks, secret beaches—you name it. Trust us, a trip to Fitzroy Island truly is a day in paradise.
Adventure Amongst the Treetops with the Skyrail Rainforest Cableway
Take yourself on an unforgettable journey above Australia's World Heritage-listed Tropical Rainforests with a trip on the Skyrail Rainforest Cableway. This award-winning 7.5-kilometre tourist experience offers breathtaking views of Queensland's Wet Tropics all the way up to Kuranda, in the Atherton Tablelands. On the way home, opt to take the scenic railway and journey through some of the oldest and grandest rainforests the world has to offer.
Take a Road Trip Down to the Babinda Boulders
Book yourself a hire car and load up a podcast for the hour-long drive to the Babinda Boulders. Nestled amongst the lush wet tropical rainforests of Far North Queensland, the granite boulders can be found peppered throughout the bubbling Bandina Creek, making for a popular tourist attraction. Once you've taken in the sights, stop in at the popular Babinda Bakery for some mouthwatering baked goods before heading to nearby Josephine Falls for a quick dip before you make your way home.
Looking for more local escapes? Grab your mates and rent this entire private island in the Whitsundays.
Image credit: Tourism & Events Queensland, Wolf Lane, Crystalbrook, The Chambers