There are few places left off the beaten path. Anywhere you want to jet set, it's just a hop, skip and Insta search away. Enter Azerbaijan. Azer…wha? Yep, that's right, it's the country you've never heard of. Well, that is unless you are a diehard Eurovision fan or follow the Formula 1.
It is however the newest addition to your bucket list. Nestled below Russia, next to Georgia and above Iran, it's smack bang at the crossroads of East and West. Situated along the old Silk Route, the country's history is a melting pot of cultures. Don't know where to start? We recommend checking out the capital city of Baku.
Here are our tips on everything you need to eat, see and do in beautiful Baku.
Be Wowed By Architectural Wonders
Baku is a kaleidoscope of structure and colour, from the medieval old city and fortress, through to the ground-breaking modern wonders such as the flame towers. Every turn is unexpected: soviet brutalist apartment buildings sit next to curvaceous Islamic constructions. Romantic streets lined with ornate balconies and beautiful Russian Imperial era decorations mean that at times it almost feels like you are wandering the streets of Paris. Take a cruise through the city and soak it all up but be sure to save the jaw dropping Heydar Aliyev Centre until last. You won't want to rush a visit through 57,500 square metres of sublime modernism.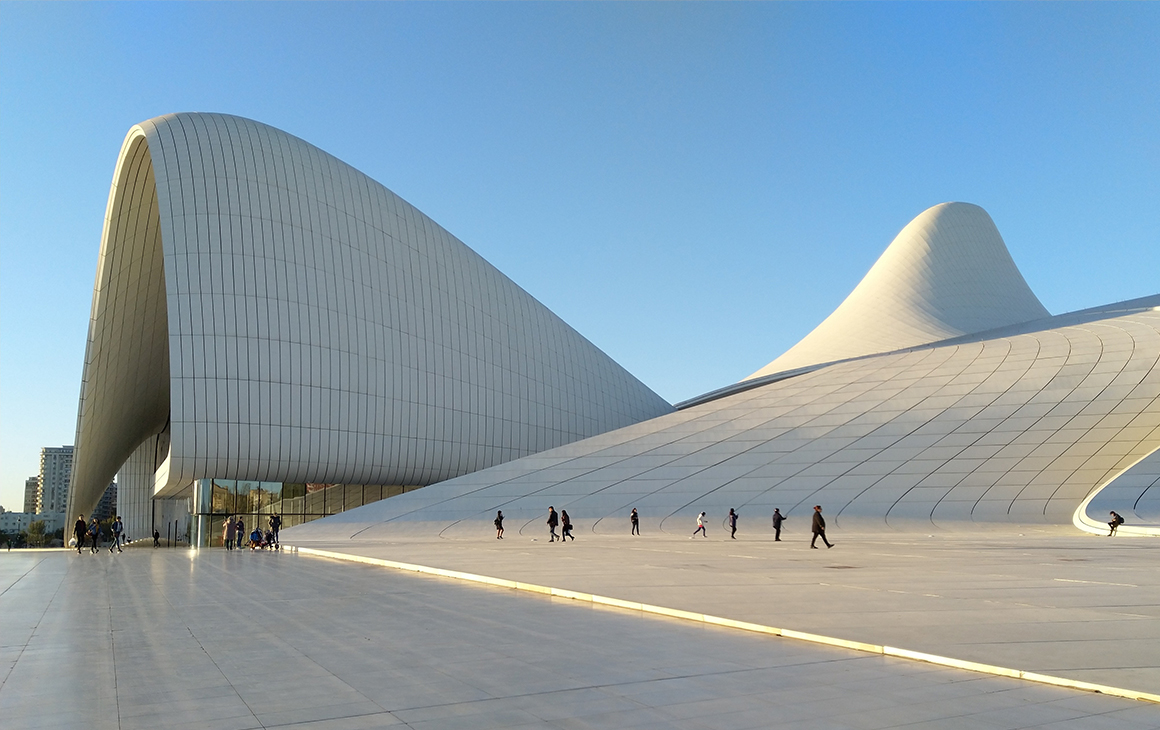 Take A Trip Back In Time
Just an hour's drive from the centre of Baku lies a rocky outcrop in Gobustan National Park, which might seem like any other hillside at first glance but get closer and you'll find a UNESCO listed site with more than 6000 carvings dating back as far as 40,000 years. That's a whole lotta history in these petroglyphs. Following the most recent ice age, humans have settled here and charted their inhabitation on the stone walls. It's mind boggling to gaze at these and think what life might have been like back in the day. You'll also want to check out the mud volcanoes bubbling away and oozing out of the ground—interestingly, Azerbaijan is home to more than half of the worlds mud volcanos. Because they aren't officially volcanoes it's safe to get up close. There's no lava involved, and they very rarely erupt.
Eat All Of The Sweet Stuff
Azerbaijan is made for those with a sweet tooth. Some treats might appear familiar—at first glance you'll be forgiven for thinking those bakery shelves are groaning under rows of Turkish delight and baklava. However, these aren't anything you've sampled before. Try Azerbaijan locum laced with rose petals and saffron as well as pakhlava; Baku's own type of baklava made with a minimum of eight layers of hand rolled pastry, nuts, honey and spices. Drinking tea is a national pastime. Served black and piping hot with a fresh pot of at least one variety of jam. Pop a spoonful of jam in your mouth, take a sip and sweeten the tea as you drink up. Repeat until the pot of jam is empty.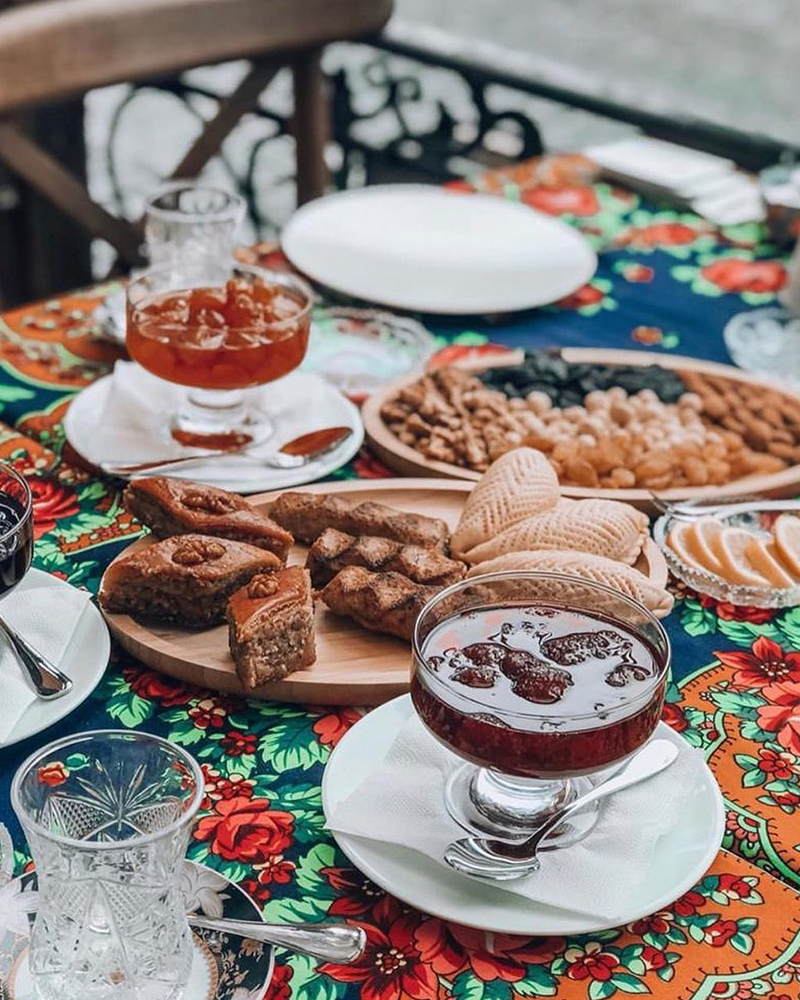 Take A Stroll Through The Old City
Within the walls of the old city lies a labyrinth of alleyways and cobblestone roads. Built in the 12th Century, it's well worth putting aside the best part of a day to wander and take your time exploring the nooks and crannies. You'll find hidden art studios, pastry shops, tea gardens and old bath houses. Unlike other European cities though, this is still very much a living, breathing part of everyday life for local Baku residents. Yes, you'll find a few tourists wandering around the medieval fortress, but mostly it's just people going about their daily business. Take a stroll through Shirvanshah's Palace and marvel at the intricate stone work. Maiden tower is an icon of the city but it's origins and history still largely remain a mystery. What do we know? It's eight floors high, the base was built in the 6th century, while the top was finished in the 12th century, the walls are around five-metres thick and down the bottom of a 21-metre well you'll find plenty of fresh water.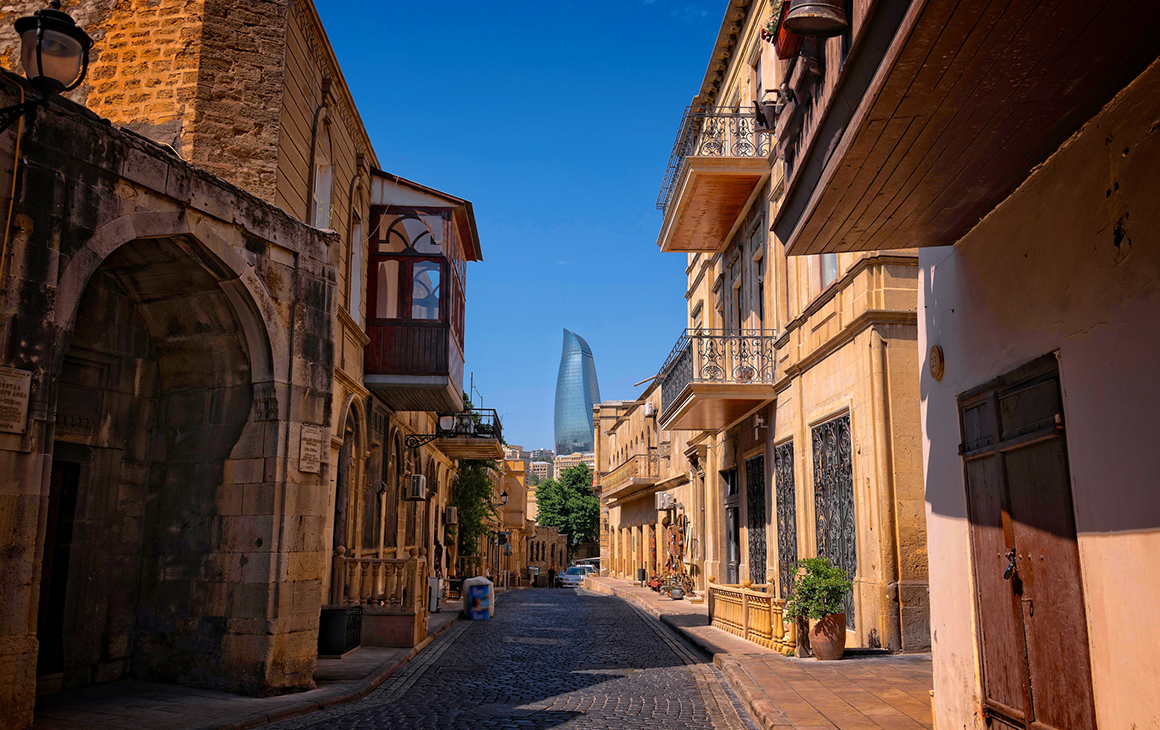 Hunt Down A Magic Carpet
Well, we can't guarantee you'll be whisked off like Aladdin and Princess Jasmine, but you're definitely in for a ride of another kind at the Azerbaijan Carpet Museum. Set within a building shaped like a giant rolled up carpet, it's home to over 10,000 carpets over three floors. You'll be able to watch this intricate and extremely difficult craft in action, with weavers at work amongst the exhibitions.
Heat Up In The Land Of Fire
Azerbaijan is known as the land of fire. You'll find fire references everywhere and with good reason, the ancient religion, Zoroastrianism, is still very much alive in modern culture and traditions remain even though the country has gone through numerous religious and political transitions. You'll find fire symbols throughout artwork, in architecture and even food. Head out to Yanar Dağ, a natural fire that has been blazing across the hillside for over 4000 years. Hop to it though, the pressure of the naturally occurring methane gas lowers each year and so it's predicted we only have until 2040 to witness this phenomenon. The Baku Fire Temple, Ateshgah, lies nearby and has been a Zoroastrian pilgrimage site for centuries.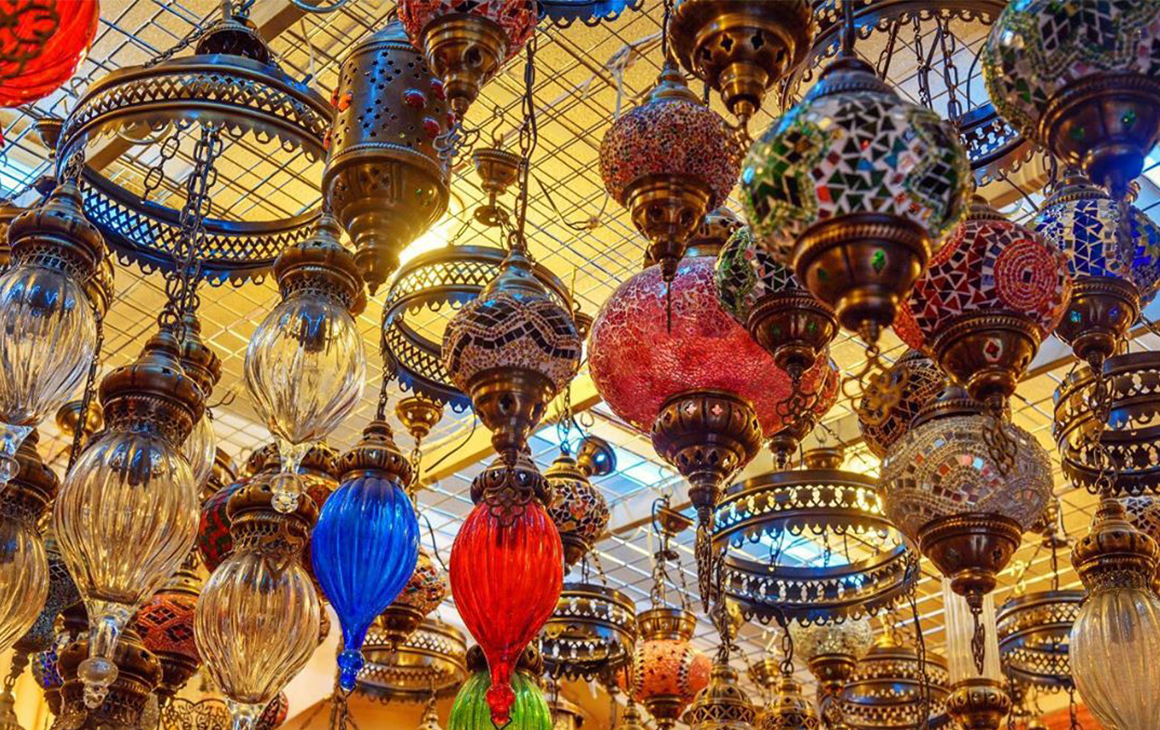 Shop Up A Storm At The Bazar
Food lovers, get set to lose yourself in produce nirvana. Baku has two main Bazars, each with a very different feel. Yasil Bazar is an indoor market that is spacious, clean and green. You'll find the freshest of fruit and veg here, as well as teas laced with rose petals, pistachio studded locum (Turkish delight) and rainbow coloured preserves. Be sure to stock up on saffron too—Azerbaijan is a famed producer and you can fill up a container for a fraction of the price you're used to. Taza Bazar is a bit more hotchpotch, but no less interesting. Turn left and you've got pet rabbits for sale, turn right and you can purchase all the electrical goods you'll ever need. Head downstairs and there's traditional fermented cheese, locally farmed meat, seafood, tins of caviar and plenty more fresh fruit and veg.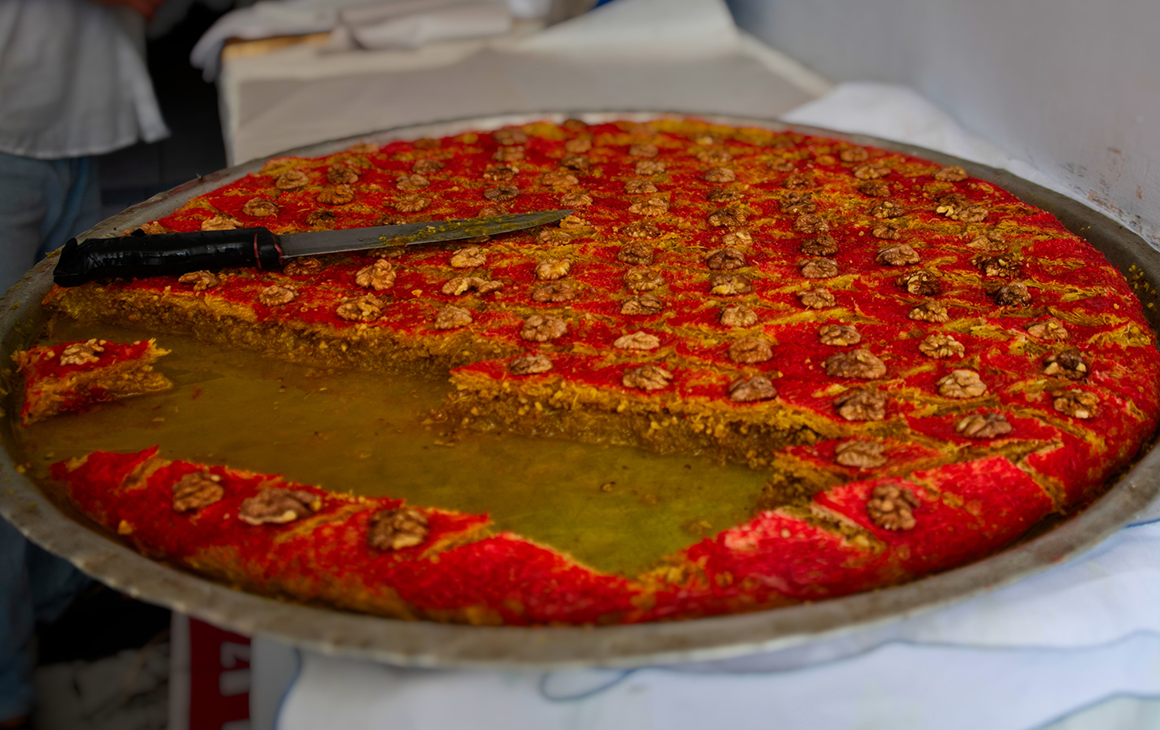 Never Miss A Meal
Azerbaijan food is like the best bits of your favourite cuisines all rolled into one and dialled up a notch. There are too many dishes to write home about, but be certain to try Qutab (stuffed flatbread served with yoghurt and sumac), Dolma (vegetables or vine leaves stuffed with mince), Lyulya kebab (minced lamb grilled over hot coals) and the king of pilaf: Shakh Plov. Imagine a mix of rice and saffron wrapped in crispy pastry and studded with dried fruits, nuts and lamb and you'll get the picture.
Try Mugam Club for a romantic evening meal under the stars. It's tucked away in a discreet courtyard which used to be a medieval Caravanserai—a roadside inn for weary travellers. You'll feel the love as you dine amongst fig trees, tapestries and water fountains. The added bonus? You'll get to catch some traditional music and watch supremely talented national dancers strutting their stuff. Shirvanshah Museum Restaurant is another must visit. Set in an old bath house the vast hallways and dining rooms are just as tempting to explore as the menu. Each room is decorated in a different era and style.
So how do you get there? Azerbaijan might be miles away from Australia on the map, but it's super easy to get to. Fly out from Perth at 11pm and you'll cruise into Baku in time for lunch the following day.
To really soak up all the city has to offer, we recommend this Baku city day tour.
Want more? Head over to Turkey to check out magical Cappadocia.
Editor's note: Urban List editors independently select and write about stuff we love and think you'll like too. Urban List has affiliate partnerships, so we get revenue from your purchase.
Image Credit: Rohit Potdar, Emad Aljumahm, Experience Azerbaijan