Croatia is one of those places that you feel like you've been to before because come every winter your Instagram is blowing up with people posting pictures of themselves sailing around its beautiful islands and bathing in its turquoise sea. We too were guilty of this and decided enough was enough, so we packed our bags and headed for its most popular city, Dubrovnik. Rich in culture and boasting truly stunning surrounds, this city has gained international favour after becoming the base for much of Game of Thrones. Whether you're a fan of the epic show or not, Dubrovnik is a must do.
These are all the best things to do, see and eat in Dubrovnik.
When To Go
Thanks to Game of Thrones this place gets busy, and we mean seriously busy, during peak European summer months of June, July and August. If you can brave the crowds (and the heat) feel free to check out this stunning city then, but if you're flexible with your travel plans, we highly recommend heading here in the shoulder months of May and October. The weather is still warm and there's more room for you and your umbrella on the beaches.
Where To Stay
While there's loads of Airbnbs around, most are located outside of the Old Town walls—which is where all the action is. And trust us, when that sun is beating down on you, the last thing you want to do is walk 30 minutes to get your culture or booze hit. Did we mention this place is exxy too? Yep, since the burst of tourism from that little show we mentioned earlier, prices have more than doubled in the last 10 years, so you'll want to be savvy with your cash. Our tip? Book a private room at Hostel Angelina. Located in the heart of the Old Town, the hostel is loaded with charm and has all the mod cons (read: air con) you could need. As well as being a place to lay your head at night, the owners host free wine tasting and tours like cliff diving and sunset picnics.
Things To Do
Take In A Classic Croatian Sunset
Sunsets in Croatia are renowned for their beauty. And while there are loads of places to watch the sun dip into the sea, we could barely keep our jaw off the floor at Mt Srđ. While it's a popular (and perhaps obvious) spot, the trick is getting to the top (either by four-minute cable car or 45-minute hike), ditch the restaurant and viewing deck and walk the dusty path to the tip of the mountain. There you'll find rocky outcrops perfect for settling into with a beer and snacks. There is a convenience store at the top of the mountain but plan ahead and grab a tasty haul from one of the supermarkets to save coin. Up there you'll feel like you're on top of the world, with views of Old Town's terracotta rooftops and the nearby Elafiti Islands.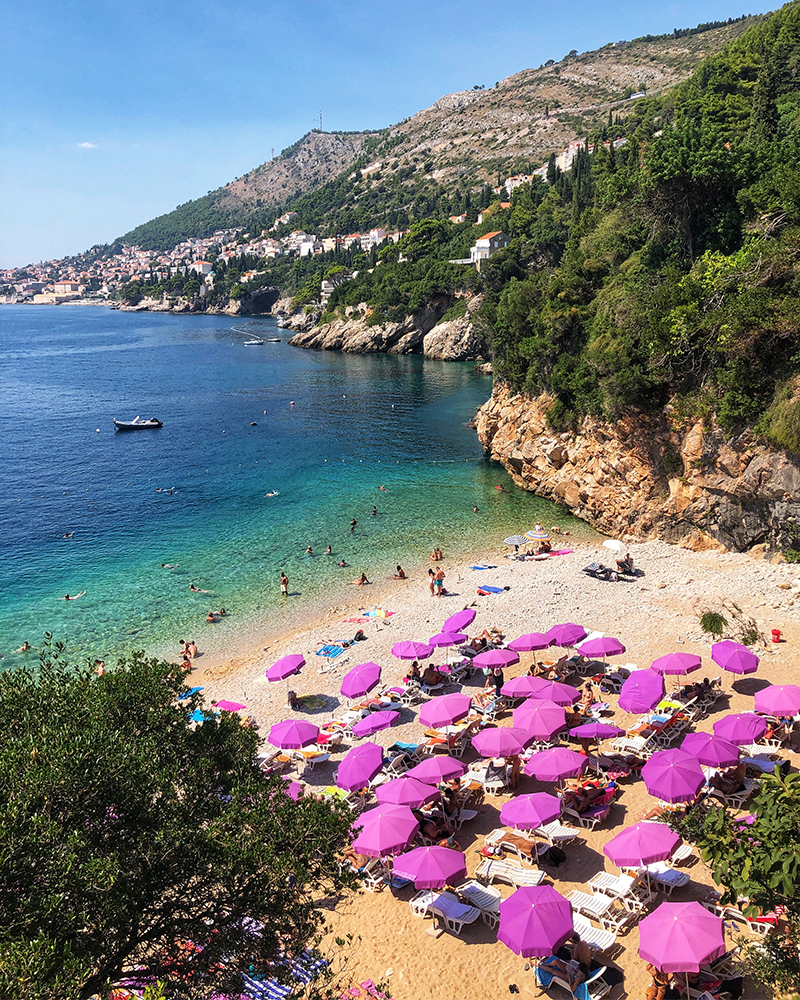 Hit The Beaches
Did we mention it gets hot here? In between adventure seeking and culture hits, you'll want to carve out some time to just chill out and Dubrovnik's cove-like beaches are the perfect spot to do just that. Early morning, and just a short stroll from Old Town's Ploče Gate, is Banje Beach. Here you can take a quick dip or spend the day, renting a lounge and umbrella. There's a bar at the back of the beach so you can get a mimosa too. If you want to make like the locals, we recommend heading to Sveti Jakov. Take a 20-minute stroll along pretty, cottage-lined streets, and descend down a steep set of stairs (yes, the return journey is tough but worth it) where you'll find total paradise. The part pebble, part sand beach is lined with sun loungers and good vibes. Even in peak season it rarely feels too crowded. There's showers, bathrooms, plus a bar and restaurant to while away the day in.
Cross The Border
Ah the beauty of Europe, where one moment you can be in one country and 10 minutes later, another. Ok so it might take longer than 10 minutes (a two-hour drive to be exact) but if you have a spare day on your itinerary, be sure to check out beautiful Montenegro. This country is seriously dreamy. Packed with old world charm, a rugged coast line, mountainous ranges and azure seas, it's simply stunning. Highlights include the world heritage listed city of Kotor and the medieval beach town of Budva (which is giving Croatia a run for its money).
Go Island Hopping
Croatia is packed with stunning little islands, so it would be remiss to not at least check out a few. From Dubrovnik, you can kayak or ferry to Lokrum, located just 600 metres from Old Town's shores. The pretty, pine-covered island is full of great walking trails as well as the French Fort Royal Castle and botanical garden. Bring your swimmers so you can cool off in the Mrtvo more lake which means dead sea. Our other fave is Korčula, a two-hour boat ride from Old Town and the birthplace of Marco Polo. You'll feel like you've stepped back in time on this medieval island, where narrow car-free streets give way to the stunning St Mark's Cathedral.
Walk The City Walls
Even if you're not into doing 'touristy things' you can't come to Dubrovnik and not stroll the Old Town's walls. The round trip takes about two hours where you'll walk through six fortresses, 1940 meters above ground. The views are incredibly beautiful so there's no need to rush. The pace is slow as many people stop to take pics and recreate GoT scenes. Along the way, there are little cafes that offer a simple menu of coffee, beer and ice cream. Although there's a nice breeze up there, if you do go in the peak months, get there at 8am for the first tour to avoid heatstroke.
Embrace Your Inner Nerd On A GoT Tour
There's absolutely no judgement from us if you want to relive the best moments of Game of Thrones and make like you're in King's Landing. Every corner of Old Town is home to a GoT scene. There's Jesuits Staircase where Cersei started her walk of shame, Minčeta Tower in the city walls, where Daenerys Targaryen retrieves her dragons in season two and Fort Lovrijenac, which you'll recognise as the Red Keep. There are loads of helpful websites like this one, that will lay out the locations for you should you want to tour them yourself, otherwise there's guided tours that run throughout the day, giving you extra background knowledge about the show.
Eat
360
If you're looking to really treat yo'self during your stay in Croatia, you'll want to make sure you hit up 360. Located within the Old Town, 360 boasts a terrace that stretches along the walls, offering sweeping views of the port and the fortress of St John. The menu is a Mediterranean and French fusion, expect dishes like saffron and veal tail risotto, octopus and lime ravioli and lamb shoulder with blue cheese.
Mea Culpa
If you're after cheap(er) food that's just as tasty, make a beeline for Mea Culpa. Tucked away in old an alleyway just 100 metres away from Stradun, this trattoria will take you straight to Italy with their roman style pizzas. Enjoy the chilled-out vibes here while you chow down one of their daily pizza specials.
Nautika
Located just outside the gates of Old Town (Pile), Nautika is casual dining at its best. Boasting stunning views of Old Town, this eatery is renowned for championing local produce. Expect eats like lobster tail pasta, St John's scallops and cuttlefish salad.
Drink
Buža Bar
Having a beer and a dip at Buža Bar is completely non-negotiable. Yes, everyone that goes to Dubrovnik stops by there, but for good reason—this place goes off. Carved into the side of the city walls, you'll find this intimate bar perched on the cliff. Snag a table, sink a radler (beer with lemon) and watch the daredevils amongst us throw themselves into the Adriatic. This place is super casual so bring your swimmers for a pre-drink dip, or cliff dive if you dare. Just be sure to get there at least an hour before sunset to ensure you get a seat.
D'Vino
Dubrovnik's first real wine bar is a local fave thanks to its seriously long wine list—around 100 tipples to be exact. You'll find it tucked away down a side street in the Old Town so it's the perfect spot or a pre or post dinner tipple. We recommend you get one of their cheese boards to go with your vino.
Banje Beach Club
If you find you don't want to leave Banje after a day in the sun, the good news is you really don't have to. Come sundown, the restaurant transforms into a vibing beach bar and club with sweet tunes and tasty cocktails.
Once you've conquered Dubrovnik, here's how to spend an epic 48 hours in Split.
Image Credit: Sarah Labuda, Buza Bar, Joachim Lesne, Spencer Davis, Patricia Jekki, Nautika