It's hard to believe, but Iceland wasn't always every influencer's dream destination.
In 2010, the volcano Eyjafjallajökull erupted, spewing ash over most of the northern hemisphere (and causing some nervous moments for Iceland's tourism board). Then came the Inspired By Iceland video series, a new stopover route from New York, and a little HBO production called Game Of Thrones. Suddenly Iceland was the fastest growing tourism destination in the world, with annual visitor numbers north of 2.3 million. In 2018, travellers outnumbered locals seven to one.
Tourism has slowed a bit recently (some experts reckon the Icelandic bubble has burst), but that's good news for most travellers. Overtourism is a real problem these days, and with fewer visitors crowding Reykjavik, you might actually find a decent hotel room.
We've put together this little first timer's guide to Iceland. Everything you need to have a good time in the land of ice and fire.
Things To Do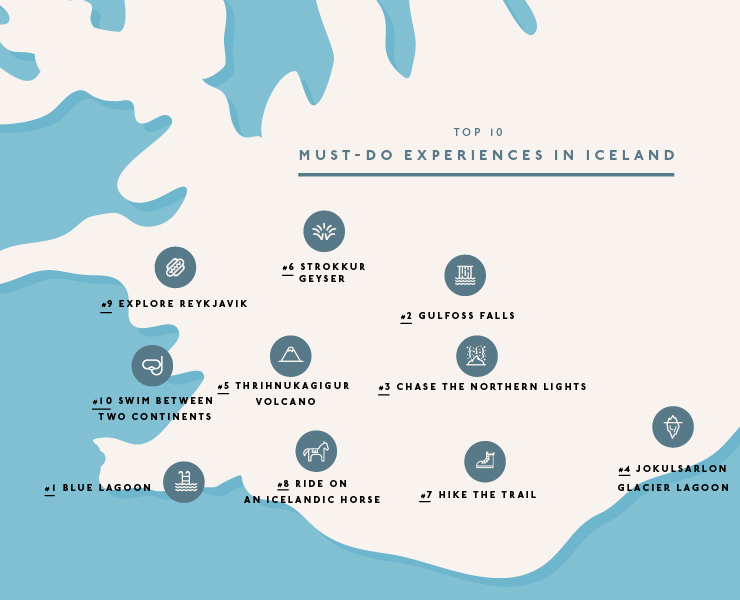 WARM UP IN THE BLUE LAGOON
One of the 25 wonders of the world, The Blue Lagoon is pretty much a given for your first visit to Iceland. It's made up of nine million litres of self-cleansing, geothermal water, which sits between a steamy 37 and 40 degrees Celsius. The electric blue colour comes from silica, algae and minerals in the water, combined with Iceland's (slightly anemic) sunlight. Pro tip: use mud from the bottom of the lagoon as a natural exfoliate.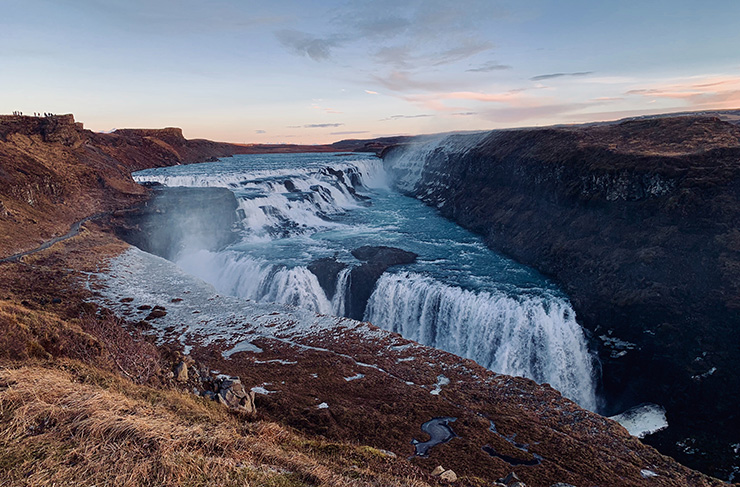 VISIT GULLFOSS WATERFALL
It's no wonder Gullfoss Waterfall is one of the most well-known attractions in the country, it's freaking beautiful. Part of Iceland's insanely popular tourist route, The Golden Circle, Gullfoss plummets 32 meters across two stages into a rocky ravine below. It's one hell of a meditative experience that you'll definitely need to add to your Iceland to-do list. If you want Gullfoss without a horde of selfie-snappers in the way, consider a shoulder month like March or October.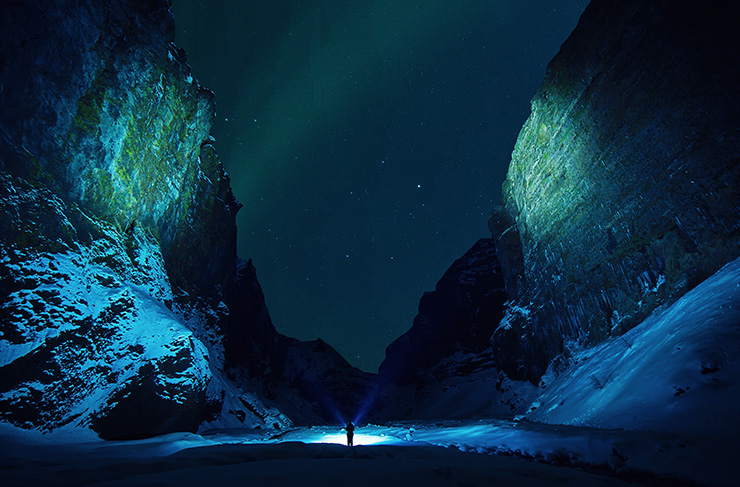 HUNT DOWN THE NORTHERN LIGHTS
This is what makes Iceland a year-round destination. It's one of the best places in the world to see the Northern Lights. The best viewing time is generally from September through to April. The lights are technically active all year round, but spotting them comes down to some pretty particular weather conditions—you're after a completely dark, clear night. Your best bet is to check the Aurora forecast before your trip. If you want to really spice things up, book an Aurora Floating Tour, where you get to lie back in the Secret Lagoon, listening to underwater music and watching the lights above. The full tour includes breakfast (you cook your egg in the geothermal springs), tastings of fermented shark (Iceland's national dish) and Black Death (Iceland's signature liqueur), plus an in-water massage.
COOL DOWN AT A GLACIER
Glacier tours can be pretty intense and last for several days, and for some, that might be too much holiday time dedicated to staring at ice. The good news is, there are a few options that only take one day, so you can be back in Reykjavik in time for bed. Glacier Guides offer a pretty speccy tour of the Vatnajokull Glacier and Jokulsarlon Glacier lagoon. Extreme Iceland also offer an even shorter ice cave tour, but you'll have to make your way there on your own, which shouldn't be too hard—driving in Iceland is relatively painless.
DESCEND INTO A MAGMA CHAMBER
Ever wanted to journey to the centre of the earth? Iceland is probably the best place to do it. Here, you can descend 120 meters into the dormant Thrihnukagigur volcano, which last erupted 4,000 years ago (and is not expected to do so any time soon). Join an Inside The Volcano tour and you'll ride the open elevator down to the bottom and visit the magma chamber, which, during an eruption, is probably the last place you want to be.
BE BLOWN AWAY AT STROKKUR GEYSER
You're kind of spoiled for choice with geothermic natural wonders in Iceland, but one of the most popular is Strokkur Geyser. It's about an hour and a half's drive east of Reykjavik. Strokkur is a geothermal fountain that spouts water 40 meters into the air every few minutes or so. It's usually a good idea to stand upwind.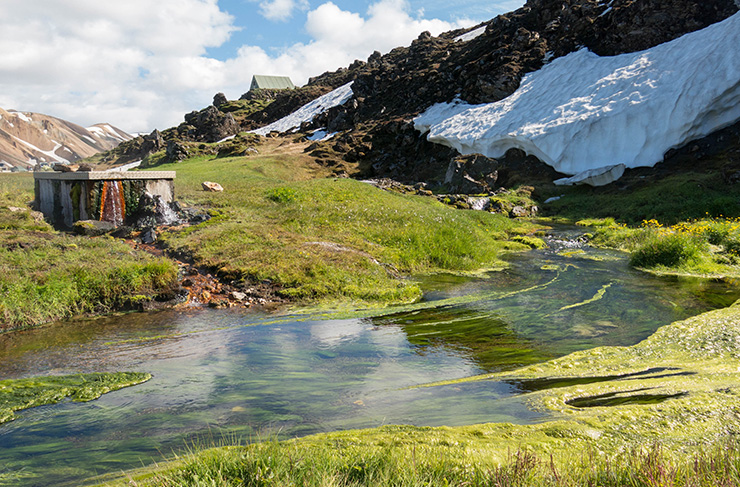 HIKE THE AMAZING TERRAIN
Tourists in Iceland are generally divided into big bus groups doing laps around the Golden Circle, and more nimble, self-driving travellers, looking for a good hike. If you're one of the latter, make sure you allocate some time for the famous Laugavegur trail. Trek Iceland offer an unbeatable four-day hiking tour where you spend your nights in remote mountain huts and your days soaking up rhyolite mountains, waterfalls, geysers, glaciers and volcanos. Here's a good guide to some other good Icelandic hiking routes.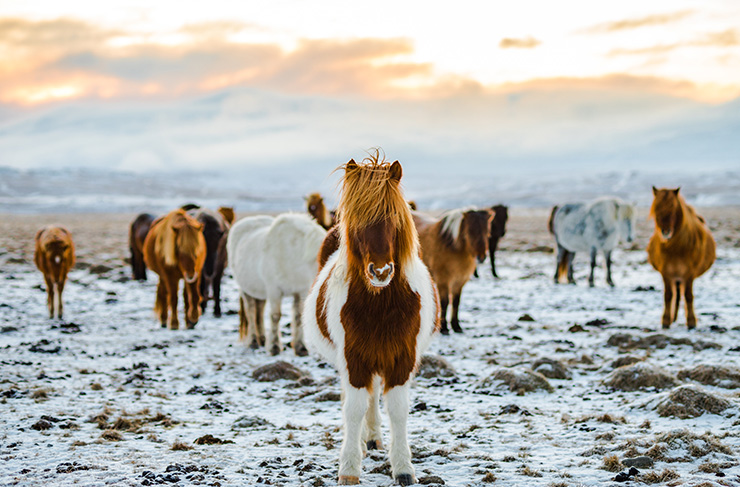 RIDE AN ICELANDIC HORSE
Icelandic horses are like regular horses, only smaller, fluffier and much cuter. Sort of the real-life equivalent of My Little Pony. If your legs are in need of a little rest (maybe after tackling the Laugavegur trail) why not saddle up and hop on a tour with Eld Hestar. There are plenty to choose from—you can ride below mountains, across hot springs, along black sandy beaches and even beside volcanoes. We tried to adopt an Icelandic horse and take it home, but no dice.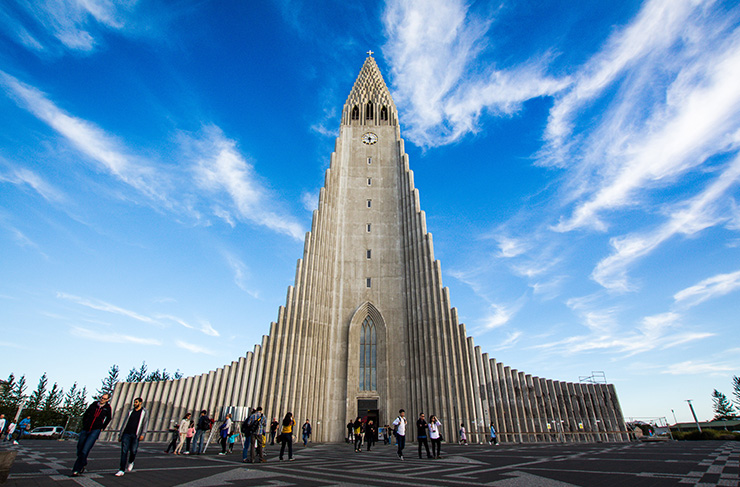 EXPLORE REYKJAVIK
Reykjavik is Iceland's capital. Before the tourism boom it was small, quirky and quiet. Since 2015, it's become small, quirky and packed with tourists. If you're travelling in peak season (June to August), book your hotel at least six months in advance. Here's a few ideas for things to do in Reykjavik.
You can visit one of the most amazing churches on the planet, Guðjón Samúelsson's rocket-like masterpiece, Hallgrímskirkja. There's an elevator to the top with views over downtown Reykjavik. After that, burn some plastic in the trendy Laugavegur shopping district. Architecture fans will do well to visit Nordic House, and if you're intrigued by Iceland's geothermal activity, you can pay a visit to the Geothermal Energy Exhibition (it's just a 20-minute drive from the city centre). While you're out and about grab a hot dog from the famous street stall, Baejarins Beztu Pulsur.
DIVE BETWEEN CONTINENTS
The Silfra Rift is known as one of the best dive sites in the world. It's where the North American plate bumps into Eurasia, and you can snorkel or dive right between them. The waters are some of the clearest in the world, with visibility up to 100 meters—they're even safe to drink. It's usually best to book your dive or snorkeling experience through Dive.Is. They have a really good local reputation.
Where To Stay
Reykjavik is the capital of Iceland, and home to nearly all the big hotels. Chances are good this will be Home Base for the majority of your stay. There's plenty of attractions nearby, loads of great food and drink options, and heaps of tourism infrastructure (tour operators, information booths etc). But if you're after a secluded escape, you might like to head a little further afield.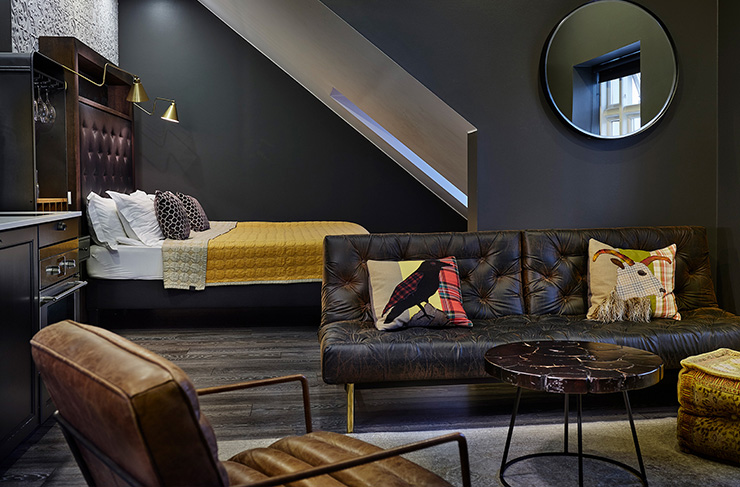 REYKJAVIK
Townhouse 41
Sitting in the heart of Reykjavik, with city views and some very cool interiors, Townhouse 41 is a good choice for the style-conscious traveler who likes to stay in the middle of the action.
The Swan House
Lush finishings and modern luxuries, you'd be happy to call The Swan House home while abroad. It's right near the main Laugavegur strip, and you get free WIFI. Bonus.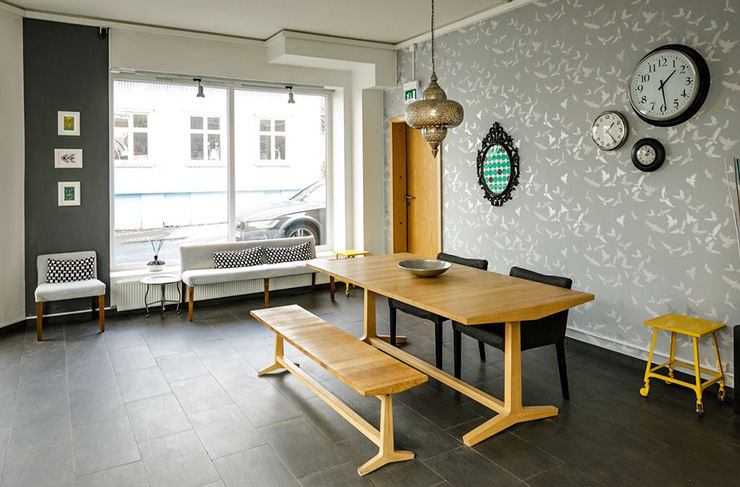 Rey Apartments
Light, bright and colourful, Rey Apartments are close to the Reykjavik Art Museum and the trendy Skolavordustigur district. You can pick from studio, one, two or three bedroom apartments, depending on your group size.
A LITTLE FURTHER AFIELD
Silica Hotel
Silica Hotel is a 40-minute drive from Reykjavik and a short walk from the Blue Lagoon. It's about as Nordic as you can get. Set among lava rocks, the rooms feature beautiful Scandinavian furniture and panoramic views. You even get access to a private bathing lagoon.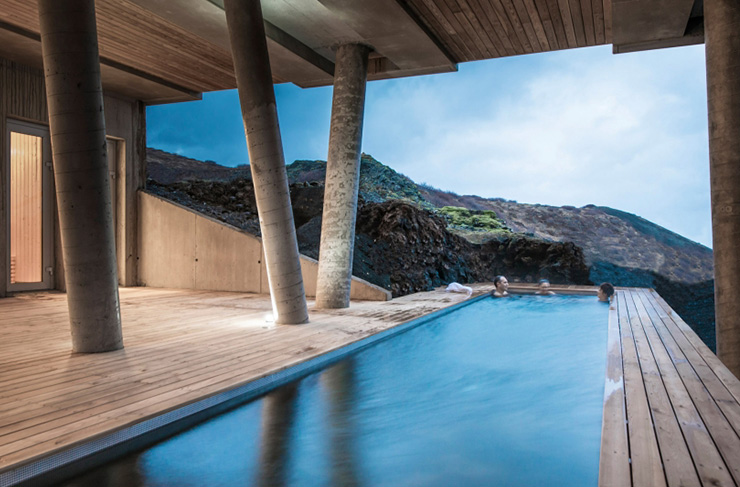 ION Luxury Adventure Hotel
About an hour from Reykjavik, the ION is perfect for adventure-seekers cruising the Golden Circle. It's close to the UNESCO-listed Thingvellir National Park, and it's a great place for catching the northern lights in winter. The rooms are pretty speccy too.
Where To Eat
Iceland's national dish might be fermented shark (yum), but don't let that put you off heading out to dinner. There's plenty of delicious food in Reykjavik, and tourism has fuelled a new high-end culinary scene.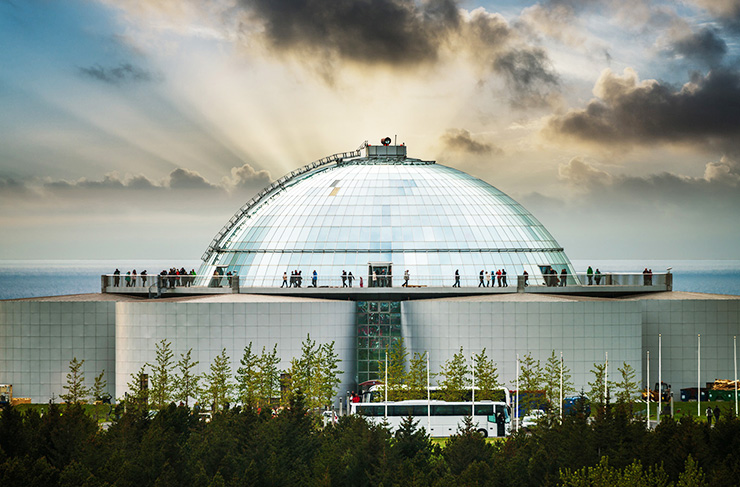 THE PEARL RESTAURANT
Sitting atop the Perlan building, The Pearl Restaurant offers 360 degree views of Reykjavik, top notch service and a seasonal menu featuring a smattering of Icelandic delicacies (brace yourself, there is fried whale on the menu). This one gets popular in peak season, so book in advance.
SANDHOLT
These guys have become a bit of a cult smash. Sandholt produce some of the tastiest baked goods in Iceland. It's a family-owned bakery that's been around since 1920. Sandholt make everything from barley and bulgar bread to rye and smoked pumpkin seed, using only the finest ingredients and zero dairy or sugar. Very friendly on your tummy. Don't forget to grab a sweet treat on the way out.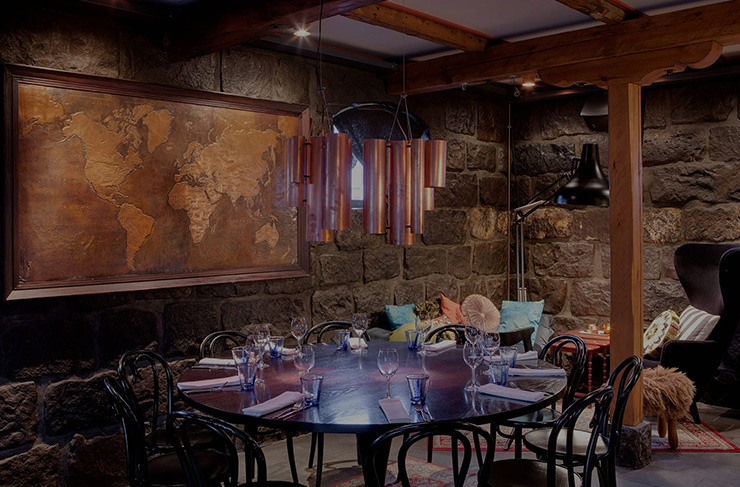 FISKFELAGID
Icelanders are all about their seafood, and Fiskfelagid is regarded as some of the best in the country. They offer two menus, Journey Through Iceland and Round The World, but no matter which you choose, you're in store for a treat. Make this your fancy date night splurge.
NOODLE STATION
When it's ridiculously cold outside, all you want is food that warms the soul. That's exactly what they dish out at Noodle Station. The offering here is fairly simple: think beef, chicken and vegetarian noodle soups. But it's definitely one to stop by to warm those cockles before heading into the snow.
BÆJARINS BEZTU PYLSUR
You might have heard of this one. Reykjavik's famous hotdog stand? Bill Clinton and a bunch of other celebrities have eaten here, and it's still slinging Icelandic hotdogs near the harbor. What is an Icelandic hotdog? Try the 'ein með öllu' (one with everything): that means lamb-based sausage in a bun, topped with ketchup, mustard, fried onion, raw onion and sweet remoulade. It's delicious.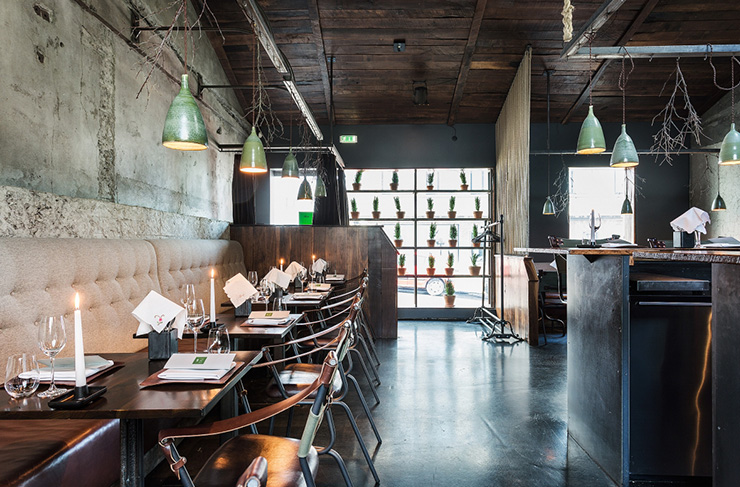 DILL
You'd be a real dill if you missed one of the hottest restaurants in Iceland while you're there. DILL serves contemporary Nordic fare using seasonal ingredients in super cosy, yet cool surrounds. The wine list is an absolute killer.
Tips & Tricks
GETTING THERE
For more countries, getting to Iceland is a pain. There's no sugar-coating it. Unless you live in the northern US or Europe, you'll have to catch multiple planes. Try to avoid those end-to-end, 48-hour journeys and plan something more sensible. Here's a pretty comprehensive flight guide.
CLIMATE
It's pretty chilly in these parts (go figure—it's called Iceland). Definitely pack a toasty jacket and loads of layers. July is the hottest month of the year, with temperatures hovering around 11 degrees Celsius. January is the rainy season, with about 50mm of rain.

WHEN TO GO
It depends what you want to do, really. October to April for winter activates, May and September/October to avoid the crowds, and June to August for summer, endless daylight and lots of tours. Personally, we reckon a mid-winter Northern Lights trip is the way to go, but be prepared for eternal darkness.
WHAT TO PACK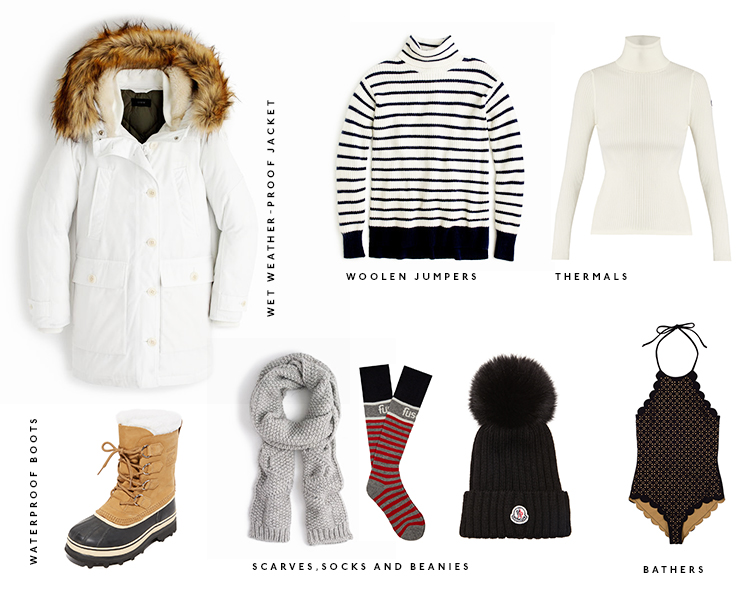 WHAT ABOUT MONEY?
The currency in Iceland is the Króna. Each Króna is worth about 11 US cents. Fair to say, Iceland is not one of the dominant global economies.

DID YOU KNOW?
#1. The Icelandic phrase 'algjört rassgat' (translation: 'absolute asshole') means that something adorable is being cute. So if you see a tiny puppy chasing its tail it's totally appropriate to say it's an absolute asshole. We're not trolling you here.
#2. Taking advantage of their geothermal activity, the roads and sidewalks of Iceland are kept snow-free and homes are kept warm by pumping the hot water through pipes underground. Can we move there already?
HOW TO SAY

TOP TIP
Enjoy some alone time. For such a small island, it's quite easy to find a space all to yourself in Iceland. The tourism boom has certainly helped the local economy, but this country really shines when you leave the crowds behind and set off into the wild.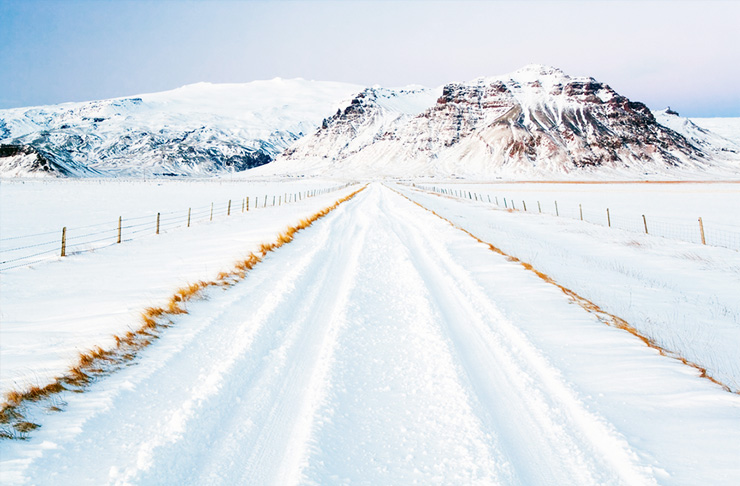 Want some help organising your trip? Check out these awesome tour.
Feel like hopping on two wheels? Check out our guide to the world's most scenic bike rides.
Image credit: Vladimir Riabinin, Iceland Mag, Fiskfelagid, Guide To Iceland, Design Hotels, Rey Apartments, Townhouse 41