Kuala Lumpur (KL) has always moved at slightly breakneck speed. Chinese and Malay tin miners carved out the original settlement in the 1850s, and it only took the British a few decades to turn KL into the capital of Peninsular Malaysia. These days the city is like some crazy historical mash-up, where Mogul-style domes and colonial relics run head-first into hawker carts, street markets, steel skyscrapers and air-conditioned mega-malls like Pavilion KL and Suria KLCC. This is where Malaysia comes for a good time. And there's definitely no shortage of stuff to see.
Here's our crash course guide to Kuala Lumpur.
Jalan Alor
Coming to KL and not eating hawker food is like going to Paris and getting all your dinners from McDonalds. There are a few hawker streets in the city, but Jalan Alor is probably the most famous. You'll find it close to the glitz-y, jam-packed Jalan Bukit Bintang and Changkat Bukit Bintang. If in doubt, just follow your nose: the smell of fried oyster omelettes, drizzled in chilli sauce, smoky satay chicken and big bowls of Assam Laksa wafts up and down the street.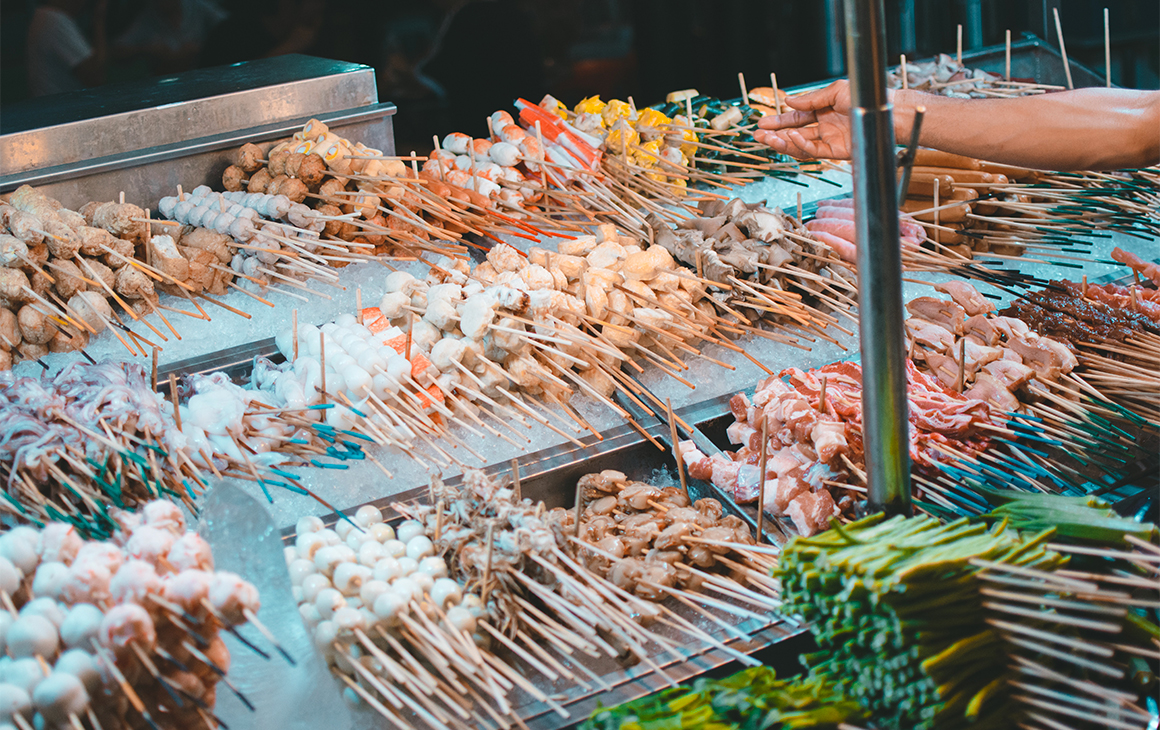 Merdeka Square
Merdeka Square is a pretty big deal for most Malaysians. It's where the country declared independence from colonial Britain in 1957. For travellers, it's a chance to step back in time, check out some interesting neo-Mughal and Moorish Revival architecture (particularly the Sultan Abdul Samad Building), and maybe join a history tour. Make sure you also check out St Mary's Anglican Cathedral.
City Gallery
If it's your first day in KL and you want to get your bearings, head down to the City Gallery, which acts like a sort of historical-centre-turned-tourist-information-booth. You can learn about KL's history, check out some (frankly) insane dioramas, and pick up walking maps. Most tours depart from here. You'll probably be passing anyway: City Gallery is smack bang in Merdeka Square.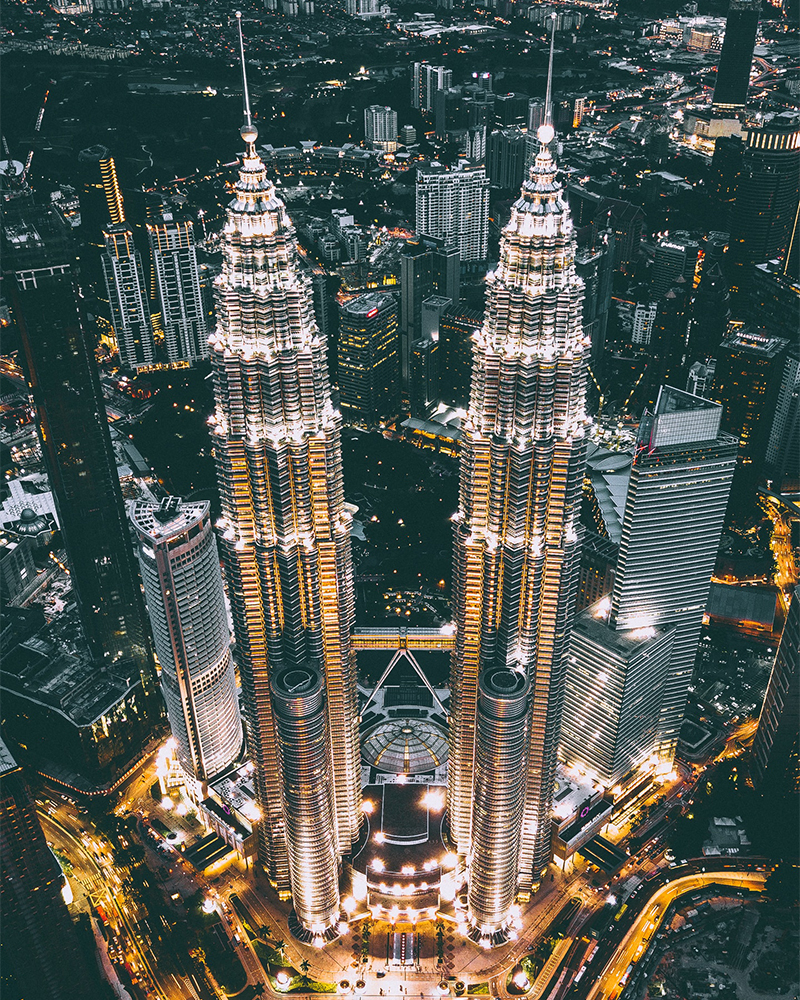 Kuala Lumpur Tower
KL Tower is the seventh-tallest freestanding building in the world. It's kind of hard to miss. Along with the Petronas Twin Towers, this thing is probably Kuala Lumpur's most recognizable landmark. There's a revolving restaurant about 282 metres up (good views, but a little touristy), and the Tower is also home to an aquarium, mini-zoo, Islamic falak observatory and base jump centre. One for the hard-core adventure junkies. Book here.
Thean Hou Temple
This is one of the oldest and biggest temples in South East Asia, rising six-levels about the nearby Federal Highway. It's pretty popular with tourists, but still worth a look (just try to arrive early, before the mid-afternoon crowds). Thean Hou Temple was built in 1894—inside you'll find pagodas, tortoise ponds, Buddha statues and some of the best views of KL going around (the temple is perched up on a hill, just south of Brickfields).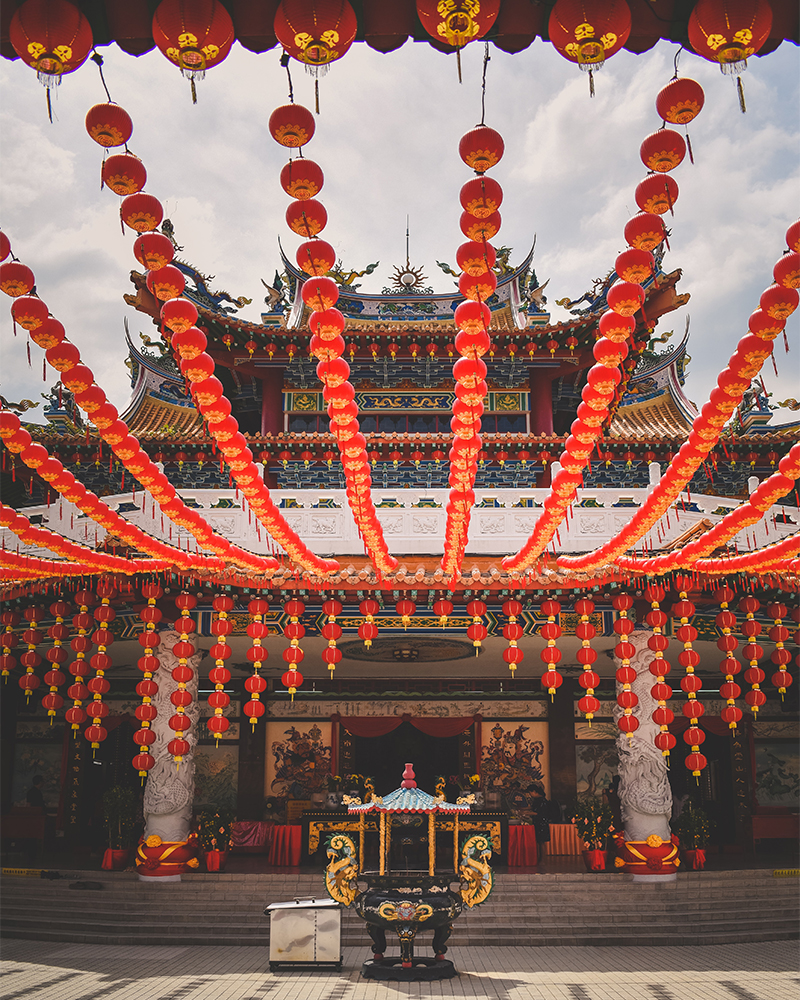 Berjaya Times Square
Now we're talking. KL attracts thousands of international visitors each year for one reason: shopping. The city has some truly epic shopping malls: huge, labyrinthine, air-conditioned behemoths that seem to span several city blocks. Berjaya Times Square is probably our favourite: a 48-storey, twin tower complex. You should set aside a whole day (and a whole lot of money) to explore this place. And if you want to really burn some plastic, spend the night up top, at the five-star Berjaya Times Square Hotel.
Pasar Seni Central Market
Jalan Alor is where you go for Malaysian food, but Pasar Seni is where you go for Malaysian design. Sitting inside a gorgeous sky-blue, Art Deco building is the Central Market: more than 300 individual shops selling old-school batik prints, woven tapestries, modern art, handicrafts and prints. There's even a Malacca-style 'Jonker Street' inside. Think of it like New York's SoHo Flea Market... but sweatier.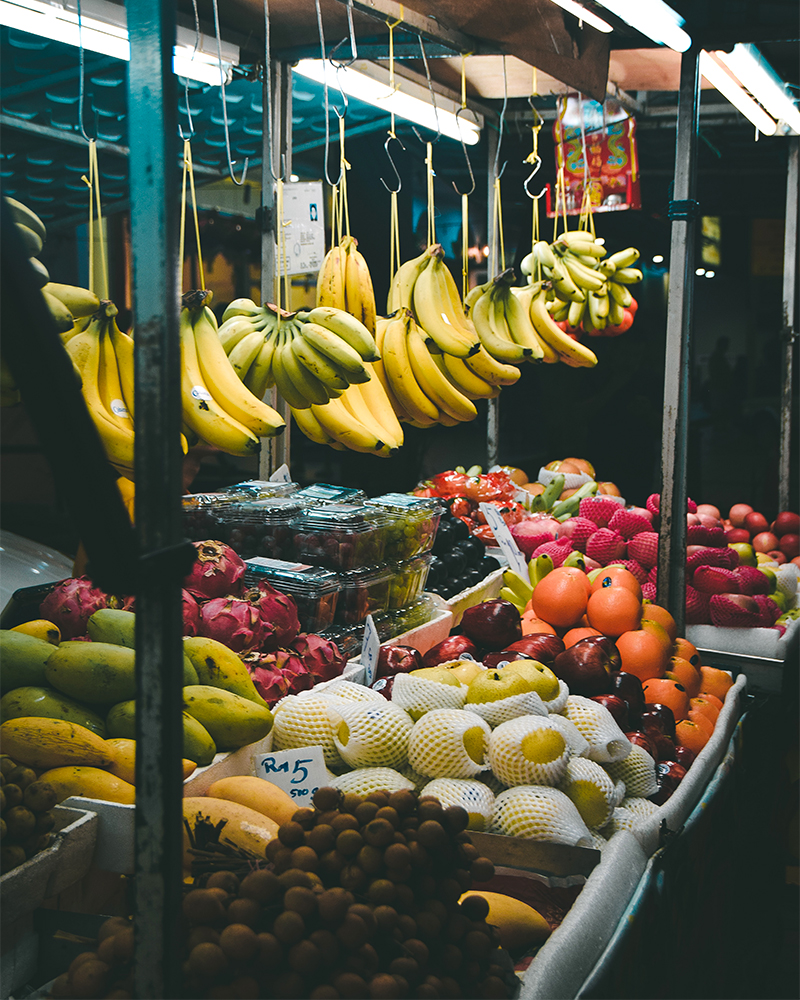 Banyan Tree KL
KL went through a bit of a rooftop revolution in 2018. Rooftop bars were suddenly sprouting everywhere. But if you have to pick one, make it Vertigo at KL Banyan Tree. It's the city's tallest hotel rooftop bar, sitting among the clouds on level 59. Grab a seat at the front bar or out on the balcony, order some shaken fruit margaritas, and soak up views of KL Tower and Petronas Twin Towers. Not a bad way to round out your KL adventure.
Batu Caves
Ok so this requires a short drive but it's totally worth it. Located just 13kms north of KL lies the Batu Caves. Set in a limestone hill, this 100-year-old temple is absolutely break-taking. Cathedral Cave, the largest cavern in Batu Caves, houses several Hindu shrines beneath its 100-metre-high arched ceiling (trust us, it's worth climbing 272 steps for). At the top you'll also spot loads of cheeky monkeys hanging around the 400-million-year-old rock formations. At the foot of Batu Hill are two other temples you'll want to check out–the Art Gallery Cave and Museum Cave—all of which have loads of stunning Hindu statues and paintings. This is absolutely one of the best things to do in Kuala Lumpur. Book a tour here.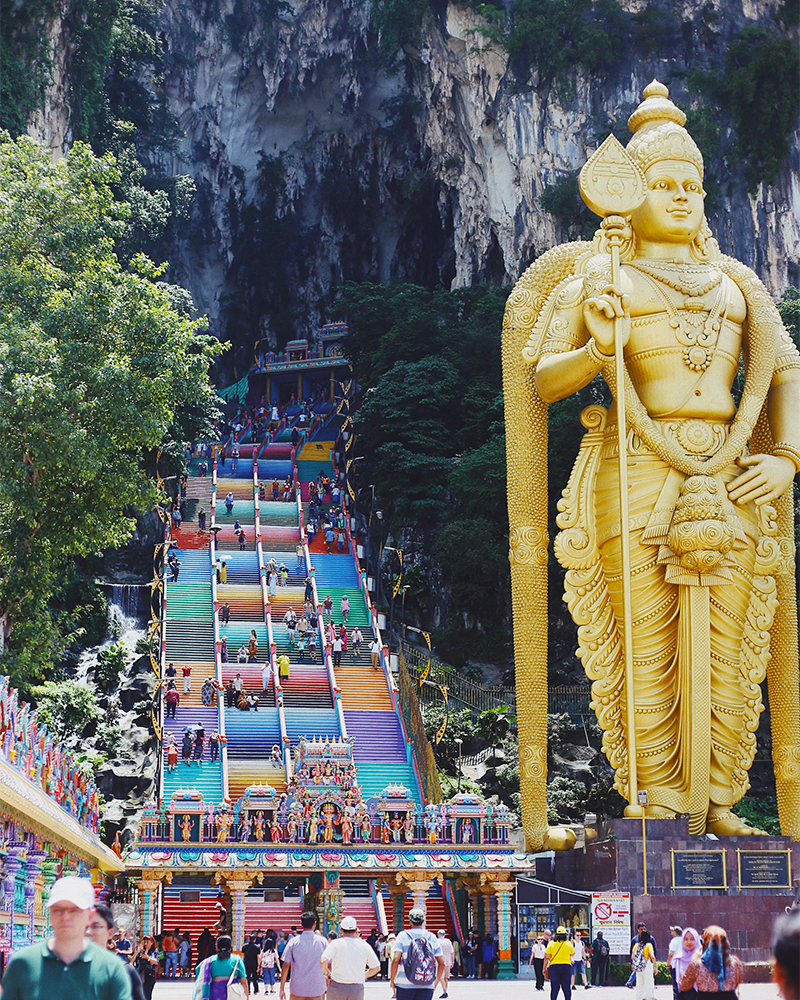 KL Butterfly Park
KL looks like a concrete metropolis from the outside, but when you start exploring, you stumble on these little pockets of wilderness. Or at least man-made wilderness. KL Butterfly Park is the biggest butterfly garden in the world, home to 5000 butterflies spread over 80,000 square feet of indoor tropical jungle. Make sure to lower your eyes from time to time: beneath your feet there's a network of waterways, filled with Japanese koi and freshwater turtles.
Brickfields
The perfect example of Malaysia mix of cultures, make sure you take some time to visit Brickfields, also known as Little India. Once a quiet residential neighbourhood, Brickfields is now buzzing day and night. Running from Jalan Travers to Jalan Tun Sambathan the streets are lined with brightly coloured buildings, Bollywood music blasts from speakers, local boutiques sell the most incredible saris and of course, there's loads of delicious Indian restaurants.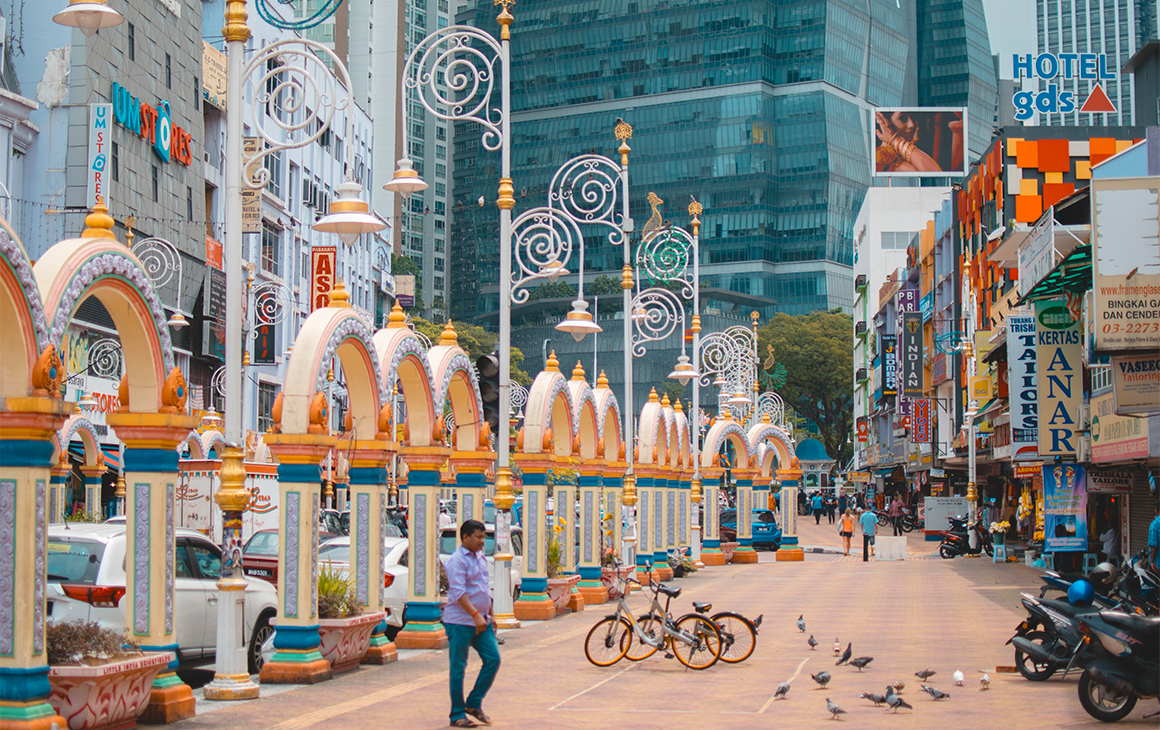 KL Forest Eco Park
Speaking of weird wilderness pockets, smack bang in the middle of KL's cityscape, there's this place: the Forest Eco Park. It's the last remaining pocket of one of the oldest rainforests on Earth, protected from city planning and urban development (it was technically gazetted in 1906). Entry to the Eco Park is free, and anyone can wander through its 9.4 hectares of tropical hardwood forest, surrounded by clicking insects and bird calls. Just FYI, it's also known as Bukit Nanas (Pineapple Hill). Take a trip through of all of KL's amazing green spots on this half-day tour.
Want to see it all? Try this hop-on hop-off bus tour.
Once you've ticked these off the list, take or roadie or a short flight to neighbouring Singapore.
Editor's note: Urban List editors independently select and write about stuff we love and think you'll like too. Urban List has affiliate partnerships, so we get revenue from your purchase.
Image Credit: Taylor Simpson, Sean Ong, Job Savelsberg, Mahdiar Mahmoodi, Azlan Baharudin