Sri Lanka is the destination on everyone's travel lips at the moment, and with so many things to do in Sri Lanka we knew we had to stretch this one out as far as it could go.
Sri Lanka is full of natural wonders to see, native wildlife, and food that will definitely open your eyes. While animals such as elephants, crocodiles and turtles draw crowds, Sri Lanka is also a must-visit destination for surfers, both novice and more seasoned.
The island itself is only just over 400km wide, so all parts are fairly accessible, and you can easily travel between provinces inside a day. Like most south-east Asian countries, driving can be pretty hairy if you're not used to it, so it might be worth hiring a driver who knows the roads to get you from A to B.
If you're planning on booking a trip soon, your best bet is with Sri Lankan Airlines. The airline is part of the Oneworld alliance so you can grab your points, and you can fly direct to Colombo straight from Melbourne.
So, if you're looking for things to do in Sri Lanka, look no further. We've broken it up by province, and then by city, to give you a round-trip tour of the island.
Western Province
Colombo
Head to Galle Face Green, a 5-hectare ocean-side park that stretches for 500m and take in the Indian Ocean.
The Colombo National Museum was established way back in 1877. Take a look at the cultural and natural heritage of Sri Lanka.
Jump in a Tuk Tuk, negotiate a price, and burn around town. It's an experience like no other.
Drop by Pettah Market, one of the most hectic experiences you'll ever have. You'll find everything from fresh produce to electronics, gifts to take home, and much more amongst the thousands of people that visit every day.
Visit Gangaramaya Buddhist Temple which hosts a mix of both modern and classic architecture.
Definitely make some time to go to Colombo's busiest restaurant—Ministry Of Crab. Bookings are essential, so make sure you plan with this in mind.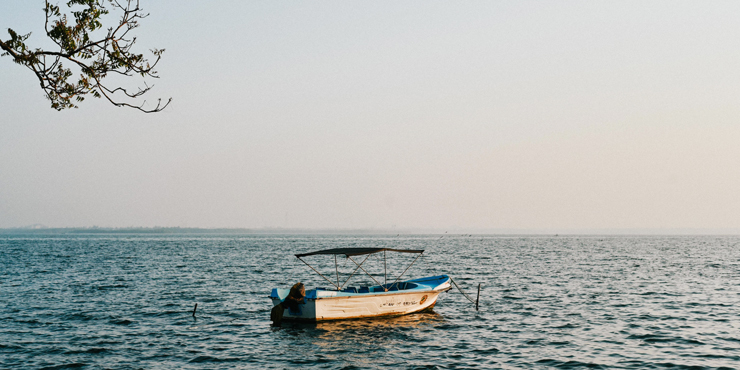 Negombo Lagoon | Ben Tyers
Negombo
Stop by Guruge Park—a large nature-themed park choc-full of rides, dinosaur exhibits and bird shows.
While Galle's Dutch Fort is the most well-known, Negombo also has a Dutch fort for you to explore. Built by the Portugues but captured by the Dutch in 1640, definitely one for history buffs.
Negombo has a massive fishing community so you'd be mad not to visit the Main Fish Market where you can get all manner of seafood to cook up.
Central Province
Kandy
Temples will be a running theme here, but definitely make some time to visit the Temple Of The Tooth. It houses a sacred Buddhist relic of Buddha's left canine tooth which was retrieved following his cremation.
Visit the beautiful Royal Botanic Gardens which date back to the year 1371.
Head out to the Girigama Tea Plantation & Factory to get a great view of Sri Lanka's biggest export industry.
If bird-watching takes your fancy you'd be mad not to visit Udawattakele Forest Reserve situated right near the Temple Of The Tooth. More than 80 species of birds live in the forest.
Take a private one-day tour of Kandy where you can catch all of the above via an air-conditioned care.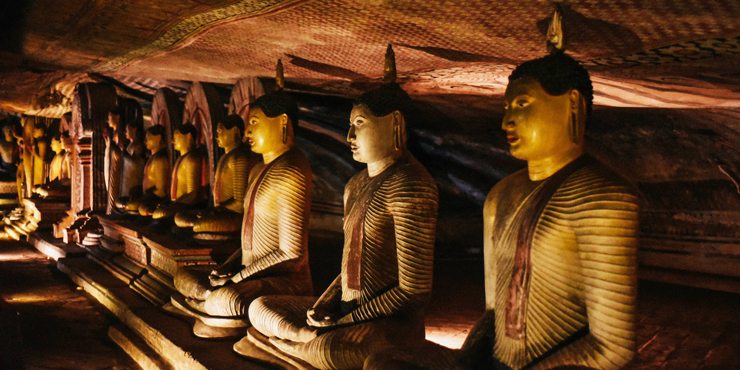 Dambulla Cave Temple | Ben Tyers
Dambulla
Visit the enormous rock fortress called Sigiriya. Stretching more than 200 metres high, this UNESCO World Heritage Site is well worth the exhausting climb to the top.
Another World Heritage Site that can be found nearby is the Dambulla Cave Temple. A climb up to the top of the rock will present you with a range of ancient caves with statues dating back to 1073.
Take a glance at some Asian elephants, water buffalo, snakes, birds, and so many more creatures at Minneriya National Park. Jump on a safari tour—you're almost guaranteed to see a large group of elephants.
From the top of Sigiriya you can see another massive rock formation called Pidurangala Rock. Well worth a hike if you have it in you.
Ride a traditional bullock cart through the farming village of Hiriwadunna.
Crash the night—or longer—at Aliya Resort & Spa, where you'll find one of the best pools with a view we've seen.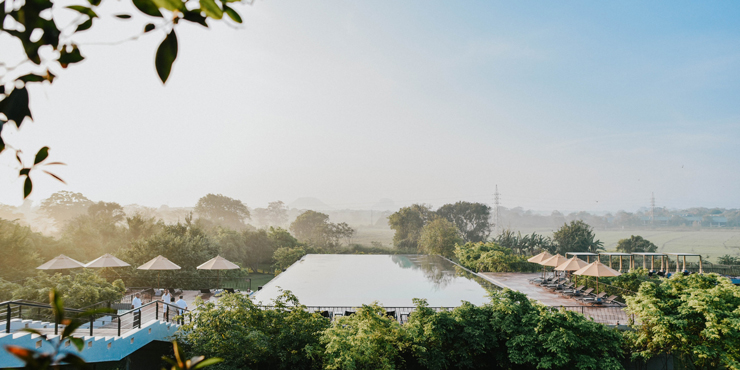 Aliya Resort & Spa | Ben Tyers
Northern Province
Jaffna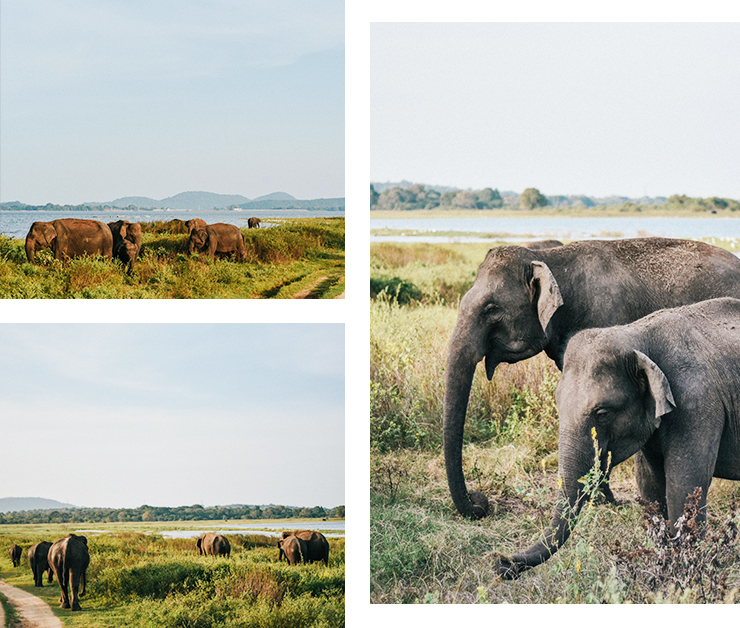 Minneriya National Park | Ben Tyers
Eastern Province
Trincomalee
Grab breakfast, lunch, or dinner at Restaurant Tuna. A family run business with delicious food and friendly service.
Velgam Vehera is an archaeological protected Buddhist temple that was built between 307 and 267 BC.
Stretch out on the golden sand of Marble Beach and just let the time float away.
See some chital deer and a great view of the bay at Fort Fredrick. It's the perfect spot to watch a west coast sunset from.
Strap on an oxygen tank and go scuba diving. There are plenty of operators that can take you out into the bay from Trincomalee. Just check reviews before booking.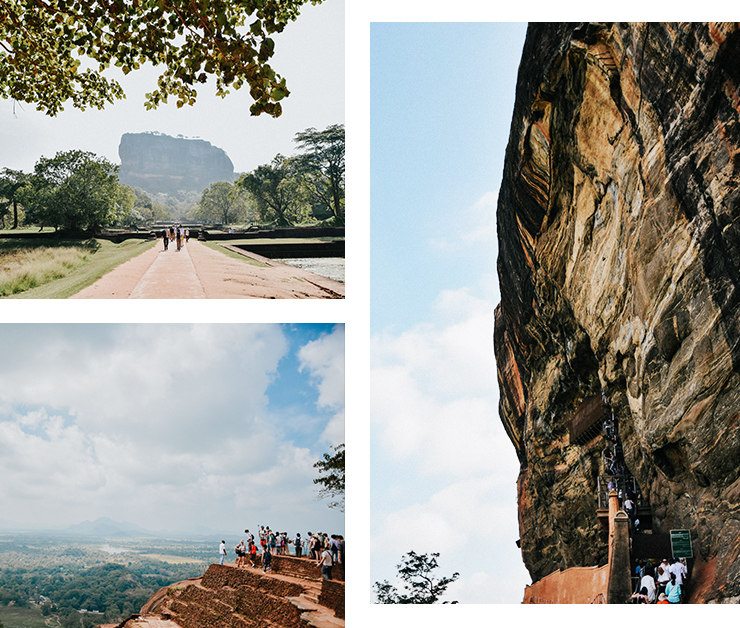 Sigiriya | Ben Tyers
Batticaloa
Standing 28 metres high, and built in 1913—the Batticoa Lighthouse is a local landmark you need to check out.
Get up early and head to Kallady Beach for a magnificent view of the sunrise.
Tear into the amazing produce on offer at Batticaloa Market, where you'll find ladyfingers, jackfruit, snake gourd, as well as a range of local fish.
Take a full day bike tour of the town visiting the fish market, the beach, local organic gardens and much more.
Arugam Bay
Go for a surf at Whiskey Point, a great spot for both beginners catching a wave, and there's some good breaks for the more seasoned pros.
Head out to Panama Tank and feast your eyes on a heap of crocodiles (before they feast on you).
Keep on checking our Sri Lanka's amazing wildlife with a trip to Kumana National Park. There are 255 species of birds recorded inside the park, along with golden jackals, turtles, wild boar, and elephants.
If you're looking for a spot to party, Whiskey Point is that spot. You'll find music blaring on the beach on Friday nights until the early hours of the morning.
While partying away the night, you'll be mad not to take in a few sips of Arrack—a spirit made from coconut flowers.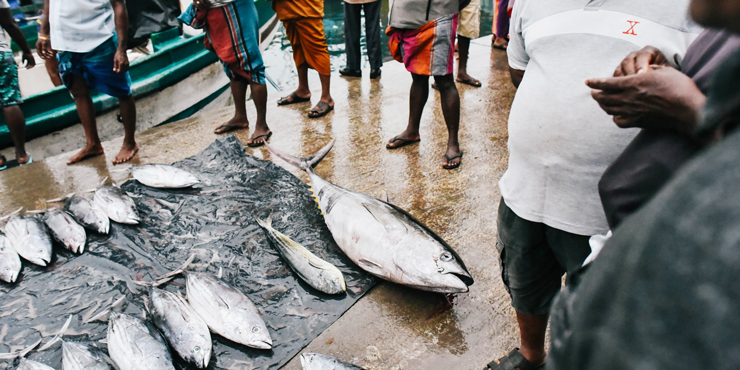 Mirissa Fish Market | Ben Tyers
Galle Province
Hambantota
Yala National Park is the second largest, but the most visited national park in Sri Lanka. There are 44 species of mammals found in Yala, including elephants, leopards, sloth bears, and wild water buffalo.
You'll also find Bundala National Park in this part of Sri Lanka where you can catch a glimpse of flamingos, jackals, mouse deer, star tortoise, and mugger crocodiles.
Head out for a whale watching tour from Mirissa, or buy some fresh tuna straight from the wharf.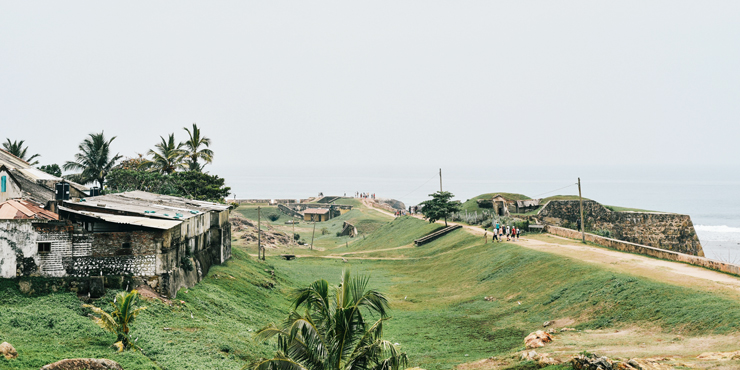 Galle Fort | Ben Tyers
Galle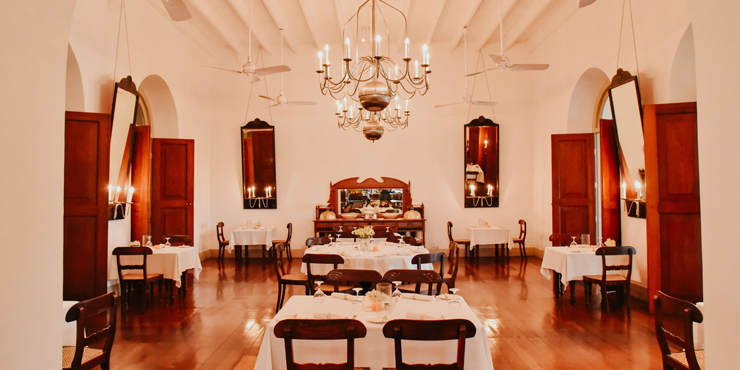 Amangalla Hotel | Ben Tyers
For something a little lower key, book a night or two at The Kip, a lovely boutique hotel run by a couple of expat Aussies.
Tuck into traditional Sri Lankan fare at Lucky Fort Restaurant just off Pedlar Street, inside Galle Fort.
If you're wild for old stuff, then the Historical Mansion Museum is a must-visit for you. This private collection is full of colonial artefacts such as typewriters, cameras, jewellery, and much more.
Check out Galle Lighthouse. Sri Lanka's oldest lighthouse was built in 1848 and boasts amazing views of Galle harbour.
Take a guided tour of Galle Fort, immerse yourself in the history of the site, and see how it works after rebuilding following the Boxing Day tsunami.
Planning to travel somewhere else this year? Check out our Travel section for all the inspiration you'll ever need.
Image credit: Ben Tyers
Editor's Note: The author of this article was hosted by Sri Lankan Airlines, but as always, the opinions and recommendations are their own.