You may recognise Rotorua for its unique sulfur scent, but beyond this is a lakeside town bursting with things to eat, see and do. We're talking technicolor geothermal pools, serene treetop walks and a mouthwatering foodie scene.
Here are the best things to do in Rotorua.
Unwind At The Polynesian Spa
Overlooking the shores of Lake Rotorua is The Polynesian Spa—the ultimate relaxation experience. A geothermal retreat designed to soothe the mind, body and soul—this resort features two natural springs which feed 28 mineral pools. It's all about nourishing the skin, muscles and soothing any aches and pains. If you're feeling extra indulgent, book into the Lake Spa, where you'll enjoy rejuvenating treatments like body wraps, facials and massages—we're so ready for this.
Fly High With On A Zipline
One for the adrenaline junkies—experience the thrill of flying through Rotorua's forest canopies on this zipline adventure. With two different courses reaching heights of up to 22 metres, the thrill alone will make this an unforgettable experience. Don't fear, experienced local guides will ensure you're well looked after and clued-up on the wildlife and history of the ancient forest. They'll even transport you to and from your hotel, leaving you to focus on what matters—nailing the zipline pose as you soar out among the trees.
Explore The Night Markets
Every Thursday evening from 5pm to 9pm you'll catch the Rotorua Night Market in town—a popular must-do for both locals and visitors. With a mix of produce, crafts, arts and boutique shopping, there's plenty to explore, eat and enjoy. Local musicians provide the tunes as you wander through the stalls sampling ethnic eats from local food trucks and scoring hidden gems on offer by vendors.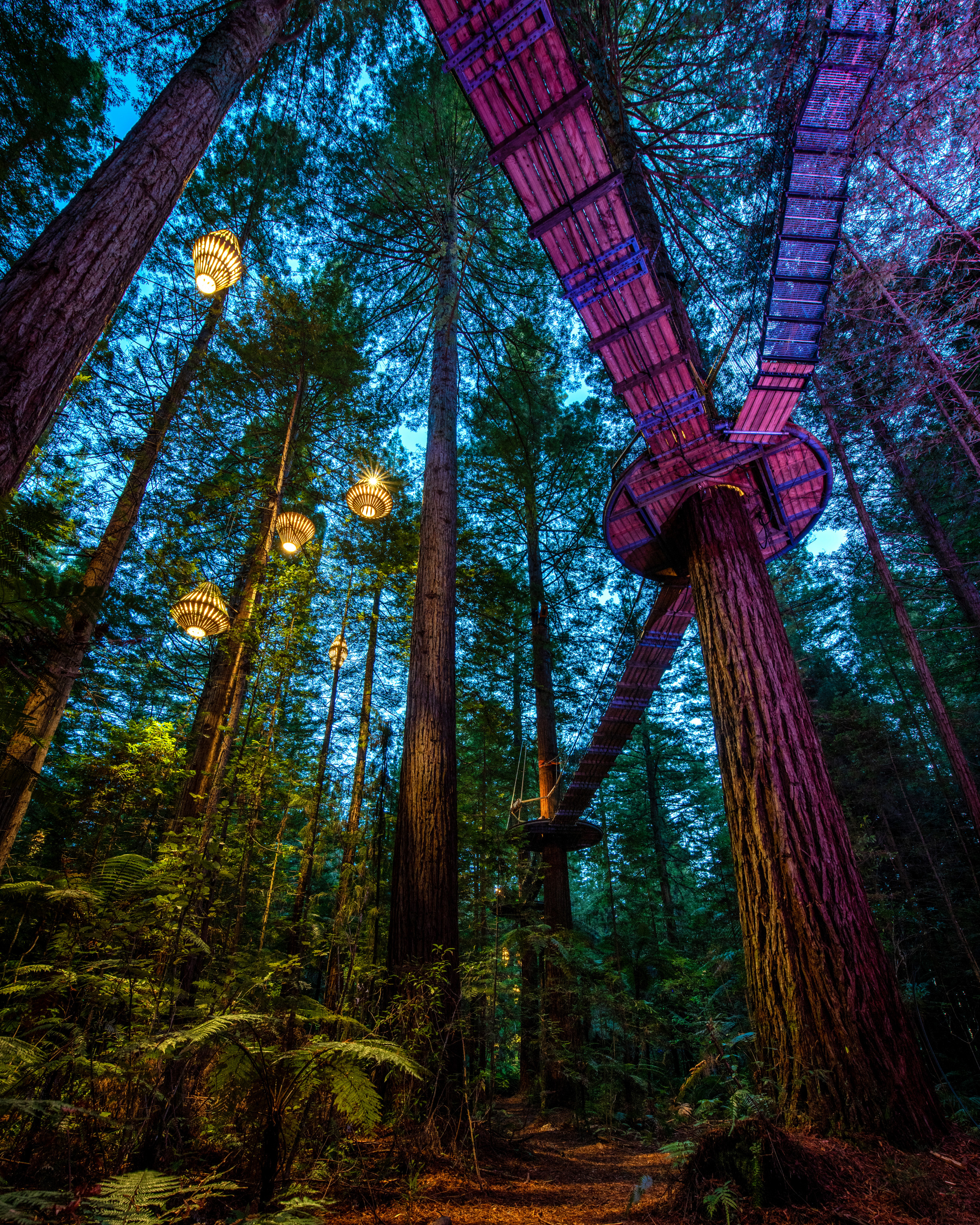 Adventure By Treetop At The Redwoods
If you love the outdoors and getting lost in nature then the Whakarewarewa Forest should be on your hit list. With plenty of tracks to pick from, choose to explore on foot, bike or even horseback. An absolute must-do if you're planning on visiting is the treewalk, a one-of-a-kind attraction featuring suspension bridges connecting 27 ancient towering Redwood Trees. Explore at your own pace with no safety harnesses necessary, this is the nature-lovers ideal activity for day or night as the Redwoods literally light up under the stars.
Spot A Kiwi (The Furry Kind)
We all know how rare it is to see our national icon up close and personal, and how important the work of breeding programmes are for the endangered birds. The team at Rainbow Springs Nature Park have hatched 1500 Kiwis and counting, and you can get the full experience by visiting the Kiwi Burrow. The lush grounds of the park make for a relaxed visit among native trees, and there are guided tours of the hatchery available to really marvel at the incredible work that's being done.
Level-Up Your Mud Mask
Whilst it may not look very inviting, the black geothermal mud pools of the Hells Gate will do wonders for your muscles, joints, and skin. Used for more than a century to treat conditions such as arthritis and exfoliate skin, this is some pretty magic mud. There are three types of mud spas to choose from—the sulfur spa, the mud bath spa and the twilight spa and each one will have you feeling refreshed and relaxed after a good soak.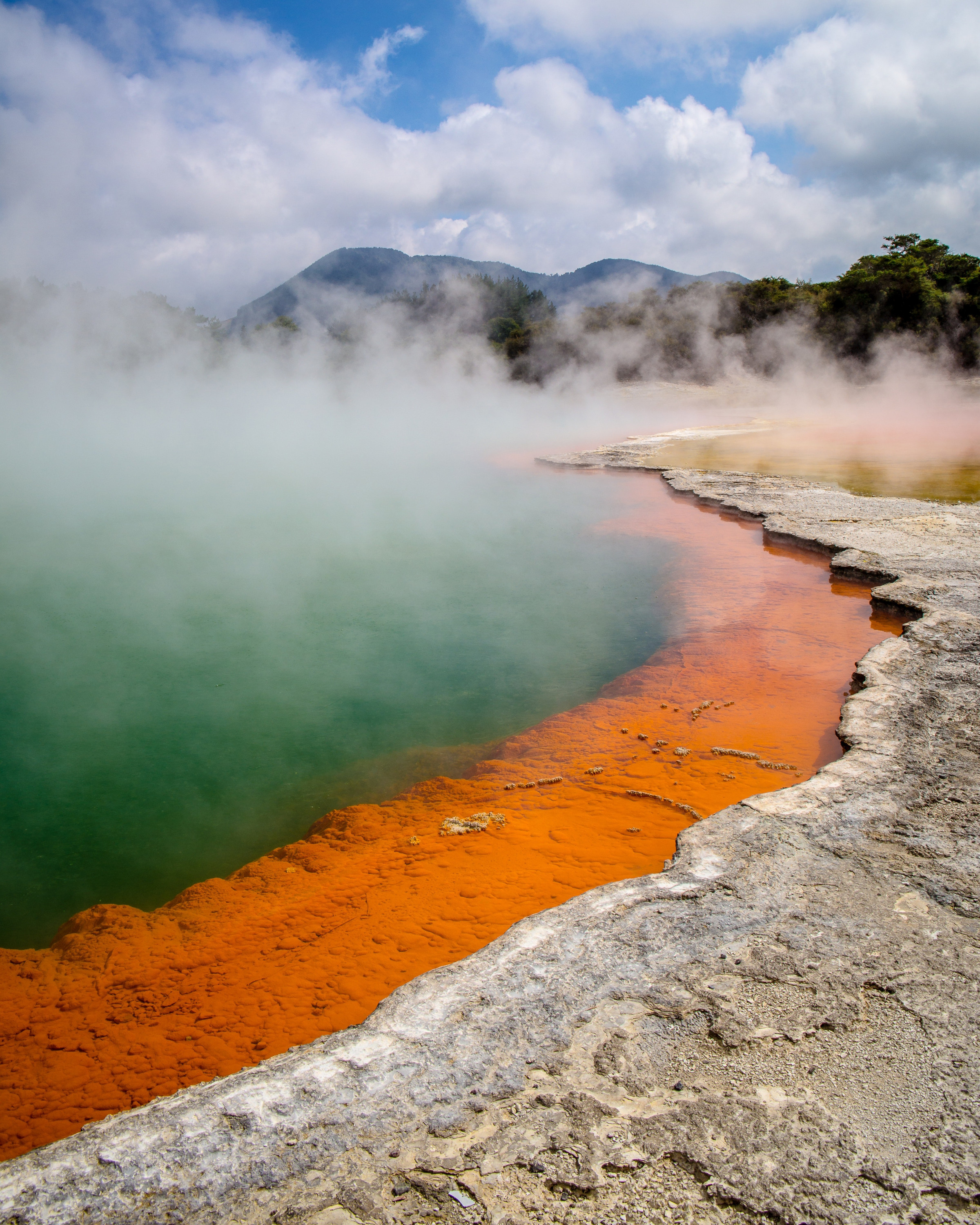 Get Steamy At This Geothermal Wonderland
Thousands of years in the making, Wai-O-Tapu Thermal Wonderland allows you to explore New Zealand's geothermal elements—which have been created because of volcanic activity unique to Rotorua. Located just 20 minutes out of Rotorua, you'll step into another world as you discover surreal scenes like the Lady Knox Geyser or the 'Gram-worthy technicolor Champagne Pool. Opt for a guided tour or simply wander at your own pace—cameras at the ready people.
Up The Gondola, Down The Luge
Soak up the views on the ten-minute ride up to the summit of Mount Ngongotaha on the Skyline Gondola before racing down on the luge. The three-wheeled carts offer you full control as you scream down the scenic tracks through the beautiful redwood forests. With the option of three, five or seven rides consider your adrenaline rush sorted—we definitely recommend seven.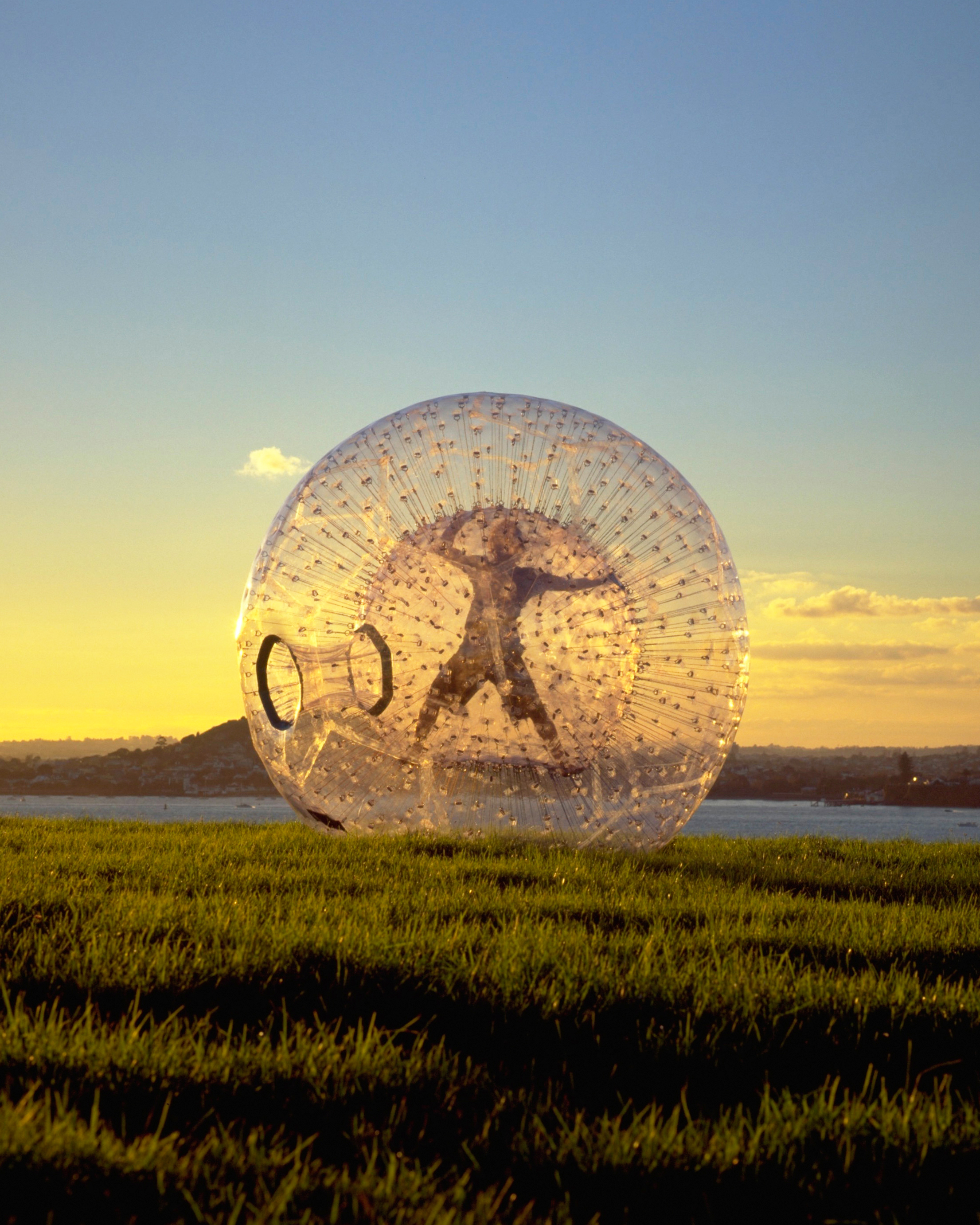 Get Your Roll On
Rolling down a hill in a giant inflatable ball at crazy speeds sounds like a childhood dream, but lucky for us it's a reality. By the inventors of Zorb, OGO is a local company based on the same idea. Superman dive into a giant inflatable ball, with or without water (up to you) and get rolling down one of the four tracks. You will be too busy laughing uncontrollably to be scared and the thrill will have you wanting to go again and again. Trust us, once is definitely not enough. Book your spot here.
Devour Rotorua's Foodie Scene
Among all the thermal wholesome goodness and adrenaline filled activities you'll be working up an appetite, here are some of the best local spots to keep you fueled.
For the plant-based, gluten-free and non-dairy eaters, a stop at Atticus Finch is a must. The popular lunch and dinner spot is extra accommodating when it comes to different dietary requirements and serves up some tasty meals. Come dinner, chow-down on share plates with showstoppers like crispy mozzarella risotto balls, chargrilled miso prawns and the pulled pork roti on offer—cue drooling. Top it off with a sweet treat of peanut butter meringue torte and a tipple from their To Kill A Mockingbird-inspired cocktail menu—we're down for the Scout Sangria.
If you're looking for a hearty meal after a big day of exploring boy have we got the spot for you. Food with soul, Factory Smokehouse and Grill smoke their meat in-house and have nailed the homemade gourmet burger. Not to mention they make their own bacon, these guys really know what they're doing when it comes to dishing up meat to perfection.
For quick eats on the go, nothing quite does the trick like a fresh out of the oven treat from a local bakery—and Ciabatta Cafe is exactly that. With a fully loaded cabinet or the option to order from the menu, this sweet little spot will have you covered with perfectly baked bread, indulgent treats and a perfect flat white.
Alternatively, hit up Abracadabra Cafe & Bar—a groovy spot where the good vibes are always on par with the good food. Settle into the rustic, bohemian set-up and enjoy a selection of tapas to share—we're talking sliders, enchiladas, kebabs and salads with a decent spice hit for those who can handle it. Don't go past the extensive beer, wine and cocktail list which boasts a 'Wild Gypsy' Tanqueray gin cocktail described as 'wanderlust in a glass'—now that's our kind of sip.
Want more geo-thermal goodness? Here's where to find the best spots around New Zealand.
Editor's note: Urban List editors independently select and write about stuff we love and think you'll like too. Urban List has affiliate partnerships, so we get revenue from your purchase.
Image Credit: Polynesian Spa, Redwoods Treewalk, Devin Kleu, Zorb Rotorua