Fact: the perfect getaway includes sandy beaches, crystal-clear waters and an abundance of palm trees. Sounds like a total dream, right?
Well, dream no more! Your untouched island paradise can be found in the South Pacific. We are, of course, talking about the magical destination of Samoa. This spot will leave you breathless with its beautiful beaches, lush rainforest and seemingly endless sunshine. And the best part? It's just a short plane ride away—Samoa Airways will fly you there direct from Sydney in just five hours!
To discover the island paradise in all its glory, we teamed up with Samoa Tourism to discover what makes it so special. So, dig out your passport and read on—there's an island paradise calling your name.

While it's tempting to spend your entire holiday lounging by the beach (sipping on piña coladas, of course), there's a whole lot of exploring to do. From magical snorkelling and striking waterfalls to secret islands and vibrant culture, Samoa has it ALL.
To Sua Ocean Trench
Let's be honest, no visit to Samoa is complete without experiencing the enchanting To Sua Ocean Trench. Formed by an ancient lava cave, the trench doubles as a giant swimming hole surrounded by a lush garden. Brave the 30m ladder (it's higher than it looks) and float in the deep turquoise salt water. Our advice? Make a day of it by lazing the day away in the on-site fales with clifftop views. Is this even real life?!
Namu'a Island
Just a five-minute boat ride off the east coast of Upolu, you'll stumble upon the small but mighty island of Namu'a. The waters surrounding the island are home to countless sea turtles so bring your snorkelling gear. Spend the day on the peaceful island and opt for a local lunch—they'll even climb a palm tree to get you a fresh coconut! Alternatively, stay overnight in the open-sided Samoan fales.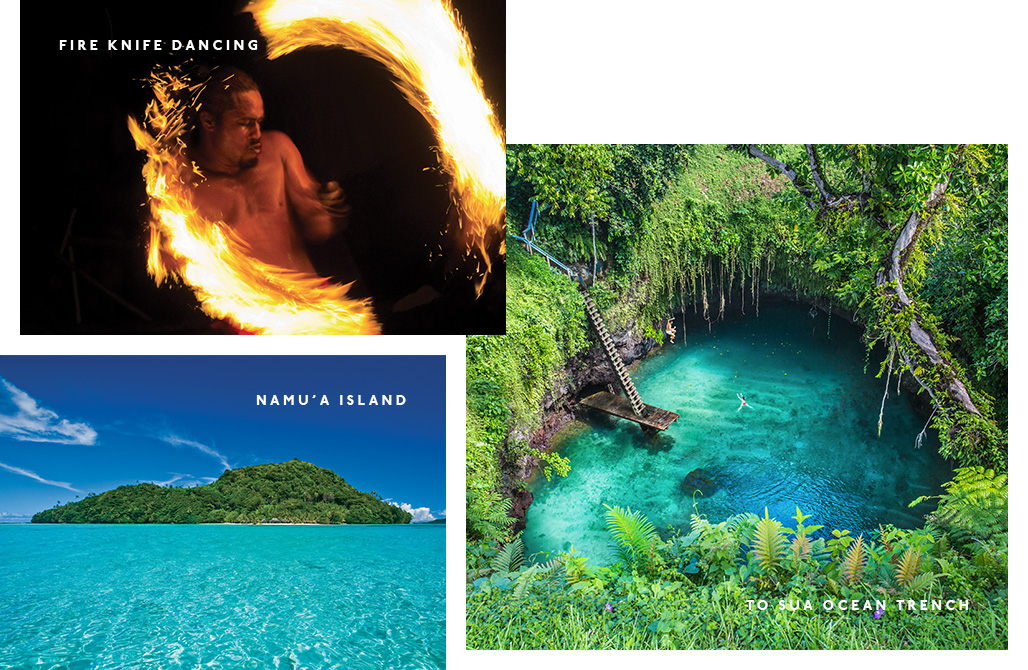 Fiafia Night
For a decent dose of culture, head along to an energetic Fiafia Night. Expect to be entertained with beautiful songs and graceful dances before things get turned up a notch with Fa'ataupati (clapping dance) and Siva Afi (fire knife dance). You'll also have a chance to move your hips like the locals (or at least try!) as you learn a few moves.
Savai'i Island
Make your holiday that liiitle bit longer to allow time to explore the wild island of Savai'i. Larger but more remote than Upolu, Savai'i is often referred to as 'the real Samoa'. Here you'll find rainforests, waterfalls, blowholes, lava caves and—of course—azure blue waters. Live like a local and experience a Sunday church service—the beautiful singing will give you goosebumps.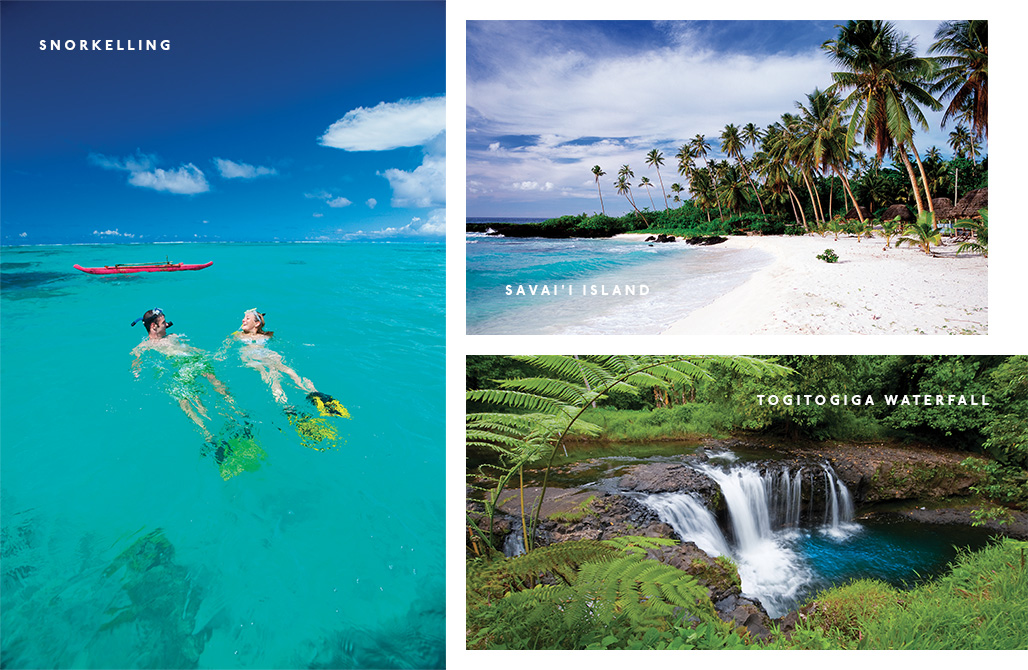 Snorkelling & Diving
If you thought Samoa was beautiful from land, just wait until you see the colourful underwater world. Come face-to-face with turtles around Namu'a Island and sign up for a scuba (or snorkelling) tour off the northern coast of Savai'i. Our pick? The three-hour snorkel tour with Dive Savai'i where you'll see the likes of clownfish (read: Nemo), sea turtles, colour-changing coral and a shipwreck.
Waterfalls
Samoa is chockablock with Insta-worthy waterfalls. Swim in the waters of Afu Aau waterfall on Savai'i and check out Upolu's striking waterfalls of Papapapaitai, Togitogiga and Sopoaga. The much-loved Papase'ea Sliding Rock also deserves a top spot on your Samoa bucket list. There are two natural waterslides to zoom down—one of which has a five-metre slide!

From traditional fale (aka a thatched hut) to ooh la la resorts, Samoa has accommodation for every budget. Our advice? Enjoy both worlds by living it up large for a few nights and opting for a more authentic experience for the rest of your stay.
Taufua Beach Fales
If you like waking up to the sound of the ocean, Taufua Beach Fales are the spot for you. The humble fales line the white sands of Lalomanu beach with crystal clear waters at your doorstep (literally). Choose between an enclosed fale or an open fale with retractable tarpaulins 'walls' for ALL the indoor-outdoor flow. It's simple but we promise it's very, very blissful.
Le Lagoto Resort & Spa
Situated on the more remote island of Savai'i, Le Lagoto Resort & Spa is pretty much heaven on earth. The boutique resort has just 10 bungalows and two family rooms so you won't find yourself sharing your holiday with every man and his dog. From here, explore the tropical reef or lounge by the pool (cocktail in hand, obvs). What's more, the sunsets from here are breathtaking.
Coconuts Beach Club Resort & Spa
Cast your mind back to Sarah and Telv's Married At First Sight honeymoon. Remember those over-the-water bungalows? Well, that just happens to be Coconuts Beach Club. The spot is all about romance and luxury. There's a dreamy on-site spa and the resort's restaurant is known for the finest cuisine in all of Samoa (they even serve escargot!).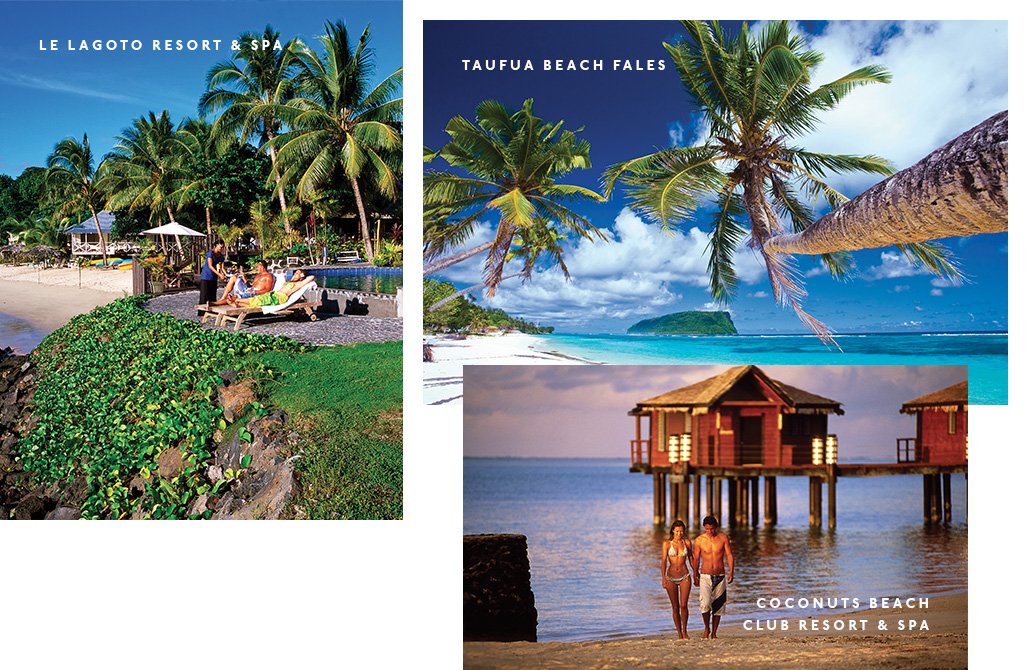 Sound like your idea of paradise? We thought so! Put Samoa on your 2018 bucket list and discover the magical island getaway for yourself.
Editor's note: This article is proudly sponsored by Samoa Tourism and endorsed by The Urban List. Thank you for supporting the sponsors who make The Urban List possible. Click here for more information on our editorial policy.
Image credit: supplied