2020 might be a brand new decade filled with endless new opportunities, but some things stay the same. Holidaying for the 'Gram—is there any other way?—is still a key criterion when it comes to booking that next adventure, so we've done you a solid (as always) and rounded up your next 'gram worthy destination.
Vietnam is a must-see when it comes to a holiday spot that promises quality social fodder; a unique mix of cultures and cuisines, from Buddhist, French, Taoist, Confucian and Cham, to hidden hideaways and UNESCO world heritage listed sites, all mean that this South Eastern gem is well worth checking out.
Here are the five most 'gram worthy spots to check out the next time you're in Vietnam.
Sa Pa
It's not often that you see something that is, quite honestly, awe inspiring. That is, until you venture to Sa Pa, in the Hoàng Liên Son Mountains of northwestern Vietnam. Located 350km northwest of Hanoi, the town was originally used as a hill station by the French,and thanks to this influence now boast some pretty stunning European architecture on the walk from the station into town.
The best way to plan your trip to Sa Pa is to first check the long range weather forecast, as the area can be subject to a pretty intense mist, which thankfully usually clears in the afternoon but it can wreak havoc on visibility. Be sure to make ample time for lunch at one of the local market stalls, they're nothing fancy but they sure are delicious with huge pots of Pho on the boil. In the market you'll likely come across members from one or more of the five local hilltribes—Hmong, Tay, Dao, Giay and Xa Pho, dressed in all their finery. A word of advice, if you purchase any of their beautiful blue fabrics the rain can wash the colours straight onto your clothes, so bring a separate bag for your new purchases. These hill tribes live in small villages and still practice a mostly traditional way of life, and all are accessible for tourists. Some villages, however, are closer and easier to access than others, such as CatCat which is the closest and doesn't require you taking a tour. For all the other villages it's best to connect with a registered tour guide.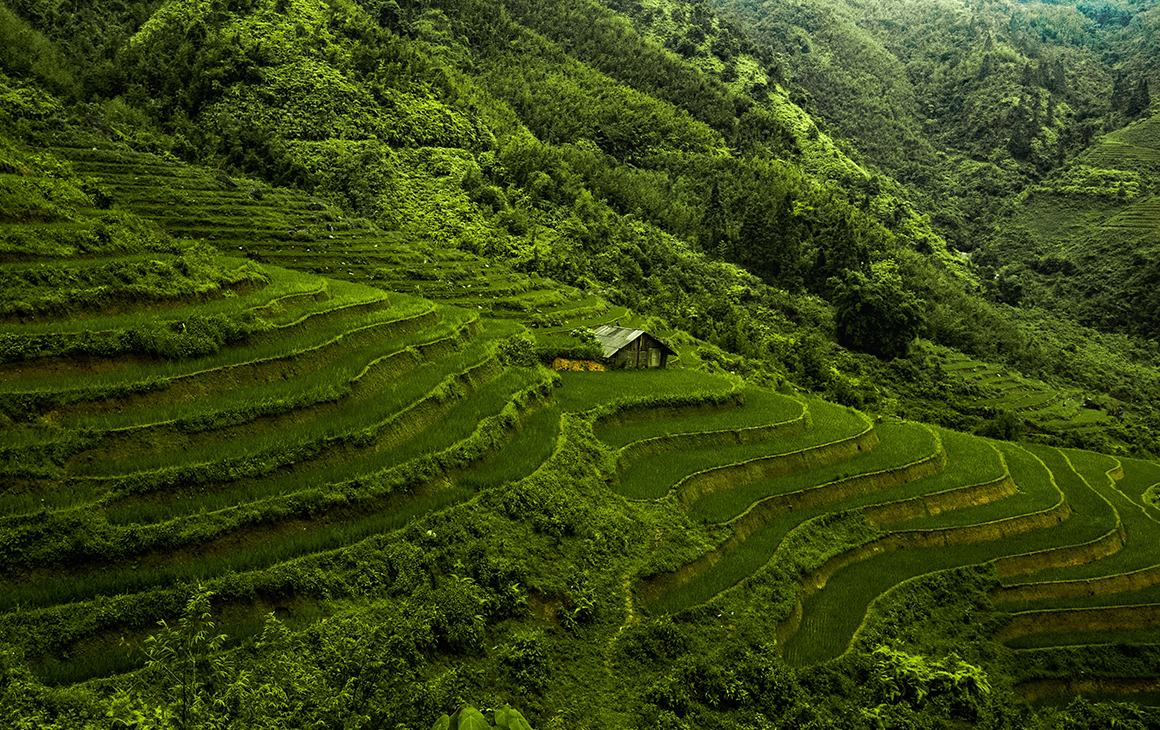 Sa Pa is also home to Fan Si Pan, the country's highest peak, which makes it a popular destination for travellers. This isn't exactly the world's easiest climb at more than 2000m across some difficult terrain, but it really is an epic vista when you reach the top, with views across the northwest to the South and even into Yunnan in China.
Closest Airport: Dien Bien Phu Airport, but the more common route is to take the overnight train or bus from Hanoi. Hot tip: spring for the private carriage on the train and thank us later.
Ha Long Bay
It's time to set sail around Vietnam's famed UNESCO World Heritage Site. Encompassing a scroll stopping 1,600 limestone islands and inlets, and covering a whopping 1,500 square kilometres, this is one for the bucket list. Located near the Chinese border, the emerald and turquoise waters of Ha Long Bay are best experienced on board a traditional Chinese Junk on a one or two day cruise, you definitely want to make time in your itinerary for an overnight stay. A word to the wise, when it comes to choosing your cruise opt for mid level. Budget choices can be a bit on the rough side, which isn't ideal when you're spending a night on the water, and the high end prices can lack atmosphere, but the mid-tier include meals and almost always a damn good time. Most tours offer similar experiences, and the kayaking is definitely one of the most memorable on offer, letting you get up close and personal with locals and making it possible to venture into hidden caves.
The best time to visit Ha Long Bay is between March and May or September to November, so get planning.
Closest Airport: Noi Bai International Airport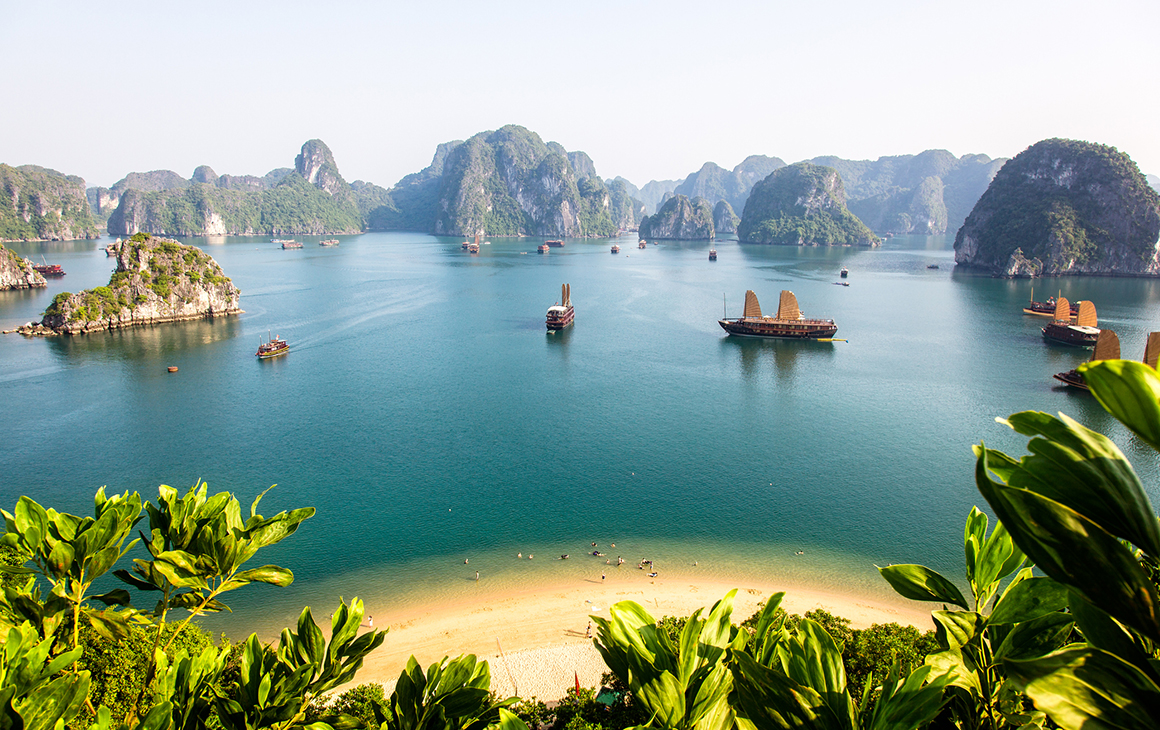 Phú Quốc
It's always a good time for island hopping and Phú Quốc off the coast of Cambodia in the Gulf of Thailand is a go-to for a reason. More than half of this Vietnamese island is listed as an official national park which guarantees stunning views a plenty, including some of the most beautiful beaches in the entire country. A great spot to do a whole lot of nothing, we'll forgive you for doing exactly that, but when it comes to activities that are worthy of your time and energy, we can't go past the walk down to the Suoi Thanh waterfall, and a cheeky dip or two at the natural pools along the way, and then there's the sunsets at Long Beach, with a brew or two in hand—that counts as an activity too, right? But when it comes to the absolute best beach on the island, word on the sand is that Ganh Dau Beach on the Northwestern tip is far superior to them all, and with the glistening white sand and swaying palm trees we tend to agree.
Closest Airport: Phú Quốc International Airport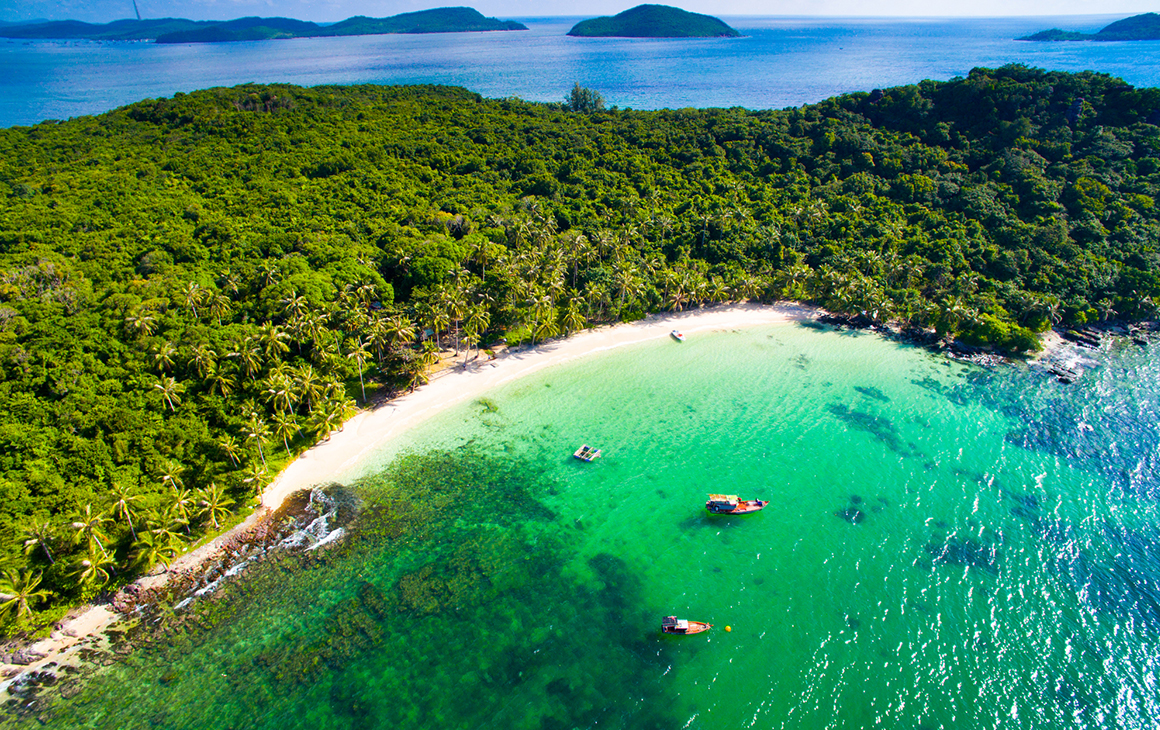 The Sand Dunes Of Mui Ne
This fishing village on the South Coast of the country is one for the adventure junkies who do anything for the 'gram. The perfect spot for windsurfing, kitesurfing and sailing, Mui Nei is actually famous for its red and white sand dunes, and no you haven't somehow ended up in the Sahara. You can get there on a tour, or with your own two-wheels, just try and avoid the middle part of the day. Due to an extreme lack of shade, touristing in the hot sun will also result in a serious lack of a good time. The white sand dunes or Đồi Cát Trắng are best visited at sunrise and best enjoyed on a quad bike, whilst the red sand dunes or Đồi Hồng are the ideal sundown destination complete with sandboards. Most tours will also include a stop over at Fairy Springs, to further confuse you this is kind of like being in Vegas or even Utah with large rock formations, so in case you decide to ride solo make sure you add this one to your itinerary.
Closest Airport: Ho Chi Minh City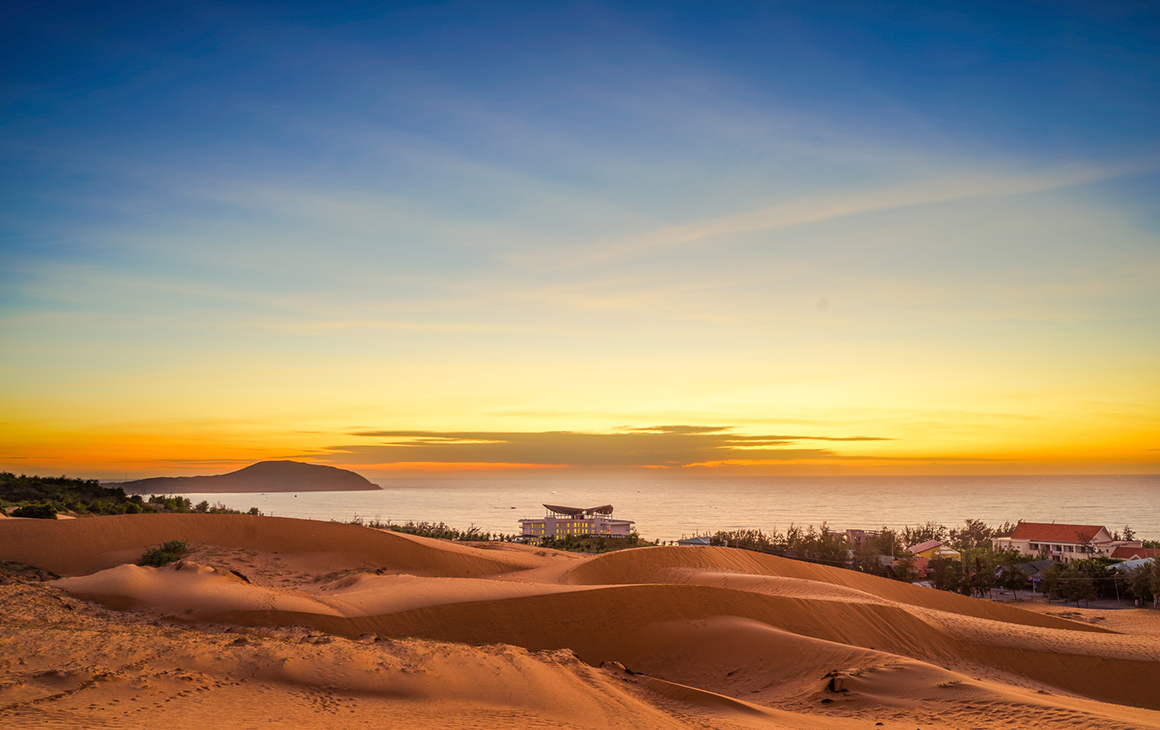 Ba Bể Lake
This is the largest natural lake in Vietnam, which obviously means it is also the best looking. Sitting pretty in Ba Be National Park, in the North East region of the country, this is where you head for your fix of waterfalls, rivers, valleys, caves and of course, lakes surrounded by vast limestone mountain ranges. Ba Bể Lake is actually three smaller lakes—Pe Lam, Pe Lu and Pe Leng—joined together, resulting in five million square kilometres of fresh water and an underground cave system that makes this an ideal spot for kayaking and other water sports. Located within the park you'll also find the local Tay Community, and their traditional stilt houses, which you can visit on a guided tour. The easiest way to get here is on a bus from Hanoi to Thai Nguyen, change here and take the bus to Bo Lu village, which is on Ba Bể Lake.
Closest Airport: Dien Bien Phu Airport
Next up, it's time to tackle the Hanoi food scene like a local. Check out our drool-worthy guide here.
Image Credit: Ian Slater, Alex Stoen, MeogiaPhoto, Peerasit Chockmaneenuch, Jakkree Thampitakkull