Remember when you were a little tacker and you thought anything was possible? The idea that you'd grow up to be an astronaut was completely plausible, just as living in a treehouse was, too. If you've ticked both of those boxes, good for you, but for the rest of us, the next best thing is renting a treehouse for a weekend away.
Here are even of the best Airbnb treehouse stays across Australia—sorry, you're on your own in getting to space.
New South Wales
Treehouse Blue Mountains | Bilpin
Stilted up in the canopies of the Blue Mountains, Treehouse Blue Mountains epitomises what a treehouse should be. The property switches out superfluous holiday tech for the likes of floor-to-ceiling windows, a fireplace and views on views on views—the property sits between two national parks and a world-heritage listed rainforest, after all.
Nearby is a glow worm cave which is worth a look in. The Colo River is just by the property, too, which provides incredible scenery for the hiker in us all. For those who'd prefer to camp up in the treehouse, do so in the jacuzzi or set up shop on the balcony for a spot of star-gazing.
This one comes in at around $950 a night. Couples only.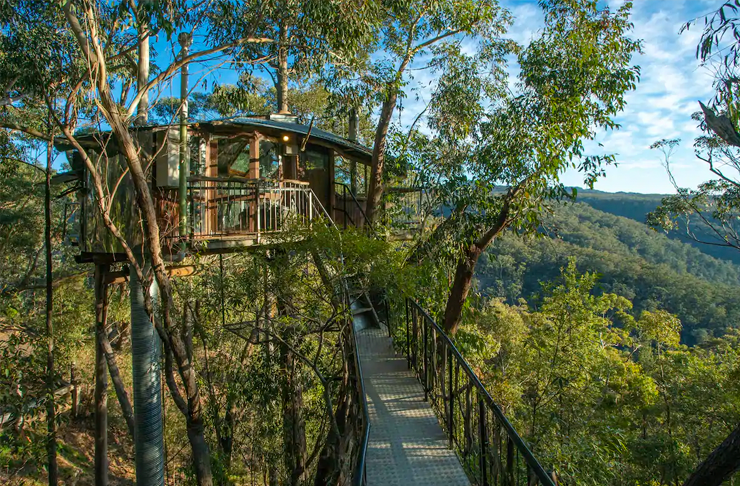 The TreeHouse | Grays Point
You'll be living out more dreams than one here with The TreeHouse looking more like a space station from the exterior. This award-winning Airbnb listing is situated on the outskirts of the stunning Royal National Park, making it a perfect escape for Sydneysiders being just 40 minutes drive from the CBD.
The contemporary cliffside property features all the mod cons you'll need for a lazy weekend away. Should you feel the need to leave your treetop home, take the elevator (yep) to the ground floor and take your pick from the likes of kayaking, fishing and bushwalking in the adjacent national park.
This one sits at a spectacularly modest $130(ish) a night for two.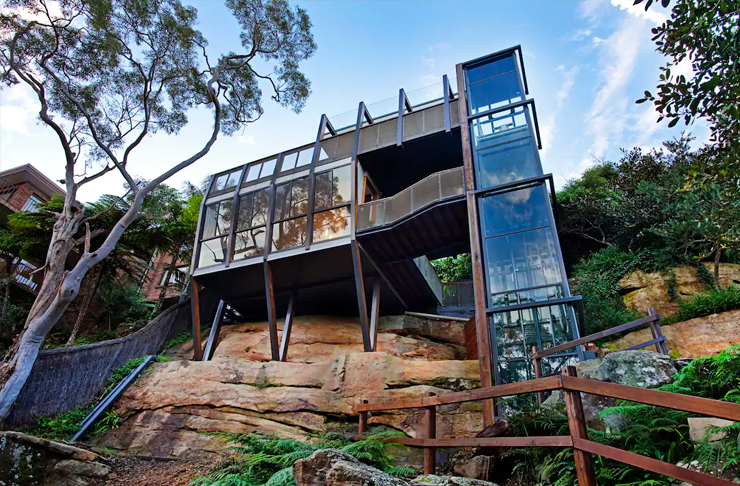 Queensland
Jungle Treehouse | Cape Tribulation
You'll find the Jungle Treehouse nestled in the foothills of Far North Queensland's Daintree Rainforest. It's a minimal set-up that's been built by the locals, letting the world's oldest rainforest around the property do most of the heavy lifting.
The property itself is partially 'open-air', so expect to say hello to rainforest residents—like the tree kangaroo or ringtail possum—while you go about your day (or night). The basics are squared off, like a functioning kitchen, limited power and an open-air shower; there are plenty of walking trails to explore around the area, and if you come during the right time of year, you'll also find a natural swimming hole by the creek to east of the property.
The Jungle Treehouse is best suited for couples at $165 per night.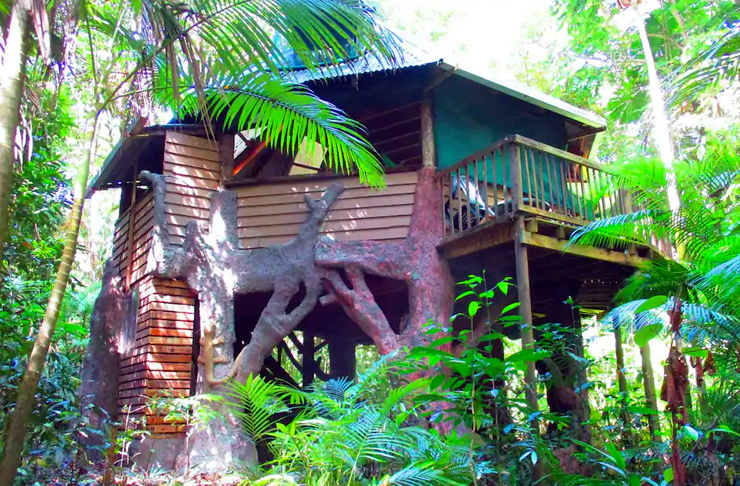 Western Australia
Australian Bush Treehouse | Swan Valley
Give me a home among the gumtrees, literally. For a healthy dose of Australiana, book yourself—and up to nine other guests—in at this stunner. Perched in the hills of Swan Valley's Baskerville Ridge, you'll be treated to prime vista of the coastal plains from a balcony of monumental proportions.
The heated outdoor jacuzzi, outdoor kitchen, trampoline and zipline make this Bush Treehouse a true holiday experience, and indoors doesn't let down either. Three bedrooms, four bathrooms and plenty of space, book in at one of Western Australia's best treehouse stays $730 a night.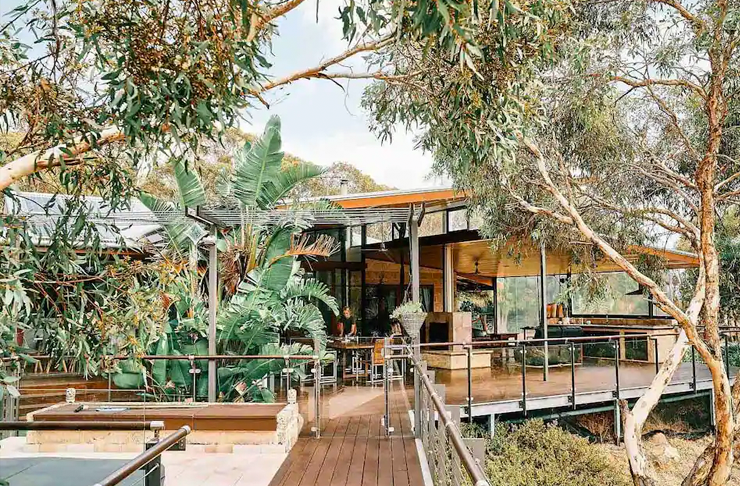 The Tree House | Denmark
Almost as South as you can get in Western Australia lies the rugged Denmark. Escape reality at this self-contained treehouse set between two towering Karri trees and on top of several boulders (with one so big it pokes through the floor in the lounge).
The Tree House has all the mod cons you need for a cosy stay; the hot tub makes it ideal for couples but there's also a mezzanine should you be holidaying with more than one other. You're also only a short drive to the local beach and township.
Book in at around $240 a night.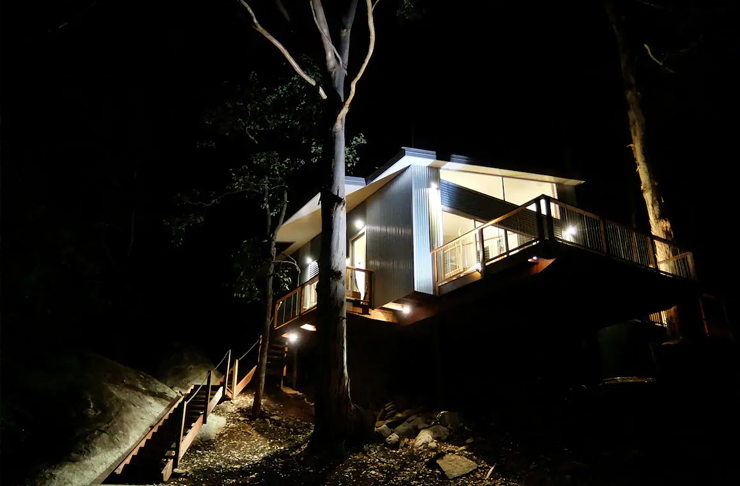 Victoria
The Treehouse | Olinda
The self-contained guest room in Olinda's Treehouse can be found in Victoria's sublime Dandenong Ranges. Perch yourself among the trees for a spot of serenity, rolling hills and that sweet scent of the forest.
There are plenty of walks within the area, and you're just a short drive from Olinda Falls, Sherbrooke Forest as well as Burnam Beeches, the art-deco mansion and surrounding gardens which was once the holiday home of the inventor of Aspirin.
Book in for a modest $88 a night.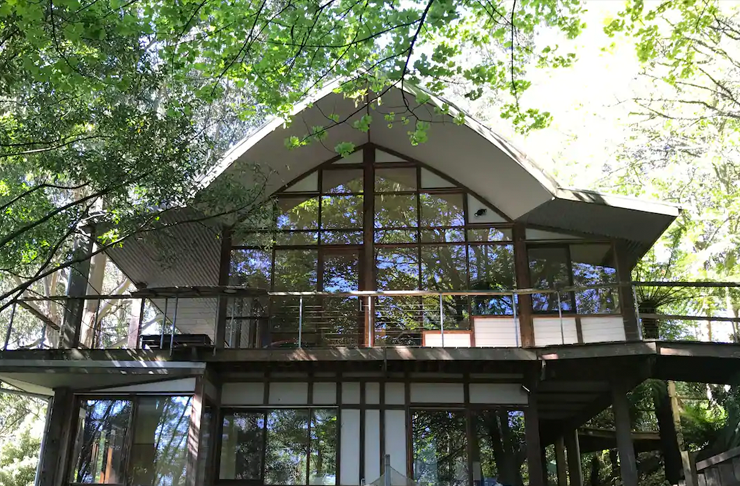 Tasmania
Treetop Escape | Hobart
Hobart is truly becoming a city that has it all. Nature is at your doorstep, just as some of the most progressive and contemporary cultural experiences are, too. Yep, we're talking about MONA. Next time you're heading down to the Southern State, it's worth considering the Treetop Escape for your accommodation. This two-storey treehouse-esque holiday home offers up stunning views of Mt Wellington and the surrounding bushland amidst the local gums. There's a large deck for all your entertaining needs, enough space for up to six guests and a roomy claw foot bath.
Book in at Treetop Escape $188 a night.
Prefer your holiday home with pool? Check out Australia's best Airbnb pool stays.
Image credit: Airbnb