The beauty industry simply don't quit. Whilst we're taking cover from the cold, there are a slew of super hot new beauty treatments on the boil. Here's the wrap up of the most mind-bending beauty for you to try in-salon and at home.
IN-SALON
True Blood
If you have an aversion to blood, maybe skip this one. But if you are keen to improve fine lines, wrinkles, loose sagging and crepey skin via your very own Platelet Rich Plasma – PRP – then read on. Basically, there are so many massive growth factors in PRP that it has been used in heart surgery and sports injuries for decades. Now the beauty industry has jumped on the bandwagon and this treatment is redefining complexions Australia-wide. Completely safe and hygienically centrifuged, the platelets are injected into the area the skin needs improvement to trigger a 'wound healing' response, initiating new collagen and improving skin texture and elasticity.
PRP is available at Privée Cosmetic Clinic in Sydney; Brisbane Cosmetic Clinic in Brisbane; Clinica-Lase in Melbourne.
Raise Two Eyebrows
Eyebrow Extensions may just be the remedy for all those hours spent having your brows tinted, tamed and tailored to suit. This pain-free, innovative extension process consists of individual hairs being attached to the skin and the natural brow simultaneously with a special formulated and skin-safe adhesive. Beauty editors all over the land have been going bonkers for this new brow innovation and it is also proving an effective antidote for those suffering hair-loss due to illness or medical treatments. Available in four colours and lasting up to two weeks, Eyebrow Extensions might just be our new brow go-to.
Stamp Out Skin Sins
With the increased demand for breakthrough beauty options comes faster turnaround on treatment time. E-Dermastamp is no exception. Technological leaps and long jumps mean that this non-surgical 'lunchtime laser' is gaining in popularity at breakneck speed. An ingenious approach to stimulating the body's own collagen product, Dermastamp was developed in Germany using very fine needles to promote skin rejuvenation. Non-heat-based, there is no 'burning' or 'lasering' going on, instead the skin is sterilised and numbed prior to a painless Dermastamp roller tip gliding over the skin to evenly stimulate it in channels. It takes just over an hour and offers amazing results for acne scarring and general ageing.
Dermastamp treatments are available at Me Skin & Body in Melbourne; The Clinic in Sydney; Integrity Skin Clinic in Brisbane.
Go for Gold
Gather round gold diggers, we have a priceless anti-ageing tip for you! Gold is the latest fancy ingredient to be used by some of the nation's best facialists to firm, tighten and lift, while diminishing the appearance of fine lines and wrinkles, blitzing pigmentation, eradicating those pesky free radicals, and upping the glow factor. You can't help but look the picture of youthful health afterwards; everyone knows carats are good for you.
Visit Fleur de Lys Medispa in Woollahra, Sydney, for their 24 Carat Pure Gold Facial, $299.
Batter Up
Any girl who's a fan of playing up her eyes needs to get on board these next two beauty treatments! The latest development in the world of eyelash perming (yes, there's such a thing), Lash Lift is perfect if you have stick straight lashes that refuse to bow down to a regular eyelash curler. The treatment lifts and curls the lashes, giving you a bright-eyed and bushy-tailed look, and last between 10-12 weeks – brilliant! If it's more volume you're after then book in for the Volume Lash treatment, a hot new beauty trend which we hear the lovely lashed ladies of Europe are falling over themselves for. Volume Lashes involve ultra-fine eyelash extensions (either mink or silk) being applied to the natural lash in a 2:1 or 3:1 ratio. The result? Big, bold, babeworthy lashes that you won't be able to stop batting!
Volume Lashes are available at Miss Eyelash in Melbourne; Ruby Divine in Brisbane.
Lash Lift is available at Miss Eyelash in Melbourne; Eyebrow Experts in Sydney.
AT-HOME
Are You Ready for This Jelly?
We've had serums. Dabbled in oils. Lathered on creams and poured on the potions. But now we are invited to wrestle with jelly. At least on the visage. Indeed Laboratories Hydraluron Moisture Jelly is trailblazing this new texture with a product that contains up to 5 super moisturising actives, including Patch20 which is a micro network complex, and Fucogel, which leaves a protective film on the skin for extra hydration. Fast absorbing and easy to wear under makeup, be sure to get onto this new trend at Priceline before it slips through your fingers. Literally and figuratively.
Complexion Clarity With Blur Creams
Optical illusions fuel the beauty industry. Its just that Blur Creams make no secret of it. Akin to airbrushing, Blur Creams utlise a combination of blurring agents and light reflecting, skin smoothing polymers to optically smooth the skin surface. There are many on the market now – from mass brands to the more bespoke choices – but a hero feature is that they are lightweight and near invisible, acting as a veil for the visage. Best applied after your morning moisturiser, Blurs can work to steady makeup or, if you are going commando of cosmetics altogether, they can deliver a great big dose of glow-to-go.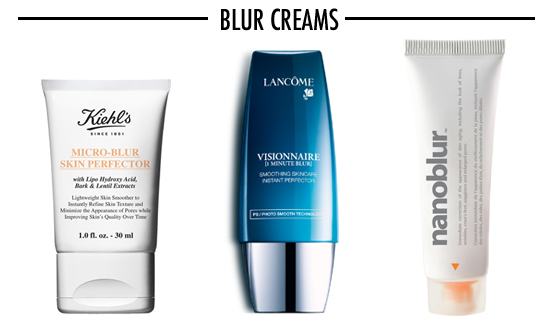 Our picks
Kiehl's Micro-Blur Skin Perfector, $47
Lancôme Visionnaire 1 Minute Blur, $62
Indeed Laboratories Nanoblur, $29.99

Eye Lift In A Jar
Late night's dance sessions are a bitch – a really fun bitch, but one that catches up on you nonetheless. But if you have no time to sleep and a facelift isn't on the cards anytime soon, get your peeper perks out of a tube with Transformulas 'Eye Lift In A Tube'. This product is from the freshly-available-in Australia British cosmeceuticals brand – used on many celebs and TV shows over in the Old Blighty. It immediately lifts and provides protective moisture levels to the eye area, and it even eases computer-fatigued as well as dance floor drowsy eyes too. Yes, that's you! So pull up your dance pants, dab a bit on and get going. Again!
Bite Size Beauty
Whether you are a Monarchist or not, there is no denying that Kate Middleton possesses positively smashing skin! The buzz is that it's due in part to her penchant for the Bee Venom Mask, sourced from New Zealand. Touted as the natural alternative to botox, it consists of a combination of Manuka Honey and Organic Bee Sting which together symbiotically stimulate the facial muscles to gently tighten and firm. This gradually relaxes the deepness of fine expression lines. In cream form, it's a clever little thing, tricking the skin into producing more collagen and elastin as a reaction to the venom and honey. Sweet!

Main Image Credit: Behance.net