Erhhhhmahhhgherd. Nutella AND peanut butter granola. Breakfast just got a whole lot more interesting thanks to the lovely lady over at The Wandering Matilda.
It's super simple to make and it's choc-full of oats and nuts so it's kind of healthy, right? Well even if it's not, who cares when you get to have Nutella and peanut butter for breakfast.
---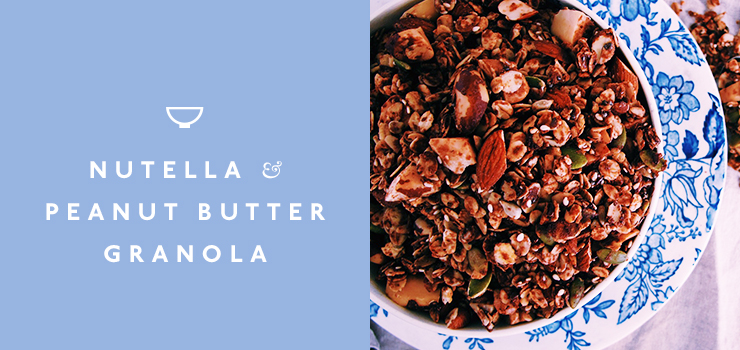 INGREDIENTS
4-5 handfuls of oats
4 handfuls of chopped nuts (such as brazil nuts and almonds)
1 handful pumpkin seeds
1 handful sunflower seeds
2tbs chia seeds
2tbs sesame seeds
2tbs flaxseed
Pinch of salt
2tbs Nutella
2tbs peanut butter
2tbs honey or maple syrup
2tbs olive oil
METHOD
Preheat your oven to 180 degrees (depending on your oven, you may need to go a little stronger or lighter on the heat) and line a baking tray.
In a large bowl, combine all the dry ingredients then leave aside. In a microwave bowl, add the Nutella, peanut butter, honey and oil and microwave for 30 seconds then stir into a smooth paste. Pour over the oat mixture and stir until fully combined.
Transfer the mixture to your baking tray and spread out evenly before popping in the oven. Bake for 5 to 10 minutes or until the edges start to brown, then remove the tray from the oven, stir the mixture around and place back in the oven for a further 5 minutes. Remove when the granola is starting to brown then keep aside to crisp up and come to room temperature before keeping in an air tight container for up to two weeks.
Want more? Check out these cauliflower burgers with chipotle mayo.
Image credit: Holly Nicholls