Chocolate, it can do no wrong. Right? WRONG! It most certainly can, heck, even Cadbury serves up some doozies from time to time (hello Snack, nobody likes you and your weird jelly bits).
Because we don't want you wasting calories on sub-par chocolate this Easter, we have ranked all of the Easter eggs worth ranking—all 27 of them. Choose wisely!
#27. Heritage Easter Egg 15 Pack
Sorry Heritage, no one likes your 15 pack of Easter eggs, you should probably go eat worms. Perhaps it's due to no one liking odd numbers (couldn't you just make it an even dozen?), or maybe it's just that your chocolate doesn't taste very good. Either way, you suck.
#26. Cadbury Old Gold Bunny
Is it the word old in the title that sets people off? Do they think they have to be old to eat you? Possibly. I hate to break it to you Old Gold Bunny, because you're actually really cute, but you've got nuffin on Dairy Milk!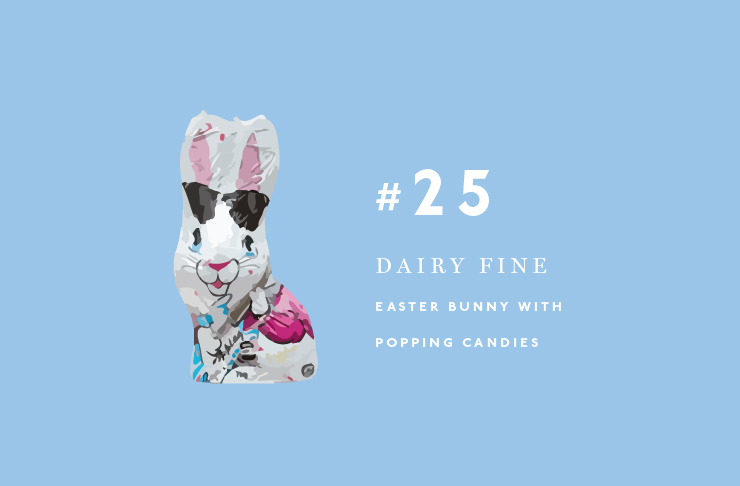 #25. Dairy Fine Easter Bunny With Popping Candies
The creepiest Easter bunny you've probably ever laid eyes on, it's no surprise you'll find this one on the shelves of your local Aldi. I have so many problems with this sunglasses wearing, guitar playing bunny, and the fact that it's filled with popping candy makes me want to vom. If anyone buys you this little bunny, they hate you.
#24. Darrell Lea Nougat Egg
Apparently Easter and nougat do not go hand in hand. The nougat egg by Darrell Lea is kind of like the poor man's Cadbury Creme Egg, just slightly chewier. Chewy egg…you can kind of see why it's not a hit. Better luck next time, Darrell.
#23. Cadbury White Chocolate Bunny
You can wipe the adorable smile off this little guy's face. Apparently white chocolate at Easter is a no go. Maybe blondes don't have more fun?
#22. Red Tulip Hollow Egg
Is it the name that turns people off? Or the fact that the foil is a bit uggo? Maybe it's the fact that people are unaware that Cadbury own Red Tulip? Whatever it is, Red Tulip doesn't do it for us.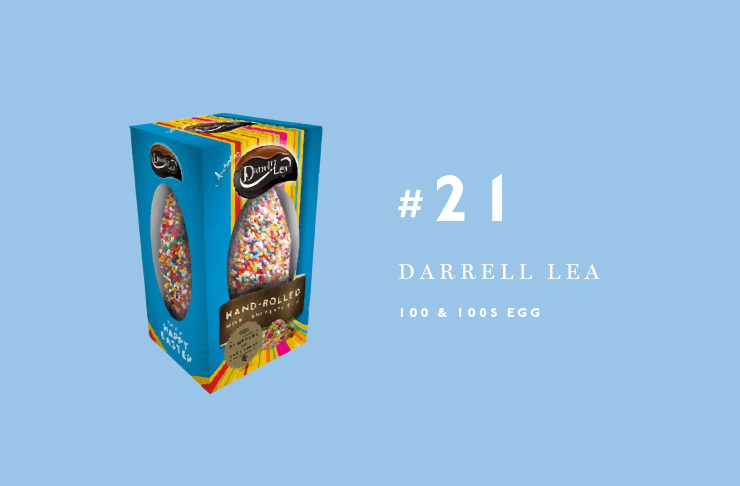 #21. Darrell Lea 100 & 1000s Egg
A giant chocolate freckle in Easter egg form, not too sure why this ranked so poorly. It's not like Darrell Lea's chocolate tastes bad. Maybe we're all purists?
#20. Lindt Bugs & Bees
I know they're made by Lindt, but chocolate in the shape of bugs and bees, who wants that? Easter choccies should only come in the shape of bunnies, bilbies, chicks and eggs. Period.
#19. Red Tulip Milk Chocolate Bunny
Perhaps it's this guy's poor taste in fashion, but we really don't dig the Red Tulip choccie, apparently. I think he's kinda adorable though.
#18. Fererro Grand Rocher
Something has got to be wrong with this data. Do you people know that this is basically a giant Fererro filled with mini Fererros? It's like a dream come true. Plus, it's made in two sizes, big and bigger. I'm calling for a re-count!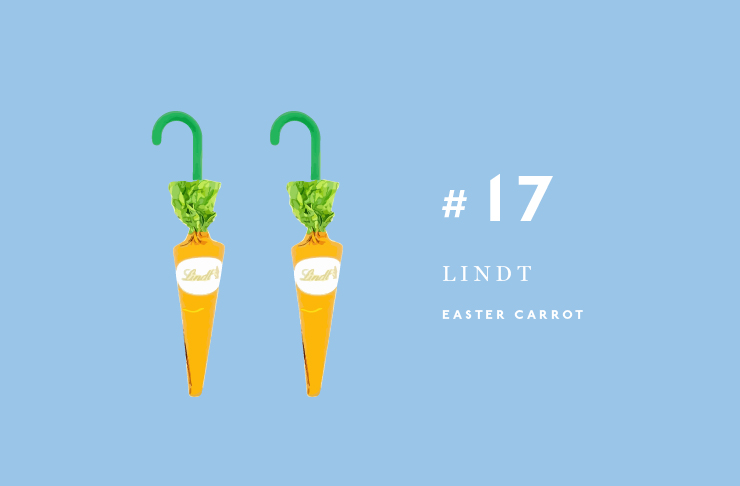 #17. Lindt Easter Carrot
First it was bugs and bees and now a carrot. Lindt, WTF is wrong with you? People don't want to eat veggies in the shape of chocolate, it just makes them feel bad for not eating the real thing. The chocolate is tasty though, so I won't complain if you buy me this.
#16. Cadbury Easter Chick
Finally, a tasty, cutesy Easter egg! The Easter Chick by Cadbury is definitely not as good as a bunny and you need at least two to be satisfied as they're on the smaller side, but we still like you a lot.
#15. Cadbury Creme Egg
So apparently you all would die for a Cadbury Creme Egg, but the data doesn't show it. You only like this little goop-filled egg.
#14. Kinder Easter Bunny
We must all be uncultured swine because we obviously don't know good chocolate when we see it. It's European for god's sake! This bunny deserves to hop to the top of the list for that reason alone.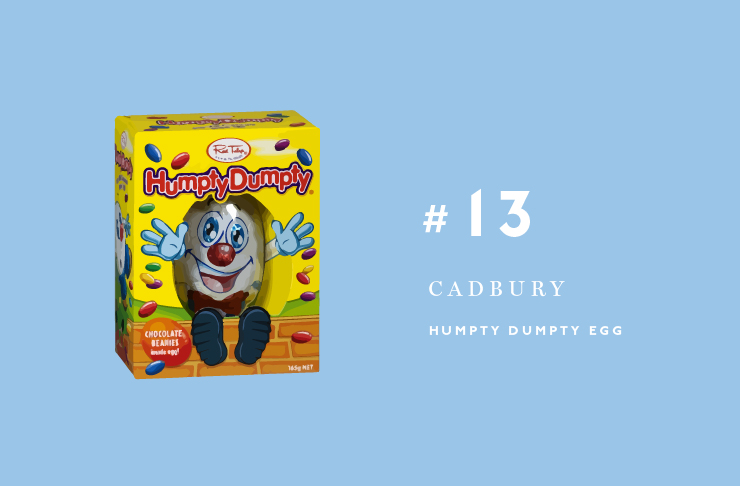 #13. Cadbury Humpty Dumpty Egg
A relic from our childhood, Red Tulip's Humpty Dumpty egg is still secretly on everyone's wish list. It's a good thing no-one will buy it for you though, as it's really not as delicious as you remember. Nostalgia's a bitch.
#12. Malteaster Bunny
The puniest chocolate of them all, there's no escaping the Malteaster Bunny this year as it'll be conveniently placed by every single checkout at your local supermarket. It's ok though, because they are tasty AF, we just wish they were bigger.
#11. Darrell Lea Honeycomb Half Egg
The only thing that could make this baby better is if it was honeycomb encased in a whole egg. Otherwise, keep doing your thang D-dog (just not the nougat thing), we love it!
#10 Cadbury Easter Bilby
Apparently rabbits are vermin in Australia (lies) so Cadbury had to go an Australian-ify Easter and this is what they came up with. It's not as cute as a bunny (in real life or in its chocolate form), but it's still yummy because it's Cadbury. Should have been a quokka though.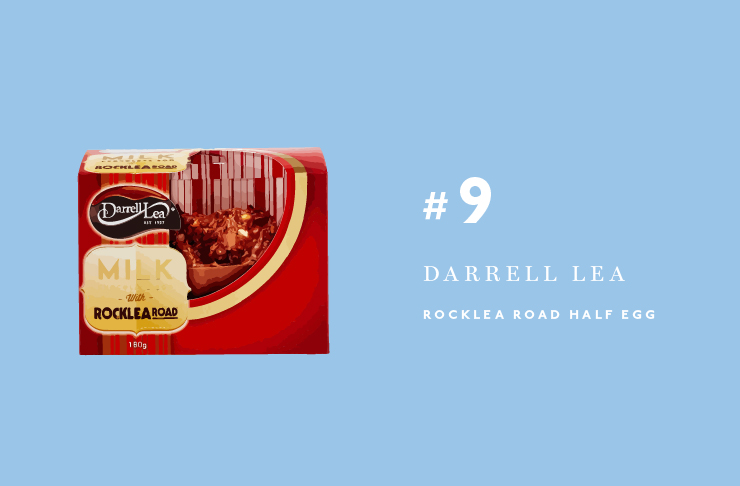 #9. Darrell Lea Rocklea Road Half Egg
Marshmallow, nuts, coconut and chocolate covered in chocolate in half a chocolate egg. If that's not the best thing ever, I don't know what is. Apparently the following eight things…
#8. Cadbury Mini Eggs
I cannot believe these made it to the top 10. I know they're cute, but once you pop one into your mouth you instantly wish it was a regular solid chocolate egg. Leave it to M&Ms to create delish candy coated chocolate, Cadbury.
#7. Cadbury Oreo Eggs
One of the biggest things to happen this year, Cadbury went and made the Creme Egg even better by removing the goopy stuff and replacing it with smashed Oreos. Life doesn't get much better than this!
#6. Cadbury Dairy Milk Solid Mini Eggs
Easter is not complete without popping a few of these egg-cellent treats. Buy a few bags to stock up until next year because you'll crack it once these have all hopped off the shelves.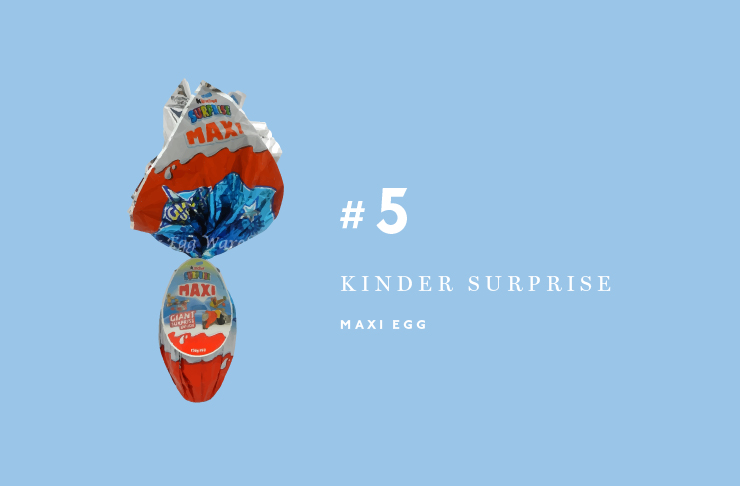 #5. Kinder Surprise Maxi Egg
A giant Kinder Surprise exists, people, and it's got a giant toy inside too. Yasss! It's the answer to all of your childhood dreams.
#4. Haigh's Anything Easter Related
I know I said earlier that Easter eggs should only be in the shape of bunnies, chicks, bilbies and eggs, but because Haigh's chocolate is too darn good we're making an exception. They've got a particularly delicious chocolate Murray Cod (what the?), as well as chocolate hens, standing chickens (it's an important distinction) and eggs half filled with their delicious truffles. You can do no wrong, Haigh.
#3. Cadbury Dairy Milk Bunny
The classic bunny from Cadbury. If this isn't on your Easter wish list, there's a small chance you're dead inside. The big question is; do you start eating it from the ears or the feet?
#2. Lindt Gold Bunny
If anyone buys you a Lindt Gold Bunny, you know they're rich. It's wearing a ribbon and bell gosh darn it. Save your pennies so you can buy them one back next year, you don't want to lose a rich friend after all!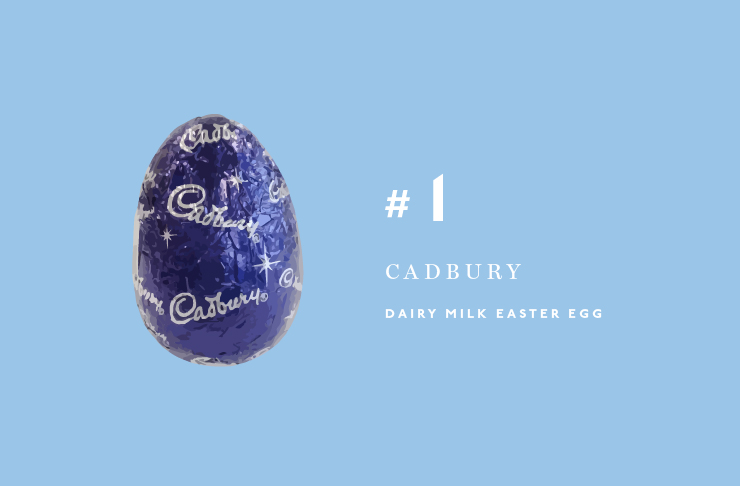 #1. Cadbury Dairy Milk Easter Egg
When it comes to the cream of the crop, nothing holds a candle to Cadbury's Dairy Milk Easter Egg. You'll try to make this last the entire long weekend, but let's face it, you will have polished it off within the hour!
Design credit: Gabriella Stjernqvist