Travelling with kids is never easy. Whether you're popping down to the shops to do your groceries, or heading away for a week-long family holiday, a whole lot of prep is usually involved and it feels like it takes hours just to get out the door. Not to mention having to deal with screaming children in the backseat... But fear not, dear mums and dads! We've teamed up with those in the know at Bugaboo (side note: have you seen the new Bugaboo Fox!?) to hunt down all the best weekend road trips in your home state that are actually waaaaay easier than you think.
Go on, be a YES! parent and get exploring. It's really not as hard it seems.

JERVIS BAY
When most people talk about Jervis Bay, they talk about camping—but times have changed people and there are easier ways to visit this beautiful place. It's called Airbnb, duh. Book yourself into a cute beach shack then pack up the car (with pram in tow) and hit up Boderee National Park. Come face to face with kangaroos on Pebbly Beach and escape the crowds at Greenpatch. This place is stunning rain, hail or shine, so lift your Insta game and make all your mates jell.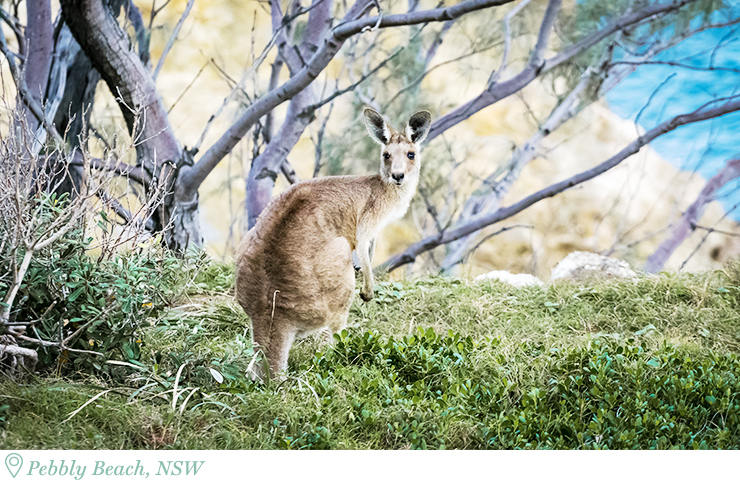 KANGAROO VALLEY
A hop, skip and a jump away from the city, you'll find the oh-so-serene Kangaroo Valley. Perfect for a day trip or long weekend, head south early in the AM to avoid all traffic. Pick up a doughnut from the Berry Doughnut Van on the way through (it's a must), then cruise your way around the Southern Highlands, stopping at every single viewpoint. With country town vibes and plenty of things to do, check out the famous Farmers Market by day, then curl up to a fire with a game of cards while the bub is snoozing.
PORT STEPHENS
Port Stephens is one of the most underrated (and unknown) destinations in NSW. Only three hours drive from Sydney (give or take), there's white sand, calm water (we're talking no waves) and a whooooole lot of nature. Whether you want a weekend full of activities for the whole fam, or to simply lie on a beach doing nothing but build sandcastles for two days straight, you're guaranteed good times here. Base yourself in Nelson Bay and explore a new area of the region each day. Don't forget to stop by the Shoal Bay Country Club for a feed.

RED HILL
Big kids and little kids LOVE Red Hill. Complete with cute farms, berry picking (our fave!), bakeries and affordable hotels (FYI the Flinders Hotel is amazing!), this rural town was made for family getaways. The Red Hill Recreation Reserve might just be the best playground in Victoria, and there are a whole heap of art galleries if you're looking for a culture fix.
THE DANDENONG RANGES
The Dandenong Ranges might be a little kitschy but we can't help but love everything about it. Overflowing with tea rooms, craft shops and adorable little B&B kinda accom, it's the perfect place to take the kids with minimal effort. Plan your trip around the Puffing Billing Railway (AKA old school steam train) if you don't want to do the driving. Pack a picnic, then hop off at one of the parklands with a playground when you're ready for lunch.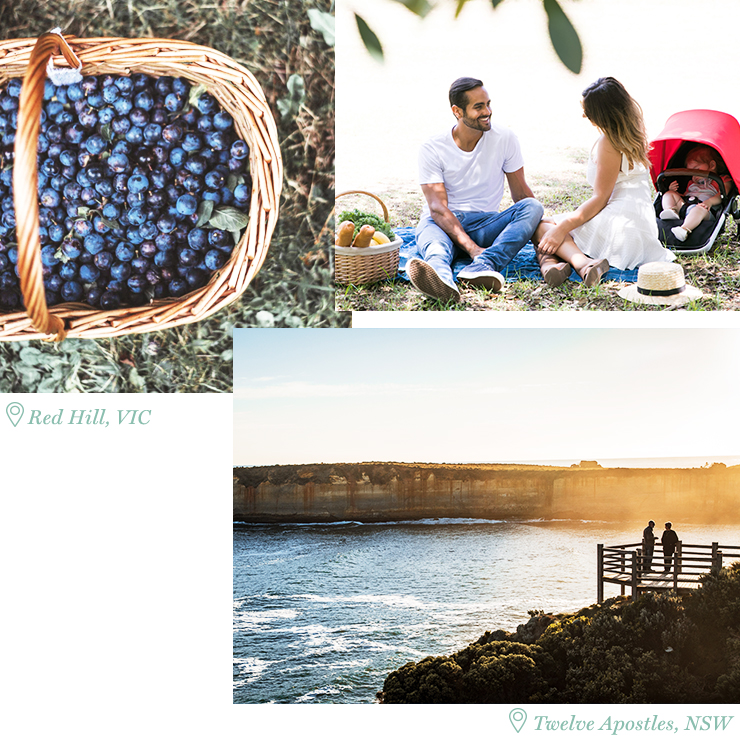 Torquay
Ohhhh the Great Ocean Road. It's your classic beach road trip. You could pick anything from Bells Beach or Anglesea to Lorne or Airey's Inlet (although they're all a little further than Torquay) and you'll feel instantly relaxed. Boasting a truckload of goddamn delish fish 'n' chip shops and great surf beaches, as well as quieter coves for families, all you need to do is pack your swimmers and you're set. Hot tip: Stop for an obligatory tourist pic at the Twelve Apostles (we don't care if you've seen them 20 times).

CRADLE MOUNTAIN
We're not going to lie, the drive from Hobart to Cradle Mountain is a long one (about four hours) but trust us when we say it's so bloody worth it. If the kids are getting restless in the backseat, there are some fab places to stop off, like Bridestow Lavender Estate and the Cradle Tasmanian Devil Sanctuary, and once you get there you can completely unwind. You're not going to able to hit up a legit bush walk with your pram (obvs) so opt for The Enchanted Walk (a 20 min circuit) instead. It's an easy 20-minute stroll and totally Bugaboo friendly.
THE FREYCINET PENINSULA
Potentially one the most Insta-worthy destinations in Australia, The Freycinet Peninsula is surprisingly very kid-friendly. If you're a camping kinda family, you'll appreciate the top-notch facilities and white sandy beaches with shallows that make keeping an eye on the young ones a breeze. Give Wineglass Bay lookout a miss and spend your time bonding with the wildlife instead.



From Brisbane...
NORTH STRADBROKE
The barge from Cleveland scares a lot of people off but all you've got to do is drive yourself on, then drive yourself off. Yes, it really is that simple. Once you're on the island (it's pure paradise), shops are far and few between but don't fret—you'll be able to find all the necessities you might have forgotten. Stay close to Cylinder Beach (best for young families) and don't say we didn't warn you when you never want to leave.
MALENY
Hidden away in the Sunshine Hinterland, a weekend in Maleny is a must. One of the few places you can completely switch off, bunker up in a cute cabin and prepare for the ultimate relax-cation. Entertain the kids (and yourself) at the Maleny Dairies and pop by the Maleny Botanic Gardens for sweeping views of the Glasshouse Mountains. This sleepy country town makes travelling with a bub a breeze.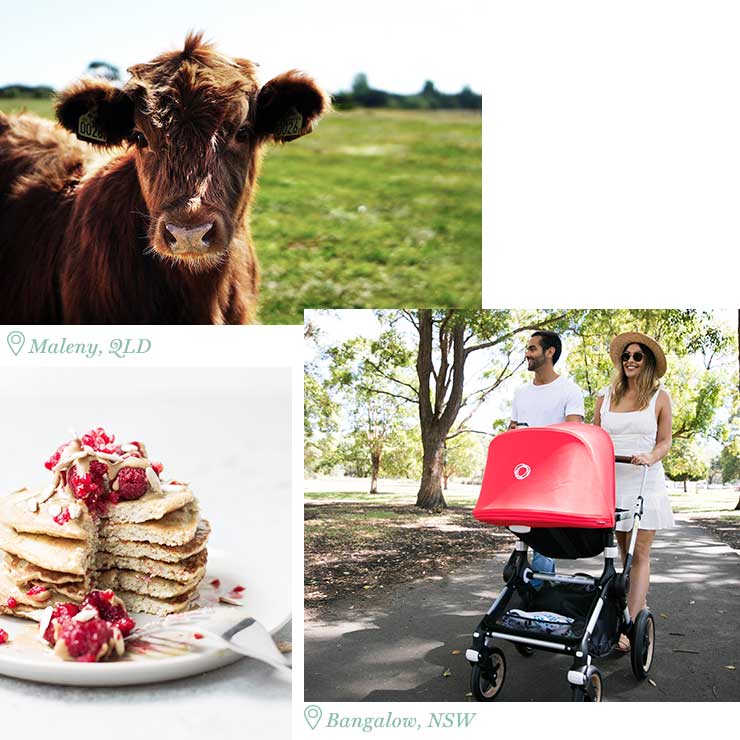 From The Sunshine Coast...
BUNYA MOUNTAINS
If feeding birds and taking bush walks is right up your alley, then you're going to love the Bunya Mountains. Home to the world's largest forest of bunya pines (hence the name), get lost in the wilderness and forget about the daily grind. Whether you go on a day trip or stay the whole weekend, stick around for dusk when the majestic fireflies come out (October and November).
RAINBOW BEACH
North of the Sunshine Coast you'll find Rainbow Beach. Boasting an unspoiled coastline and multi-coloured sandstone cliffs, plan a visit at sunrise or sunset for panoramic views that will take your breath away. Must-dos are the Carlo Sand Blow (Queensland's very own "moonscape"), Tin Can Bay, the Great Sandy Strait—but don't feel like you have to see it all. If you're feeling adventurous, explore a little further with a trip to Fraser Island, only a short ferry trip away.


From The Gold Coast...
BANGALOW
We know it's technically not in Queensland but you can't go wrong with Byron Bay. If you want to avoid the crowds, the next best thing is Bangalow. A relatively short drive from the GC (and you can stop off at about 50 beaches along the way), this charming country town offers a slower pace, lots of greenery and a truckload of great food, antiques, galleries, and homewares. You're going to want one of everything, so bring the credit card.



Moore River Region
Only 100kms north of Perth (aka approximately an hour), the untouched Moore River Region is nowhere near as far away as it seems. Stretching from Yanchep to Jurien Bay, there's something for everyone—even your cranky toddler. Go star gazing at The Space Place (the old Gingin Observatory) or finally take that surfing lesson you've been wanting to do since you were 15. Oh, and if you have access to a 4WD, you should definitely bring it.
Rottnest Island
This one's a given. You might not technically drive there but LBH, the short boat ride from Perth over to Rotto trumps any road trip. The fastest way to get to the island is with Rottnest Express, which departs from North Fremantle, B Shed and Elizabeth Quay's Barrack Street Jetty daily. Explore the island by foot and take your time nailing the fam selfie with a quokka. When you get hungry, stuff yourself with all things carbs at the iconic Rottnest Bakery. Note: if you have kids, The Basin is the only patrolled location on the Island.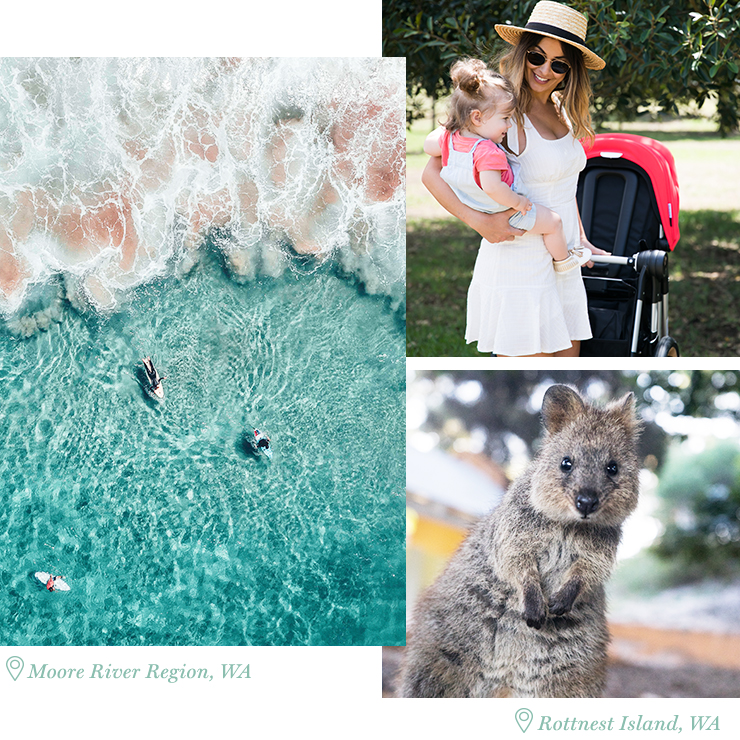 CLARE VALLEY
Just because you have young ones, it doesn't mean you can't road trip to some of the best vineyards in Australia. Less than two hours from Adelaide, the Clare Valley is the home of Australian Riesling. Battle it out over who will be the designated driver, then taste away the day at Pikes and Stone Bridge Wines, which are both super family friendly.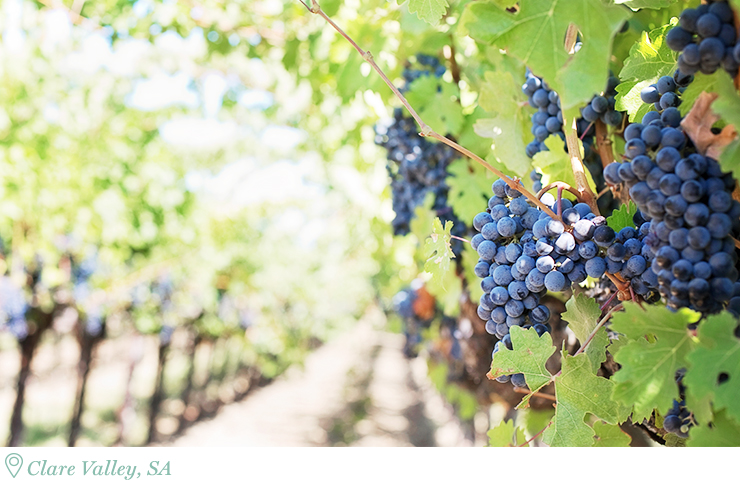 Editor's Note: This article was produced in partnership with Bugaboo. To find out more about who we work with (and why!), read our editorial policy here.
Design credit: Sarah Law | Image credit: Federica Portentoso