It's a big call, we know, but we're about as confident as Roger Federer approaching the net for a backhand volley that it's the right one. Enter: Hobart.
Often referred to as the Danni Minogue to Melbourne's Kylie or the Khloe Kardashian to Sydney's Kim, Hobart has always been the underrated little sister of The Mainland. Until now. Somehow an entire city has managed to keep secret the fact that it's home to one of the biggest, best and freshest gourmet food scenes in the country. And, quite frankly, we're pretty jealous. And so are Tigerair Australia, which is why they've just launched a brand new direct route from the Gold Coast to Hobart, so we can quit being jealous and just get there already!
So start folding out your spare camping chairs, Hobart, and set up the futon in the good room, because it's time to share your sweet little foodie city with the rest of us.
Foodies, here's everything you need to tick off in Hobart to have the ultimate weekend escape.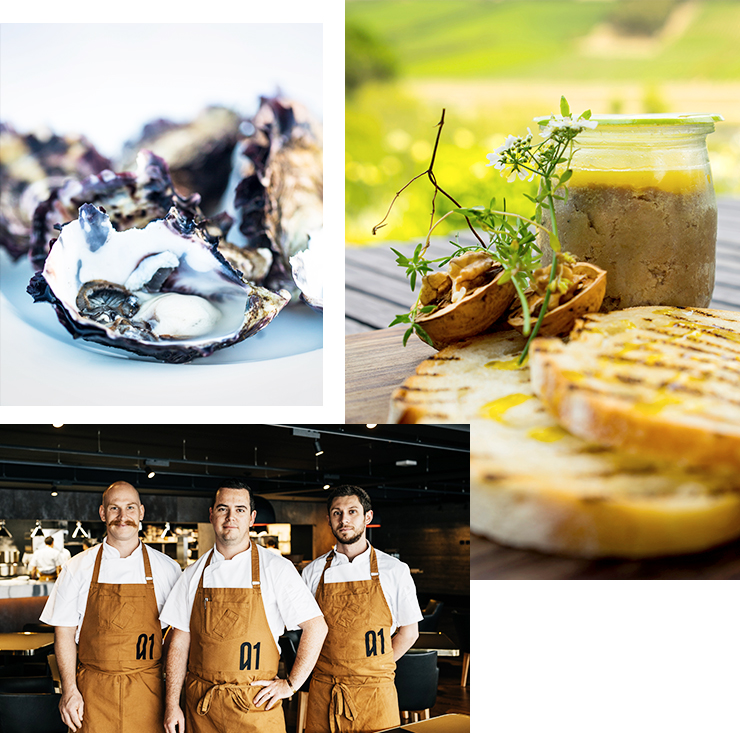 If you're looking for somewhere to rest your food-obsessed head that has incredible waterfront views, a superb central location, undeniable character and luxury rooms, then look no further than MACq 01. The once bustling wharf market is now a world-class waterfront visitor experience with a 'storytelling' themed hotel. There's a superb Old Wharf restaurant, which captures the tough life of the early industrial pioneer, plus storytelling tours led by some of Tasmania's finest scholars. There's also gin masterclasses, brewery tours, cooking demonstrations and e-bike adventures. Basically it's going to be impossible to convince you to leave the place once you arrive.

One place that MUST be on your Hobart lunch list is Templo. This quaint 20-seat neighbourhood restaurant might be a hard one to find, but it's an equally hard one to forget. Run almost solely by its two owners, Templo is the throbbing heart of the Hobart hospitality scene. It houses only a few tables, plus a mouth-watering Italian-inspired menu that includes fresh handmade gnocchetti made daily. There is literally everything to love about this adorable venue and delicious menu, and it begins and ends with incredibly friendly service and personal experience (and handmade gnocchetti, obvs).

If you're looking for good food with a touch of fair dinkum Tassie history, then help yourself to a generous serving of Landscape Restaurant & Grill. Here you'll without fail have an unforgettable dining experience, thanks in part to the exquisite island produce in each of their dishes, but also to the character and atmosphere of the venue. While the menu features dribble-worthy dishes from the venue's crazy talented chefs, the walls feature iconic artworks from none other than Australian art legend, John Glover.

If an intimate dining experience in the heart of Hobart is what you're after, then a table for two at Dier Makr is what you'll get. Focussing on a seasonal degustation menu, as well as an assortment of refined cocktails and minimal intervention wines, this intimate bistro and wine bar is a must for anyone who knows what's good for them. Your best bet is to opt for the $65 tasting menu where you'll be treated to local, fresh and seasonal ingredients (very much unlike the Thursday night spag bol you cook every week).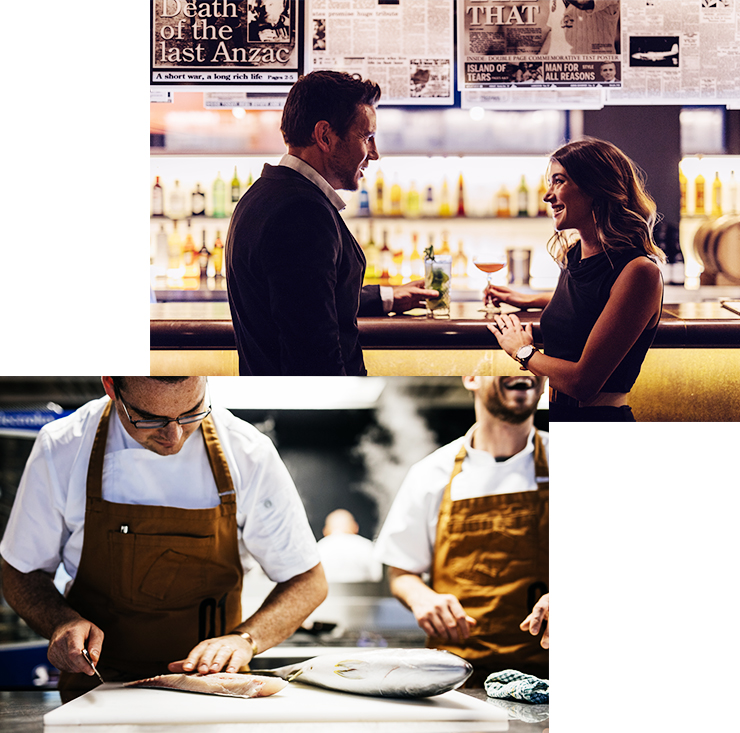 Another gourmet hotspot for a luscious lunch is the Frogmore Creek Atmosphere Restaurant. Boasting a multi-sensory dining experience that delves deep into a 'hidden menu', you basically have no idea what you're in for other than a long list of local ingredients that reflect the diversity and freshness of Tasmania's produce. With guests encouraged to 'trust the journey', there's no doubt why this Hobart eatery has made a name for itself as a gourmet bucket list item in the state's south.

If you enjoy guilt-free eating as much as the next person, then you'll need to book a seat at this gourmet fresh food oasis. The Agrarian Kitchen Eatery & Store is a sustainable farm-based destination set in a 19th century mental asylum. The environmentally-conscious team there offer a paddock-to-plate experience that incorporates fresh fruit, veggies, meat, fish, and herbs from their organically-farmed property. Not only can you devour their delicious menu, but you can also learn to cook it yourself thanks to their cooking classes. As the saying goes; give a man an organic Quiche Lorraine and he'll eat for an arvo, teach a man to sustainably prepare an organic Quiche Lorraine and he'll help save the whole damn planet.

By this point you'll be well and truly popping at the seams with fresh Tasmanian salmon and soft cheeses, but why stop now when you could incorporate even more delicious food into a leisurely stroll through a stunning historic city. In what is clearly one of the most genius concepts to come out of the 21st century, Gourmania have developed the ultimate Hobart experience filled with history, information, food and more food. Their three and a half hour morning City Tour focuses on stunning cheeses, sensational cool-climate wines, charcuterie, pastries and even more. You'd be a fool not to pencil a trip to Tasmania into your calendar for 2018 and you'd be even more of a fool not to experience it on foot, with an earful of history and with a mouthful of cheese.
Is your tummy rumbling yet? Tigerair flies direct from the Gold Coast to Hobart, so check out tigerair.com.au to pay a visit to this secret foodie city.
Editor's note: This article is proudly sponsored by Tigerair and endorsed by The Urban List. Thank you for supporting the sponsors who make The Urban List possible. Click here for more information on our editorial policy.
Image credit: images provided by Tourism Tasmania