So it's basically Christmas, and despite having a lot more time on our hands in 2020, we still have absolutely no idea what to pop under the tree for the men in our life. And in case you're wondering, no, socks are not the right answer.
That's why we've teamed up with Miles Wharton and Rami Mikhael, the refined and genius minds behind the boutique Sydney and Melbourne tailoring shop—The Bespoke Corner—to deliver you some stellar advice on what to buy the lads you love. Spoiler: if of course involves a bottle of the one and only Maker's Mark, plus a few other special goodies to wrap up 2020 on a high note.
Cut The Clutter With Card Cases
The days of buying dad a wallet are so early '00s. In 2020, a cardholder wallet or a money clip is where it's at. As Miles says, "Get away from the fat wallets with all the receipts and keep it nice and slick so it can fit inside your jacket pocket." Plus, it makes the perfect stocking gift—bonus. Pick up a classic cardholder in black, chocolate or tan from Country Road, or opt for this BOSS money clip made from polished silver-toned brass.
Make An Impression With Glassware
Frankly, there's nothing guys want more than an at-home bar, because 2020 is all about living luxe in your loungewear. Get them started with some top-notch glassware, decanters or tumblers. Miles' pick goes to RIEDEL, "It's a great impression to leave on your guests when using quality glassware — and you can never have enough of it," he says. Opt for this neat two-piece whisky tumbler set for a secret Santa or stocking stuffer or go all-out with this opulent seven-piece set, including six modern tumblers and a modern decanter. Either way, they'll be set to own happy hour in the new year.
Max Out With Maker's Mark
"I don't want whisky for Christmas," said no man ever. Slam dunk the gifts this year with a bottle of the good stuff from the guys over at Maker's Mark. The classic bottle is Rami's go-to, "The reason I like gifting Maker's Mark is because the bottle has that beautiful wax finish on the top, you don't even need to put it in a bag to give it to someone for Christmas — it just looks great on its own."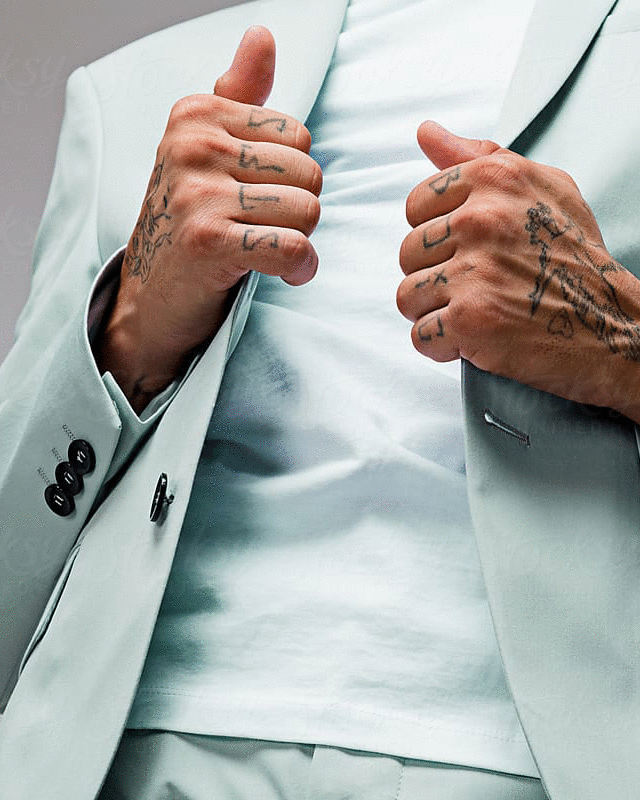 Celebrate The Occasion With Cigars
It's hard not to feel like a black and white film star when kicking back in a suit and smoking a cigar for a special occasion. "There's nothing better than cigar cases and some nice cigars that go along with it. There are a few brands out there but I love a Cuban Cigars," Rami suggests. Explore the best cigars Cuba has to offer here, and while you're at it, pick up some stylish cigar cases here. For the minimalist, opt for this clean black number, or add to cart this bold decorative leather case.
And when it comes to enjoying this tipple, Mile's suggests keeping it simple, "Sip it neat or as part of one of your favourite summery cocktails."
Layer Up In Linen
Unfortunately going naked over summer isn't particularly appropriate, so opt for the next best thing when it comes to warm weather threads — linen. Whether it's a tailored suit jacket, easy-breezy shirt or bottoms to match, we promise the guys in your life will thank you later. For Rami, he's all about the chinos, "Linen chinos are definitely a cool idea because they're really light, flowy and comfortable, you're enjoying yourself and looking classy at the same time." Miles, on the other hand, opts for a more casual look like the Bespoke linen joggers, saying they're the perfect weekend wardrobe essential to dress up or dress down.
Splash Out On Designer Scents
While the guys might not like to admit it, as Mile's puts it, "You can't ever have enough nice smelling candles in your house." His pick to make a real impression goes to the Roja Aoud Candle, a unique and distinct fragrance that fills a room with its presence. Expect notes of rose de mai and saffron, supported by a spicy and sensual base. With 2020 being all about the home, this is a sure-fire way to brighten up any digs.
Keep Out The World With Noise Cancelling Headphones
Give the gift of more brain space by splashing out on a pair of noise-cancelling headphones. "This is the perfect travel partner to block out any noise when you're travelling or commuting to work," Miles says. Plus, it might make those endless Zoom calls a bit more bearable. Miles' pick for a pair of the best goes to the Bose Noise Cancelling Headphones 700, which come in a sleek array of colours including 'Luxe Silver' and 'Triple Midnight.'
Cure your Christmas panic buying by picking up a bottle of the good stuff — Maker's Mark — for the men in your life.
Editor's note: This article is proudly sponsored by Maker's Mark and endorsed by The Urban List. Thank you for supporting the sponsors who make The Urban List possible. Click here for more information on our editorial policy.