Pintxos, tapas, raciones, charcuterie, sangria, vino; whatever it is, if it's about food, drink and the good times, you can guarantee, the Spanish have it locked down.
It's little wonder that the national cuisine of this fiery and passionate European country has inspired many a bout of wanderlust, not to mention a proliferation of countless Australian taperias, pintxos bars, bodegas and delis. Which is great for us because the mucho gusto 'tude to life is a winner, in our humble opinion.
Keen for the real deal? If our local Spanish fare just doesn't cut it for your craving, perhaps it's time to consider making your way over to two of Spain's most popular cities, Bacerlona and Madrid, with Emirates via a quick stop in Dubai.. And while you wait for your trip, these are the best places to stoke your travel fire and keep your Spanish cravings at bay.
Sangria & Wine and Liqours
The Sangria Bar at Ole | Brisbane
The saucy little sister to Ole at South Bank, The Sangria Bar is, you guessed it, all about this famous Spanish punch, and then some. With seven types of sangria in either glass or jug form, they also pour a healthy selection of Spanish wines, alongside a tidy menu of classic tapas.
Tapavino | Sydney
At Tapavino, first comes the wine, then comes the amazing tapas to match. Touted as Australia's first dedicated sherry bar, Tapavino specialises in boutique and artisan wines from some of Spain's most exciting and talented winemakers. In classic bodega fashion, the atmosphere is warm and cheerful with a tapas menu that's gloriously unfussy, refined and produce driven.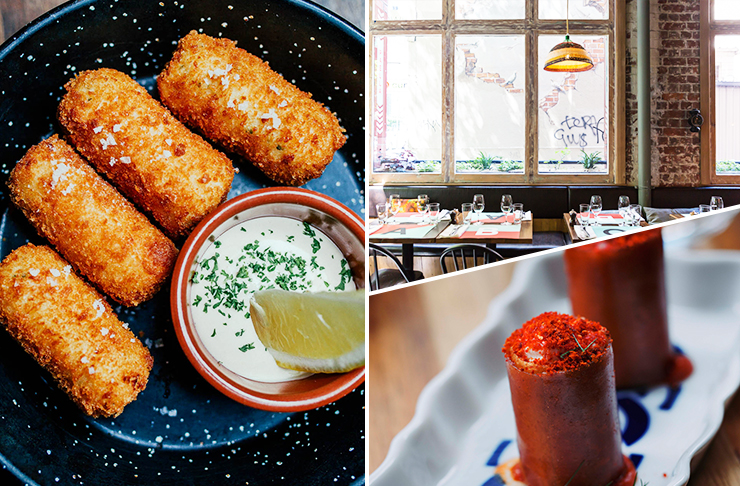 Deli Products/Charcuterie
Encasa Deli | Sydney
Both a restaurant and a deli, Encasa is the king of bocadillos (Spanish sandwiches, don't you know), Spanish charcuterie platters and made to order tapas for a party of any size. Croquettes, mini bocadillos, jamon, cheese, olives and paella…you name it, Encasa's got your back. The best bit? There's a selection of catering options and platters that can be ordered online and ready for you to pick up without any stress!
Rodriguez Brothers | Sydney
No offence to other nationa's small-goods, but Spanish small-goods are the best. Any country that creates chorizo and manchego is some kind of culinary wizard and we bow down. Sydney's Rodriguez Brothers is the king of small goods and specialises in Spanish cheeses, meats, groceries and cooking utensils. If you find yourself in the manchego mood more often than not, Rodriguez Brothers is about to become your bestie.
Traditional Tapas & Raciones
Movida | Melbourne
A bonafide Melbourne institution, MoVida is Frank Camorra's first baby and the oldest in his now sizeable Spanish tapas empire that includes MoVida Acqui and MoVida Next Door. Authentic and totally fresh is the MoVida motto, and they are sticking to it. A fun atmosphere and a killer drinks list to boot, MoVida will have you pining for the Espagna like nobody's business.
Naked In The Sky | Melbourne
Siblings in both nudity and coolness, Naked in the Sky is the rooftop terrace brother to Melbourne stalwart Naked for Satan, and my do they plate up a mean tapas dish. Traditional Basque region small plates and pintxos (small snacks) like fried cheese and walnut croquettes and charcuterie boards sit alongside the more substantial raciones of braised rabbit and slow roasted lamb shoulder, complete with a generous and varied list of drinks. Grab a sherry to go with your queso (cheese), or even a Basque region cider to go with your eats.
Peasant | Brisbane
Step into Peasant and you'd think that you'd already hopped on the plane and found yourself in Barcelona. Rustic cool and slightly edgy, the shared tables and moody atmosphere is just the start; this Catalan hip-kid knows how to impress with a Queensland produce-driven menu that will have you come back again and again. Cocktails galore—and of course, sangria—are the icing on the cake of a very successful evening, pre-Spanish sojourn.
Lona Pintxos | Melbourne
From Barcelona and the Basque region straight to St Kilda's Lona Pintxos, this neon-signed, alfresco-loving bar is hotter than a poquillo pepper straight off the grill. Now, just like a traditional Spanish bar, the food is designed to go with drinks and be eaten with your hands real casual like, so don't be shy. Open seven days a week, there's live music and a great function space for mucho good times.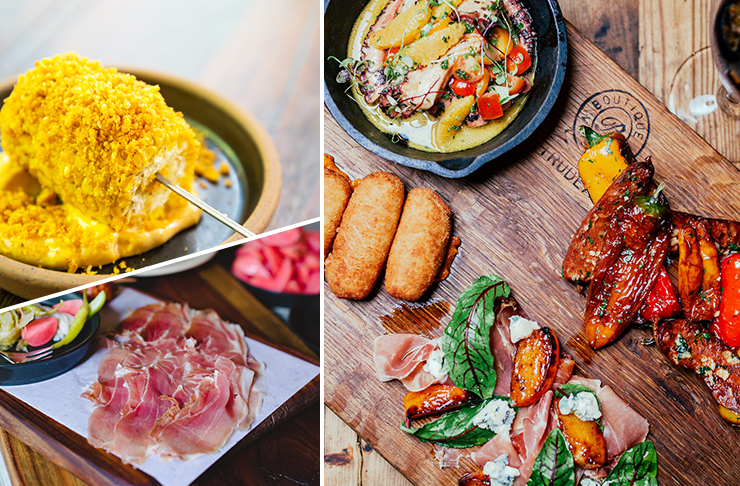 Spanish Fine Dining & Modern Tapas
Moda | Brisbane
Inspired by Spanish culinary genius Javier Codina's Catalan heritage, Moda is a Brisbane go-to for amazing contemporary cuisine made using fresh produce and with impeccable technique. The carefully curated wine menu is packed with the best Spanish, French and Australian wine for any occasion, and Moda specialises in functions and weddings, so you know you'll be in good hands.
Bomba | Melbourne
Here to get the fiesta started, Bomba means business when it comes to excellent tapas and drinks, with even better atmosphere. Former Anada chefs at the burners means the food is going to be stellar, and the fun? Well that will be off the hook. Don't forget to check out the views from Bomba's rooftop terrace bar.
Gordita | Brisbane
She may be a chubby and pretty senorita but this gordita sure knows her way around a delicious share plate. Gordita, from the can-do-no-wrong team behind Lefty's and Sonny's House of Blues, is one of the most exciting additions to Brisbane's Spanish scene and the tapas here are equal parts delicious and beautiful. These little works of art on a plate will keep you coming back for more, and the dark and moody atmosphere is perfect for long catch-ups over the large glasses of tempranillo.
Anada | Melbourne
Andalucia (Seville and surrounding areas), is blessed with cuisine style that's a delightful combo of more cultures than you can poke a stick at—and the inspiration for Fitzroy restaurant Anada. From the Andalusian peasants, the Moorish, the Muslim crusaders and the Mediterranean's have had a hand in creating this colourful regional cuisine and Anada brings it to life in the heart of Melbourne.
---
Here at The Urban List, we're forever dreaming about, and planning, our next holiday destination, which is why we're excited to join forces with Emirates to inspire you for your next amazing trip. Emirates' expansive global network, with 149 destinations in 80 countries to choose from, the world really is your oyster. Stay tuned for the ultimate guides to the world's best destinations - handpicked, must-do experiences that will take your next holiday to another level. Or to book a trip give Emirates a call on 1300 3013 7777 visit your local travel agent [GC1] or go to www.emirates.com/au.
Image credit: Ariana Gillrie, Daniel Maddock