If there's one way to fill your precious and worldly time up, it's by sighting animals in the wild. That's right, nothing truly beats the feeling of catching a glimpse of vapour skyrocketing towards the sun or a full-on breach from the big guys.
And we'll have you know that we humans actually have a significant amount in common with these gigantic creatures of the ocean, ever heard of Netflix and Krill? Oh yea, that's a legitimate thing now in the big blue.
Here are the best places to go whale watching around the world!
Kauai | Hawaii
Jump on a catamaran and sail the Napali Coast because hey, this is where you'll see the world's largest North Pacific Humpback migration during November to May. On the side, you're likely to encounter a pod of Spinner Dolphins too while you're out on the great blue idling around for some whale tail.
Kenai Peninsula | Alaska
While it's widely known that Alaska is the Holy Grail for whale sightings, get amongst the smart cookies who already know about Kenai Fjords National Park because FYI (and it'll come as no surprise given the title of this article) it's one of the best places to watch whales and all kinds of wildlife for that matter, in the world.
Vancouver Island | Canada
We mean, when there's a casual twenty-something thousand Orca, Humpback and Minke just chilling and doing their thing around the island's Pacific coast during the spring, that's March through to May for anyone having a touch of trouble converting seasons for the Northern Hemisphere #notjudging, how can this place NOT be on our list? Like, really.
Husavik | Iceland
Think Minke whales, Humpback, Blue, Sperm, Sei and… OKAY Iceland we get it, whales like hanging around you. We don't want boost Iceland's ego anymore but you should know that there are over 20 species of whale around these parts, so no guesses as to why this gem has been donned 'Europe's whale watching capital'.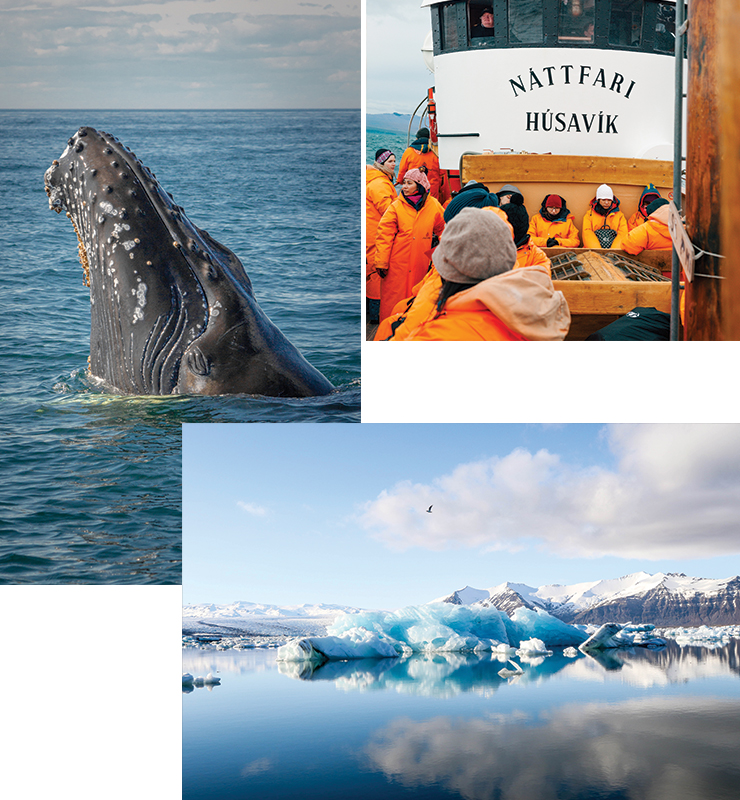 Nature Island | Dominica
Apart from the fact you'll want to hit up Dominica for all the adventures of a lifetime, a quick Google search will easily convince you that Nature Island should most definitely be on your bucket list. But we'll save you the search and just give you the down-low, Sperm Whales live their lil' whale lives here all year around. And you know what that means, every day is whale season. Mhm, your Insta story will lose its shiz.
Baja California | Mexico
Word on the street is that you'll see more whales and dolphins around the Baja Peninsula in a couple of weeks than anywhere else on the planet. Mind you, that's a pretty hefty claim. Until you realise that for several months of the year, basically the entire population of Grey Whales hang out in four lagoons along the Pacific coast to socialise, mate and have lil' whale bubs. Then you totally get it.
Gairloch | Scotland
You can skip out on the Loch Ness monster because heads up, you're pretty much guaranteed a whale snap sooo good even National Geographic will love you for it. Yep, you're going to want to seriously watch this space for Minke, Humpback, Fin, Sperm and Orca 'coz a third of these bad boys migrate past here every year.
Kaikoura | New Zealand
Let's just say Kaikoura is somewhat of a playground for these majestic creatures (so you're bound to see all the whales ever). Specked on the east coast of the South Island, this area is one of the only places in the whole entire world where you can spot Sperm Whales easy peasy. As in, your short-sighted Aunt Susan could spot one mile away with her glasses OFF. That kind of easy.
Love adventure? Of course you do, here's where to go hot air balooning in New Zealand.
Image Credit: Unsplash