Summer, how we love you! Think: balmy days spent catching up with friends, sipping on refreshing drinks and grazing on delish eats (the more cheese, the better). But—news flash—good times can be enjoyed sans alcohol. We're talking fruity and refreshing mocktails brimming with everything from lychee and lime to pineapple and passionfruit. We'll take the lot, thanks!
No one loves these innovative, alcohol-free creations better than Auckland Transport. They're encouraging people to put their hand up to be a sober driver and drive drink-free. Why? Just 50mg of alcohol can affect your ability to safely get behind the wheel. Luckily, thanks to some of Auckland's finest bars and eateries, there are still good booze-free bevvies (and good times!) to be had—no hangover in sight.
Here are 10 of Auckland's best mocktails to quench your thirst as sober driver.
The Glass Goose
Federal Street
There's a lot to love about The Glass Goose. For one, the bustling rooftop bar is positioned directly underneath the Sky Tower—giving you the most incredible view. Secondly, they make partying without alcohol a (delicious) breeze with their incred drinks menu. Opt for a strawberry basil crush, lemon rosemary fizz, or a gin-free and tonic with house-made juniper and herb syrup. We love the spiced apple mojito—it's jam-packed with cinnamon.
The Parasol & Swing Company
Viaduct Harbour
The Parasol & Swing Company will charm you with its waterfront views and quirky venue. Here, they serve mocktails (or "teetotallers & chauffeurs") for the "sailor on duty"... aka you! Choose between a tropical tiki tonic or a raspberry-packed "Shirley Temple". You'll also find non-alcoholic numbers including kombucha, nitro coffee and a chai-spiced milkshake. Drink up, sailor!

Bedford Soda & Liquor
Ponsonby and Takapuna
Cool down this summer with a fun and flavoursome mocktail from Auckland institution Bedford & Liquor. If you're driving, try a booze-free handcrafted soda—the elderflower with thyme and lemon is particularly divine. If you're after a creamy #treatyoself number, check out their insane shakes. Jam-packed with peanut butter, Oreo, Maltesers and salted caramel, they're worth breaking your diet for.
Augustus
Ponsonby
You'll feel as though you've been magically transported to Paris at Augustus Bistro. Situated in the historic Ponsonby post office, the venue (not to mention the food) is stunning. The glamorous bar showcases three faux cocktails including a virgin mojito and a coconut number with mint, ginger and lime. To channel your inner-Parisian, order a triple citrus with lemon, orange and grapefruit—it's a total French fave!
1947 Eatery
Federal Street
A visit to 1947 Eatery will have everyone calling shotgun to be sober driver. Here you'll find not one, not two, but four unmissable concoctions. Showcasing the quirkiest names in town, you'll find the likes of 'dry day in Bombay' and 'naughty Aunty'. Our fave? The pretty in pink 'sweet sixteen' with cranberry, lime and lychee. It's the perfect balance of sweet and spicy with a subtle hint of cardamom and cloves. Arrive thirsty because you'll want to try ALL the mocktails.
The Commons
Takapuna
Just a hop, step and jump from Takapuna Beach, The Commons whips up divine cocktails and mocktails alike. Designated driver? Quench your thirst with fruity infused ice tea or—our fave—their sunset fruits. Filled with mango, pineapple and passionfruit, you'll be swearing off alcohol for good before you know it. Pro tip: arrive hungry and graze your way through one of their epic shared platters.
Masu
Federal Street
For something a little different to your average, check out Masu's mocktails—or 'cleansers' as they call them. The Japanese-inspired drinks star ingredients such as salted lychee, aloe vera and umeboshi (aka pickled plum). Refreshing and not too sweet, the innovative drinks will make you forget there's no alcohol in them. Our advice? Drink your way through them all.
Mexico
Britomart, Takapuna, Ponsonby, Ellerslie and Sylvia Park
There's more to Mexico than fried chicken and tacos, y'know? The much-loved Mexican eatery serves up a virgin sangria in spectacular style. The fruity concoction stars guava and pineapple alongside cucumber, apple and orange. It also has a botanic hint with the addition of rose and thyme. Order a glass or share a booze-free carafe (go hard or go home!) with your squad.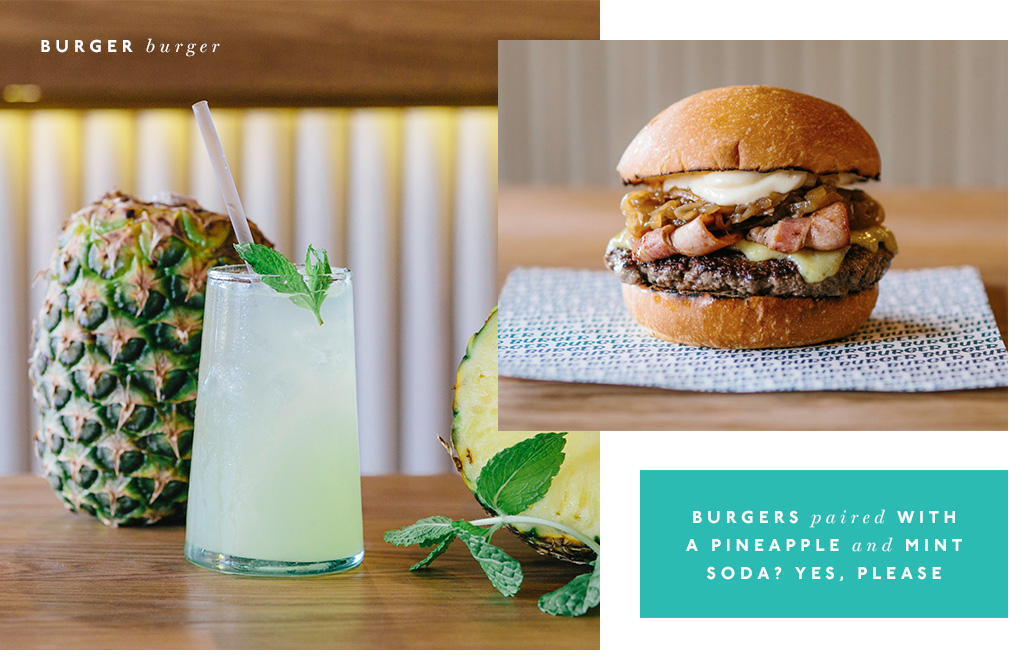 Burger Burger
Ponsonby Central, Newmarket and Takapuna
If there are two things we love, it's a) burgers and b) a flavoursome bevvy to wash it down. Burger Burger has both bases covered with their Auckland-famous burgers and slurplicious drinks. Their house-made sodas are fruity, spicy, cool (by both definitions of the word) and booze-free. Choose between the likes of pineapple mint, strawberry basil and honey cola. For something creamier, their super thick milkshakes are also divine!
Britomart Country Club
Britomart
Smack-bag in the middle of party central, Britomart Country Club gets the good times going—sans alcohol. Here you'll find refreshing sodas alongside fruity juices. If you're visiting over lunch, the bustling bar serves house-pressed juices until 4pm. We love a zesty apple, lime and ginger creation.
Feeling thirsty? Us too! Put your hand up to be the sober driver and drink your way through this thirst-quenching list.
Editor's note: This article is proudly sponsored by Auckland Transport and endorsed by The Urban List. Thank you for supporting the sponsors who make The Urban List possible. Click here for more information on our editorial policy. Auckland Transport does not endorse the bars mentioned in this article.
Image credit: @jayandsarahnz, @kiwisoffcourse, Jaiden Bhaga and supplied.