Hai there, night owl. Whether you have trouble sleeping or simply like staying up past your bedtime (#thuglife), there are plenty of fun things to do in Auckland once the sun goes down. For some nightspiration, we've rounded up 20 things to do in Auckland at night.
#1 Head To A West Coast Beach
Aucklanders love the black sand and mighty surf of our West Coast beaches, but why visit just during the day? Piha, Karekare and Bethells all offer one of the most romantic nighttime vistas for you and your SO. Pack a picnic, lay a blanket on the sand and listen to the roar of the ocean as the sun drifts from the sky.
#2 Drink ALL The Cocktails
What better way to celebrate the night than with a cocktail in hand? Auckland's cocktail scene is one of the best around. The Polynesian Painkiller at Bedford Soda & Liquor is (quite literally) on fire! Or, how about a lemon cheesecake cocktail from The Commons? Oh my! Drinking cocktails is definitely one of the best things you can do in Auckland at night—if you need more inspo, then check out our pick of the 50 (50!) cocktails you should have tried. Not all at once, of course. That would be ridiculous.
#3 Play Nighttime Golf
So you thought golf was only for the daytime? Pfft! Not at all! Auckland is home to New Zealand's only 24-hour driving range. Yep, you read that correctly! You can test that swing, let off some steam, or just get really really good at golf in the wee hours. Then, next time you go to play with friends they'll wonder how you got so damn good. It can be our little secret, m'kay?
#4 Enjoy A Late Night Feed
Is it just us, or does food taste even more delicious when the sun goes down? Lucky for us (and you) Auckland has plenty of places serving up late night bites for your belly's pleasure. If it's a burger you're after, then there's always the iconic White Lady serving up some of the best in Auckland. Or, head to the SkyTower's Andy's Burgers and sit back and relax in a booth while eating enjoying your late-night food. If you're all about the dumplings, then head to New Flavour for those little morsels of delight—it's open until 4am!
Looking for more late night bite inspo? Here's our round up of where to find the best late, late night eats in Auckland!
#5 Auckland Night Markets
The Auckland market scene really is one to behold. But, if you're more of an owl than a lark, then getting to one first thing on a Saturday or Sunday morning is a little unreasonable, right? Never fear! One of the best things to do in Auckland at night is to hit up one of the night markets. You'll find all those food trucks filled with all their delicious offerings just waiting to fill your belly! You'll find night markets at Silo Park, Green Bay, La Cigale and at various venues around Auckland. You'll find our full list of Auckland's night markets here.
#6 Enjoy Some Live Music
Nothing quite beats the sweet sound of live music and while Auckland is lucky enough to have some of the world's best singers stop by every now and then, you can also get your live music fix at various venues around town. Head to Ponsonby Social Club on Saturday nights where you'll find a DJ or band ready to rock you through into the wee hours. Or, head to Auckland institution Danny Doolan's any night of the week, where they're pumping out the music. You'll also find live music at Flight 605 and Orleans—check out our round up of the best live music in Auckland here. It's certainly one of the best things to do in Auckland at night!
#7 Have A Laugh
Need to add a little humour to your life? Then head to The Classic's Late & Live comedy show. This iconic Queen St venue showcases New Zealand's top comedians, as well as the up-and-coming newbies for your LOL pleasure. Stay for a drink after the show and make a night of it.
#8 Gaze At The Stars
When it comes to looking for things to do in Auckland at night—you just need to look up! There are plenty of beaches to soak in the night skies, but you can also make a night of it and head to Shakespeare National Park to camp and soak in the beauty of the stars. If you'd rather be warm and cosy, then you can't go past a visit to Auckland's very own observatory, Stardome. The experts will take you on a breathtaking, mindboggling journey of our universe. If you need more inspo, check out our top ten places to stargaze in Auckland.
#9 Head High
One can truly appreciate the beauty of Auckland from up high—and what better way to do so than at one of the restaurants or cafes in the SkyTower? For the most opulent of treats, head to the 53rd floor where the team at The Sugar Club will serve up delicious dishes, under the guidance of Peter Gordon. Further down, Orbit 360 offers great food while rotating around the SkyTower, so north, west, east or south, you see it all! There's also the Sky Café, which serves up wine and ice cream or cheese and you can walk around and soak up the spectacular night views. Auckland, you so pretty!
#10 Late Night Sweet Treats
When those sweet cravings hit during the long night hours, there's no need to head to the supermarket for a jar of Nutella because there's plenty of cafes open to get your sugar fix. Head to The Fed for their 'late shift' menu that includes mouthwatering lemon meringue pie and New York cheesecake. Yummm. Of course, there's always the legendary Giapo, serving up late-night gelato creations that are out of this world. With an ever-changing menu, you'll find yourself returning again and again. Check out our full list of where to satisfy those late-night cravings.
#11 Add A Little Magic
Gather your munchkins (read: friends) and follow the pink brick road. We're talking about Nelson Street's magenta-coloured cycleway, of course. The newly revamped path is lit up by interactive lights, making the whole experience rather magical.
#12 Have A Sleepover
No, no, no, we're not talking about having a pyjama party (although, that would be fun too) but heading to either the Auckland Zoo or Kelly Tarlton's for an unforgettable night. Kelly Tarlton's allows you to set up camp beneath the fish, stingrays and yes, even sharks! Who will be watching who? Or, the Auckland Zoo host Safari Night adventures which included a barbeque dinner followed by a torch-lit tour of the zoo. Elefants by night!
#13 Scare Yourself
Remember being scared of the dark when you were a kid? You can relive the hell—and then some—at Spookers. All year around, visit for a night of fear. With R16 adventures to choose from, including the Haunted House, the Freaky Forest of Fear and Disturbia, you'll be screaming into the night. Alternatively, visit a haunted spots' list for one of the best things to do in Auckland at night.
#14 Kayak To Rangitoto
Pop on a life vest, hop into a kayak and paddle your way to Rangitoto. On arrival, get ready for a one-hour trek to the summit where you will be rewarded with the best sunset that Auckland has to offer. If that's not enough to tingle your senses, get ready to tingle your taste buds with a complimentary Kiwi feast back at the water's edge before making your way back using the city lights as your guide. Sounds dreamy, we know.
#15 Go Clubbing
Whether you're into your hardcore drum and bass or can often be seen tearing up the d'floor to not-so-guilty pleasures (not us—promise!) Auckland has sure as hell got it going onnnn. If you live for the weekend and love nothing more than chugging back those Jager-bombs while dancing round the DJ booth then one of the best things to do in Auckland at night is to go clubbing. Family Bar, Impala or Roxy are just some of the places to go clubbing in Auckland.
#16 Go Canyoning
It's one thing to go canyoning during the day but you can take things to a whole new level by doing it at night. After watching the sunset at Piha, AWOL adventures allows you to explore nature's wonderland in the darkness—including canyoning under a waterfall! Guided only by your headlamp, you'll be left breathless by the magic of the night.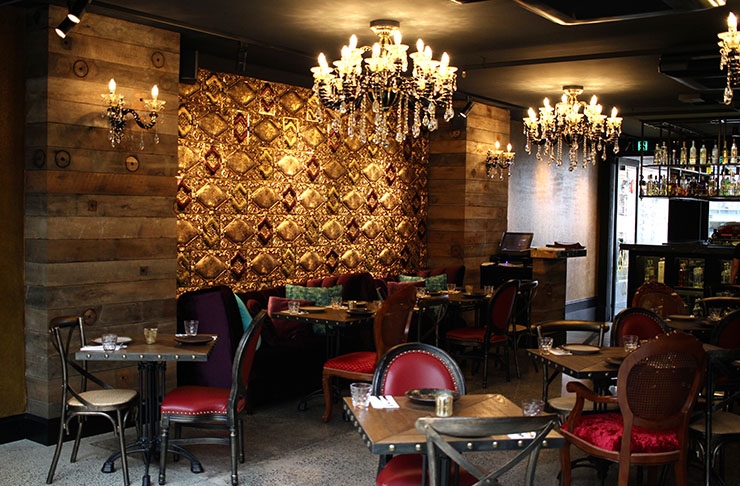 #17 Drink All The Vodka
If you haven't been to Ponsonby's Vodka Room, then head there, stat. Taking the Auckland night scene to the next level, it is filled with lights, chandeliers and almost 100 different vodkas (yes, you read that correctly) from around the world. There's yummy bites and private rooms—including two dedicated to karaoke! See you there!
#18 Enjoy Caberet
Yes, it's been around for ever, but Caluzzi has not dropped the glitter ball. It's a good dinner and a roaring show, and has mastered mainstream appeal while still remaining rollicking fun. A blur of dance numbers, belt-along ballads and enthusiastic audience participation, you're in for a night to remember. Their secret weapon is the gaspingly good Miss Taro Patch, who we think is arguably the best MC in town.
#19 Speakeasy
Nestled on Vulcan Lane, The Gin Room is the perfect place to channel your inner Hemmingway and sip away your woes into the wee hours. They have a private bar with a 24-hour license and a knack for shaking up exceptional gin libations.
#20 Play Paintball
Calling all adrenaline junkies! Night time paintball is a thing and you could be playing at Asylum Paintball. You'll need stealth, aim and courage to get you through, so get munching on those carrots for some extra sight power.
Want more?
SaveSaveSaveSave