Let's be honest, Malaysian food a direct ride to flavour town. Once there, you'll find fragrant curries, slurpalicious laksa, tasty beef rendang and flaky, buttery roti. What more could you want from a cuisine?! The answer is nothing, our friends.
To help you dive head-first into Malaysian cuisine, we've tracked down the best Malaysian restaurants in Auckland. Let's go!
KK Malaysian Cuisine
Epsom
This Epsom joint has been around for yonks and is still as popular as ever. Sitting in its bright orange glory on Manukau Road, KK Malaysian is about as authentic as Malaysian food in Auckland gets. We always find ourselves gravitating towards the famous 'KK mummy chicken' which brings the finest fried chicken coated in a sticky caramelised sauce and wok coated sesame seeds. However, when the weather is packing a sad, a steaming bowl of beef curry alongside a few spring rolls is compulsory. It's also BYO-hurrah!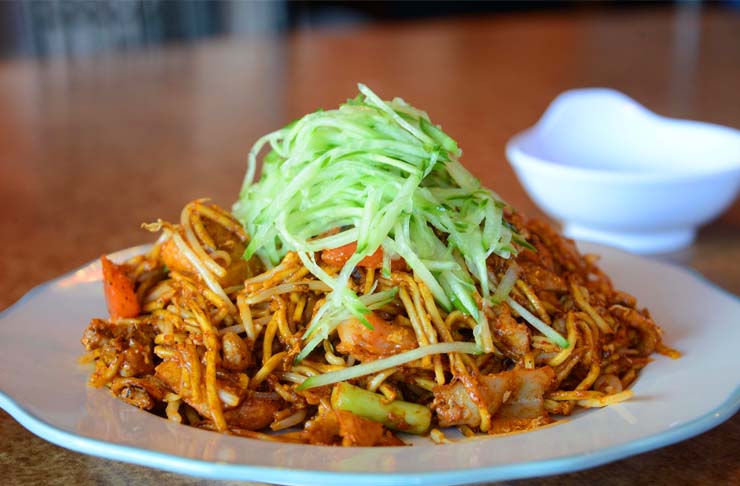 Selera
Newmarket
Selera reels in the hoards with its mouth-watering fare time and time again—they're total pros at what they do. This is where you'll find Auckland's most die-hard Malaysian fans, aka us cool kids at The Urban List. We like to order the chicken curry with roti canai alongside the char kueh tiaw noodles which come with chicken, prawns, Chinese sausage and bean sprouts. What's more, there's coconut rice on offer, the perfect addition to a Malaysian feast! Selera, you rock our food-lovin socks off.
Mamak Malaysian
Takapuna
After winning over inner-city folk in Mamak's original Chancery Square store, owner Jeffery Ng made the trip over the bridge and set up shop in Takapuna. Turns out that the Takapuna version of Mamak is equally as great, if not better than the OG! Food-wise, everything is authentic and full of bold, fragrant flavours—just the way we like it. Make sure you try their mee goreng, Hainanese chicken rice, pandan soy bites and—of course—a plate of flaky roti with curry fish gravy and dahl for dipping. Mmm, mmm! You hungry yet?
Cinta Malaysian
Mt Eden
Cinta means "love" in Malay and Auckland's Malaysian food-lovin' tribe sure love what Cinta has got going on. Sitting on a corner on Dominion Road, this restaurant specialises in traditional, tasty dishes from sambal eggplant and butter prawns to their legitimately addictive creamy chicken curry. For the ultimate foodie experience, grab your SO and being with the mixed entree for two, moving on to the Asaam lamb curry alongside a sizzling hot plate of stir-fried greens. It makes sense to eat in a place called love with someone you love, right? Yeah we're pretty cute like that.
Angie's Kitchen
Auckland City
Angie's Kitchen believe they serve "traditional Malaysian food from the heart" and they're not wrong. The restaurant is plonked on The University of Auckland's campus, where hungry students stop by for a post or pre-lecture feed. With Nyonya and Malaysian dishes on the menu, you'll be able to tuck into everything from Angie's Special featuring yellow noodles with chicken, seafood and veges in a yummy sauce right through to mutton curry and bubur cha-cha—a dessert of kumara, taro and beans cooked in coconut milk. Don't kick it 'til ya try it. We may have found Auckland's most authentic Malaysian.
Uncle Man's
K Road
You haven't ticked off Auckland's best Malaysian until you've treated your taste buds at this K Road gem. Uncle Man's make their roti fresh before your very eyes, which you can then dunk into beef rendang with nasi lemak. Other standout dishes include the smoky char kuey teow—a must for noodle fans. FYI: Have you really had Malaysian food if you haven't eaten your weight in deliciously flaky curry puffs… Because Uncle Man's is just the place for that.
Mama Rich
Greenlane
Mama Rich in Greenlane is owned by the same team who run Selera, so you can expect the same delish dishes plus a few interesting little numbers. There are dumplings, lobak rolls (pretty much a sausage), yummy rice dishes and a damn good laksa. Not to mention there is a whopping six different fried rice dishes for you to pick from. Think, Nyonya fried rice right through to pineapple fried rice—This may just be the perfect solution to a hangover…
Sri Pinang
K Road
A sterling BYO spot with friendly service and really, REALLY good food. Sri Pinang is an Auckland Malaysian institution with a legendary $1 corkage fee (yep, just a buck) and a menu chock-a-block with tempting eats. Beef rendang HAS to end up on your table alongside a pinang curry, lemak coconut rice and plenty of roti. If you still have room for dessert, the sago coconut pudding is an absolute delight. A belly full of Malaysian before a night on the town, how could anybody resist such a stella combo?!
Mutiara
Ponsonby
Mutiara is a solid Ponsonby fave and never fails to deliver on a great Malaysian feed. We can't go past ikan bakar, a spicy marinated fish fillet or whole fish grilled in banana leaves (yep banana!) then topped with "wild fire sauce"—a dream for those who like their seafood with a kick. On the less fiery end of the scale, there's mamak noodles, nasi goreng and lemak laksa. Oh, and it's a prime BYO before heading into Ponsonby for a boogie.
PappaRich
Auckland City
Ever since this global Malaysian sensation of a restaurant touched down in Auckland it has been the talk of the town! PappaRich specialises in Malaysian delights—nasi lemak, fried mee, wat tan hor and more than10 scrumptious roti dishes. While fried chicken skin might not scream "Malaysian", it's a must-have at PappaRich. Now with stores in the CBD and Sylvia Park, you can get your Melay fix throughout any ol' day.
Madam Woo
Takapuna
The fanciest of the bunch, Madam Woo is Josh Emett and Fleur Carlton's take on Chinese and Malaysian street food, and it 100 per cent works. Their beautiful Takapuna restaurant is home to the likes of sukar spiced sticky chicken, curry pork ribs, fish curry and their legendary hawker rolls—choose between pulled pork, percik chicken or soy and sesame eggplant. Wash the lot down with a cocktail followed by the crispy fried banana and ginger ice cream. Heck yes. Girls night or date night, Madam Woo for the win!
Blossom Court
Panmure
Last but certainly not least is Blossom Court in Panmure. We're fans of both the name and the food—in particular their creamy butter prawns and the kum heong chicken. We've also heard that the Marmite chicken is worth a try. We love to pick up our takeaways from here and eat them snug in front of the telly and fire to help us through the rainy season. The locals seem to be all about the curry game here, thick n creamy with an OTT amount of roti. Just how we like it.
Want More?
Image credit: Mutiara, KK Malaysian Cuisine, Angie's Kitchen, PappaRich, Madam Woo