Brrr winter has arrived, but that's not necessarily a bad thing! If you've got the willpower to get out of your warm bed on the chilly weekends, Auckland's markets will provide you with plenty to eat, drink, taste and buy.
So, pull on your boots, grab your gloves, and secure that scarf for the chance to nab some serious goodies.
Here's our pick of the best markets Auckland has to offer this June.
Catalina Bay Farmers' Market
Part of the redevelopment of Hobsonville Point, this revamped farmers' market delivers on all counts. Boasting a huge variety of vendors, Catalina Bay Farmers' Market has everything from delightful dumplings and fluffy steamed buns to organic produce, handmade cosmetics and even natural dog treats. Catalina also has a monthly night market with a special foodie focus, drawing in delicious vendors such as Judge Bao, Hapunan Filipino cuisine and, for our vege friends, Otherside vegan food truck.
Where: Hudson Bay Road Extension, Hobsonville
When: Saturdays and Sundays, 8.30am – 2pm
Crafternoon-Tea Market
For you central city folks, Kingsland's Crafternoon-Tea Market has all your artisan desires covered. Crafternoon-Tea offers a carefully curated range of eco-friendly and sustainable wares, so you can feel good about treating yourself, right? If you're wondering where the food's at, never fear—a number of stalls serve up lovely little treats such as cupcakes and there's usually a food truck or two parked out front.
Where: 400 New North Rd, Kingsland
When: Saturday 16 June, 10am – 2pm
Coatesville Market
This year-round market is a staple on the Auckland market scene. Going forth regardless of rain, hail or shine, this is one of Auckland's biggest markets with a crazily diverse range of stallholders. It's got all your standard market offerings—bread, cheese, produce—but there's also some quirky curiosities. Handmade birth year coasters anyone? Held on the first Sunday of every month at the Coatesville Settler's Hall, there's always plenty to try and buy.
Where: Mahoenui Valley Rd, Coatesville
When: Sunday 1 July, 10am – 2pm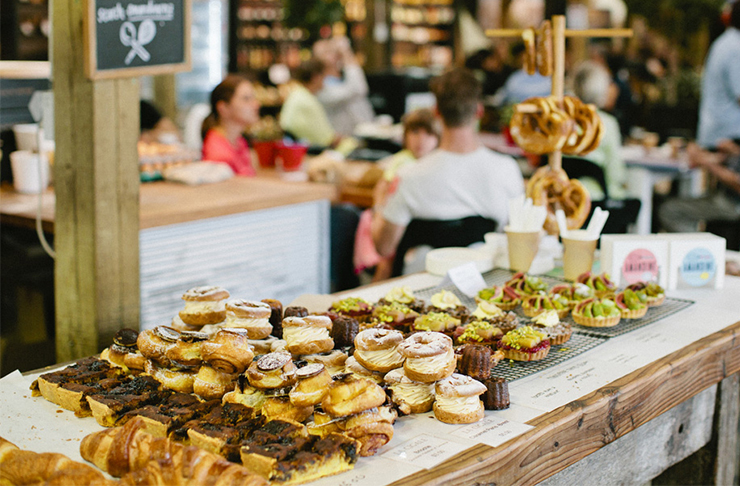 La Cigale French Market
Another Auckland institution, La Cigale has been giving the good people of Auckland a taste of Europe for many years now. Inspired by the markets of France, La Cigale offers beautiful fresh produce, gorgeous pastries and a selection of tasty street food to make sure you start your day off right. If you're into all things #health, pop on over to the Organic Mechanic shack for some 'booch and acai, then scoff a buttery almond croissant in the name of balance. For lunch, pick from raclette, gozleme, paella, dolmades, dumplings and much, much more—just make sure you don't leave without a loaf of Pukeko Bakery's ciabatta and some avos for the week ahead. La Cigale also offers a monthly night market offering a variety of food trucks, a bar (with mulled wine!), live music and outdoor heaters for a night out that's both delicious and cozy.
Where: 69 St Georges Bay Rd, Parnell
When: Saturdays and Sundays, 8am to 1.30pm
Clevedon Village Farmers' Market
Based at the Clevedon Showgrounds, this farmers' market serves up some of the freshest produce around. Goods are picked as recently as the night before or even the morning of the market. This market operates year round and provides fun for the whole family, with breads and chutneys for mum and dad, pony rides for the kids and organic dog food for your beloved pooch.
Where: 107 Monument Rd, Clevedon
When: Sundays, 8.30am to 1pm
Mangawhai Village Markets
If you're a bit of an intrepid adventurer who's up for a cheeky roadie, head up to Mangawhai Village and check out the markets there. They've got all the standard market offerings (but done really well) as well as clothes, plants, books and an incredible second hand record stall. All the vendors are super friendly and are always happy to provide recommendations of cool things to do in the area. Grab the goods for the picnic and pop over to the surf beach to enjoy it.
Where: 45 Moir St, Mangawhai
When: Saturdays, 9am – 1pm
Ōtara Flea Markets
If you're over the homewares, breads and cheeses scene, check out the Ōtara Flea Markets for a vibrant market full of interesting foods and goods to discover. Fresh produce abounds, as does clothing and bric-a-brac. Food vendors serve hangi, chop suey and Island doughnuts alongside sushi and souvlaki for a real melting pot of cultures. You can also find a number of traditional New Zealand and Pacific Island crafters selling tapa, kete, bone carvings and pounamu.
Where: Newbury St, Manukau
When: Saturdays, 6am – 12pm
Mt. Albert Market
Compared to some of the other markets on this list, Mt. Albert Market is on the smaller side, but they've definitely got the goods. Quality meat, fresh produce and delicate pastries are among the delights you'll find at this little market. On Friday nights there's a street food market with woodfired pizza, a rotating cast of food trucks and a bar serving craft beer and organic wine. This market operates year-round as it is undercover and has outdoor heaters—score!
Where: 847 New North Rd, Mount Albert
When: Fridays, 5pm – 9pm
Saturdays, 9am – 12.30pm
Takapuna Markets
This is one for the early birds — drop by the Takapuna Beach Market anytime from 6am to sift through the mounds of bric-a-brac and nab a bargain. Grab a coffee and a snack from one of the many passionate food vendors dishing up their national cuisine to keep you energized as you peruse the stalls. Warning: this market gets proper busy so show up early to avoid the crowds!
Where: 17 Anzac St, Takapuna
When: Sundays, 6am – 12pm

Grey Lynn Farmers' Market
For seriously good market produce head to Grey Lynn Farmers' Market. You'll find a huge range of fruit and veg — lots of it spray-free and grown locally. This is the spot to stock up on green smoothie ingredients for the week ahead. Or, for a different green beverage, try Matcha Matcha's matcha latte—it's delish! The best thing about this sweet little 'burbian market is that it's indoors—perfect for weekends when that pesky Auckland rain rears its ugly head.
Where: 510 Richmond Rd, Grey Lynn
When: Every Sunday 9am - 12.30pm
Matakana Village Farmers' Market
Come Saturday morning Matakana Village Farmers' Market is the place to be. Arrive early to avoid the disgusting traffic that backs up right into the village. The traffic and the crowds are testament to the quality of fare on offer. Buffalo meat burgers, oysters, olive oils, cheese and of course lots of market fruit and veg. Treat yourself to sweet delights by the river and pick up supplies for a northern adventure.
Where: 2 Matakana Valley Rd, Matakana
When: Every Saturday 8am - 1pm
Oratia Farmers' Market
What's better than a farmers' market? A farmers' market that's actually on a farm! Head over to Oratia Farmers Market in Waitakere City for a true farmers' market that sells a whole range of fresh produce from eggs, to veggies and even homemade jam! Be sure to grab a Jam Pak'd pie on your way out, they're not one to miss!
Where: 99 Parrs Cross Road, Oratia, Waitakere City
When: Every Saturday 9am - 12pm
Ceres Fresh Market
If you're wanting to start the day off right before your shopping trip in one of Auckland's trendiest suburbs, Ceres Fresh Market in Ponsonby Central will be right up your alley! Immerse yourself in the colourful, seasonal and organic produce piled in wooden crates — what could be more aesthetically pleasing? A trip to the market isn't complete without a stop at their infamous juice and smoothie bar, made straight from the market produce!
Where: 136 Ponsonby Road, Ponsonby
When: Monday - Friday 8.30am - 6.30pm
Saturday - Sunday 8am - 6pm
Orewa Beach Farmers' Market
This is one for all you Coasties. Located in the hub of the Hibiscus Coast, the Orewa Beach Farmers' Market has everything from organic produce, flowers, plants and herbs! Whether it be rain, wind, or shine, the markets are always a go. They're a great place to grab a bite to eat and sit down on the beach to enjoy the sound of the waves washing up on the shore.
Where: Orewa Square cnr HBC Highway & Florence Ave, Orewa.
When: Every Sunday 8am - 12.30pm
Night Markets | Various Locations
If you're too busy during the days and still wanting to experience that all encompassing market vibe, then head down to one of the many night markets throughout the week. Here you'll find a huge range of food, from Japanese to Hungarian. Not only are the Auckland night markets full of dinner and desserts, you can also snag a deal on jewellery, phone accessories or even get a massage!
Where: Tuesday, Mt Wellington under Countdown.
Wednesday, Botany Town Centre
Thursday, Henderson under Kmart
Friday, Shortland St CBD and Papatoetoe under Kmart
Saturday, Pakuranga under the Warehouse
Sunday, Glenfield mall under Countdown and Sylvia Park under PK Furniture
When: Every Tuesday — Sunday from 5pm.
You Can For KidsCan
Pinehurst School is hosting their very own charity fair raising money for KidsCan. There will also be a market run by youth businesses participating in the Youth Enterprise Scheme. You'll find all sorts of scrumptious food on offer ranging from hot churros to yummy burgers. Come on down to help raise money for charity and enjoy a day full of activities including dance and music performances.
Where: 75 Bush Road, Albany
When: Saturday 9 June 12pm – 4pm.
Image Credit: Auckland Night Markets, La Cigale French Markets