Has it been a year already?! Time sure flies when you're having fun, and what a year it's been for the Auckland foodie scene. Here at The Urban List, where brunch makes the world go round, It wasn't easy to choose, but we've compiled our top picks of this year's new kids on the block.
Here are our choices of the top cafes in Auckland that opened during the year that was 2017. How many have you ticked off?
Harlan Pepper Food Co.
Kingsland
All things bold and beautiful, Harlan Pepper Food Co. is a thing of Instagrammers dreams. With culinary masterpieces leaving the kitchen, diners will find local faves such as the mammoth side breakfast burrito and rosti stack eggs benne. Don't forget to check out the cabinet—from salads to sweet treats, they do it all!
Rabbit
Eden Terrace
Putting a spin on the phrase 'rabbit food', Rabbit is the most approachable vegetarian eatery in town. Since hopping onto the scene, they've won Auckland foodies over with their next-level french toast, green eggs, banh mi, quinoa fritters and D.I.Y menu. With decor that transports you to your very own Wonderland, you'll find yourself quickly making plans for round two.
Between
K' Rd
Basically a masterpiece, this wouldn't be a list of best cafes that opened in Auckland during '17 if it didn't feature Between. A visual feast from start to finish, keep a keen eye out for figurines scattered throughout. Inspired by eats from both Paris and Vietnam, the menu is a culmination of the best of both worlds. On the illustrated menu you'll find a stunning sassy and sweet french toast, indulgent Thai spicy green prawns and a hearty quinoa. With some of the most gorgeous in eats in town and a cabinet stocked full of goodies (injectable tiramisu anyone?), this new classic is one for the foodie bucket list.
Kookie Haus
Ranui
A hop skip and a jump from the Ranui train station you'll find one of the sweetest spots in town. You can count on anything coming out of the Kookie Haus kitchen to be nothing short of edible gold. Long hailed as a night market favourite, the signature cookie dough sammies' new permanent home has fast become an Auckland obsession. With a range which includes cookies and cream, s'mores, Nutella and Snickers, it's no wonder they've fast become a staple go-to sweet treat. Innovators in all things cookie, you'll want to keep a keen eye out for their specials, including the cheeky '420 munch', deep fried cookie dough, and 'The Beast' freak shake.
Once Strangers
Eden Terrace
Perhaps one of the most romantic new cafes this year, Once Strangers is the inner city gem bringing peeps together. With every table set with cue cards to keep the chats flowing, you'll find yourself discussing the extensive menu. From an epic waffle selection (yes, including a fried chicken option), to their signature bao buns and even tacos you'll be spoilt for choice.
Custom Lane
CBD
Winning us over early since their grand opening (who can forget free doughnuts?!) Custom Lane has transformed into an epic inner-city hub of awesome. The perfect spot for people on the go, the cafe serves fresh brews alongside sammies and sweet treats. After a long day, you may find yourself after something a little stronger, the space also doubles as a full bar. With favourites including signature cocktails the Tamarillo Fizz and Divinity, Custom Lane does it all!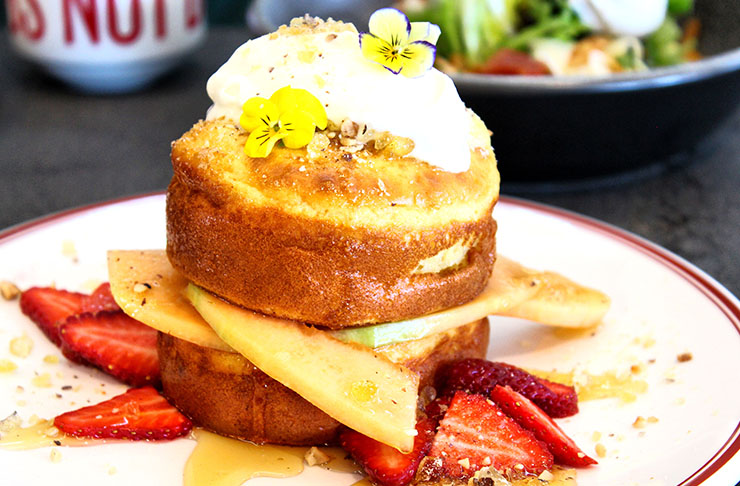 Greenwoods Cafe
Epsom
Found on the corner of Pah and Orakau Ave, there's no missing new kid on the block, Greenwoods Cafe. Only recently opened, they've won the hearts of locals, and it's no wonder why after a glance at the menu. Curated with only the best in mind, you can bet each dish served will bring a new experience you didn't know you needed. Our top pick is the heavenly Japanese soufflé pancakes—a stack of spongey fluffy goodness served with fresh strawberries and rockmelon, topped with a drizzle of honey, crushed hazelnut proline and a creamy fromage blanch.
Want more:
Image Credit: Jaiden Bhaga