If you thought sushi was a timely fad, you thought wrong my friends. As we get older the love for this Japanese culinary deepens. Luckily, the avenues to locate a delicious sushi roll has matched this love sprout. We kiwis love our sushi and fun fact of the day: a certain they-shall-not-be-named NZ sushi chain actually invented chicken sushi—unheard of in sushi's native Japan. There's a ton of options around the city to get your sushi fix, but some are less than palatable. Avoid the pale and slimy comparisons and read on to see our compilation of the very best salmon, tuna, teriyaki chook and other more inventive flavour combinations we've seen in our little city.
Without further ado, here's where to find the best sushi in Auckland.
&Sushi
Newmarket, City Works Depot
This one's for those with great taste buds and an eye for aesthetics. Sitting on wooden boards in the glass cabinet lies the beautifully presented sushi at &Sushi. It's colourful, fresh and seriously inventive. Newmarket has been longing for a delicious option like this for a while, perfect for workers in the area and those in serious need of a retail therapy interlude. They have also set up shop in City Works Depot for the inner city worker bees to indulge. With adornments like rose petals and sprouts, purple rice, and vibrant colours, this is certainly Auckland's most photogenic sushi. To top it off, &Sushi have a range of dessert sushi—including rolls filled with cream cheese and topped with strawberries—these inventive sushi gurus are onto something here.
Bian Sushi
Eden Terrace, Takapuna
The smiling faces that greet you at Bian Sushi obviously take serious pride in what they do. Every piece of sushi is rolled and cut meticulously so that each piece has the perfect ratio of ingredients. The seared tuna and beef couldn't be cooked better if they tried, and the rest of the selection is traditional but just done oh-so well. We seriously appreciate the ginger, wasabi and selection of sauces to help yourself to at the counter, including bottomless soy (a welcome change from the usual fish that hold three drops) and tea on tap. Did we mention you can BYO at the Symonds Street location for a dollar…! Lunch time work meetings just got a whole lot better.
Sushi Pac
Auckland City
With three convenient locations in the CBD, Sushi Pac has you covered for a quick takeaway lunch option regardless of where your office is located. Great sushi in Auckland is also about variety. At Sushi Pac there's lots of options that house brown rice instead of the usual white, giving you a higher fibre and slower release of energy to last until your slave driver boss lets you head home. The options filling their cabinets are plentiful and some combinations are pretty out there. Cheese and tomato "pizza" sushi anyone? Our pick of the lot is the ingenious crayfish salad housed in a little inari boat. Anything with crayfish and we're in. On a side note, teriyaki salmon sushi? Yes please.
Tokyo Bay
Takapuna Beach
For an upscale, beachside sushi experience you'll fall in love with Tokyo Bay situated in a modern building right by Takapuna beach. You have to order your sushi as a whole roll so you'll need to grab a group to try the different flavours. But trust us you'll want to. With options like spicy fresh tuna, panko tiger prawn and your usual salmon and chicken suspects it's hard to pick just one. The freshness and finesse truly matches the spectacular location. Nab a table outside and indulge in a glass of crisp white wine in the sunshine to accompany that perfect sushi plate.
Masu
Auckland City
Masu, headed by the famed Nic Watt, offers up a plethora of beautiful Japanese food. The soft shell crab roll is a force to be reckoned with and the addition of crisp daikon equates to the textural genius of this maki roll. For our plant loving friends, the veggie of the moment, asparagus, finds its home in a maki roll with avocado, ginger and carrot which makes for a subtle but fresh and wholesome roll. Head to Masu for your sushi fix, ASAP!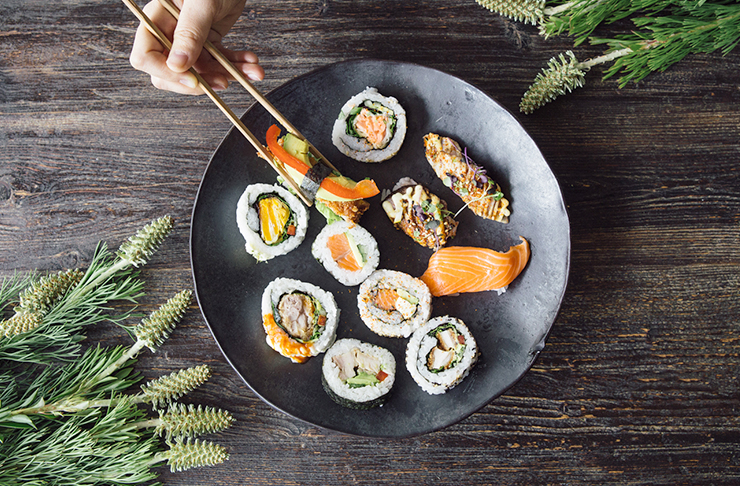 Haru No Yume
Freeman's Bay
We really weren't sure whether to let this cat out of the bag. At the risk of making it impossible to get a reservation at one of our favourite sushi spots, we just had to share this secret with you all. At lunchtime Haru No Yume offers great sushi options with the salmon fireballs being our favourite. But from 6pm the serious magic happens. Transforming into a buffet restaurant you can indulge in as much sushi as your heart desires (or that you can fit in that gob of yours). The food turnover is quick so everything is super-fresh and the salmon, tuna and kingfish sashimi is amazing (did we mention that it's all-you-can-eat?!). There's also a range of nigiri and maki rolls to choose from. You'll have eaten your $49 worth in no time at all. Five minutes is our guess. Haru No Yume easily makes our list of where to find the best sushi in Auckland.
Big Fish Eatery
Penrose
Big Fish Eatery manages to get Asian fusion right—which is no easy feat. While the rest of the menu offers up fabulous items from across the continent, the sushi section is also deserving of a mention here. It's either nigiri (fillings on top of the rice) or uramaki (inside-out sushi rolls) and the options range from your traditional salmon/avo combination to a stellar roll of tempura king prawns with broccolini, avocado and chilli mayo. There is a dragon roll to defeat them all and each piece is jam-packed with a ton of goodness.
Umi & Umiya Sushi
Auckland City and Takapuna
Umi & Umiya will definitely help you on the way to achieving those financial goals—the rolls are $1! Serious props given for not charging extra for the nutritious brown rice option too. The crunchy salad and red rice rolls are crisp and fresh, while the cabinet is jam-packed with other super-sized options that will get you happily from the AM to the PM. It's pick- your-own from the cabinet so you can create your perfect little combination of flavours and chose only as much as your appetite requires. This is another pleaser on the aesthetic eye.
Yokoso
Mt Eden
Looking to find great sushi in Auckland? This little sushi-slinging gem is a nice respite on this dumpling and noodle dominated strip. There's a street-side window to fulfil your takeaway sushi needs, and a little restaurant inside with a wood-panelled and slightly kitschy interior filled with paintings of Mt Fuji. The simplicity of Yokoso is part of its allure—it's just unassuming sushi done well served up with a decent helping of fabulous Japanese hospitality. The black rice tempura prawn sushi is worth getting in early for, but all the other humble offerings are worth a try too.
Ebisu
Auckland City
Ok so it's not exactly a takeaway joint to grab sushi in your lunch break but if it's a business lunch you're after or a night-time sushi spot, Ebisu is your place. Named after a Japanese luck god, Britomart is certainly very lucky to have Ebisu as a resident. This elegant restaurant serves up a killer sushi roll, so you'll be a happy camper if you can manage to get a table. The scallop, avo and jalapeno mayo roll gets a special mention and we can't stop thinking about their crab and mango roll with its perfect sweet burst in each mouthful.
Want more:
Image credit: Meagan McDowell at Haru No Yume and supplied