Brisbane's a truly great town, and we think having fun in it need not cost you an arm and leg. That's why we've brought you 50 Things to Do for Under $50 once before. And you loved it so much we're doing it again. Hold onto your hats, frugal funsters. It's time to get cheap.
1. Geeks (and spawn of geeks), here's one for you. A family pass for The Science Centre will only set you back $44.50. That leaves change for some Redskins, and a family group hug.
2. Order a metre-long pizza from Arrivederci's in Milton, have it delivered to the Scratch, and let your friends shout your beers for the rest of the night for being such a great order-er.
3. Partake in a free movie in the park, with a Summer Bling smoothie from Quench in hand, and a bag of Byron Bay Corn chips by your side.
4. Who says board games are for kids? Get your game face on and take part in the giant board games night at King George Square. This event is free, so you can stop in at Pony Dining for two of their lamb brioche burgers on your way. (Are we crazy, or are brioche burgers and life-sized board games a perfect date idea?)
5. Enjoy some live tunes for free every Sunday with Livespark at Brisbane Powerhouse. Kicking off at 3:30pm, this double feature highlights Brisbane's best indie-pop and rock bands.
6. Follow this Sunday sesh with drinks, and plate of pulled pork taquitos, by the river at Watt Restaurant + Bar.
7. Pop some petrol in your tank and head to the Real Food Festival in Maleny. This festival, running from the 7th to the 8th of September, is a showcase of the best-of-the-best Sunshine Coast food-stuffs, with tasters, cooking demonstrations, and foodie show bags! And entry is only $15 smackers.
8. Local philanthropic gallery, Bleeding Heart is teaming up with Oxfam again for their annual Goat Drive in an evening of music, drinks, and of course, goats. Over the years this fundraising event has helped to raise over 150 goats, and this year they are hoping to topple their previous goat goals, going for 50 goats in one night! Book a table here.
9. Go on a treasure hunt at The Box Flea, a very rad market where loads of bargains and good times are to be had. The Flea kicks off from 10:00am, and you can expect lots of vintage and pre-loved goodies, as well as refreshments and tunes.
10. Grab a Growler from Green Beacon (it's like a Keep Cup, only for beer), and have your very own six-pack worth of Green Beacon's locally brewed ale, kept fresh in the fridge for a week.
11. The Edge at the State Library offers a range of free courses to channel your budding computer geek. Our pick is the intro to InDesign class, but that may be revealing our own insecurities.
12. Embrace your inner child and go nuts in Tom's Confectionery Warehouse. We would never claim to be great at maths, but we can calculate that 50 bucks is going to snag you a hefty swag of candy.
13. Get yourself a ticket to Hungry Kids of Hungary, performing as part of this year's Brisbane Festival line-up, in The Spiegeltent.
14. It's mollusk madness at Gertie's on a Monday, where you can enjoy mussels in garlic and white wine sauce, served with fries and a glass of wine, for only $20.
15. Of an evening, you and pal can enjoy The Ark menu from Rogue Bar + Bistro, where ordering the Two By Two will earn you three 'animal' dishes and three sides to share between two for $75 (that's only $37.50 each). Add a glass of wine or beer and it's $85.00 (that's only $42.50 each). Maths is fun.
16. Catch the Mono series at the IMA. This (free!) joint project with Room 40 is an adventure for your ears. Next up you can hear the auditory hallucinations from Japan's godfather of sound art, Akio Suzuki, and legendary English experimentalist, David Toop on the 29th of August.
17. Make tracks to endota for a pedicure. (You know you need one.)
18. The Roast Suckling Pig for two, at the always divine, Restaurant Two, comes with late winter vegetables, apple sauce, pan gravy, and green salad, for only $50. Yes, this would mean no dessert, and only tap water to drink. But this is still a steal.
19. Tuck into a Lunch Box Special from The Fishmonger's Wife. $9.90 will earn you fish, chips, and a salad, and, best of all, you can eat this boxed beautie in the sunshine at Mowbray park. Bliss.
20. From Tuesday to Thursday at The Smoke BBQ, choose from the pulled-pork sandwich, chicken wings, chicken sandwich, beef po' boy, or smoky chicken salad of a lunch time for only $13.50.
21. The Carolina Pack from Carolina Kitchen is only $40. That's a lot of great american-chow for your buck.
22. Grab your bestie and chew the fat over a divine chocolate peanut butter brownie from Flamingo Café.
23. Head to Pawpaw Café on a Sunday and indulge in some cheese Kranskys with fried eggs, sauerkraut, and roasted tomato on rye bread.
24. Grab a batch of raw, vegan, and totally divine donuts from Orawgi in Woolloongabba and impress your friends with your healthy-treat-finding skills.
25. Vote in the great Urban List Off, order the Island Duck curry and the coconut icecream from Green Papaya, and go in the draw to win a trip to Thailand!
26. Tuck in to a bowl of duck fat fries at Chester Street Bakery and Bar, and wash them down with a cold beverage.
27. Hit a bowl of potato skins and a glass of shiraz at Claret House on a Friday night.
28. Grab a bowl of Pad Thai at My Thai, and catch a live act at The Beetle Bar.
29. Pretend it's 1994 and get your tongue pierced at The Piercing Shop. And, because it's only $30, you can afford a few icy poles to stop the swelling.
30. Get your scone on, at Room with Roses in the Brisbane Arcade. Their lovely high tea menu is $42 per person, and comes with all the tiny treats one tea fan could want (and tea, of course!).
31. GOMA hosts a lively evening discussion panel, on a Thursday every fortnight. These informative talks, on a range of contemporary issues, are free, and no booking is required to join in the fun (plus, you're allowed to tweet to participate! Are we nerds, or does this sound awesome?).
32. Bring on that beachy feel without leaving the CBD at the South Bank Surf Club, where a kilo of Tiger prawns with aioli and fresh lemon, will only set you back $30.50.
33. Keep the little tykes busy with a kid's cooking masterclass at Vanilla Pod. Your favourite small person can learn to make edible Christmas decorations and decorate gingerbread men in the lead up to the big day. You guys. Can you believe we're talking about Christmas?!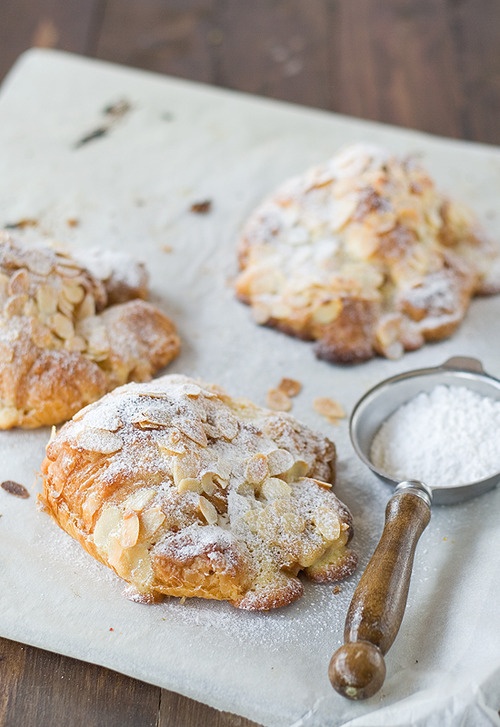 34. Scoot down to the Kelvin Grove markets on a Saturday morn', and get your paws on an almond croissant from the Banneton Bakery Stall. Dunk pastry into a mocha from Roost. Repeat until consumed.
35. Monday is Paella Monday at Peasant, where you can score Paella for two for $30 and a jug of Sangria for $20.
36. $45 will buy you a metre of schnapps at the Bavarian Bier Café. But you had better hold onto the ruler, because you're going to have a tough time walking in a straight line after this line up.
37. A multi-course, Yum Cha feast at China House is great idea for a group on a budget (and it's BYO wine). Our pick of their little tasty plates are the steamed prawn dumplings and mango pancakes.
38. Climb a tree in the beautiful Arboretum in Sherwood Park.
39. Feel some Queensland pride as you tour the XXXX Brewery. Entry starts at $27 (this includes four beers). 'Cause Queenslander's love a beer sample.
40. Head to The Chelsea at lunch for two courses and a glass of wine for only $35. (This offer is also available for dinner on a Tuesday and Thursday night.)
41. Go stargazing at Mt Coot-tha.
42. Go navel-gazing at New Farm Park.
43. Take away the Tempura Dinner Pack from Swampdog, which includes two tempura prawn cutlets, tempura whiting with ginger prawn mousse, tempura fish, salt and pepper calamari, and (hell yeah) chips, for $19.
44. Buy a Go Card and do a pub crawl. Your $50 will last for a bit, and then you'll need to resort to begging for drinks.
45. A bottle of wine, a loaf of sourdough, and a round of brie from Rosalie Gourmet Markets. Do what you will with this sensual combination.
46. An Urban Green juice from Sourced Grocer, to wash down the caramelised banana porridge you just had for breakfast.
47. Get lost in Avid Reader, and blow your budget on paperbacks.
48. Make eyes at the Barista at Scout, while tucking into their brekky bagel, with kaiserfleisch, cheddar, and house-made relish.
49. Grab your furry friend a treat from Sweet Chops, then take them on a joy ride to Sandgate beach ('cause the look of joy on their furry face is totally free).
50. That's up to you . . . let us know in the comments!
Image credit: Pinterest, Simply Delicious, SBS, We Can Flye, Quirky Cooking, Pass the Sushi