Blame it on the '70s revival but the humble sheep-skin coat has taken the coat game by storm, stealing our heart in the process. Gracing the backs of some of our favourite outer-wear loving celebs, the shearling jacket is not just a statement piece; you'll find it's surprisingly versatile, able to be worn from day-to-night, and styled from high to low.
We show you how to work the shearling jacket every day of the week.
Monday | Coffee with your Mum at The Incinerator | Sydney
Proving that shearling's not just for hippies, make like Palermo and style your jacket with preppy brights and rich-girl hair for an up-town coffee date with mother dearest at The Incinerator.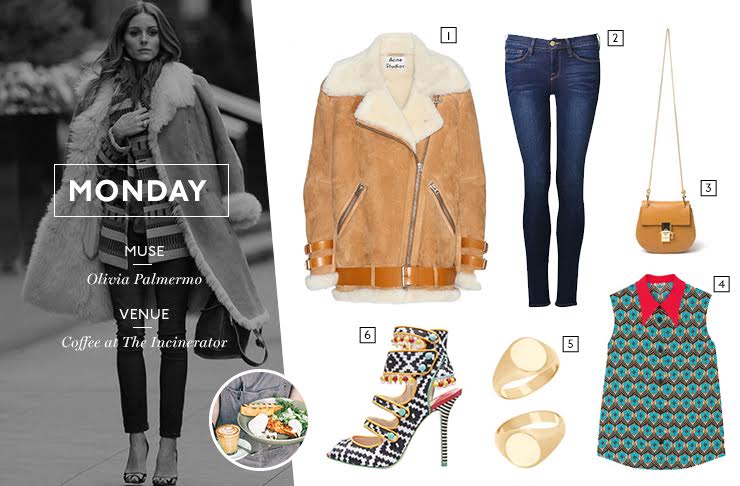 1. Acne Studios Suede Shearling Jacket
2. Frame Le Skinny de Jeanne at Grace
3. Chloe Small Drew Gold Chain Bag in Caramel at Parlour X
4. Miu Miu Printed Crepe Top
5. Monogram Ring in Yellow Gold from Lannah Dunn
6. Sophia Webster Amma Aztec Heels at Grace
Tuesday | Cheeky breakfast at Gauge | Brisbane
Shearling goes office approps when paired with a collared short buttoned all the way up, statement accessories and a lady-like scarf. When popping out for a cheeky breakfast at Gauge, keep the disco vibe going with oversized sunglasses.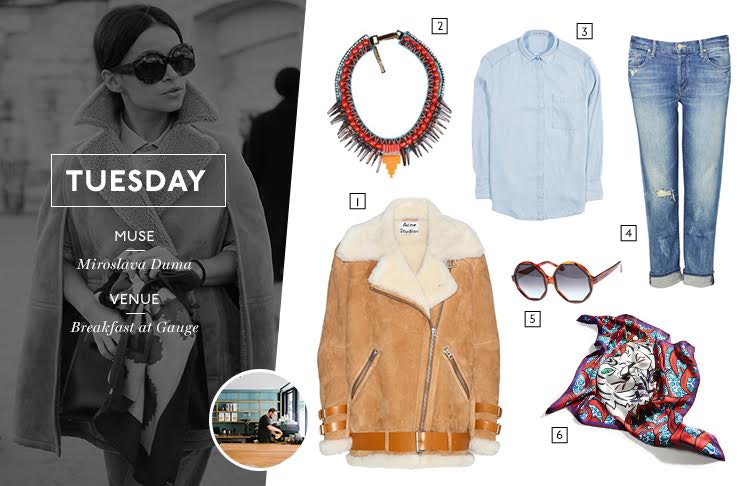 1. Acne Studios Suede Shearling Jacket
2. Fiona Paxton Spike Beaded Neckpiece at Maryon's
3. Acne Studios Addle Flu Den at Incu
4. Mother The Loosey Boyfriend Jeans in Getting Rowdy at Grace
5. Cutler & Gross 1069 at OnePointSevenFour
6. Kenzo Tiger Head Silk Scarf at Maryon's
Wednesday | Hump Day Dranks at The Gem | Melbourne
Who says shearling can't be sexy? Take a cue from Candice Swanepol and treat your shearling to drinks with the girls at The Gem. Throw this season's neckline de jour, the turtle neck, into the mix and you're talking serious swag.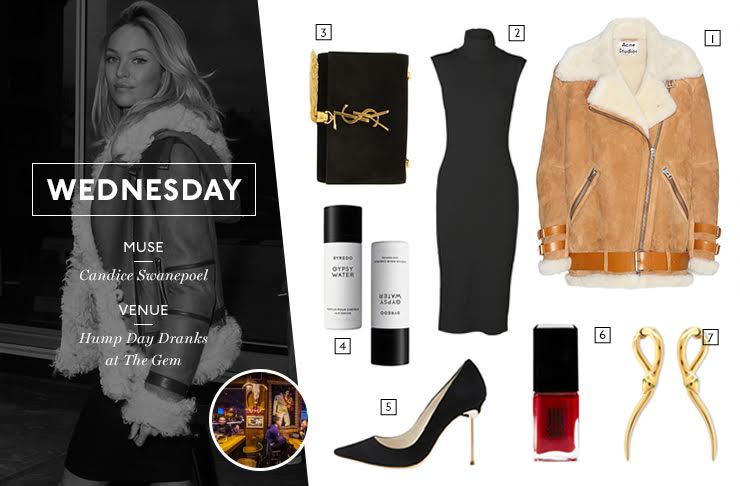 1. Acne Studios Suede Shearling Jacket
2. Bullet Tube Dress at Victoria + Woods
3. Mini Suede Cassandre Clutch at Miss Louise
4. Byredo Hair Perfume in Gypsy Water at Mecca Cosmetica
5. Sophia Webster Coco Flamingo Pump at Grace
6. Jin Soon Coquette Nail Polish at The Line
7. Ileana Makri Boa Earrings at Green With Envy
Thursday | Lunch with your bestie at Shuk | Sydney
Skinny stretch leathers and a sweatshirt take the shearling jacket down a notch for a casual lunch with your bestie at Shuk.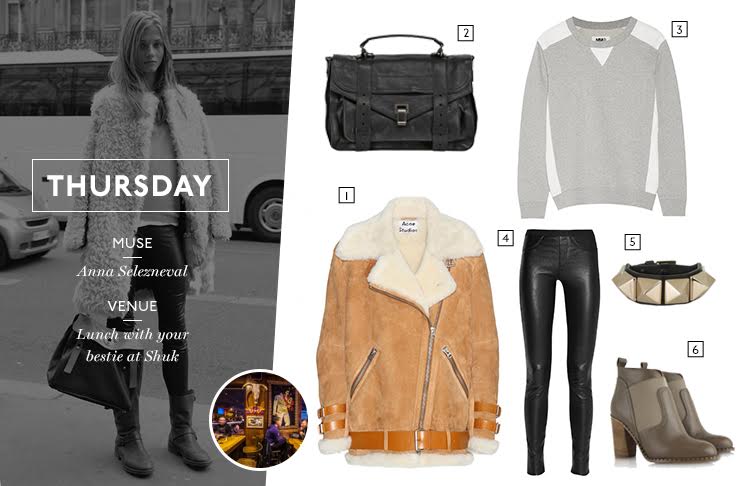 1. Acne Studios Suede Shearling Jacket
2. Proenza Schouler PS1 Medium Lux Leather Satchel at Green With Envy
3. MM6 Maison Margiela Sweatshirt in Off White Grey at The Line
4. Helmut Lang Skinny Stretch Leather Pant at Green With Envy
5. Valentino Rockstar Leather Cuff in Black at Parlour X
6. Marc Jacobs Pull-on Elastic Ankle Boots at Maryon's
Friday | Catch a band at The Motor Room | Brisbane
A touch of fuzz is just what the doctor ordered for a night out at The Motor Room. Pair your shearling jacket with all-black everything and gold tones for the ultimate in groupie glam. Rock-and-roll, baby.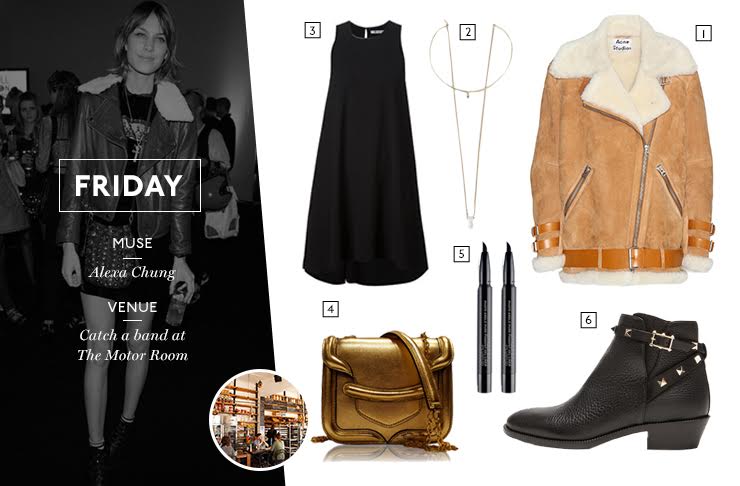 1. Acne Studios Suede Shearling Jacket
2. Mania Mania Jupiter Necklace at Green With Envy
3. T by Alexander Wang Flow Dress in Black at Incu
4. Alexander McQueen Mini Hero Bag at Miss Louise
5. Smashbox Photo Angle Pure Pigment Gel Liner at Mecca Cosmetica
6. Valentino Rockstud Ankle Boots at Miss Louise
Saturday | Vintage shopping at The Frock Exchange | Sydney
Embrace all that's snuggly about shearling for an afternoon of hard shopping at The Frock Exchange. Combat boots, a band tee, and our new favourite basic pants, leather leggings will keep you comfy.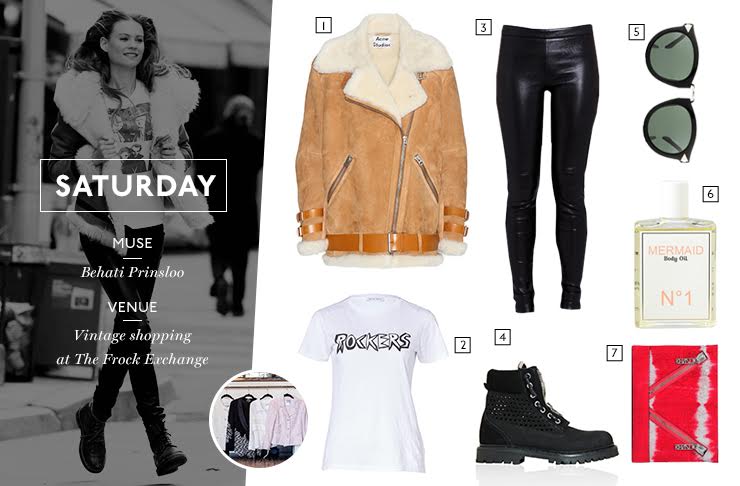 1. Acne Studios Suede Shearling Jacket
2. Bella Freud Rockers Tee at Grace
3. Nicholas Stretch Leather Leggings at Green With Envy
4. Balmain Combat Boot at Miss Louise
6. Kenzo Pochette Tie Dye at Maryon's
5. Karen Walker Harvest Sunglasses in Black/Silver at Incu
7. Mermaid Body Oil No 1 at Lulu & Lipstick
Sunday | Trawl South Melbourne Market | Melbourne
Let your shearling shine as you're trawling the South Melbourne Market with grey basics and power brows. A totally smushable bucket bag is a weekend essential.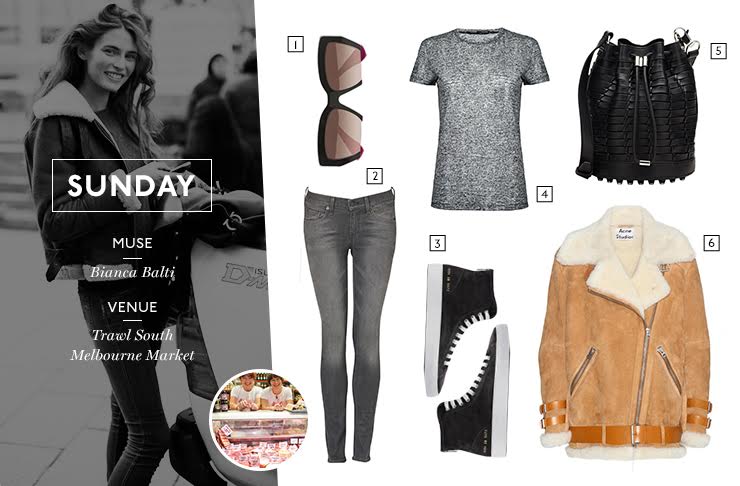 1. Miu Miu Cats Eye Cutoff Sunglasses at Green with Envy
2. Rag and Bone Skinny Jeans in Silverlake at Grace
3. Woman By Common Projects Tournament High in Suede in Dark Grey at The Line
4. Proenza Schouler T Shirt Tissue in Jersey White/Black Static at Incu
5. Alexander Wang Alpha Soft Woven Bucket Bag at Green With Envy
6. Acne Studios Suede Shearling Jacket