Itching for a winter vaycay? Make the most of whale-watching season and immerse yourself in the natural beauty of a North Stradbroke Island (Minjerribah) winter.
Much more than a summer-only destination, Straddie—as the locals call it—is the perfect winter holiday spot on Redlands Coast. Whether you're an explorer, thrill seeker, experience collector, or are just in it for the views, there is plenty to do during the cooler months. Think wildlife spotting, 4WD tours, surfing, snorkelling, bushwalking, guided tours, art trails and cultural festivals.
Better still, the ferry to Minjerribah is no more than 40 minutes from Brisbane and an hour from the Gold Coast. Where else can you experience giant sea mammals and go on epic island adventures this close to home?
Start planning your next weekend away. Here are the best reasons to plan a winter trip to North Stradbroke Island on Redlands Coast.
Catch Some Of The Best Land-Based Whale Watching On Australia's East Coast
From June to November, you can catch some of Australia's best land-based whale watching from Straddie's Point Lookout. Elevated views from the iconic Gorge Walk stretch across crystal clear waters, marking Queensland's most easterly point.
Follow the Whale Track, a leisurely coastal walk which includes viewing platforms and picnic areas overlooking the Coral Sea. It's a great spot to watch as more than 40,000 humpback whales (yalingbila) are set to migrate north this year, breaching and playing as they go. Book a tour with Elisha from Yura Tours to discover more about the majestic creatures and their significance to the culture and land of North Stradbroke Island.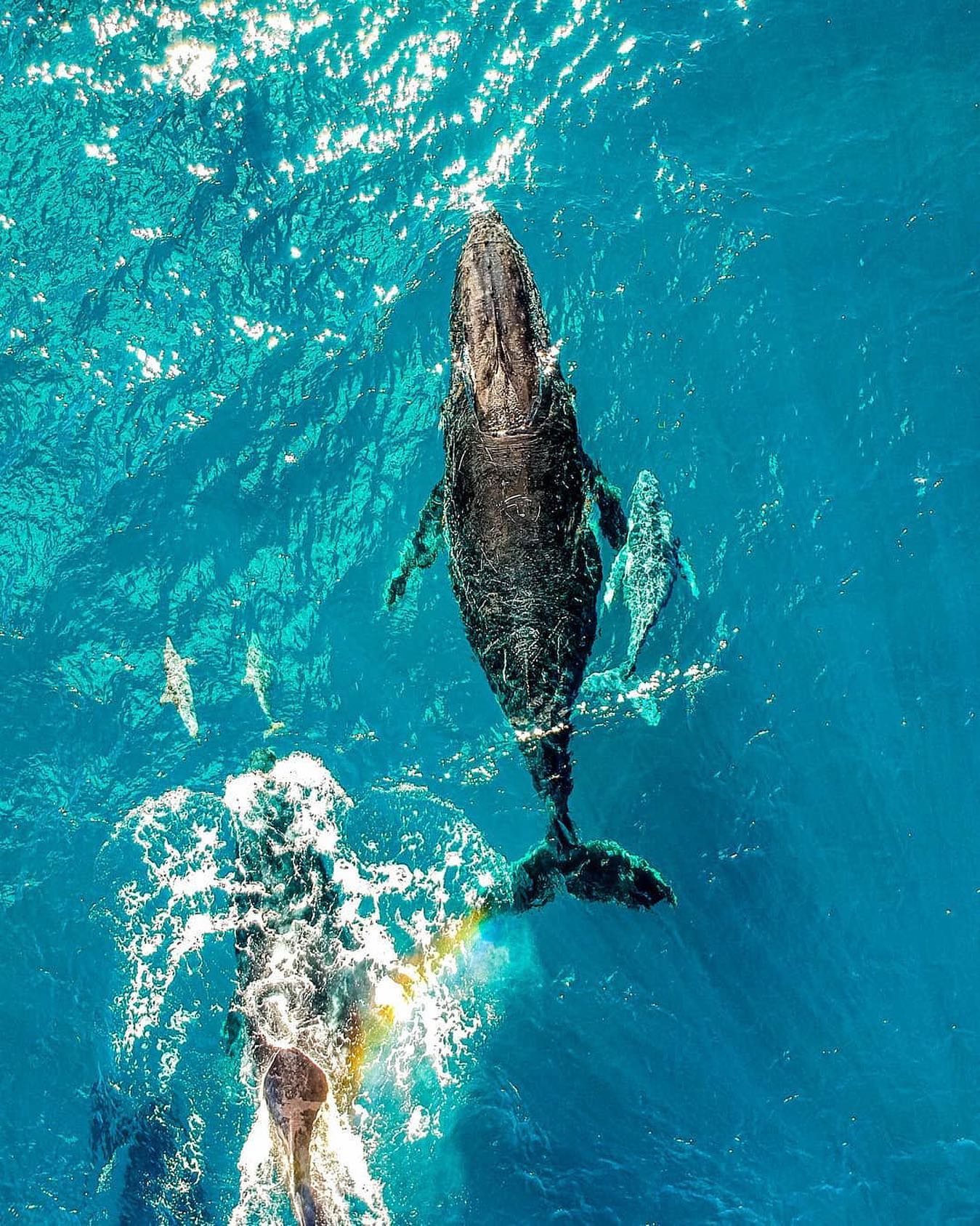 See Straddie's Marine Life Up Close And Personal
You can see far more than whales from North Stradbroke Island's shores. The surrounding ocean is teeming with sea life, from turtles and tropical fish to dugongs and dolphins.
Spot the local swimmers from up high on the Gorge Walk or get amongst the action by partaking in one of Straddie's many diving and snorkelling adventures—you can book these through Manta Lodge and Scuba Centre. We recommend hitting up Manta Bommie. One of the best dive sites in the country, this spot is known as a great location to find endangered nurse sharks throughout winter.
Soak In The Stunning Sights
So much of Straddie's beautiful landscape is far from the main road. From beautiful bushland to pristine hidden beaches, discover all the insider spots by taking a 4WD tour across the island with Straddie Kingfisher Tours. Not only will you get the inside scoop on the best vantage points on Minjerribah, with a dip in the natural perched freshwater lake, Brown Lake (Bummiera) but also experience undisturbed natural gems that regular travellers can't usually reach.
Another hidden gem is the North Stradbroke Island Golf Club, just a short distance from Dunwich (Goompi), which boasts exquisite views of Brown Lake, Moreton Bay and Brisbane extending far out as the Glasshouse Mountains. The stunning 9-hole course is shared with local kangaroos and a host of birdlife. While you're at it, be sure to stop for a bite on the dining room deck at Bistro Seymours who serve up an excellent lunch and dinner—reservations are essential, so be sure to book.
Support Local Artists
Ready to expand your art collection? Straddie is home to some epic local artists who sell their wares year-round. Hit up Delvene Cockatoo-Collins studio in Dunwich this winter to browse some stunning Yalingbilla (whale) artwork. On top of her creative storytelling works, you'll find a treasure trove of local wares, memorabilia, and souvenirs to browse through.
This month from 12-21 August the Straddie Arts Trail is dialling up the inspo to take you around the island visiting local artists open studios and pop-up galleries as well as a slew of interactive events. Think cultural experiences, hands-on workshops, art talks, talent shows, feasts, music and more.
The annual Quandamooka Festival is also back this month from 26-28 August. Each of the three packed days including a stellar program of First Nations music and activities to immerse visitors in Quandamooka Culture.
Grab A Board, Hit The Waves, And Ride The Dunes
Whether you board by land or sea, find the best waves and dunes at North Stradbroke Island. The surfing conditions at Straddie are some of the best in South East Queensland, boasting everything from gentle swells for beginners to powerful waves for the pros—head to the North Stradbroke Island Surf School for a lesson or to hire a board. If you prefer to keep your feet on land, check out the Straddie 'desert' where you can ride the epic dunes, skimming your board across the fine, silky sand. Straddie Kingfisher Tours offer next-level sand boarding tours complete with all the necessary sand boards and speed wax.
Go Wildlife Spotting
Did you know Straddie is home to a wide range of landbound Aussie wildlife? Every winter, as the crowds ease, furry island inhabitants such as koalas and kangaroos start to make regular appearances. You won't need to look hard either. Kangaroos with joey's in tow regularly laze in the shade across from the main strip at the Point Lookout (Mulumba). At certain times of day, you can even catch them jumping along the shores of the island's pristine beaches
Or, lace up your hiking boots and explore the plethora of coastal walks, including six trails within the Naree Budjong Djara National Park which feature stunning tracks filled with blooms of wildflowers, some that lead to the picturesque Blue Lake (Kaboora). If you're up for a challenge, look no further than the Jarlo beetle (fire beetle) track, which offers spectacular ocean views on the summit of Mount Vane.
Book An Extended Luxury Stay
Change up the typical hinterland stay-cations and book a luxury stay with ocean views this winter. The best Straddie holiday spots have taken their accommodation game up a notch over the past decade. From beachside glamping to luxury homes, some even have their own whale-watching towers, take your pick of Straddie's top stays you won't want to leave.
Looking for more winter holiday spots? Make the most of the cooler months and check out Visit Redlands Coast for the best stays and experiences near you.
Editor's note: This article is sponsored by Visit Redlands Coast and proudly endorsed by The Urban List. To find out more about who we work with and why read our editorial policy here.
Image credit: Redlands Coast via Instagram