Call us old fashioned, but when we go to a bar, we quite like to be able to talk with our friend/date/colleague/whoever we managed to coax into coming out on a week night. It's hard to enjoy flashy cocktails and on-trend decor if you have to battle with an overzealous DJ to hear what your drinking buddy is saying. Plus, wine-fuelled gossip sessions with your bestie are way less fun when you have to shout over the next table's conversation.
We say it's time for the return of the quiet drink, and Brisbane's bar owners seem to be in agreement. The city is teeming with intimate bars perfect for late night chats and low key catch ups, as well as exciting drinks. Here's a list of our favourite bars that you can actually talk in, because no one likes waking up with a sore throat as well as a hangover.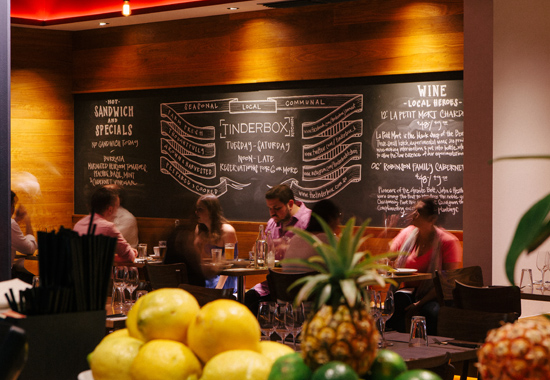 Tinderbox
We love Tinderbox for their pizza but the James Street pizzeria also makes a pretty sweet midweek drinks spot. Enjoy quiet Wednesday drinks with a slice of their ah-mazing wood-fired pizza and after work convo.
Fifth Element Bar and Cellar
There's a time for dancing and cocktails, and there's a time for sitting down with an old friend and a glass of vino. Fifth Element most definitely caters to the latter category. With its extensive list of wines by the glass (the largest in Australia, we're told) and idyllic parkland surrounds, the South Bank bar should be top on your list of calming hangouts. (Just in case you needed more persuading, spending $20 or more during the week at Fifth Element automatically enters you into the Global Culinary Adventure competition to win a $10,000 culinary holiday.)
Hatch & Co
It would be rude to interrupt Hatch & Co's slow cooked lamb with boisterous chat and as such, the Newstead bar and restaurant embodies a kind of permanent Sunday morning vibe, perfect for long, leisurely lunches and even longer conversation.
Bitter Suite
A favourite of craft beer enthusiasts, the New Farm bar is also one for the quiet conversationalists. You could while away hours soaking up Bitter Suite's cosy pub-like vibe and its casual outdoor seating makes it the perfect spot for late summer night chats.
Libertine
Libertine contrasts its lavish Bordello style dining room with a surprisingly relaxed dining vibe. You won't find any disruptive DJs in here, just handcrafted cocktails and tempting Vietnamese nibbling platters. Tipplers: The signature cocktail the Libertini is where it's at; this combo of gin, peach, lemon, grapefruit and lychee has been ordered more than 40,000 since Libertine's birth. You can't argue with that many people! Foodies: We recommend pretty much anything on the menu, but the pork belly is to die for!
The Bearded Lady
Visit The Bearded Lady on a weekend, and you'll be greeted by a barrage of merry patrons and the sweet tunes of a rockin' local band. Great but not exactly the quiet hangout you envisioned, right? No reason to despair though because the West End bar also does low key: visit on a weeknight and you'll be pleasantly surprised by intimate tables and carefully curated background music.
Canvas Cocktail and Wine Bar
The Woolloongabba bar's speakeasy-style nooks and crannies make the ideal setting for a low key date night, while its award-winning cocktail menu ensures that your conversation won't be ending anytime soon. The newly added courtyard is also perfect for hushed conversations under the stars.
Watt Restaurant and Bar
We can't think of a better backdrop for a quiet drinks and good conversation than the Brisbane River and New Farm Park, luckily Watt Restaurant and Bar has us covered. Tucked under the grandiose, rustic charm of Brisbane Powerhouse, Watt's expansive waterfront lounge areas and spacious open forecourt provides ample room for uninterrupted conversation, no matter how big your group.
Lychee Lounge
As well as being one of West End's coolest hangouts, Lychee Lounge's cosy oriental coaches and soft lighting make it a drinking paradise for wallflowers. And if things get a little too quiet, a sip or two of Lychee Lounge's Zombie cocktail will soon have the volume pumping again.
Image credits: Daniel Maddock