For the past two years, I've worked in a largely male dominated workplace and have come to a few realisations when it comes to male dressing. One of which was cemented at the end of last week, when our newest male addition did exactly the same thing with his pay cheque as those that came before him… he bought a pair of shoes. And a really nice pair of Mark McNairys at that.
After agreeing that, yes, they were some slick treads, I shared my observation. He patiently explained that the less fair sex are limited by what they can wear to work. It's pretty defined: pants, collared shirt, and shoes… You can't choose to wear a skirt (be it mini, midi or maxi) over a pair of pants (cigarette leg, mc hammer print style or flared); costume jewellery doesn't exist; and if you opt to wear a wedge over flats, you'll get some rather odd looks.
Ergo, the male add on - those items males can purchase to distinguish themselves from others also carrying XY chromosomes.

MITCH HUMPHRIS | CLOAKROOM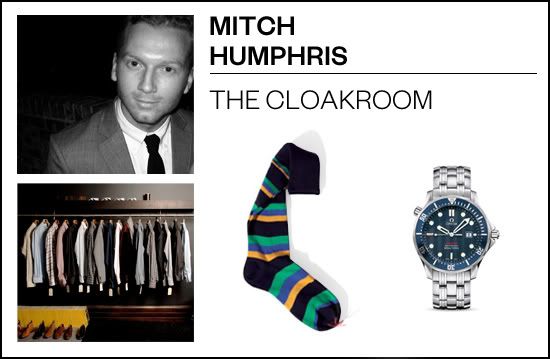 1. Bright socks… because: one - you need to wear them; and two - if you give off a flash of colour, it's an easy ice breaker if needed (Bresciani ones please).
2. A vintage watch… Omega Seamaster, preferably. It's a little bit nostalgic and you can pass it on to generations to come. Once again, it can be a talking point.
3. A waistcoat… Yes! A waistcoat! When everyone else is in their standard two piece suit, you'll stand apart when yours peeks out from under your jacket.

ANDREW 'TUBBY' TYNAN | JAMES STREET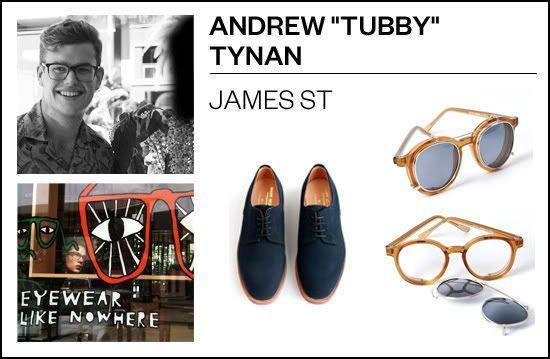 1. Good frames - like really great specs - preferably from Michael Makras at Optiko. Mine have a sunglasses clip on over the top.
2. Get some embellishment on your shirt. Tiny beading, a few interesting embroidery spots here and there… just don't wear embroidered jeans.
3. Wrist wear… collect them from the world over. Braided leather or a few beads; it's not just for the girls.

BEN WALLACE | CALEXICO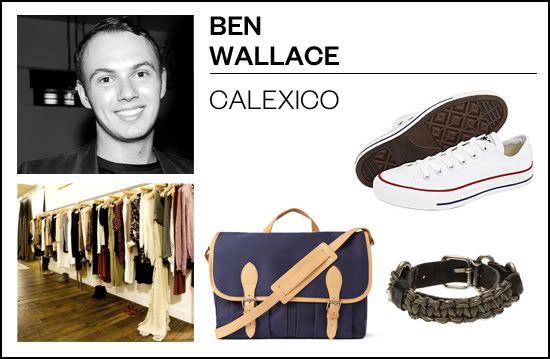 1. A man bag… because boys have lots to lug around too. I've got a printed Etro satchel - it fits everything and I would not part with it.
2. White Converse sneakers. But make sure they're white and not turning into a murky grey; you need to throw them in the wash occasionally. An easy choice with jeans or shorts.
3. Third is a tie between a really suave belt for your jeans (check out Post and Co) and/or a bracelet/woven/beaded number. Goti ones are pretty special, and you can wrap them a few times too.