Sure hotels are great and all, but there's something seriously special about having a stunning home all to yourself. And with travel around (most parts of) Australia now back on the cards, just about everyone is planning their next holiday. But instead of heading to the same old holiday house you've been staying at every year since you were three, why not take this opportunity to stay someplace new?
We've rounded up the most gram-worthy stays across the country guaranteed to fill you with wanderlust. Check out 12 of Australia's best Airbnbs below, and get booking—before we do.
Queensland
Heartwood Cabin, Springbrook
Heartwood is seriously stretching the definition of 'cabin' to the max. 'Palace' or 'Secluded Mountain Retreat' might have been more appropriate. This place is an architecturally designed country oasis, perched on the edge of Springbrook Gorge in Queensland. We're talking horizon-to-horizon kind of vistas. The views you usually see on movie trailers and deodorant commercials. The house itself can sleep four besties in two bedrooms. It's got an outdoor firepit, a crackling fireplace, and floor-to-ceiling windows, so you can watch the sun rise over Gondwana Rainforest. If you're looking to escape pretty much all the crap that modern-day life can throw at you, book Heartwood pronto.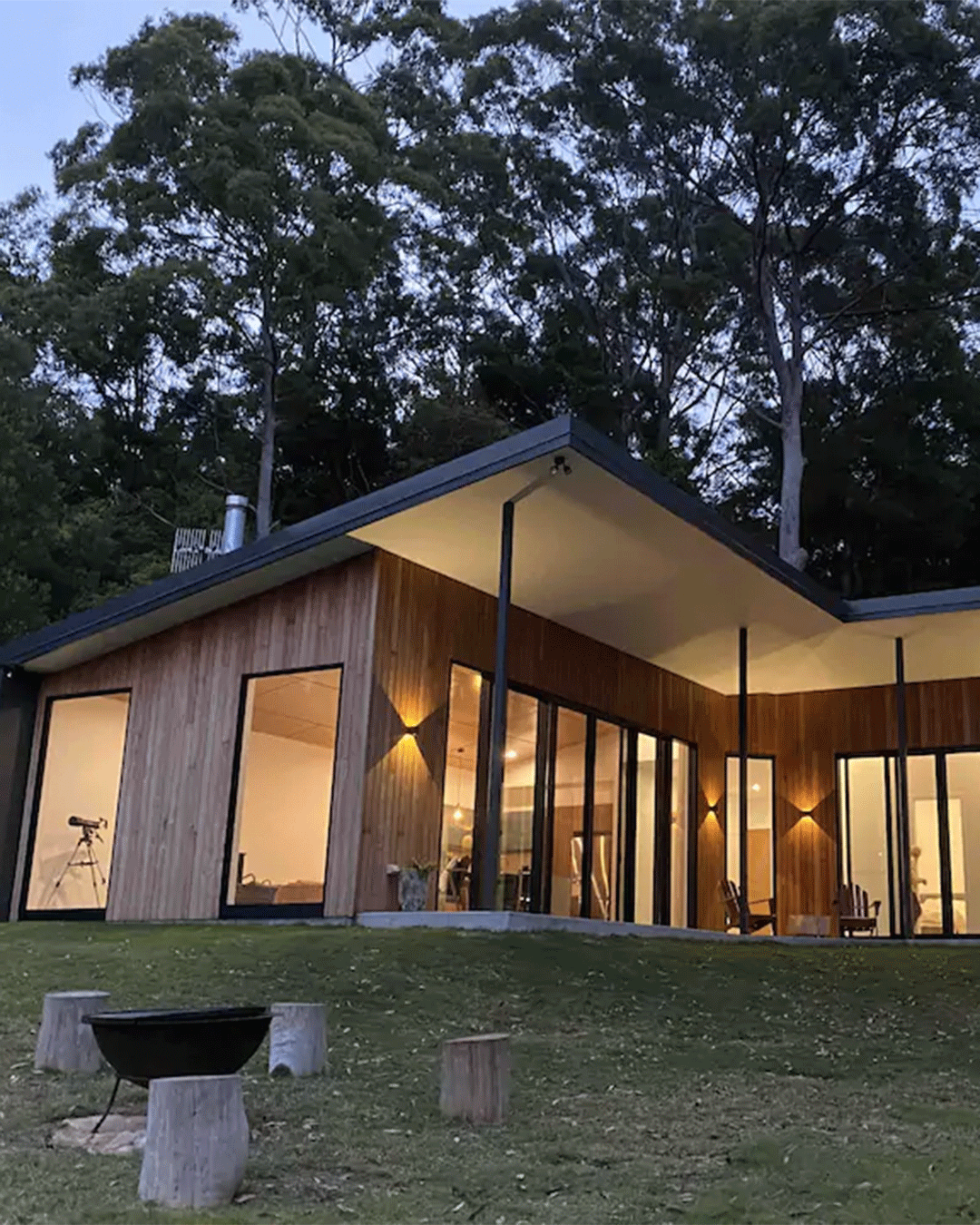 Alinghi Beach House, Agnes Waters
Straight up, this house is pure holiday goals. Grab nine of your closest buds and check into a slice of Queensland paradise in the form of this architecturally-designed masterpiece snuggled into 14 acres of native bushland on the southern tip of the Great Barrier Reef. You'll feel like a millionaire while you recharge your batteries via poolside views over the Pacific and score maximum chill vibes on the private beach of Honeymoon Bay. Nothing creates better Insta-pleasure than a secluded beach at sunset, right?
New South Wales
Caba Riad, Cabarita
After being named as home to one of the best beaches in the world, pencilling a sunny sojourn to Cabarita in the Northern Rivers region of NSW is a total no-brainer. While you're there, check into the Hamptons meets Morocco-inspired Caba Riad for a stylish yet sustainable retreat. The achingly cool digs have everything you need for a zen getaway—a magnesium pool under a canopy of fairy lights, a veggie patch for dinner and a fire pit in the backyard with access to the creek. And that famous beach we mentioned before, it's just minutes away.
Temple Farmhouse, Nashua
A super private hacienda set in the Byron Hinterland that sleeps up to nine guests, Temple Farm House oozes charm with a touch of global spice. With intimate outdoor areas for that stylish soiree complete with oversized outdoor troths to bathe in, this property is as authentic as it is chic. The added touches and detail are what make this property special, like the quirky handmade cubby house and chook pen. A magical place that embraces its natural surroundings and where you'll often find kangaroos roaming the property.
Victoria
Converted Church, Fitzroy
Looking like something straight out of a fairytale but located in the buzzing Melbourne suburb of Fitzroy, this converted church is the ultimate weekend getaway. Lovingly converted, the former church has all the luxurious touches you could want including a chef's kitchen, ornate furnishings and a courtyard perfect for sinking cocktails in before taking a 30 second stroll to the eclectic Smith Street where cafes, bars, shops and restaurants are plentiful.
Clifftop At Hepburn, Hepburn Springs
If you're looking to dial up the romance on your next getaway then you'll want to book into Clifftop At Hepburn. Scope out stunning views of native bushland below and at night, fall asleep to a cascade of glittering stars thanks to the high beamed ceilings and wraparound windows that showcase nature from every room Spend your days curled up in front of the French fireplace, then soak yourself in the stone spa—yep, it's all about maximum chill here.
Western Australia
Blu Peter Penthouse, Coogee Beach
Home to some of the most beautiful beaches in Australia, you'll swoon for the panoramic ocean views at this incredible Coogee Beach penthouse. While the entire penthouse is kitted out with stylish touches, you'll spend most of your stay on the huge private deck complete with BBQ and spa. Our advice? Grab a glass of bubbles or an ice cold beer and set yourself up in the hammock where you can watch boats sail past and the sun set into the ocean—dreamy!

South Australia
Camel Beach House, Venus Bay
Rugged, natural beauty doesn't get much better than this. Set on the stunning Mt Camel Beach, this oceanfront heritage property boasts long golden sands and panoramic coastal wilderness. The modern rustic space, designed with an ecologically small footprint, is inspired by the simplicity of the classic west coast fisherman's shack, and reflects a rugged minimalism. Our fave part? The cosy daybeds out on the deck perfect for an afternoon snooze—you're on holiday after all.
Northern Territory
Hideaway, Rakula
The perfect way to experience NT's bushland, Hideaway is a sleek, two-story, converted shipping container. Nestled in a breathtaking escarpment of native bush, this unique accommodation makes the perfect space to come home to after exploring Litchfield's attractions (read: incredible waterfalls and rock pools). Despite being a shipping container, there's nothing budget about these digs, think a sleek bathroom, modern kitchen and a large wraparound deck complete with a BBQ. Your stay also comes with a tasty breaky basket complete with eggs, bacon and that all important coffee.
Tasmania
The Container, Lilydale
Recycle and repurposing with creativity and style is the mantra for Tasmanian gem, The Container. Renovated with luxury trimmings sink into a plush king size bed with french flax linen in the holiday wardrobe stable—a plush robe. During your stay you'll also score an organic breakfast hamper, mini bar stocked with Tassie wines, delicious pre packed meals and a wood fire. Just minutes drive away from many top notch vineyards, Hollybank, the Lavender Farm and Barnbugle Dunes, there are endless things to do on your holiday here.
Want more holiday inspo? Check out these gram-worthy islands right here in Australia.
Image Credit: John Gollings, Ryan Creevey, Hideaway, Camel Beach, Lilypad, Caba Riad.