We're not really in the habit of waiting around; when something's good we don't so much 'let you know' as we 'howl it from a mountain peak'. It's not the most effective mode of communication so some of you may have missed it, but sometimes you just have to let these moods take hold. And so far 2016 has seen eleven of these such moods sweep Brisbane into rapturous delight with every new bar's opening.
Drinking games have taken on a whole new meaning, the private lives of vintage television characters are now our reality, and Paddington has transformed into a backdrop of the English seaside. We suggest going light on the pre-game because there's lots to see but also lots to miss if you tap out at 10pm.
Enough now. Let's get to the drinking. Here are 2016's best new bars in Brisbane, so far.
The APO
Fortitude Valley
This sparkling new addition to Brisbane's drinking agenda is the fifth prong of the operation behind Gerard's Bistro, Gerard's Bar, Laruche, and Hatch & Co. In the downstairs bistro, their focus is on the charming and strange, which is easily gleaned from their menu of brow-raising dishes like the charred cabbage and moved almond tarator. But upstairs at The APO's second half and bar of fancies, the focus becomes more concentrated and classic. Their wine list is comprehensive but not overwhelming and they've got a neat variety of quintessential cocktails fizz on tap to keep you happy and lightheaded.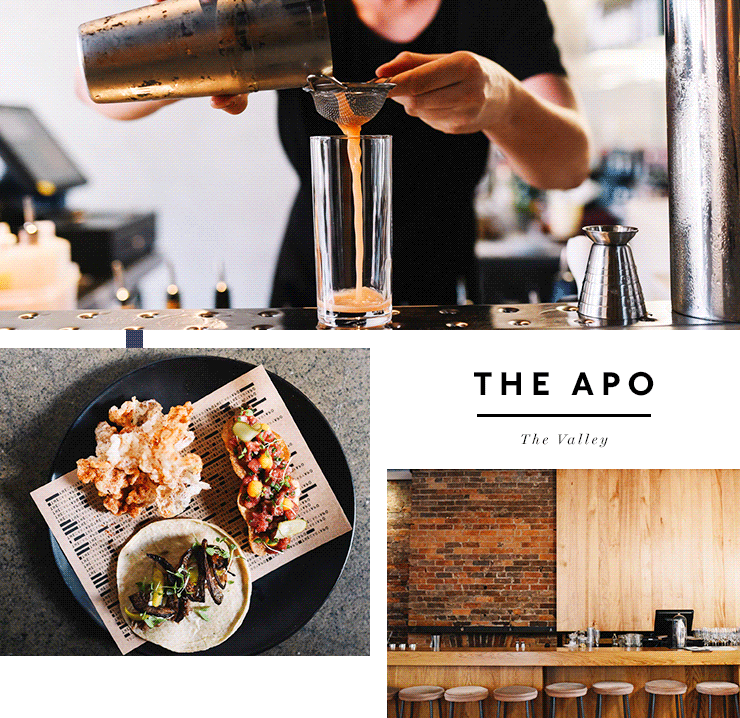 Club Sosay
Paddington
Hear that? That's the sound of an original idea sashaying onto the scene like it knows what's up. Club Sosay isn't like an ordinary bar to be used as a pitstop on a crawl, it's your jumping off point and final destination. The vision from which Club Sosay burst into being involved board games, wine, snacks, and making friends with strangers, ergo this new Paddington haunt is more like a licensed games hall than anything else Brisbane's seen before. Come in a pair or a pack and Sosay will provide you with a selection of over 250 board games (including their own game, Burger Up) and even hook you up with some other players if you don't quite make the head count. Oh and wine, don't forget the wine.
Ginger's Diner
Paddington
This spot's place on Caxton is just a little hole-in-the-wall next to sister venue Lefty's, and is decked out in military trappings, jugs of juice and the fragrant waft of fresh bibimbap. It's 1952 again and everyone's taking some much needed R and R in war-torn Korea. Ginger's was named after one of the badass army nurses from M*A*S*H and the running theme is kept delightfully on point. The cocktails are firmly packed with personality and verve to melt and excite you at once (plum wine sangria has my heart and soul right now), and the neat menu of Korean feastables like kimchi fried rice really sticks it to convention. I'd like to put forward a motion to make Ginger's Diner the official assembly point in the event of a zombie apocalypse. Any seconders know where to find me.
Dalgety Public House
Teneriffe
As you would expect in sparkling Teneriffe, Dalgety is not your average sticky-tabled gastropub. Here's a place you can come to watch the game, eat some wings, and down some bevies without losing any of your gentlemanly swagger. The wine flows eternal, the tap choice is grand and the cocktails are cute and classic without taking themselves so seriously that you can't hang up the boater and chill your boots for a few hours.
Sazerac
Brisbane CBD
Everything from Mumm and Jack to salted caramel martinis and fairy floss garnishes is fair game in this cloudscraping sky-bar. Sazerac's is an impressive menu of wines and concoctions, with something to perfectly match every mood your evening may encounter. This may go some way towards explaining the teeming droves of drinkers flocking to the elevators for a chance to marvel at the city lights from Sazerac's glassy perch. Seriously the view is so good you'd be foolish not to order a glass of their namesake to steady your nerves.
Riff Bar & Bistro
Fortitude Valley
Newly initiated into the Fortitude family, Riff Bar & Bistro is such a welcome addition not just because of its generous share plates and classic feeds, but also because their bar has everything you need to hit that coy and elusive spot. It's a no-nonsense array of tipples and, mercifully, Riff's done all the hard selection work for you so you don't panic and order the same thing over and over again. Bonus points for wheedling their way into my heart with Somm-esque flavour descriptions in the wine list because I still don't know jack about wine…
Hope and Anchor
Paddington
Much to the relief of anticipants and bit-chompers everywhere, Paddington's freshest enterprise, Hope and Anchor, has just starting trading on Given Terrace. Now Paddington is not, nor has it ever been, anywhere near the seaside, but the view from the bar would beg to differ. Hope and Anchor draws its inspiration from the seaside pubs of England, and its aim is to bring the same quaintness and familiarity to Paddington to establish itself as a neighbourhood bar. Brought to you by the same good-time curator behind Lefty's, Sonny's, Ginger's Diner, and Gordita.
Darling & Co.
Paddington
Paddington's really going off and it's not even August yet. A lot of murmurs and commotion surrounded the gutting and refurbishment of the former site of Iceworks, with many regulars and locals fearing the worst that the drinks and vibe of their beloved local would never return. Everyone breathed a huge sigh of relief when the doors were thrown open to reveal Darling & Co.'s glittering decor and drinks list brimming with cocktail jugs (a summer favourite), bubbles and plenty of craft brews.
Nickel Kitchen & Bar
Fortitude Valley
The proud group behind Nantucket and NKB Express are pleased to announce the arrival of this bouncing bar and bitter — it's a diminutive currency, but don't worry they're just being ironic. The abundant offerings at Nickel Kitchen & Bar go far beyond what you'd expect from a normal run-of-the-mill watering hole that looks like a swanky hotel bar from the 1920s. Everything sparkles with a decidedly modern flair that is best reflected in their stunning drinks selection. Lavish champagnes, craft beers, imported wines, house cocktails, and refined classics are all represented and ever so slightly tweaked to appeal to the modern palate without straying from their classical, reverent roots.
Shave Saloon
Brisbane CBD
I don't have beard-growing capacity, but a shave and a beer sounds bloody idyllic, and now you can complement your whisker trims with more than a hot towel. Establishing a point of difference is always a hard task in a bar scene like Brisbane's, but there's always room for innovation and Jimmy Rod's has locked it down with the Shave Saloon: a whisky bar and barbershop with a menu of charcuterie. You could lounge around here for hours and never actually get your hair cut. Seriously, it's an idea born of Ron Swanson's wet dreams.
The Brass Barrel
Rosalie
The folks at Rosalie's Brass Barrel aren't the ostentatious kind of liquor hall to go around chasing cheap thrills. Their new Brisbane bar is simple and well-executed with a startling touch of flair that is anything but ordinary. It's unique and modern, providing that familiar comfort of a local bar with a dash of brilliance that brings the excitement of venture to you and saves you the cab fare. With plenty of beers and spirits on offer, as well as a rather sumptuous reserve wine list, the Brass Barrel is in danger of becoming the Rosalie local to end all locals.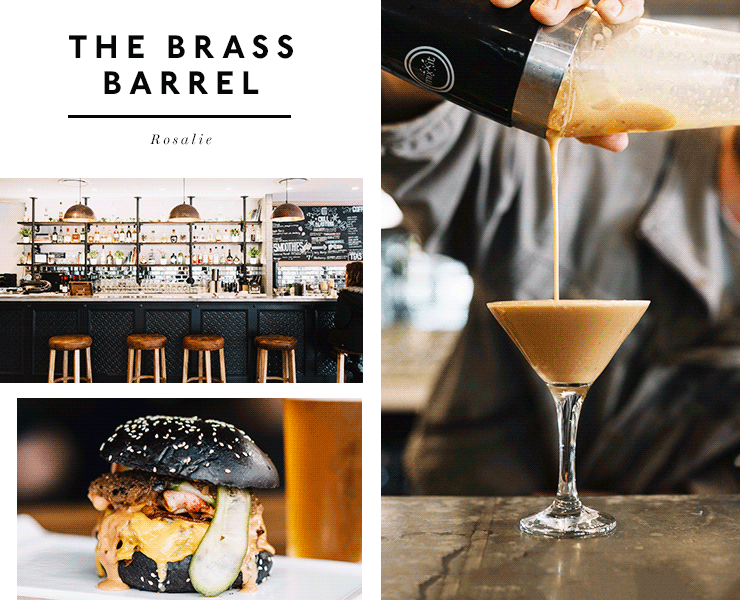 Want more of the best new bars in Brisbane? Here are Brisbane best rooftop bars!
Image credits: Yaseera Moosa