Whether you're watching a movie, staying up late, getting lost on a bush hike, or planning a jewel heist, perfectly ordinary activities are made exponentially better if done in a group. Drinking in bars is no exception.
The concept of 'group drinks' rose to prominence in the Viking mead halls of the 5th century, were the communal seating-plan forced people to socialise. 'Group drinks' has since become a time-honoured ritual among the rich and influential, with many a merger, contract, or abdication signed atop a sticky bar.
If you're down with the group hangs thing but are lacking in numbers, you don't need to miss out on the fun. Heard of Winger? It's a brand new way to reinvigorate your social life/sexy alternative to sitting on the couch on a weeknight. If you can find two of your mates to accompany you, Winger will set you up with three, hand-matched members of the opposite sex and send you out to a cool bar, with a round on the house to get the night going.
It doesn't matter if you're catching up with an old crew or hitting the town with some new friends, there is a bar in Brisbane to suit your vibe. So make like a mogul and rally a pack of your jazziest pals around to any one of these Brisbane bars for some yells-a-poppin' irresponsibility. Just make sure you save some cash for the maxi ride home…
Here are some of our absolute favourite bars in Brisbane to descend en masse:
TIPPLES AND TUNES
Work a nightmare? Don't feel quite up to forming coherent sentences? Let your booty and some badass beats do the talking for you. These Brisbane bars are prime haunts for the musical folk.
Papa Jack's | Fortitude Valley
New 'Awlins themed restaurant and bar, Papa Jack's has live tunes every Friday, Saturday and Sunday night, and sazeracs on tap. If that wasn't enough to get your troops rustled, their truffled mac 'n cheese might do it.
The Bearded Lady | West End
Homegrown talent sprouts in abundance down at Brisbane bar The Bearded Lady. Local craft beers on tap, local music acts, and when it comes to food they're keeping things in the West End family offering takeaway from the nearby Chop Chop Chang's. Facial hair is not mandatory but it is encouraged.
Lefty's Old Time Music Hall | Caxton Street
As the name would suggest, this is one Brisbane bar that thumps. Taking their cue from the debauched 1920s music halls of the Deep South, Lefty's splices quality American drink and chew with the sounds of local Brisbane honky tonkers. Order a round of their freshly juiced whisky apples, then, once you're suitably loosened up, have a go at slingin' your brassiere onto the mounted taxidermy. Who knows? You might just win a night of free drinks and the admiration of your peers.
Lock 'n' Load | West End
In an area known for rad tunes and killer drinks Lock 'n' Load doesn't disappoint. Their line-up features an eclectic mix of acts ranging from R&B to Reggae and Samba, so getting bored isn't an option. Mellow out near the bar or retreat upstairs to their balcony and survey the mayhem.
MONSTER MUNCH
Arguably the most tempting aspect of leaving the house is the promise of bar snacks, but these tasty morsels need not be limited to communal bowls of old peanuts and stale pretzels. Brisbane's burgeoning foodie scene has infiltrated our favourite watering holes and the results are mind-expanding. Offering share plates, tapas, and snacks revamped, these Brisbane bars are the perfect rendezvous for a gaggle of gastronomes…
Dutch Courage Officers' Mess | Fortitude Valley
This new Brisbane watering hole and gin house has the Colonial-era thing nailed, and is our pick of the best late-night bars in town, if crowded dance floors and hordes of drunken bafoons aren't your thing. Dutch Courage boasts a small but sustaining share plates bar menu that's the perfect foil to a round of G&Ts. Got a friend who's not a sharer? They have more substantial meals on the menu, too.
The Alliance Hotel | Spring Hill
Mainstays of the Brisbane bar scene since 1894, The Alliance Hotel has upped its game with its newly opened, après-ski themed bar. With a sparkling menu to suit all palates and appetites, the Chalet Bar not only provides Brisbanites with bar food rivaling most restaurants, but also that candlelit cosiness so rarely found thriving in the sub-tropics.
Francie Mays | Fortitude Valley
Sidle down to Francie Mays and you'll be rewarded with oodles of that quirky, neo-Asian flavour. This Brisbane bar's menu is exploding with myriad plates of deliciousness: plum-glazed pork belly, lime and chilli-pepper calamari, and popcorn prawns, to name a few.
Canvas | Woolloongabba
Not content with being one of the best cocktail bars in Brisbane, the lads at Canvas are bucking for excellence across the board with their absolutely cracking menu. From snacks and tapas to pizzas and share plates, Canvas' dinner menu is designed to share, so it's perfect for the wolf pack.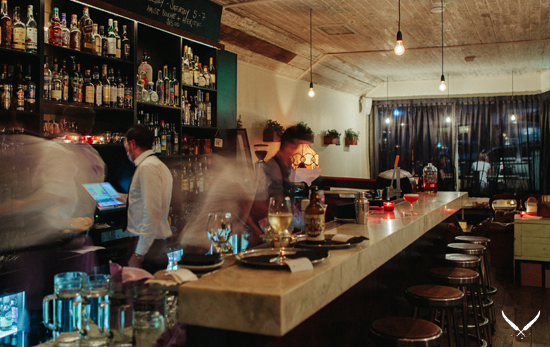 CREATIVE COCKTAILS
Brisbane is the lucky and nurturing home to some of the country's best cocktail movers and shakers. If you like the kind of hooch that doubles as a centerpiece, check out some of Brisbane's best cocktail lounges where you and your chums can order art in a glass.
Sling Lounge | West End
The Sling Lounge's frontage make it seem like a hole-in-the-wall type bar, but don't be fooled, there's a courtyard beyond the bar with plenty of seats for groups of all sizes. With 29 pages of cocktails to choose from, there's a glass of firewater to satisfy every member of your clique.
The End | West End
Situated a safe distance from the Boundary St madness, The End is a thumpin' joint with some sick beats… And the drinks, mercy me, the drinks. If you're a ginger fiend like me you can't go past a Dirty Boulevard, or maybe try one of their dark chocolate and coffee signatures—Lucky No. 13. This Brisbane bar has become the preferred haunt of local cocktail enthusiasts and provides a great place to meet friends and get tastefully hammered.
The Bowery | Fortitude Valley
Like a jazz dive out of the 1940s, The Bowery is a shady shard of civil noshing in the valley core. They've got plenty of booths and banques, and the talented mixologists have magic in the hands, executing incredibly perfect cocktails every time. Be sure to order a Mesha, a Bowery favourite, and luxuriate in the mellow notes of apple vodka.
MY EYES ARE UP HERE
These bars are great for quality banter. They've got plenty of places to park your buns and the acoustics are just right to complement your group's scintillating wit and ward off awkward silences at the same time. Psst! Another sure fire method for avoiding awkward silences is going on a Winger, having your company hand-chosen from a bevvy of good-looking, like-minded babes, then getting plied with socially lubricating alcohol.
Green Beacon Brewing Company | Newstead
You may have already sampled Green Beacon's kickass brews at Brisbane bars, but nothing beats a visit to the birthplace. They've got mellow acoustics, bountiful beers, and a warm atmosphere perfect for a group chill sesh. Take advantage of their ample seating and gab with the brewers themselves, mere feet from the brewing vats. It's like the intimacy of a farmers market, but with beer…
Kerbside | Fortitude Valley
The array of comfy seating at Kerbside reminds me of a really clean, licensed share house, which is perfect if you're ever debating going out versus staying in. They've got cool tunes, clean facilities, and food, all you need to bring is the company and your night is set.
Bosc. | Caxton Street
Conveniently located within walking distance (but out of earshot) from West End's main drag, Bosc. offers smashing drinks that won't break the bank. The mood is perfect for breaking the ice with a new crowd, and the locale offers plenty of choice for a cheeky bite, post drinks.
If you've been keeping up with the Bachelor drama (don't lie) you'll know that group dates can go horribly wrong. Don't chance it with a bunch of strangers and an uneven ratio; go on a Winger and let those talented sultans of society customise the best night out you'll ever have.