Hidden staircases, doors you don't even notice, a wink, a nudge, a few sly murmurings; even in the information-saturated age in which we live, it is still possible to keep a secret.
While most Brisbane night spots seek to gain as much visibility as they possibly can in order to attract more patrons, there are a few establishments around the traps that prefer to remain so low profile that they are actually difficult to find. Unless you know just where to look.
Obviously, it would be counter-productive for a bar to remain completely off the grid — unless it was the site of an illegal casino or host of a cockfighting ring — so none of the following locales require a password or set of scribbled instructions to find.
They are, however, the kinds of places you could easily walk right past without knowing they were there. We don't want Urban List readers to be miss out on any potential good times due to a lack of insider knowledge, so come and gather round close and we'll tell you about our favourite 'secret' bars around town.
Psst! If you also have trouble keeping things under your hat, let us know of any more you would add to the list.
Mermaid Bar
This bar within a bar is gorgeously designed with a mermaidy/salty-sea-doggy theme. While downstairs at Lefty's is all about the whiskey and beer, the Mermaid Bar specialises in rums and rum cocktails.
Where: Upstairs at Lefty's.
How to find it: Once you're inside Lefty's, instead of going straight through the main entrance, hang a left and go up the stairs. Or head to the very back of the upstairs section and go through the door that says 'Emergency Exit.'
Air Raid Shelter
Amid the sprawling awesomeness of A&C, with its ground level Vanguard beer garden and restaurant and upstairs Tiki fun, it's easy to overlook the sultry cocktail bar underneath it all. The Air Raid Shelter can be a dark and sexy getaway from the shenanigans happening across the rest of this Valley favourite.
Where: Downstairs at Alfred & Constance.
How to find it: Look for the door with the stairs leading down, right behind the stairs leading up.
One of Brisbane's greatest watering holes is also one of the hardest to find! You really would not notice Junk if you didn't know it was there, and it's not exactly situated in an area renowned for its nightlife either. This cosy cocktail bar is more than worth a special trip though.
Where: Just off Waterworks Road, Ashgrove.
How to find it: Proceed to the corner of Ashgrove Avenue and Waterworks Road. See that sliding glass door with curtains that looks like it leads to an abandoned video store? Poke your nose in and you'll soon be getting a warm welcome from one of Junk's friendly staff.
With its huge range of rums and other spirits and creative, brilliant bartenders, The Walrus Club is definitely worth searching for. Low-ceilinged and dimly lit, the vibe in this Cuban-themed establishment couldn't be further removed from the Regatta upstairs.
Where: Under the Regatta.
How to find it: Approaching from the car park side, look for the door to the left of the main entrance that leads down a flight of stairs. Be warned, you'll need to be smartly dressed to even get past the bouncer.
Describing itself as 'fifties suburbia meets sophisticated Australiana,' Uptown is one of those hidden bars you'll want to keep to yourself. Sadly, it is only open two nights a week, Fridays and Saturdays, but maybe it is those small doses that make it so desirable. The decor is perfect, the piano music works a treat and the drinks are top quality.
Where: Tucked away behind the Gabba.
How to find it: Head upstairs from The Crosstown Eating House, which is itself a little bit Secret Squirrel, to find this gem.
If you're like me or Bruce Wayne, you'll be afraid to walk down most dark alleys. Unlike Melbourne, Brisbane isn't flush with laneways, but the handful that we do have downtown usually lead somewhere interesting. If you've never wandered down Burnett Lane, off Albert Street (and let's be honest, you probably have... but just play along), you wouldn't have experienced the lovely Brew. Not only do they do great coffee, they have a nice range of alcoholic beverages and eats as well. It's a delightful hideaway from the hustle and bustle of the city.
Where: Smack bang in the middle of town.
How to find it: Face your fears and head down the lane from Albert Street.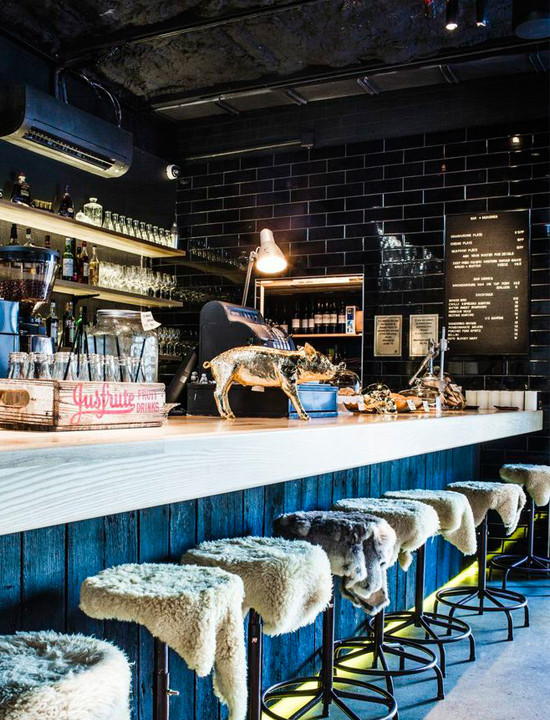 A few minutes walk from West End's bar and restaurant epicentre, Depo is cool enough to hang by itself, safe in the knowledge that people in the know will seek it out. The loft-style space boasts a fantastic menu, but it is also an ideal setting for a few glasses of wine and a cocktail or two.
Where: Across the road from West End State School.
How to find it: Hit up the more industrial zone of West End and look for the warehouse that is actually a funky restaurant/bar.
Want more great Brisbane bars? Check out our list of 10 bars you haven't heard of but should have!