A glass of champagne here, a chocolate reindeer or four there and entire afternoons spent watching Tim Allen gallivant around Chicago in a fat suit (because it would be silly to only watch the first Santa Clause film): Christmas is the one time of the year when it's okay to disregard better judgement and overdo things a bit.
But why stop with edible animals and schmaltzy movie marathons? The party season presents a great opportunity to go a little crazy with your fashion choices too. Think straight laced Mark Darcy and his awful Rudolph jumper in the first Bridget Jones movie or Maggie Simpson's classic star onesie. 'Tis the season to be jolly, after all.
That being said, jolly doesn't have to mean tacky. We're not talking light-up snowman earrings here. We're all about statement necklaces in holly red, Christmas robin studs and gold bangles that could double up as wise men's crowns. Don these for your festive gatherings and you'll have just the right amount of sparkle without being mistaken for an actual Christmas tree.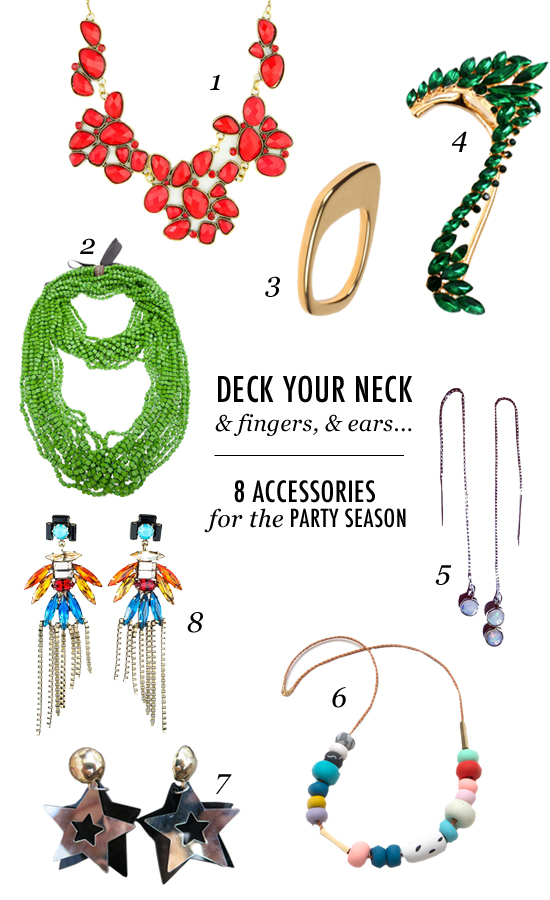 1. Red Statement Necklace at Thousand Island Dressing, $22
2. Jianhui multi strand neckpiece from Absolutely Fabulous, $74
3. 24 Carat Gold-Dipped Sabre Bangle by Dinosaur Designs, $336
4. Molten Store The Life Aquatic Ear Cuff, $39
5. Holly Ryan's Atom Collision Thread Earrings, $143
6. April Mixed Bead Necklace by Emily Green, $80
7. Cut Out Star Earrings at Sunday Social, $29
8. Zazu Earrings by Dannijo at Alexis Dawn, $275
Image credit: Style and Life