You might know them as familiar faces around New Farm (or spotted them chowing down at Bucci), but BoQ New Farm branch owners, Adam and Sam, are Brisbane boys from way back. When they're not hard at work supporting their customers through their big financial decisions in their Brunswick Street Queenslander-cum-branch headquarters, they certainly know how to have a good time in our fair-weather town! We caught up with them for the local's scoop on the best spots to eat, drink, and get caffeinated around the New Farm 'burb, and pressed them for their ideal Brisbane day (which included a surprisingly fresh mix of burritos, cocktails, and shopping—sounds good to us!)
TUL: What's the best part of your job?
AS: The early mornings… no, just kidding. It would have to be meeting new people and supporting them throughout their different life chapters and challenges, like a change of job, getting married, having kids, and buying a home.
SM: And being able to work closely with local people and businesses. It's great to be able to provide solutions to problems that others often can't.
TUL: What do you love most about working in New Farm?
SM: It's the mix of people, properties, and restaurants. There's something for everyone.
AS: New Farm has a great sense of community. People are passionate about the suburb and feel comfortable enough to be individuals.
TUL: Favourite Brisbane restaurant?
SM: Bucci on James Street.
AS: Pintxo on Brunswick Street.
TUL: Favourite coffee spot?
AS: We're spoilt by our branch's location; it has to be Au Cirque on Brunswick Street.
SM: Definitely Au Cirque.
TUL: Favourite Brisbane bar?
SM: At the moment it's Zuri.
AS: I'm a fan of Sixes and Sevens on James Street for an after-work drink.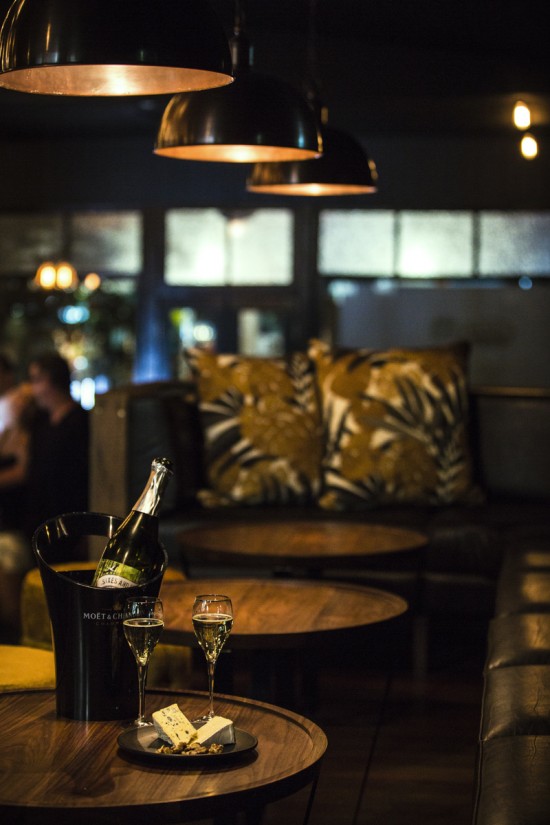 TUL: Favourite city in the world?
AS: Apart from Brisbane, it would have to be London.
SM: Tokyo!
TUL: Best way to spend $50?
SM: Eating and drinking at
Harajuku Gyoza
on Brunswick Street.
AS: A few drinks at
Gertie's
and a flutter at the Races.
TUL: And the best way to spend $500?
AS: Bungee jumping, skydiving, or any adventure sport.
SM: A great night out in Coolangatta with dinner and drinks.
TUL: Describe your ideal day in Brisbane?
SM: Mine would start with a game of golf, followed by brunch at
Harvey's
on James Street, before heading into the city for a spot of shopping. Then lunch at Guzman Y Gomez and a walk over to South Bank. I would probably have a few beers at The Plough Inn before heading to
Bucci
for dinner. Then a few cocktails at
The Bowery Bar
on Wickham Street, and a cab home.
AS: Early start at Nudgee Golf Course, followed by a light breakfast at Simply Duo in Nundah. Next stop is Quench at the New Farm Markets for a smoothie, to assist me through a quick shop in the Valley for something new to wear to the Races. After a winning day there, it's off to a fantastic restaurant, such as
ARIA
or
Tank
, for more drinks and a great meal. Then, if I'm not too full to move, maybe a quick visit to a bar in the Valley, and then bed!
TUL Note: Today's List Love post is proudly sponsored by BoQ New Farm and endorsed by The Urban List. Our sponsored posts will never be a secret - the List Love seal will be stamped on any sponsored material you see on the site. Thank you for supporting the sponsors who make The Urban List possible.