I recently came to realise a surprising truth. I am actually a curly-haired person. While I grew up with poker straight hair, somewhere along the line, post-adolescence, my hair took a turn toward frizzy curl. But, because we are living in the age of super-charged GHDs (thank you, God) I had been pulling the wool over my own and everyone else's eyes and just continued on living as though I had perfectly straight locks, albeit with the aid of a straightener.
It wasn't until my boyfriend complimented me a few times when my hair had been running free and curly (strictly at home, of course) that the penny dropped: why do I religiously straighten my hair? Well, quite frankly, it had never occurred to me that there was any other way.
So after my colleagues bravely gave up sugar, and coffee, and even saying like for a week, it was my turn to take on something dear to me. So this one goes out to all the curly-haired gals (and guys) out there. I decided to give up straightening my hair for a week, and this is what happened.

Don't be fooled that this is easier than giving up coffee. Anyone whose hair fuzzes up in the mildest humidity will know that the thought of wearing your hair naturally to work or out at night sans straightener is absolutely terrifying. TERRIFYING.
Due to my curl-denial, I realize immediately that I need help. How the hell do I even wear my hair curly? Then I remember someone who has the most glorious curls I've ever seen: hairdresser extraordinaire Lisa from Lila Boheme in Brisbane. I'm gonna contact her right now.

In the chair with Lisa it all becomes clear. I've been breaking all of the mortal curly-haired rules, all at once. Lisa explains: anything that separates hair strands is a one way trip to fuzziness. She tells me not to brush my hair—I just need to wash it and let it dry naturally. (Or if I want to make the curls a bit uniform, I should twist strands into little groups of curls while it's still wet.) I also need to stop blow-drying the crap out of it. A diffuser is a must, again because anything that splits the strands is going to cause fuzz.
After I leave the hairdresser, I'm thrilled to be armed with so many hacks and I'm so buoyed up by letting my true locks shine (thanks to Lisa's epic styling). I send out a quick snap of my curls and the feedback is immediate: my National Editor says she loves it, while our Graphic Designer showers me with compliments. This is the response I need. Love them!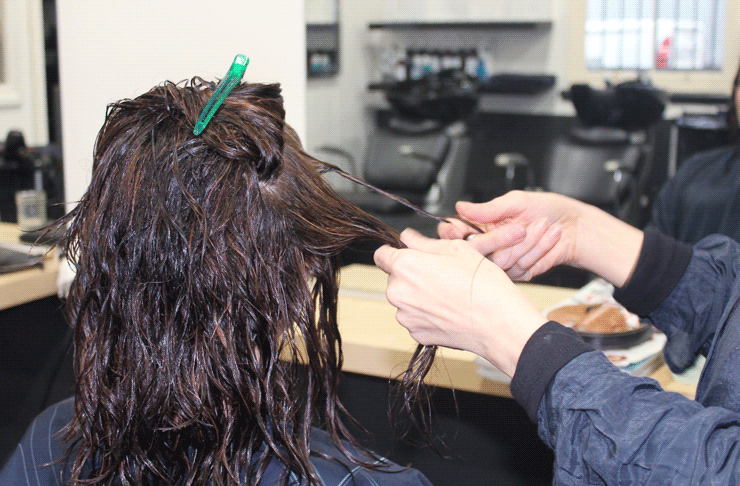 Life is so damn fine because I've still got hairdresser-done hair. I hit a snag when I go out to dinner with my family at Bar Alto though. My brothers are there. One of them laughs as soon as he sees me, while the other says 'Welcome back 1984, you got a perm!' Um, fuck you? Curl confidence is wavering.

I wake up late. Fuuuuck. I put my hair in a bun and rush out the door. Fail.

Following yesterday's fail I get recommitted to this. I do the holy grail of hair preparation: I wash my hair and just leave it wet and hope against hope it'll be okay. When my hair dries it usually just gets bigger and bigger and bigger and then even bigger, but Lisa's haircut has done the impossible—my hair dries normally and I feel confident enough to go into a meeting with our teams from our sister websites Metropolist Gold Coast and Sunshine Coast, all of who have fabulous hair without exception.
My colleague Phil starts off the meeting by saying 'Phoebe's got curly hair' and laughing heartily. It's not the worst thing he's ever said to me so I let it slide and all the girls valiantly tell me the curls look cute. Phew! I've made it through the week!

The Verdict?
So am I a committed curly now? Well, to be honest, I'm 50-50. Even though I love the thought of never styling my hair again and being true to my curls, I realized that I find straightening my hair neater and more professional. But going forward I will go straightener-free on the weekends to ensure curls remain part of my tonsorial repertoire.
The most unexpected thing I learned was that I am not alone! I was super surprised when girl after girl confided to me that they are actually closet curly-heads too. What the hell are we all doing? I say follow Lisa's curly commandments and give it a go!

Image credits: Pinterest, Gabrielle Stjernqvist