Attention bar food fanatics and gourmet gluttons; your favourite Valley hang out has had a menu makeover and it has never been so delicious (or fancy)!
Valley fave, Woolly Mammoth Alehouse has a new-found focus on filling your bellies with the finer things in life, bringing out the big guns with a menu set to rival Brisbane's best bars. While not a complete departure from their carnivorous origins, Woolly's kitchen has added an extra twist to their dishes, taking inspiration from head chef Josh Inglis' recent trips to New York. Combining elements from a variety of culinary sources, dishes at Woolly Mammoth are a wonderful blend of cuisine and culture. Braised octopus salad, torched bone marrow, plus veal and pork meatballs amongst a bang on set of cocktails and craft beers? We'll cheers to that!
Pair one of Woolly Mammoth's infamous craft ales with their 12-hour skirt steak or nibble on some cola-brined chicken ribs while you sip on a crisp strawberry-basil mojito in the garden bar. Share it around or keep it for yourself, you do you, man!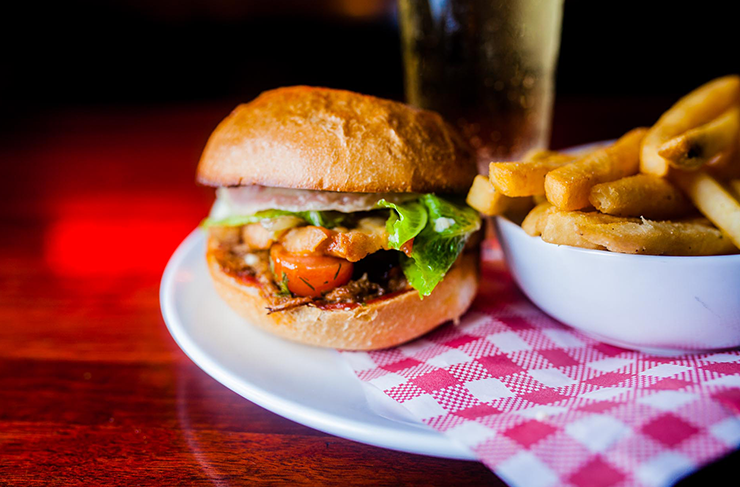 But, we must beg the question: what about Woolly's infamous fries? Don't stress, they didn't get rid of them (heck no!), they now have quadruple the fry options!
With so many different types of fried potato on offer—including their new beer gravy poutine—you can vacuum up gravy-soaked fry after gravy-soaked fry for those nights where you're in need of a French fry feast.
If the thought of a night out with your friends makes your purse shrink faster than that third tequila shot you had last weekend, then fear not my narrow-financed friends, Woolly Mammoth's high-quality feeds are made as affordable as possible to cover your good time cravings and your bank account. Better yet, they even do 2-4-1 every Wednesday: two meals, half the payout. Does it get any better than that?
If their fabulous, affordable menu, drinks and fun aren't enough reasons to swing by Fortitude Valley this weekend, just go for the giant (faux) taxidermy mammoth at the door.
Image credit: Ariana Gillrie
Editor's note: This article is sponsored by Woolly Mammoth Alehouse and proudly endorsed by The Urban List. Thank you for supporting the sponsors who make The Urban List possible. Click here for more information on our editorial policy.