Valentine's Day is fast approaching, and this means only one thing - gifts, gifts, and more gifts! No teddy bears cuddling love hearts in this list. 'YOU'RE THE ONE' foil balloons are also a big fat no no. And, I think we can get a little more creative than the standard long-stemmed roses and chocolates. Not that we're averse to chocolate, of course.

Today, you're in luck gentlemen, we're here to help you step it up a notch (or ten) and give her something she'll really love. We're getting the ball rolling with a few special somethings for the discerning woman in your life. Here are our fail-safe Valentine's Day gift ideas for, over $200.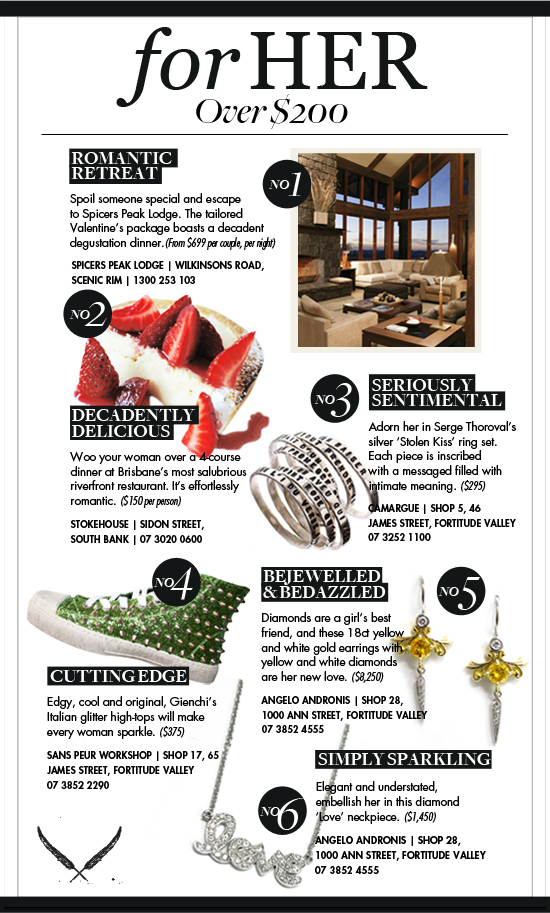 1. Special Occasion Escape Package | (From $669 per couple, per night) | Spicers Peak Lodge
2. 4-course Valentines Day Dinner Package ($150 per person) | Stokehouse
3. Serge Thoroval Silver 'Stolen Kiss' Ring Set ($295) | camargue
4. Gienchi High-tops ($375) | Sans Peur Workshop
5. 18ct Yellow and White Gold Earrings with Yellow and White Diamonds ($8,250) | Angelo Andronis
6. Diamond 'love' Neckpiece ($1,450) | Angelo Andronis

TUL Note: Today's List Love post is proudly sponsored by the businesses in our gift guide and endorsed by The Urban List. Our sponsored posts will never be a secret - the List Love seal will be stamped on any sponsored material you see on the site.