When it comes to appreciating the finer things in life, the Italians really know how to do it! We've teamed up with Peroni to celebrate Australia's top Italian culinary gurus as they let us in on their favourite local spots for drinks, dining and more.
First up is Nick Palumbo, founder of everyone's favourite luxury gelati empire, Gelato Messina...
If you're a food fan (and we know that pretty much all of you are) Australian-Italians don't get much more renowned than gelati maestro and all-round awesome guy, Nick Palumbo. Moving from Adelaide, where he grew up with his Italian parents, to Sydney back in 2002, Nick started Gelato Messina with one very simple aim—to run an amazing gelateria that celebrated traditional techniques and mouth-watering, rich flavours.
The name 'Messina' is a reminder of the area of Sicily where his family is from.
"Even though I was born here, my parents had just arrived," Nick told us when we caught up with him. "So, I went into my first year of school not really knowing how to speak English. I was brought up in a very Italian household!"
As for what he misses most about Italy?
"My relatives, especially my Nonna, and the coffee granita with brioche!"
So where does Nick hang out when he's homesick for the Italian coast, and what are the Italian delicacies that he just can't do without? We find out as the Gelato Messina founder shares his top Italian hot-spots around Australia.

Cassaniti Bakery
Haberfield
Cassanti Bakery is a hidden gem tucked away in the western Sydney suburb, filled with freshly baked breads and pastries. "There's no signage for this place, but the queues out the door tell you it's worth waiting for," says Nick. As for what to expect, "Brush up on your Italian before you go—the owners like to keep things authentic."
Zanetti 5 Star Deli
Haberfield
With almost 60 years experience, providing Sydney-siders with delicious meats, cheeses, olives and other tasty treats, the Zanetti 5 Star Deli is onely one of the many awesome finds that Nick recommends in Haberfield.
"The suburb is home to loads of great food; it's full of Italian goods that I can't get enough of. The bocconcini, trece, nodini and ricotta at Zanetti's are fresh every day, so if you go, try all four!"
Rosso Pomodoro
Balmain
If you're looking for pizza in Sydney, Balmain beauty Rosso Pomodoro is where it's at.
"Everyone asks me where to get the best pizza in Sydney. Here's the place—they import their ingredients from Italy and make the freshest dough," says Nick, and we know he takes his pizza seriously.
Artemide
Surry Hills
"I like to dabble in 'design' when creating new Messina stores," Nick told us, which is why this luxury Italian lighting store is one of his go-to's. "This place always inspires me. Lighting makes all the difference to a store or a home and I love the way they think about lighting here." Artemide is the perfect place to treat yourself to a design treat, or to pick up a gift for an interior-savvy friend.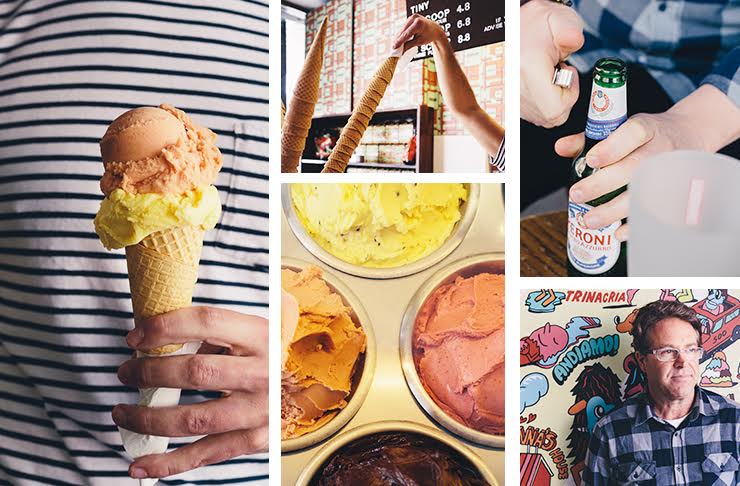 The Grasshopper
Sydney CBD
If late-night beers and cocktails are your thing, The Grasshopper bar is where it's at. "It might not be Italian, but it's a wonderful venue for a drink at the end of a long day."
A Tavola
Darlinghurst
A Tavola is one of Sydney's most delicious Italian restaurants, largely due to the team's focus on making just about everything in-house. "I know the guys who run this place, and while that might make me biased," says Nick, "I still think it's one of the best Italian restaurants in Sydney. The pasta is perfection."
A C Butchery
Leichhardt
The experts at A C Butchery are great at giving you culinary advice, not only on what's good on the day but also about how to cook their epic cuts of meat.

Ferrari Maserati Sydney
Waterloo
"What more can I say? A guilty pleasure…"
My mate Cesere's back yard wood oven
It's a secret!
Of course, Nick knows some Italian hot-spots that he's intent on keeping to himself, such as Cesere's private wood-fired pizza oven.
"He's an Italian with a pizza oven in his back yard. What more can I say?!"

St Ali Coffee Roasters
South Melbourne
"Anyone who knows me knows that I'm obsessed with coffee. Salvatore, who started St Ali, has been perfecting his blends for years. We have a coffee machine in the office and, without my five piccolos a day, I'm lost! St Ali is the best I can find in Melbourne." And we'd tend to agree. Pick up a coffee to go, or grab a bag of beans to take home form this epic roaster, who also sell online.
D.O.C. Gastronomia
Carlton
Situated in the heart of Melbourne's Italian district, D.O.C is legendary when it comes to pizza and pasta dishes, and there's always a bottle of something tasty open to keep you lubricated, too.
"I go down to Melbourne regularly to see the stores and always eat here," mentions Nick. "Make sure you get a table outside in the summer and watch the world go by."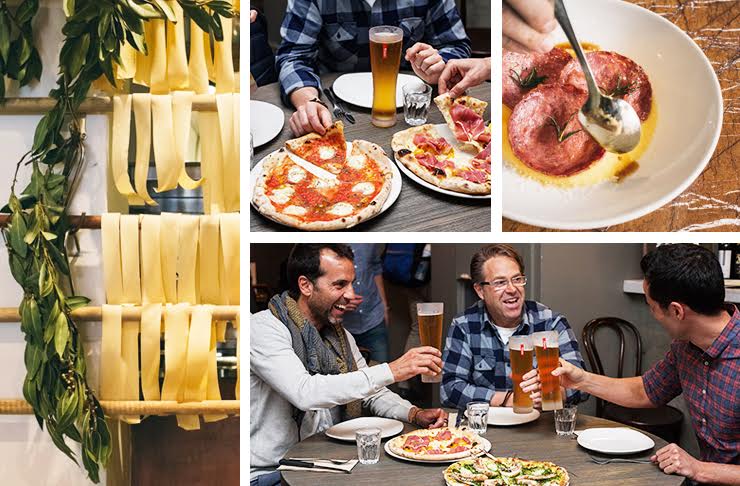 Ombra
Melbourne CBD
One of Melbourne's best CBD restaurants, Ombra specializes in salumi and cured meats, making it one of our favourite pit-stops for a drink and a charcuterie board. Nick's pick of the menu is the gnocchi.
"This salumi bar is really preserving Italian tradition and I'm all for that. I get the homemade gnocchi every time."

Esquire
Brisbane CBD
While not strictly speaking an Italian hot-spot, Brisbane restaurant Esquire serves some amazing modern Australian fare that draws inspiration from around the world.
"Esquire is a fantastic spot for a special occasion. Beautiful food, beautiful design and a beautiful wine list to match."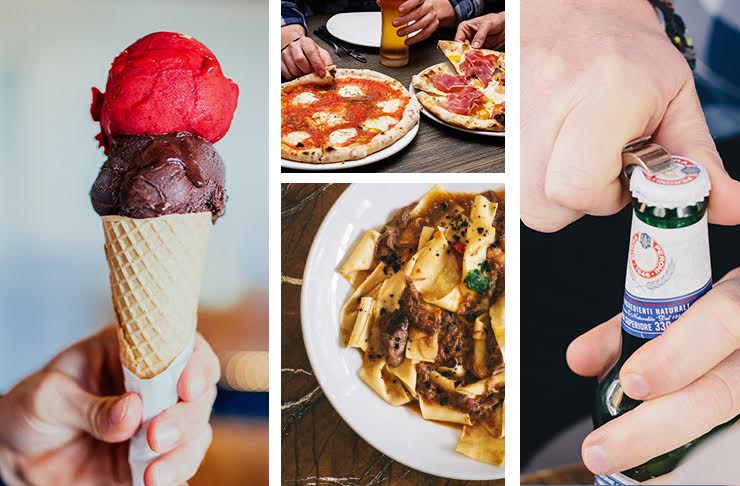 ---
We're incredibly excited to be working with Peroni to introduce you to our Persona: Peroni personalities and their favourite hot-spots around the country. Li amiamo, Australia!
Looking for more awesome hot-spots to check out? Read our monthly round-up, What's Trending In Brisbane Right Now.
---
Image credits: Jackielyn Powell and Sabine Legrand for The Urban List