The CBD caters to many a taste and temperament, dining wise. The inner-city precinct houses some of our most loved dining destinations and, often, of an evening we are hard-pressed to choose just one. Unfortunately, in the mornings when we are looking for a pre-work catch-up spot that justifies getting into the office at 9:15, or a location to host a deliciously productive breakfast meeting, the CBD tends to fall down in the chic-eats department. Grabbing a muffin is an option, sure, but finding a sophisticated breakfast location can be a touch trickier.
So, when we heard our after-work-drink and share-plate CBD favourite, Public were opening their doors for weekday breakfasts, we jumped with delight and hopped straight down to George Street to try the menu out.
At first glance, their breakfast line-up looks tame enough, with all the usual suspects and fresh breakfast favourites (think fruit toast with cinnamon butter, and Sonoma Museli, yoghurt, and compote). But this is Public, and this is not your garden-variety breakfast menu.
The menu manages to hold on to the quintessential Public feel of generous, inclusive serves and unusual twists that have helped make the evening menu such a hit. Fans of Public will already be acquainted with some of the breakfast offerings, though they have been given a distinct start-of-day makeover. The truffle duck egg toast is festively adorned with mushroom and spinach—the egg itself is nestled within the toast, only to be revealed when you cut that bad boy in half—and the truffle adds just the right amount of unctuous something-something to bring the dish out of the realm of the regular.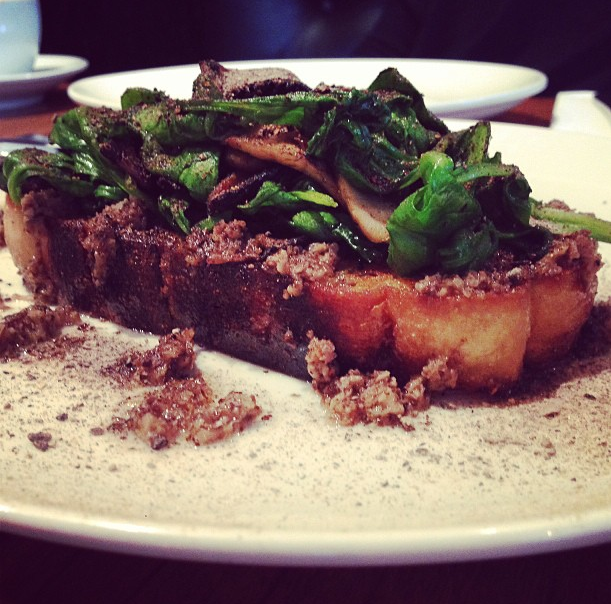 Part of Public's charm is its playful and tantalising take on the traditional, and their iteration of eggs benedict, the slow poached egg with salmon and hollandaise, is a teasing and tasty version of this breakfast classic.
The pick of the line up had to be the breakfast brisket with cheesy eggs and smoked bacon. This protein power meal is perfect for sharing. A meltingly divine beef brisket is teamed with a slightly spicy tomato relish, a little pot of heaven brimming with cheesy eggs, lashings of bacon, and tortillas to wrap everything up. This is one breakfast burrito we'll be coming back for.
Now that we have your pre-work breakfast location sorted, all you need to do is work on the excuse you're going to tell your boss when you're continuously late.
TUL Note: Today's List Love post is proudly sponsored by Public and endorsed by The Urban List. Our sponsored posts will never be a secret - the List Love seal will be stamped on any sponsored material you see on the site. Thank you for supporting the sponsors who make The Urban List possible.
Image Credit: Public, Pure Wow