Just when you thought it was safe to put away your monocle, we're busting out the best shows, productions and exhibitions you need to catch this month. Here, there and everywhere. We've got new opera in Melbourne, Viva rocking into Sydney and talks by the legendary David Sedaris (you'll have to fly to LA for that one, but you know...)
Places please, settle down for the Culture Edit.

The Field Revisited
Melbourne
When the National Gallery of Victoria first moved into its iconic digs on St Kilda Rd in 1968, The Field was the first exhibition they put on. Well now it's back: 74 works by over 40 artists, celebrating colour, abstraction and the beauty of weird shapes. If you spot an actual field, let us know. We're stumped on that one. Check this one out at NGV at Fed Square—it's on till 26 August.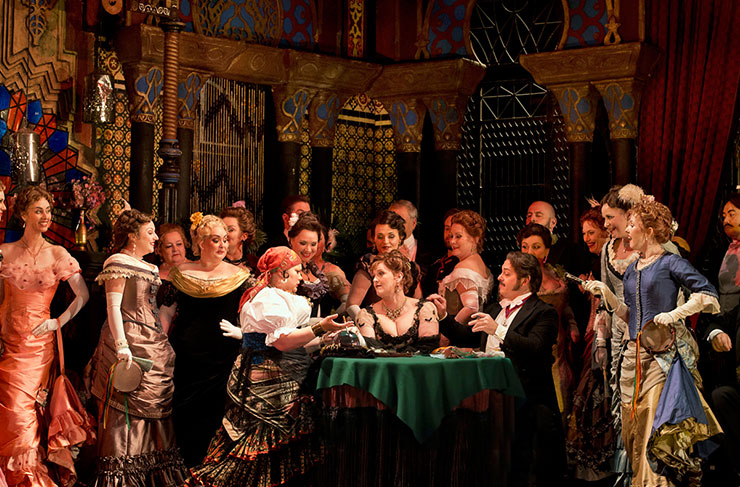 Photography: Opera Australia
La Traviata
Melbourne
It's a story as old as time. Girl meets boy. Girl leaves boy. There's a masked ball and a duel. People sing a lot of plot at one another. Verdi's classic opera La Traviata is showing at Melbourne's Arts Centre right now, and by all accounts, Elijah Moshinsky is putting on a cracking production. Opera novices, don't worry—you don't need to speak Italian to understand what's going on. Opera Australia have a helpful screen above the stage that translates the dialogue in real time. Nice.
21st Sydney Biennale
Sydney
The Biennale rolls around every two years (apparently that's literally what it means), and this is the 21st edition, curated by Mami Kataoka at 7 locations around the city. Now technically this one is trying to "examine the quantum mechanical theory of superposition", but that's really just art-speak for highfalutin concept pieces that will wrinkle your brain very gently. Over 70 artists from 35 countries are exhibiting, so get around it.
Vivid LIVE
Sydney
Have you been living under a rock or something? It'd be hard to avoid Vivid even if you wanted to: for three weeks this festival of light, music and ideas takes over pretty much all of Sydney. Tickets for the major events are already getting snapped up, so you'll have to motor if you want to check out Solange or Ice Cube. Of course you can always just kick back in Martin Place or Darling Harbour and enjoy the light show for free.
Reigning Men
Sydney
Catchy title, and the outfits aren't bad either. Reigning Men is the world's largest men's fashion exhibition, and it's storming into Sydney this month, fresh from the Los Angeles County Museum of Art. Expect more than 300 outfits spanning 130 years of men's fashion, all the way back to the French Revolution. Check it out at Sydney's Powerhouse Museum—it's running now till October.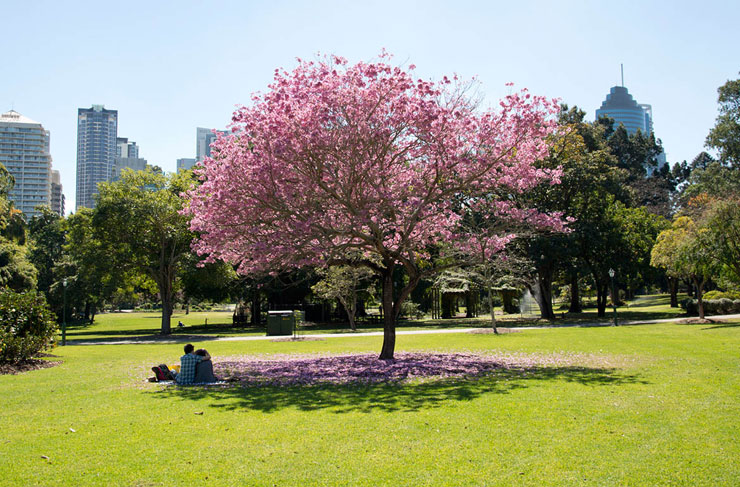 Photography: Brisbane City Council
Gigs & Picnics
Brisbane
If Julie Andrews was singing My Favourite Things today, we bet gigs and picnics would be on there somewhere. Brisbane's Botanic Gardens are celebrating the fact winter doesn't exist in Queensland by throwing a series of music and picnic days. They're running every from midday to 4pm every Saturday in May. Expect live tunes, food trucks galore and plenty of competition over prime picnic spots.
4MBS Festival Of Classics
Brisbane
Bust out the Beethoven, because Brissy is hosting Australia's largest festival of classical music this month—4MBS Festival Of Classics. Turns out it's not just for genius foetuses. Concerts and pop-up performances will be taking over the city from 5 May to 3 June (check out the calendar for all the details). Personally we're liking the look of the piano marathons.
Hive Mind
Perth
We're always partial to a bit of indie theatre, and Hive Mind looks like a winner this month. It's the latest production from the award-winning company behind Bus Boy and Girl in the Wood: a story of community that kicks off when Haley Woodward goes missing in Box Elder Canyon. Spooky. Hive Mind is showing at The Blue Room Theatre until 19 May.
Year 12 Perspectives
Perth
Sometimes we forget how freaky talented our kids really are. Lucky the annual Year 12 Perspective exhibition is here to remind us we totally wasted our artistic potential. Check out the best the brightest artists from Perth's VCE cohort in 2017. The show's running till 16 July at Art Gallery Of Western Australia.

Talking Heads
Auckland
If you haven't heard of Alan Bennett's talking heads, sit back and relax. You're in for an absolute treat. The Waiheke Theatre Company is running a production of the famed series at the Artworks Community Theatre, with three actors putting on Bennett classics like A Lady Of Letters, A Chip In The Sugar and A Cream Cracker Under The Settee. There's only seven shows, so you're gonna want to book early.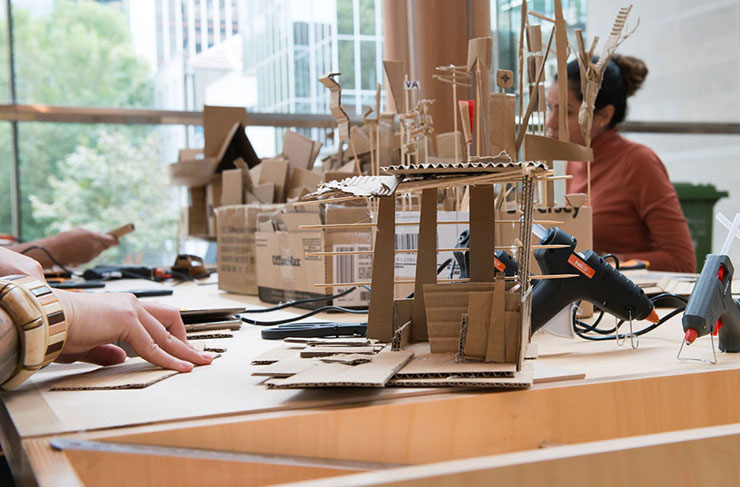 Project Another Country
Auckland
How do you feel about installation art pieces? We'll admit, they can sometimes verge on the wanky, but husband-and-wife team Isabel and Alfredo Aquilizan have created something really special with Project Another Country. It's a massive hanging city, made from recycled cardboard, and visitors are welcome to make their own little cardboard houses, which will be added to the piece. It's all meant to stir up discussion about what makes a home (didn't they watch The Castle?)

Wildlife Photographer Of The Year
London
This is your last month to catch the Wildlife Photographer Of The Year awards at London's Natural History Museum. The show wraps up on 28 May. Amazingly it's been running for 53 years, and this year's exhibition features 100+ pics from amateurs and pros all over the world. If you reckon your Insta game is strong, check out these guys.
Hello World
Tokyo
This one's technically in Ibaraki, just north of Tokyo, but it's well worth the hike. Hello World is a critical look at the future of an information age society. Featuring works from eight pairs of internationally acclaimed artists (including Hito Steyerl), it's the closest you're gonna come to living in a Black Mirror episode. In a good way...Check it out before Sunday 6 May. Entry is 800 Yen.
David Sedaris | Live
Los Angeles
Damn we wished we lived in Los Angeles. If you're travelling in the States right now, make sure to check this one out. Legendary satirist David Sedaris is hosting a talk at The Soraya in The Valley this month, featuring musings and extracts from his latest book: Theft by Finding: Diaries (1977–2002). We'd sell a kidney to get tickets to this one.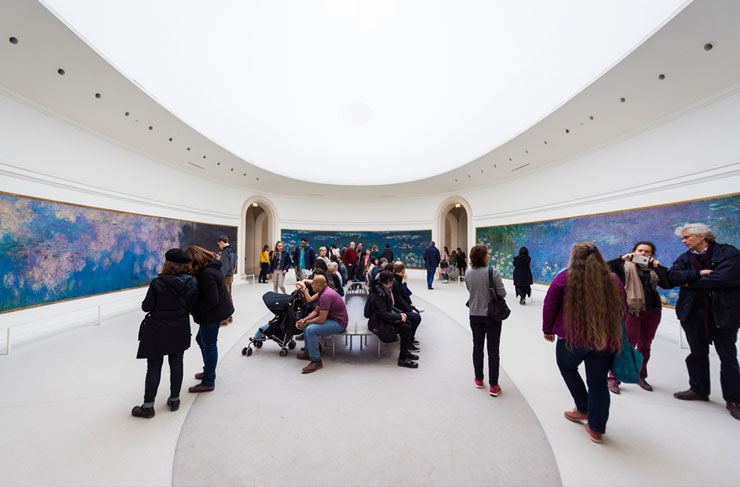 Photography: Travel Caffeine
Nympheas
Paris
A Monet mash-up between The Musée de l'Orangerie and MOMA in New York. Nympheas will feature some of Monet's later works, alongside canvases from American expressionist legends Rothko, Clyfford Still and Barnett Newmann. Only in Paris, right? No big rush on this one—it's running at the Musée de l'Orangerie till 20 August.
Speaking of culture (sort of), Miley Cyrus just unleashed a new collab with Converse. And it looks exactly as you'd expect.
Image credit: Auckland Art Gallery