Award-winning European-style brasserie The Euro is the middle sibling of a fabulous foodie family of Mary St venues. Grown up but still fun. Accomplished but chill.
There's nothing middle-of-the-road about The Euro though—she might be relaxed but she knows how to impress. The menu, created by multi-award-winning executive chef Alejandro Cancino, changes seasonally to showcase local, seasonal produce he and owner Andrew Buchanan are truly passionate about (including honey harvested from their very own rooftop–how's that for local).
And what better way to experience the latest menu from one of Brisbane's best restaurants than with their 6-course degustation? Greedy? Us? Never…
While opting for the degustation at a hatted restaurant can sometimes feel like a financial pipe dream, The Euro's 6-course menu won't see you eating baked beans on toast for the rest of the year just to afford it. At a very reasonable $95 per person (we told you she was cool) The Euro lets your feasting dreams become a reality. If you're feeling flush AF, you can supplement that with matching wines for another $85, otherwise their drinks menu definitely benefits from being attached to their previous sister restaurant, Urbane's wine cellar and Laneway's deliciously inventive cocktail list—the perks of being surrounded by award-winning venues.
I started with freshly baked bread and house-turned smoked butter (so delish they could have stopped right there and we'd be happy, frankly), followed by a first course of limey scallop ceviche with burnt broccoli, crunchy shallots and kombu kelp. Next up was a rich, velvety duck parfait topped with macadamia shavings freshened with a zesty daikon, and followed by another duck dish (sorry ducks, you're just too damn tasty)—this time a delicate consommé with duck leg and fresh herbs.
Our market fish—served with beetroot, shallot puree, black garlic and pil-pil sauce— was cobia, which we're told is somewhat rare due to it being a fighting fish that is very reluctant to be caught. But I'm glad he was, because he was insanely delicious, as was the next course: a melt-in-your-mouth kangaroo fillet with potato fondant, celeriac and sorrel emulsion.
As well as the a la carte changing seasonally, The Euro's degustation menu actually varies daily depending on what produce has taken Chef's fancy (we're taking that as an excuse to go back again very soon—we're pretty keen to get around their herbaceous buckwheat risotto, or pan fried duck breast with mandarin emulsion).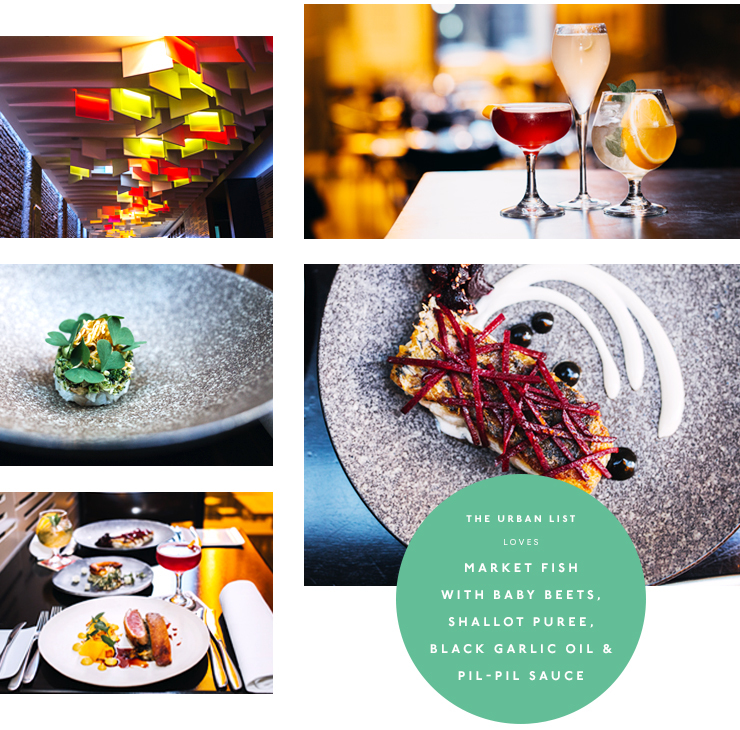 A lush concoction of poached pear, walnuts and brandy ice cream rounded out our perfectly proportioned meal. The mark of a top shelf degustation is the portion sizes: each course should be just substantial enough to keep you looking forward to the next one. And the next, and the next…
The Euro's industrial-chic vibe is made oh-so cosy with exposed brick walls, warm timber and touches of copper, while the backlit laser-cut bronze screen and ceiling of glowing kaleidoscopic colours show its playful side. It's the perfect inner-city spot for seriously impressive food and drinks without the formalities of fine dining, giving you all the VIP feels sans any hint of stuffiness.
Smart and stylish, but straight-up good value—we're definitely making The Euro our new BFF!
Image credit: Hayley Williamson