Each month one member of The Urban List team will be sharing their current obsessions, and—shock—not all of it's edible!
This month, Brisbane Editor Phoebe Grealy shares her must-haves and lust-haves with the world; from pimped out peasant dresses, to divine dark chocolate and cocktails by the sea, here's everything we're loving this month.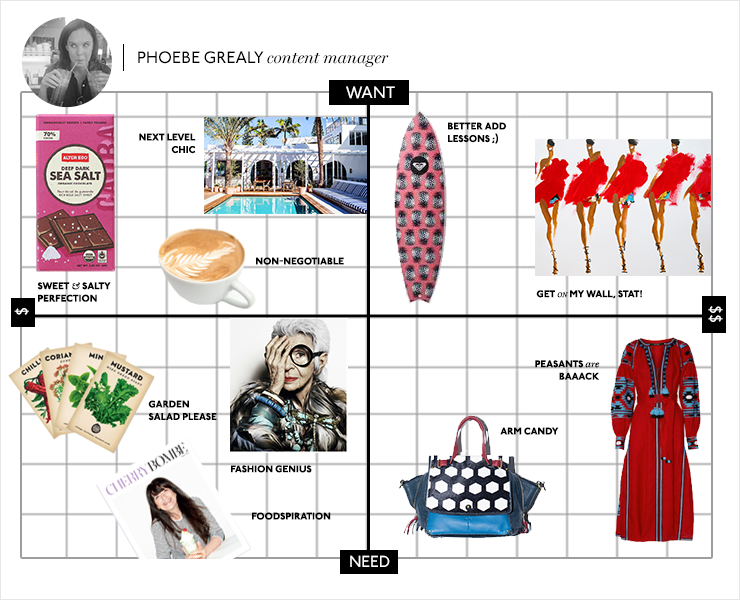 Roxy Pineapple Print Surfboard
Beach weather is here. Yew! This Roxy surfboard is just the trick to maximize my limited skillz. Added bonus: the super-cool pineapple graphics on this lightweight board are pretty enough to distract me from thinking about that Mick Fanning 'incident' while I'm out in the waves.
Cherry Bombe Magazine
Thank you Scrumptious Reads for introducing me to the foodie bible Cherry Bombe. With a knack for including all my gourmet #girlcrushes, I'll be buying up back issues to feed the obsession.
Donald Robertson Art
Insta-sensation Donald 'Drawbertson' Robertson's vivid artworks have the fashion pack clamouring for copies of his colourful, smudge-tastic style. I need, need, need one of his prints to brighten my walls.
Vita Kin Dress
Who could have forecast that Russian Babushka dressing would be the next big thing? The intricate Vita Kin Peasant Dress should be perfect for the sweltering heat that's no doubt around the corner in Brissie.
Coffee at Reverends Fine Coffee
The friendly service and top notch Seven Seeds coffee at under-the-radar Valley cafe Reverends Fine Coffee has me spending my caffeine dollar there again and again.
Iris on Netflix
This 93-year-old native New Yorker proves that originality never goes out of style. Now that this documentary has hit Netflix, I'm looking forward to taking a behind the scenes look into her fabulous life and the wardrobe that takes two houses and a storage unit to contain.
Jerome Dreyfuss Bag
The all black errythang look of winter just seems silly now that spring is in the air. I'm looking to add some arm candy to my look and I'm making a beeline for Samantha Ogilvie to pick up a Jerome Dreyfuss confection.
Alter Eco Sea Salt Dark Chocolate
Whoever thought of sprinkling a light dusting of sea salt over rich dark chocolate is my hero. The fact that the Alter Eco Sea Salt Dark Chocolate (which I stock up on at Sourced Grocer) is fair trade is icing on the (chocolate) cake.
Halcyon House Boutique Hotel
Lucky little Cabarita Beach has the hottest new boutique hotel on their shores and I've got my heart set on beachside cocktails at Halcyon House's luxe bar.
Little Veggie Patch Co Seeds
As the ground warms up, it's time to get my kitchen garden cranking. The Little Veggie Patch Co seeds from Biome in Paddington will put summer salads firmly on the home menu. And offset all the chocolate I've eaten over winter!