Last week we put together a shortlist of 50 things to do in Brisbane we felt stood out from the rest. Granted, the majority were food related. And judging by the responses, that's essentially where your priorities lie as well.

The average number of activities came in at only 12/50. There's work to do, my friends! And the top score? 34. Not including our office, of course. The most people laid claim to having picnicked in New Farm Park – good choice. It's definitely one of my favourites, and there's a reason it was listed at number 1.

When it comes to cuisine, it appears you favour Italian dining, with Beccofino and Il Centro almost outdoing Spanish, Vietnamese and Chinese combined.
Urban Listers clearly have a sweet tooth, with 26% of respondents having devoured treats from Jocelyn's Provisions AND Welsh Lady AND Emma's organic brownies. (Me too…)
The sporting spectators beat out the culture vultures, but both results were impressive. 49% of you have caught the Reds, Broncos, Firebirds or Roar live. When it comes to the arts…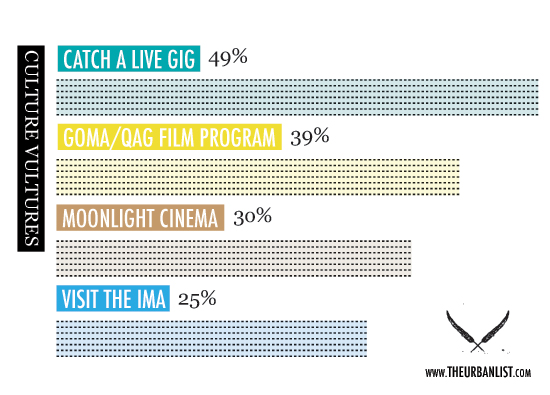 I'm not sure everyone told the truth when it came to booze. Only 36% claim to have tried the wares of Brisbane's best bars.

On the other hand, 12% of you have put away Pearl Café's chocolate ganache milkshake. And 26% have salivated over a degustation at Esquire or Urbane.
As you may recall, we actually only recommended 49 activities, leaving the 50th spot up to you to nominate. A number of suggestions came in 5+ times:
- The Snickers hot chocolate on offer at Bunker in Milton
- Spending time at the Kangaroo Point Cliffs – either breakfasting at the base (frisbee optional), or watching the sun set up top
- Montrachet. How could we forget?
- And Sunday afternoon drinks at Watt or Bar Alto at The Powerhouse



In lieu of selecting one to become the official 50th, I'm going to go ahead and add them all. Surely there can be at least 54 things we should have done if we live in Brisbane.

Did you miss the original quiz? How many of these 50 things have you done in Brisbane?