Can we get a hooray? The weekend fast approaches and we couldn't be more excited. But what to do, see or taste in this fair city we call home? So many options, so little time—and Netflix is just so tempting. Well put your laptops down, friends, because we're here with 12 awesome things to do this weekend in Brisbane (Netflix not included). We've got everything from a Nollsie concert to the 2017 Korean Cultural Festival to enough vegan eats to sate any appetite. See, we told you, this isn't a weekend made for staying in.
Get amongst it.
Friday 11th August
After Dark: Science Fusion
Get ready to celebrate National Science Week with an after dark adventure at the Workshops Rail Museum in Ipswich. Prepare to have your mind blown with live music, food, drinks, and a whole heap of science innovations! Let your inner geek out, why don't you. For real. We're talking Battle Bot build demos, 3D printing, Taxidermy demos, and even Man vs Machine Fooz ball. Phew—it's going to be a big night.
When: Friday 11 Augst
Where: The Workshops Rail Museum, Ipswich
Tickets: $15, get yours here.
Shannon Noll At Hamilton Hotel
The myth, the legend, the prodigal son, Shannon Noll is back and he's set to put on a show to remember at the Hamilton Hotel this Friday night. Everyone's favourite Australian Idol runner-up, Nollsie's career boasts five top ten albums, 17 platinum accreditations and three gold accreditations. He also holds the coveted positon of being the only Australian male artist in national chart history to have ever achieved ten consecutive top ten singles. I guess you could say he's a pretty big deal. Did someone say Friday night drinks with the squad while being serenaded by Shannon Noll? Don't make us swoon.
When: Friday 11 August, 8:00pm to 11:00pm
Where: Hamilton Hotel, 442 Kingsford Smith Drive
For more information, and to get tickets, click here.
Australian Virtual Reality Film Festival
Guys, four words: virtual reality film festival. The first event of its kind in Australia, this event, hosted by the Brisbane Powerhouse, will bring together all things virtual reality for a weekend of innovation, creative development and just all around cool stuff. Embracing the creative masterminds propelling the virtual reality industry forward, this festival will feature a full program of national and international films designed to introduce Brisbane to the world of virtual reality. You won't want to miss this one, friends.
When: Friday 11 August to Sunday 13 August
Where: Brisbane Powerhouse, 119 Lamington St
For more information, click here.
EKKA 2017
It's that time of year again when we happily stuff ourselves with a ridiculous amount of strawberry ice cream. That's right, the EKKA, the agricultural celebration everyone loves-to-hate-but-secretly-still-loves is back for 2017. Celebrating everything about life in sunny ol' Queensland there's literally something to do for everyone at the EKKA: eat your way through the myriad of food pavilions, get your fill of baby animals, spend the day browsing art and fashion from local legends, or make a night of it with the nightly fireworks displays. Plus, you totally get a day off work because of it. EKKA, you've done it again.
When: Friday 11 August to Sunday 20 August
Where: Brisbane Showgrounds
For more information, click here.

American Honey Fridays At Eatons Hill Hotel
American Honey Fridays are happening at Eatons Hill Hotel, with live music and American Honey drinks at the bar. Tomorrow night Po Cho will be on the decks, and Club MTC (featuring MINX) on 18 August, so we recommend that you grab an American Honey, dry and lime, sit back and enjoy the tunes.
When: Friday 11 & Friday 18 August, from 7pm
Where: Eatons Hill Hotel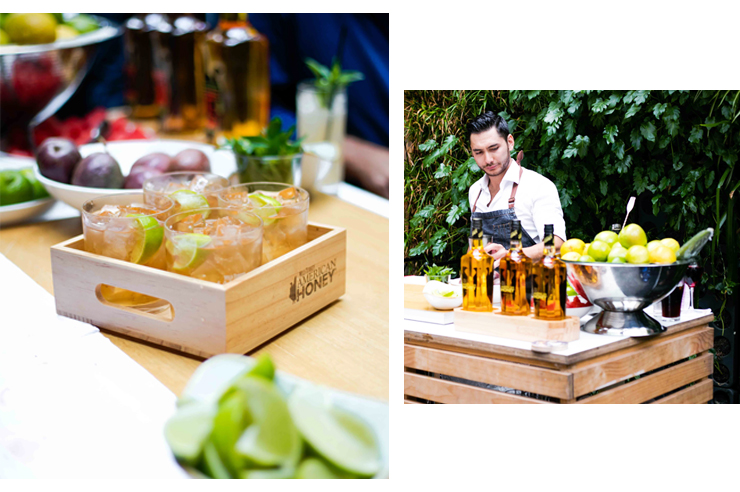 Saturday 12th August
Songs You Know & Love with Daryl James
Born and bred on the dramatic Welsh coast, Daryl James has had quite the life before ending up on the mean streets of Brisvegas as a busker. Now the smooth-voiced musician is ready to take his solo career to an epic new level with a series of packed out shows all over Australia, starting with one at The Triffid as part of their Songs You Know and Love series of entertainment. That's right, the Triffid's killer beer garden is about to get a whole lot better – and we're not just talking about adding fairy lights. Go there, grab a glass of something cold, kick back and enjoy the show. We promise you won't regret it.
When: Saturday 12 August, 2:00pm to 5:00pm
Where: The Triffid, 7-9 Stratton Street
For more information, click here.
Korean Cultural Festival 2017
Rolling into King George Square this Saturday, the Korean Cultural Festival is ready to steal your heart yet again. Claiming over 50,000 visitors in 2016, this festival will combine the best Korean sights, sounds and tastes for a day to remember. The current entertainment line-up includes Samul-Nori, a traditional Korean performance, K-pop dances, taekwondo and plenty of activities for the little ones. Oh and did we mention that entry is totally free, so you've got more cash to spend on Korean barbeque. Now that sounds like a win-win to us!
When: Saturday 12 August, 10:00am to 4:00pm
Where: King George Square
For more information, click here.
Craft & Cats: Pawigami Workshop
Oh the Lucky Cat Cafe, you never let us down. Been yearning for the opportunity to combine your passion for learning origami with your deep love for cats? Well this event was made for you. Hosted by the legends over at the Lucky Cat Café, this two hour session will see you pick up an awesome new skill AND make some toys for your furry better halves. With Gill from Catamation watching over you, you'll be making epic paper swans in no time. You go, Glen Coco.
When: Saturday 12 August, 3:00pm to 5:00pm
Where: Lucky Cat Café, 16 St Kilda Place, Annerley
For more information, and to book tickets, click here.
Sunday 13th August
Brisbane Vegan Markets
If you, like us, needed yet another excuse to get your feast on we're pleased to point you straight to Brisbane's very own vegan markets. Combining the best of Brisbane's world-friendly foodie scene with a selection of eco-tastic goodies, the Brisbane Vegan Markets are just, well, really tasty. We're talking coconut soft serve from I Should Coco Ice Cream, vegan cream buns from Flour Of Life Bakery and vegan Korean BBQ ribs with kimchi from Green Street Foods. You know, just in case you hadn't had your fill at the Korean Cultural Festival. Yeah, it's definitely time to don those extra stretchy fat pants.
When: Sunday 13 August, 9:00am to 3:00pm
Where: 56 Russell Street, Brisbane
For more information, click here.
Americana Sunday Sessions at The Triffid
You guys, the legends over at the Triffid may have just created the ultimate Sunday sesh. First they start with combining the best of folk, country, blues and rock music and mash it all together to the backdrop of one amazing beer garden. Then they throw in a brand spankin' new menu to sate your foodie tendencies and gently sprinkle hints of the beverage surprises awaiting you on the night. Oh and did we mention HOW PRETTY THE BEER GARDEN IS. Ahem, we might need a minute. Run, don't walk.
When: Saturday 13 August, 2:00pm to 4:00pm
Where: The Triffid, 7-9 Stratton Street, Newstead
For more information, click here.
Brisbane Beatbox Royale
Here we were thinking that things couldn't get much better than slam poetry evenings when suddenly the Brisbane Beatbox Royale rolls into town. Hosted at the New Globe Theatre, the Brisbane Beatbox Royale will see the crème de la crème of Brisbane's hip-hop scene battle it out in order to win the state championship title. Judges include beatbox royalty Joel Turner, DJ Reks and Jeddlesone. Ready to witness history being made in the pursuit of finding Brisbane's best beatboxer? Yeah we thought so. See you there!
When: Sunday 13 August, 4:00pm to 9:00pm
Where: New Globe Theatre, 220 Brunswick St
For more information, click here.
Don't Miss Out
70s Roller Rink Disco At UQ
We can't say that we've ever had the urge to skate through UQ's Holt Room while jamming to some groovy 70's tunes, but now that we have the opportunity we're definitely not missing out. Thanks to the UQ Union you can do the same and it's all for free. On Monday 14 August and Tuesday 15 August the Holt room will be transformed into a roller-skate wonderland, accompanied by live disco tunes. Entry and skate hire is free, all you need to bring is your best daggy socks and a few of your favourite people. Don't forget to hit up the Red Room afterwards for a cheeky post-skate bevvy.
When: Monday 14 August to Tuesday 15 August
Where: UQ Union, Level 4, Building 21, University of Queensland
For more information, click here.
WINE AND DINE WITH TORBRECK AT ARIA BRISBANE
This event does what it says on the (fancy) tin; wine and dine the night away at one of Brisbane's finest restaurants—what's not to love? Next Tuesday August 15th, Brisbane dining institution, Aria will be teaming up with iconic winery, Torbreck to bring you a stunning dinner paired with some of the finest wines in the world. Treat yourself to a specially created four-course dinner with matching wines to accompany in the luxe surrounds of Aria (seriously guys, it doesn't get much better than this). Head chef Ben Russell and his team have created a unique menu for the night, and you're not going to want to miss it. Tickets come in at $195pp, but let's put it this way, you'll never eat like this again. Go on, spoil yourself!
When: Tuesday 15th August. 6:30pm arrival, 7pm start
Where: Aria, Brisbane CBD
To book your tickets click here.
Need some weekend wandering inspiration that is a little cosier? Check out these 25 things you should definitely do in Brisbane before winter ends.
Editor's note: American Honey's event is proudly sponsored by Campari and endorsed by The Urban List. Thank you for supporting the sponsors who make The Urban List possible. Click here for more information on our editorial policy.
Image credit: Betty Wants In for The Urban List