Is there anything better than a relaxing day spa? Well, yes, actually, if you throw in acupuncture, massage, and the off chance you run into a Reds player (or, guys, a prima ballerina).
We are obsessed with James Street newest health clinic and day spa haven, Health Place. Tucked in to the James Street arcade, Health Place has a health pedigree you won't find elsewhere in Brisbane — It's a one-stop-shop for all your health needs, with massage, acupuncture, sports therapy, podiatry and dietetics under one, very stylish, roof.
Every member of the Health Place team is at the top of their industry, and owners Pedro and Veronica are not exactly new to the sports health scene. Veronica is a bona-fide circus performer and acrobat, and spent four years performing for Cirque Du Soleil. Pedro was also a massage therapist for Cirque Du Soleil. All we can say is, lucky us, because these sports health specialists have decided to put down roots in our little neck of the woods and are offering their substantial experience to Brisbane's health conscious.
The talented team at Health Place team really know what they're doing when it comes to keeping you at your best, but don't just take my word for it. Brisbane's biggest sporting names trust Health Place for all their health needs, and are queuing up to put themselves in the Health Place's capable hands. Queensland Ballet's ballerinas, the Wallabies, the Broncos and the Reds are all on Health Place's impressive client list.
And, while Health Place certainly caters to the athletic amongst us (in fact, over 60% of Health Place's clients are men) this chic clinic is also the ideal retreat for a ladies day of relaxation—there's nothing clinical about the private rooms and lush décor. And, best of all, you can choose the music that's played while you're enjoying a relaxing massage or acupuncture sesh'. Bliss!
We took two minutes with owners, Veronica and Pedro, to find out what makes these health connoisseurs tick…
TUL: Describe in one sentence what you do for work??
P: I hurt people and they pay me to do it with a smile.
TUL: What inspired you to work in the health industry? How did you get started??
P: I was a semi-professional soccer player in Portugal and did some damage to my knee, which ended my career and still gives me problems. This could have been prevented with the right treatment and so I began my health career, so I would be able to prevent injuries like this and enable athletes and performers to have the careers they deserve.
V: It actually all started with a university assignment at QUT. I was forced to write a new business plan and then realized I was on to something that could eventually improve the health industry, give promising health practitioners a great career, and I'd get to hang out on James Street every day!
TUL: What is the best part about your job??
P: Being able to help my clients take back the things they love in their life without pain – for example, new grandmothers being able to pick up their grandchild, a performer being able to get back on stage, a bronco being able to play their next game and get hurt again.
V: When I get to see my practitioners realise they've made a real difference to their client's life. It's not necessarily something that happens every day but when I get to see them feel really proud of what they've done, that's really great.
TUL: If you weren't in the health industry, what other career path would you choose??
V: I would always be building a business. I think next I will go into interior decorating. Or maybe mobile app development… Too much to do, too little time!
P: I would loved to be a vet!
TUL: What do you want people to take away from their experience at Health Place??
V: I want them to love the place and the experience. I love when a new client walks in and says that they love the feel of the shop. Makes my day!
P: I want them to be able to know the difference between a top health practitioner and the less professional ones out there. Because high quality natural health treatments performed well can significantly improve someone's life. While it may be impossible to please everyone that comes to Health Place, my team and I will always give the advice and treatment that we think is the best for that specific situation. If the client isn't happy, we offer a 100% money back guarantee. That's how much I trust my people.
TUL: Health Place does it all! Can you describe some of the services you offer??
P: Our clinic is all about fixing people, so we strive to offer a wide variety of services under one roof. We have massage, acupuncture, Active Release Technique, dry needling, musculoskeletal therapy, dietitian services, psychology and podiatry at the moment.
TUL: What's one health therapy you wish more people would try??
V: Acupuncture for fertility issues. It's a sensitive topic but I've had the pleasure of seeing our acupuncturist achieve incredible things with some of her women.
P: True remedial massage. This is something both men and women should get. It's not a girly, luxury thing – It's something that can make you train better, work better, live better.
TUL: What is something simple everyone can do to be healthier?
V: Sleep more! It'll change your life.
P: Drink more water. It's an easy thing to do, but 85% of Health Place clients don't drink even half the amount they should be drinking.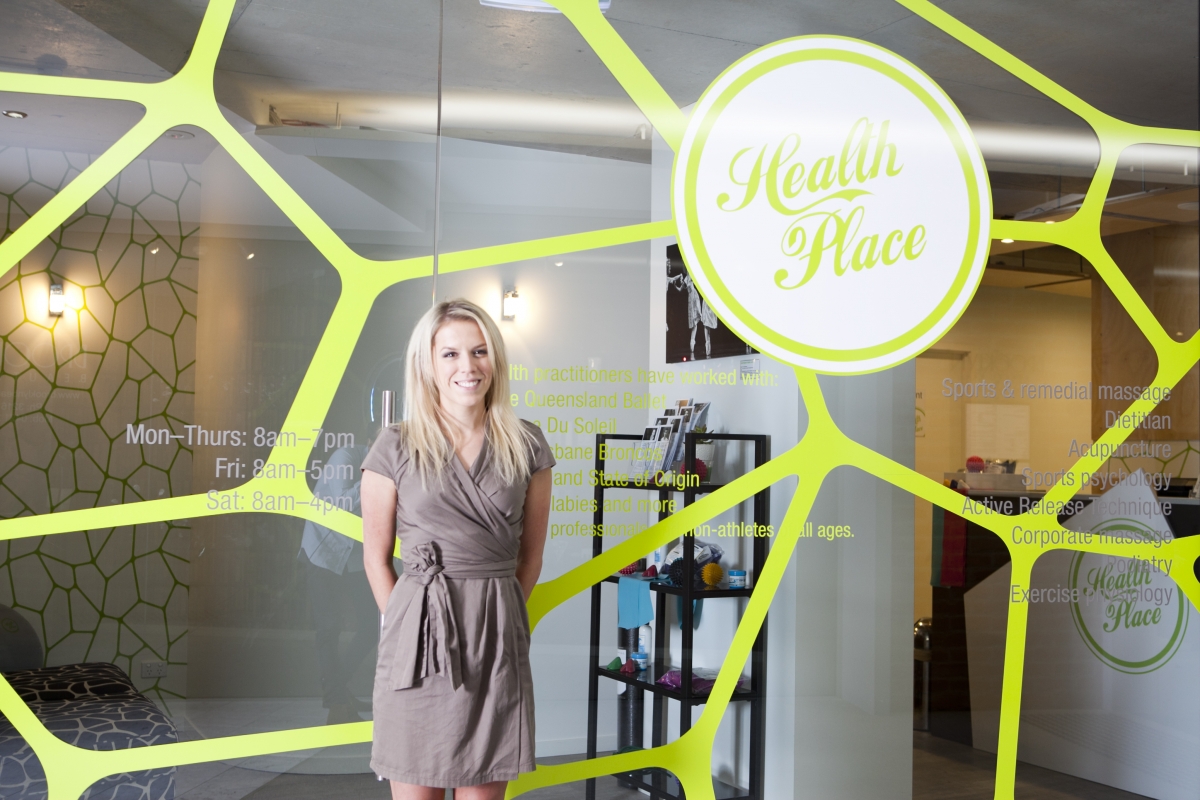 TUL: Best way to spend 50 dollars in Brisbane??
V: Take 3 girlfriends to Guzman Y Gomez at the Emporium.
P: A new pair of running shorts from Lululemon!
TUL: And the best way to spend 500 dollars in Brisbane??
V: Take 30 girlfriends to Guzman Y Gomez!
TUL: What would you request for your last meal on earth??
V: Green thai curry from Sing's Rosalie and a Taro bubble tea! I love that stuff!
P: Thai chicken green curry. Best meal ever.
TUL: Favourite city… other than Brisbane??
P: Barcelona, and Lisbon. If I wasn't in Brisbane, I would be in Barcelona. That's for sure.
V: Take me to Lisbon!
TUL: 3 places in Brisbane you couldn't live without??
P: Any good coffee spot, the West End markets are pretty special, and Kangaroo point cliffs.
TUL: Favourite Brisbane coffee spot? ?
P: Merlo in James St, and now Sugar Jar makes a kick ass coffee.
V: Bunker, Milton.
TUL: Favourite Brisbane restaurant??
V: Jellyfish. But only when Rhett Willis is cooking.
P: I will have to say Bucci. Amazing staff, amazing food, top location, the best food. That balsamic alone would be enough for me.
TUL: Place for a drink??
P: Powerhouse. Love that place. It's so different from everything in Brisbane.
TUL: Biggest Indulgence??
V: Poppy Cakes! And a shellac manicure.
P: The breakfast at Flute, Paddington. Just amazing. Almost every Sunday you can find me there!
TUL: Latest Brisbane discovery??
P: Second hand stores. Love them.
TUL: What's next for Health Place??
V: We're aiming to have multiple practices in the next 3 years. Achieving our purpose of being the health brand people trust, no matter the location.
P: We are looking to open a few other centers in the next 3 to 5 years. The dream would be one in London, New York, Melbourne, Sydney as well as this one in James St. See how we go!
TUL Note: Today's List Love post is proudly sponsored by Health Place and endorsed by The Urban List. Our sponsored posts will never be a secret - the List Love seal will be stamped on any sponsored material you see on the site. Thank you for supporting the sponsors who make The Urban List possible.