As one half of the husband and wife team behind Newstead's The Golden Pig Food & Wine School, and former Head Chef at Neil Perry's famous Rockpool restaurant, Katrina Ryan certainly knows how to boil an egg.
With a seriously impressive culinary resume that includes a period as personal chef to Nicole Kidman and Tom Cruise, and, more recently, working as a chef at our personal favourite, The Spirit House Cooking School in Yandina, we couldn't wait to sit down with this queen of the Kitchen (and hopefully pick up a few tips along the way!).
TUL: Describe in one sentence what you do for work?
KR: I cook, feed, create, manage and teach.
TUL: What is the most exciting part of your job?
KR: Watching a new business grow and develop and getting a buzz from customer's positive reactions.
TUL: You've just opened The Golden Pig Food & Wine School for breakfast and lunch! Tell us about it.
KR: We are serving simple, delicious food using good-quality ingredients. We use Leavain bread, Cup coffee, and make our own jam, muesli, mayonnaise, tea-smoked salmon etc.
TUL: Sounds Delish'! What do you want people to get out of their experience when they come to one of your cooking classes?
KR: A fun, enjoyable day sharing good food with like-minded people and leave inspired to create new dishes at home.
TUL: And café?
KR: An inexpensive, tasty lunch, made with great ingredients, enjoyed in a funky space, and served by staff who love what they do.
TUL: What is one thing people should know how to cook?
KR: A great, simple pasta sauce such as olive oil, garlic, chilli, anchovy, and lemon. It can be thrown together when the cupboard is bare.
TUL: Which is your favourite dish to teach people to make?
KR: A Thai curry paste because they are a fantastic blend of aromatics and spices and using a mortar and pestle can be very therapeutic.
TUL: If you weren't a chef, what other career would you choose?
KR: I used to be a physiotherapist but I'm very happy I made the change!
TUL: You've worked with some of the biggest names in Australian dining. What is your career highlight (so far)?
KR: Working with Neil Perry and Neil asking me to be his head chef of Rockpool.
TUL: Which Brisbane restaurant you are loving at the moment?
KR: Just had the most amazing dinner at Gerard's at New Farm. Exciting and absolutely delicious!
TUL: Favourite Brisbane bar?
KR: I like the quirky atmosphere of Tippler's Tap in Newstead. It's walking distance from home and I get to pretend I'm 20 again and play Space Invaders.
TUL: Favourite city in the world?
KR: Rome
TUL: If you could have a super power what would it be, and why?
KR: I always wanted to blink like I Dream of Genie. I'd use it to clean up mess.
TUL: The last thing you purchased?
KR: 4kg of Meredith Dairy Goats Fetta. It's one of my favourite cheeses and we use it in the café on a toasted sandwich and in the Quinoa salad.
TUL: Best way to spend $50 in Brisbane?
KR: Take the whole family to the movies at Bulimba.
TUL: And the best way to spend $500 in Brisbane?
KR: A night at the Emporium and dinner at Gerard's.
TUL: 3 Cookbooks in your kitchen?
KR: Yotam Ottolenghi's 'Plenty', David Thompson's 'Thai Street Food' and a recent purchase, Claudia Roden's "The Food of Spain"
TUL: What was the last song you downloaded?
KR: It was an album, Fleetwood Mac's Greatest Hits
TUL: The best gift that you have ever received?
KR: A deep Le Creuset casserole dish. I've used it more than any other piece of equipment in the kitchen.
TUL: What would you request for your last meal on earth?
KR: Anything delicious, cooked with love and shared with my husband, Mark, and our 3 children.
TUL: What's next for The Golden Pig?
KR: We're launching our Lounge Bar next Thursday will be opening Thursdays and Fridays for after work drinks. We'll be serving a selection of craft beers and select wines and some tapas style food.
The Golden Pig Food & Wine School boasts a range of intimate, hands-on classes to get your culinary skills up to speed, or fine tune your style if you're already a pro'. We can't wait for the carb-erific feast that's sure to follow their Pizza and Pasta Essentials class on May the 26th, where pupils learn to master the Italian trifecta of gnocchi, pizza and pasta (and, as if that wasn't good enough, you finish the class off with a divine, fudgy Cherry and Hazelnut cake — bliss!). Spots are going fast, click here to see the full list of classes available and book yourself a seat.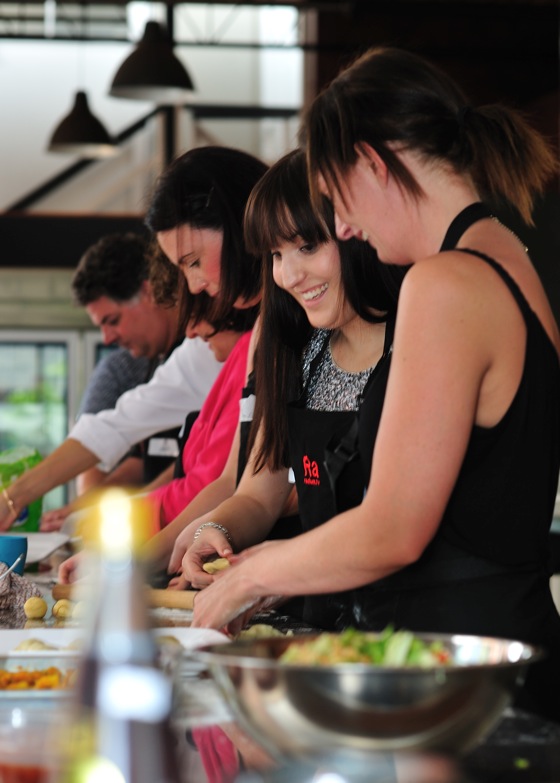 TUL Note: Today's List Love post is proudly sponsored by The Golden Pig Food & Wine School and endorsed by The Urban List. Our sponsored posts will never be a secret - the List Love seal will be stamped on any sponsored material you see on the site. Thank you for supporting the sponsors who make The Urban List possible.