Lock'n'Load has long been our go-to spot for a casual drink in West End. The atmosphere is way laid-back and a pleasure to sit and sip in any night of the week (or any day, for that matter). We love hitting the floor for a spot of live music and their outdoor seating has a quirky, tropical vibe that we can't get enough of on a Sunday. We've tried their sensational bar food (the sweet potato fries and blue cheese aioli are a favourite, and go down especially well after two beers). But when we heard the Lock'n'load boys were rolling out a new winter menu, we knew we had to get in on that.
The menu kicks off with tasting plates ideal for sharing—the perfect nibbly option for those occasions when you've got cocktails on the brain, rather than chow. Available for sharing between two or three (or even just for one, if you want it all to yourself), and featuring such morsels as house-made pork belly spring rolls, and chorizo-stuffed baby squid, these pint-size beauties make a great drinks accompaniment and are the perfect light meal.
The mains on offer are a total celebration of the approaching cold weather. We had to try the parmesan and ricotta gnocchi with garlic chips and truffle oil, because we don't often meet a potato pillow we aren't fond of. And these little babies blew us out of the water. What is it about the truffle oil and gnocchi combo that is so hard to pass up?
And the dark ale-braised beef cheeks with vanilla cauliflower and jus were a total flavour revelation. The beef was cooked to perfection and yielded to the fork like good braised beef should, and the vanilla and beef together—not a flavour mix you see on a menu everyday—worked surprisingly well. The confit duck leg risotto is top of our hit list for next time (they had us at confit), and the chicken roulade with three-cheese macaroni and pancetta looked divine.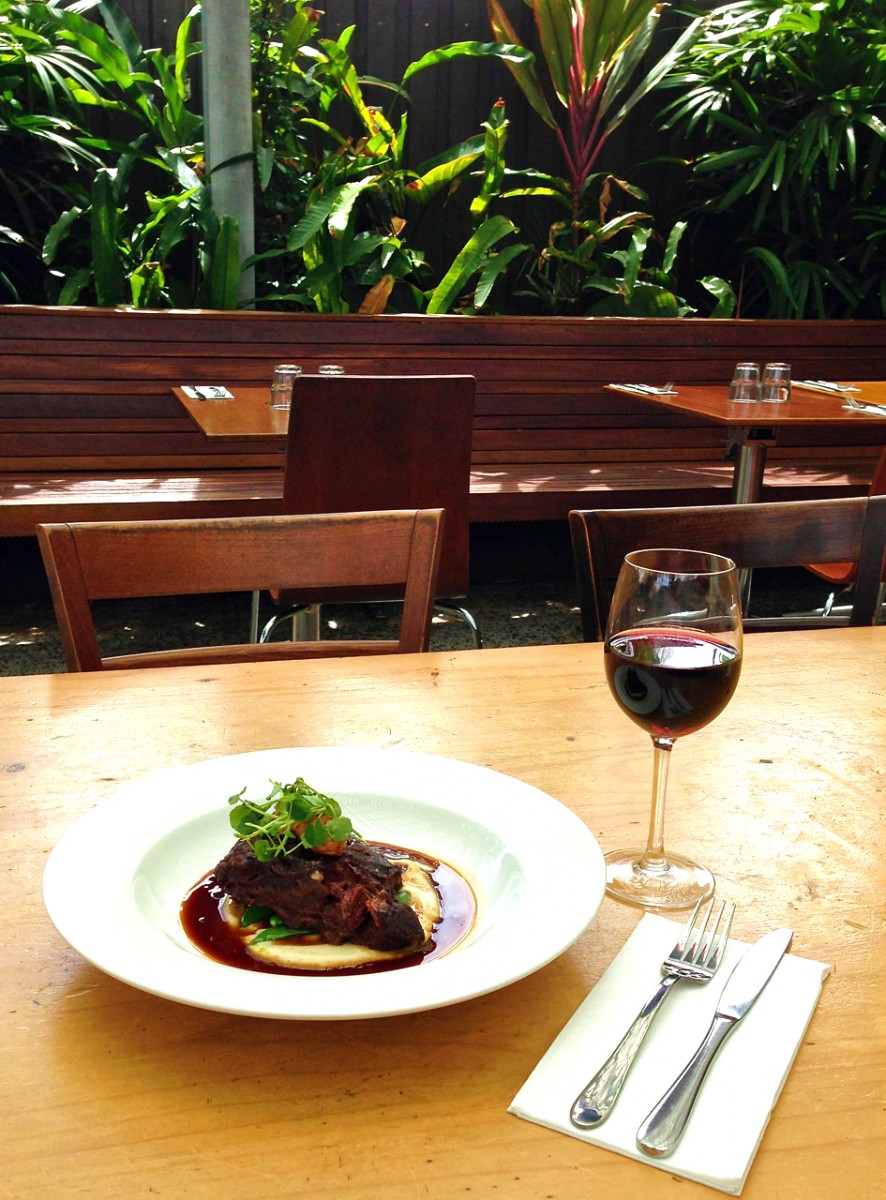 It's nice to see that just because Lock'n'load has a relaxed-bar feel they haven't limited themselves to pub-style grub, and nowhere is this more true than the creative dessert menu. The pick of the lot was surely the dark chocolate marquise with peanut butter anglaise and toffee popcorn (a marquise is like chocolate mousse, but better). But it was a nightmare to choose just one desert to try, considering the marquise was sandwiched on the menu between apple ravioli with salted caramel, and the green tea panna cotta with pear and ginger compote. It seems another visit is in order, pronto.
But the real highlight on the night came post dessert (and post a few sneaky cocktails) when we spotted the seriously slick, pimped-out retro ride parked outside, and the friendly staff instructed us to grab a mojito special and enter the draw to win the car! So we'll definitely be back in on the 28th of April to see if we've been lucky enough to win those retro wheels, and to work our way through the remaining menu items. (The sweet potato fries…they call to us.)
TUL Note: Today's List Love post is proudly sponsored by Lock'n'Load and endorsed by The Urban List. Our sponsored posts will never be a secret - the List Love seal will be stamped on any sponsored material you see on the site. Thank you for supporting the sponsors who make The Urban List possible.