Not long ago, we were beginning to think that Brisbane had reached peak burger saturation, with seemingly more burger joints than bars—where are our priorities, people?
But, and this is a big but, some clever pair from Melbourne decided that what we needed wasn't just another burger bar; the people of Brisbane needed substance. A theme, if you will.

And that theme was to be Street Fighter…
As a child of the 90's, the opening of Super Combo called to me like a moth to a flame. Of course, I wanted to eat a burger reminiscent of all the times my sister and my friends spent huddled around my Sega Mega Drive. Street Fighter (and California Games, because what a damn classic!) was life back then, and I had a nostalgic (completely figurative) itch I needed to scratch.
So, what's it like eating a burger named after a computer game move? Freaking fantastic, is what.
With staple burgers on the menu called Sonic Boom, Spinning Piledriver and Electric Thunder—aka all the iconic character moves from the game—, the burgers are jam-packed with decadent fillings. Our pick is 100% the Sonic Boom; a fried chicken, candied bacon, cheesy, pineapple chutney, smokey mushroom sauce, cabbage slaw masterpiece.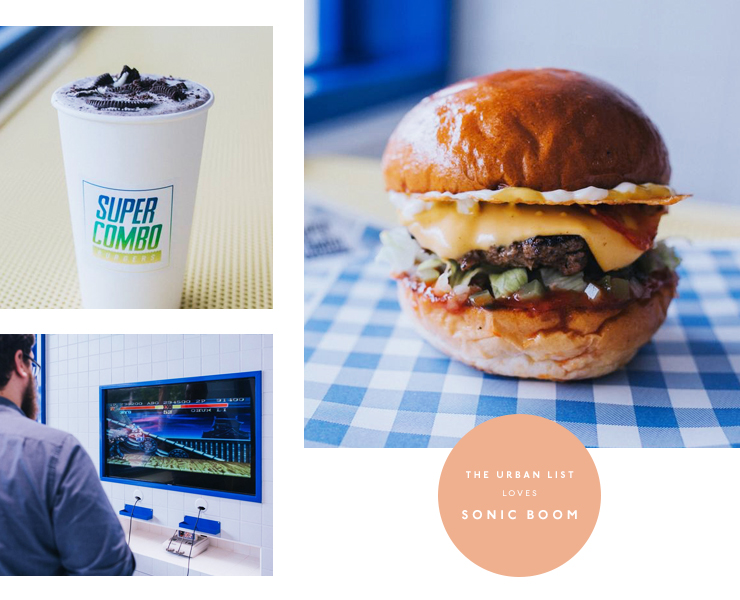 If you live for sides, Super Combo has your back. Their 'Super Fries'—topped in cheese sauce, bacon bits, chimichurri spring onions—fly out the door and the fact that they serve corn gems (think sweet corn and potato mash, fried) means you could easily stop in for a few of these, hold the burger. But that would be madness so don't ever do that.
Add some sexy looking super shakes to the fold—the salted caramel and pretzel thick shake is disturbingly good—and an actual gaming station in store with, you guessed it, Street Fighter loaded and ready for a battle, you've got yourself a frontrunner for Brisbane's best burger joint.
Rally the gang, forget about calories (a dirty word round these parts) and tuck in. Let the games begin!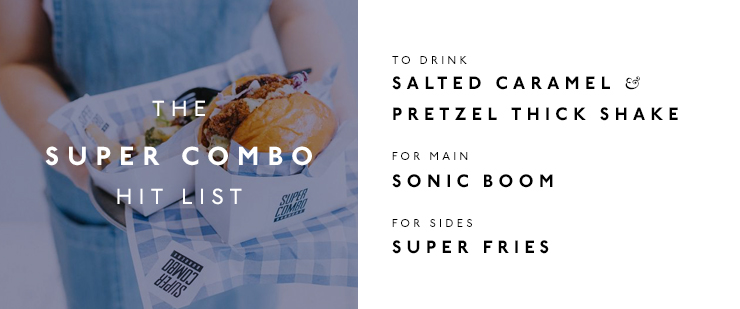 For even more of Brisbane's best restaurants, click here.
Image credit: Hayley Williamson