Short weeks rule. And the Internet rox. So let's celebrate with some of the most clickable links from around the web this week.
This week we celebrated all that is good and buttery and flaky on National Croissant Day. Here's a recipe for prosciutto and Gruyere croissants, just 'cause?
Taylor Swift has not had the best week, poor thang. But her awkward headbanging has made for some amusing Street Fighter mashups.
Cool vegans, represent. Here's a list of some famous bad-ass vegans who are giving this dietary restriction some swag'. (Ok, calling Bill Clinton bad ass might be a stretch, but a 90s sex-scandal surely counts for something.)
Speaking of Presidents, The State of the Union address has caused quite the media storm in the US of A. Vice thinks Obama missed a few little things in his SOU address (like, you know, gun control and education). But, Michelle O wore Alaïa, so that makes up for it, right? Also, the cast of The West Wing got all excited. Cute.
Salt: It's the best seasoning out, no question. But are you using it to best effect in your cooking? Could your meals be even more delicious than they already are? And why can't we eat as much as we want of it?! The Guardian investigates.
Here's a look at the seriously not-hot fashions from Spike Jonze's Her. And a review, in case you haven't seen it yet and you need some persuading.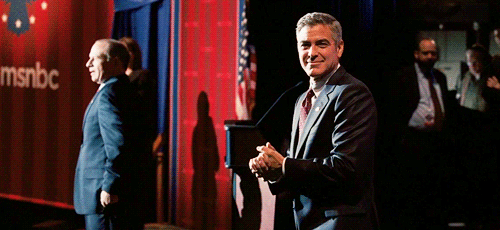 George Clooney: Why are you so consistently awesome and sexy you aged man beast!!!
We're told to emulate their wardrobes, child raising techniques, diets, etc. and, frankly, it's getting annoying. Prospect Magazine asks, are French women really all they're cracked up to be? (This isn't fuelled by jealousy. Honestly. We could be skinny like a French girl if we wanted, but, you know…sandwiches.)
Wikipedia is building a repository of famous voices. Try and do that, print encyclopaedia!
Image credit: Giphy, People Magazine